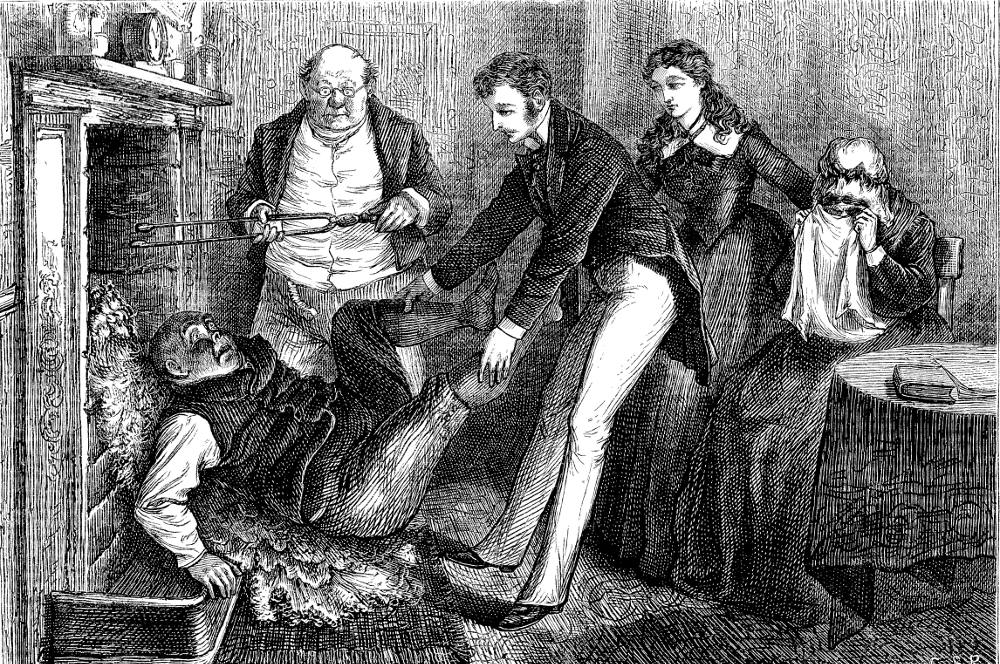 Floundering into the room with greater precipitation than he had quite calculated upon [Page 267], facing title-page; frontispiece by Charles Stanley Reinhart (1875), in Charles Dickens's The Life and Adventures of Nicholas Nickleby, Harper & Bros. New York Household Edition, for Chapter XLIX. 10.6 x 13.8 cm (4 ¼ by 5 ⅜ inches), framed. [Click on images to enlarge them.]
Bibliographical Note
Right: In the title-page vignette for the British Household, Fred Barnard focuses not upon the rather bland protagonist, but on one of the novel's comic characters, Neuman Noggs.
Instead of focussing on the social realism of the Yorkshire boarding school as earlier illustrators had done for the frontispiece, Reinhart realizes a minor comedic incident in the Nickleby household, Chapter XLIX, "Chronicles the further Proceedings of the Nickleby Family, and the Sequel of the Adventure of the Gentleman in the Small-clothes," p. 267. Wood-engraving, 5 ¼ inches high by 7 5⁄8 inches wide (13 cm high by 19.3 cm wide), framed, full-page; descriptive headline: "A Pair of Legs in the Chimney" (p. 267).
Passage Illustrated
But, as all this time he had never left off singing about the bankruptcy of the beautiful maid in respect of truth, and now began not only to croak very feebly, but to kick with great violence as if respiration became a task of difficulty, Frank Cheeryble, without further hesitation, pulled at the shorts and worsteds with such heartiness as to bring him floundering into the room with greater precipitation than he had quite calculated upon. [Chapter 49, "Chronicles the further Proceedings of the Nickleby Family, and the Sequel of the Adventure of the Gentleman in the Small-clothes," p. 267]
Commentary
The narrator shifts from sentimental melodrama with Nicholas's concerns about Smike's failing health into the low mimetic register of farce. Mrs. Nickleby's lunatic suitor suddenly emerges from her chimney piece during a family party, much to Mrs. Nickleby's chagrin.
Relevant Illustration from the British Household Edition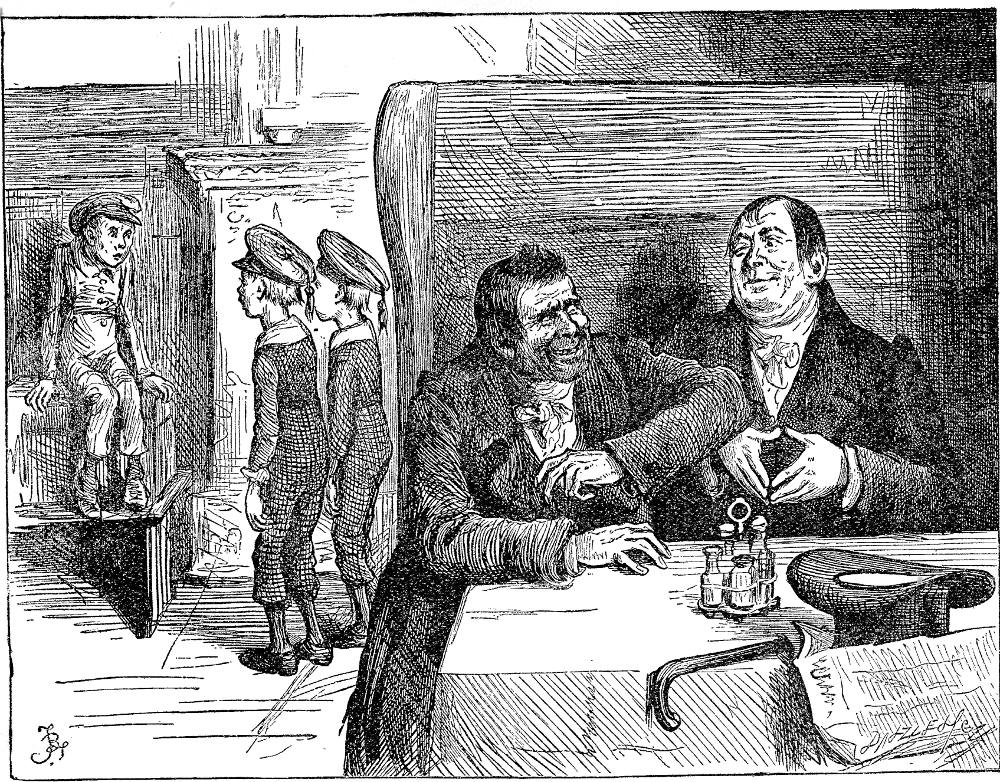 The style of the leading member of the Household Edition illustrators, Fred Barnard, lends itself to a realistic interpretation of Dickens's fourth novel its title, beginning with the Frontispiece: "Wretch," rejoined Nicholas, fiercely, "touch him at your peril! I will not stand by, and see it done. My blood is up, and I have the strength of ten such men as you." (1875).
Related material, including front matter and sketches, by other illustrators
Scanned image, colour correction, sizing, caption, and commentary by Philip V. Allingham. [You may use this image without prior permission for any scholarly or educational purpose, as long as you (1) credit the person who scanned the image, and (2) link your document to this URL in a web document or cite the Victorian Web in a print one.]
Bibliography
Barnard, J. "Fred" (il.). Charles Dickens's Nicholas Nickleby, with fifty-eight illustrations. The Works of Charles Dickens: The Household Edition. 22 vols. London: Chapman and Hall, 1875. Volume 15. Rpt. 1890.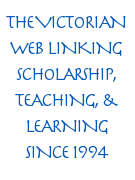 Dickens, Charles. The Life and Adventures of Nicholas Nickleby. With fifty-two illustrations by C. S. Reinhart. The Household Edition. New York: Harper & Brothers, 1875.
__________. "Nicholas Nickleby." Scenes and Characters from the Works of Charles Dickens, being eight hundred and sixty-six drawings by Fred Barnard et al.. Household Edition. London: Chapman and Hall, 1908.
---
Created 20 December 2019

Last modified 30 July 2020