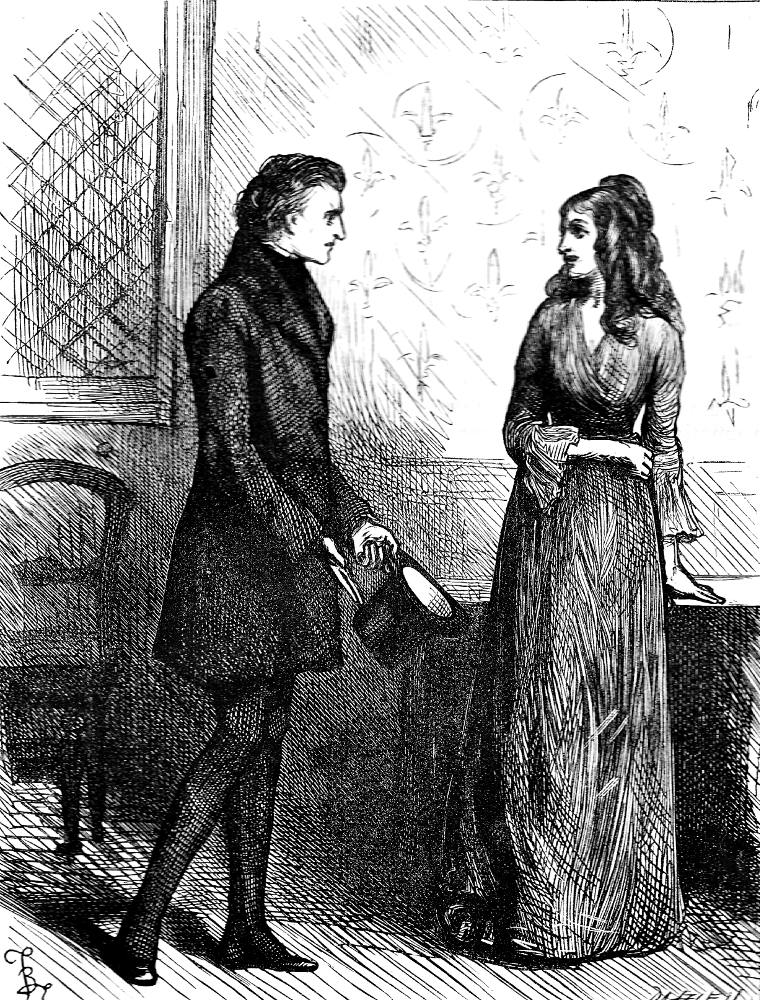 "I'll be married in the bottle-green, cried Arthur Gride., for Chap. LI; forty-ninth illustration for the British Household Edition, illustrated by Fred Barnard with fifty-nine composite woodblock engravings (1875). The framed illustration is 10.7 cm high by 13.8 cm wide (4 ⅛ by 5 ⅜ inches), p. 341. Running head: "A Toast in Golden Water" (341). [Click on the images to enlarge them.]
Passage Illustrated: Arthur Gride shows Peg Sliderskew his Wedding Outfit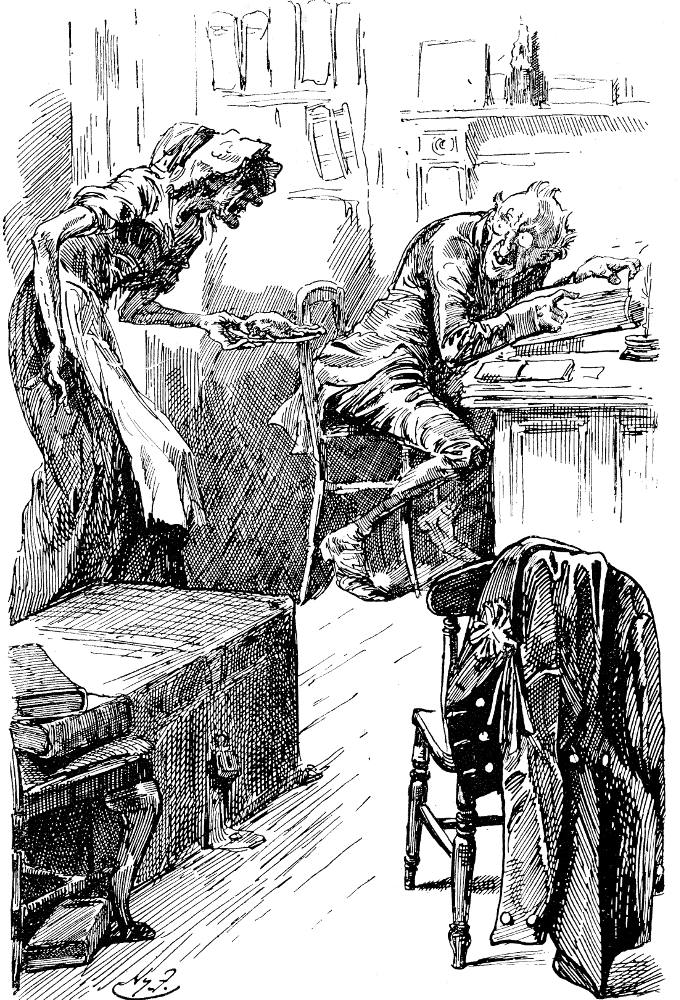 Harry Furniss's ironically entitled depiction of the miser inspecting the scrawny chicken that he and his bride will eat later that day: The Wedding Feast (1910).
"The bottle-green," said old Arthur; "the bottle-green was a famous suit to wear, and I bought it very cheap at a pawnbroker's, and there was—he, he, he! — a tarnished shilling in the waistcoat pocket. To think that the pawnbroker shouldn't have known there was a shilling in it! I knew it! I felt it when I was examining the quality. Oh, what a dull dog of a pawnbroker! It was a lucky suit too, this bottle-green. The very day I put it on first, old Lord Mallowford was burnt to death in his bed, and all the post-obits fell in. I'll be married in the bottle-green. Peg. Peg Sliderskew — I'll wear the bottle-green!"
This call, loudly repeated twice or thrice at the room-door, brought into the apartment a short, thin, weasen, blear-eyed old woman, palsy-stricken and hideously ugly, who, wiping her shrivelled face upon her dirty apron, inquired, in that subdued tone in which deaf people commonly speak:
"Was that you a calling, or only the clock a striking? My hearing gets so bad, I never know which is which; but when I hear a noise, I know it must be one of you, because nothing else never stirs in the house."
"Me, Peg, me," said Arthur Gride, tapping himself on the breast to render the reply more intelligible.
"You, eh?" returned Peg. "And what do you want?"
"I'll be married in the bottle-green," cried Arthur Gride.
"It's a deal too good to be married in, master," rejoined Peg, after a short inspection of the suit. 'Haven't you got anything worse than this?"
"Nothing that'll do," replied old Arthur. [Chapter LI, "The Project of Mr. Ralph Nickleby and his Friend approaching a successful Issue, becomes unexpectedly known to another Party, not admitted into their Confidence," 338]
Commentary
The illustration augments the text in that it indicates that Gride has been pouring through his wardrobe, and that he has put considerable deliberation into the choice of wedding coat. Barnard makes the skeletal Peg even more repulsive and grotesque by giving her a beard and ragged apron. And he makes her master's face a grim death-mask rather than an expressive visage. His enormous four-poster bed, large chest, and massive armoir suggest Gride's materialistic nature: he finds happiness chiefly in owning substantial furnishings. Ironically, the reader is already aware that, despite Ralph Nickleby's machines in leveraging Walter Bray's acquiescence by promising to clear his massive debts, Gride is not likely to become a bridegroom.
Relevant Illustrations from Other Editions (1839-1875)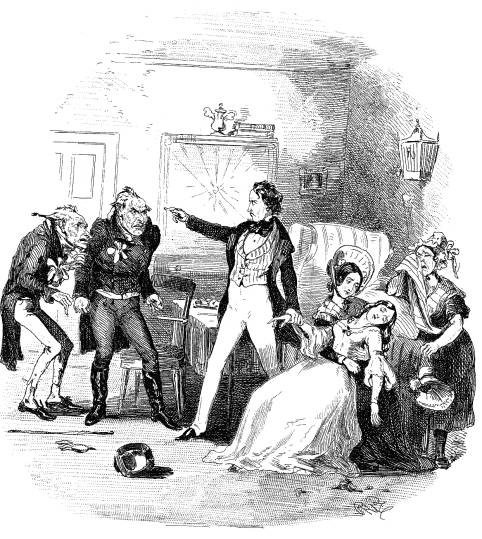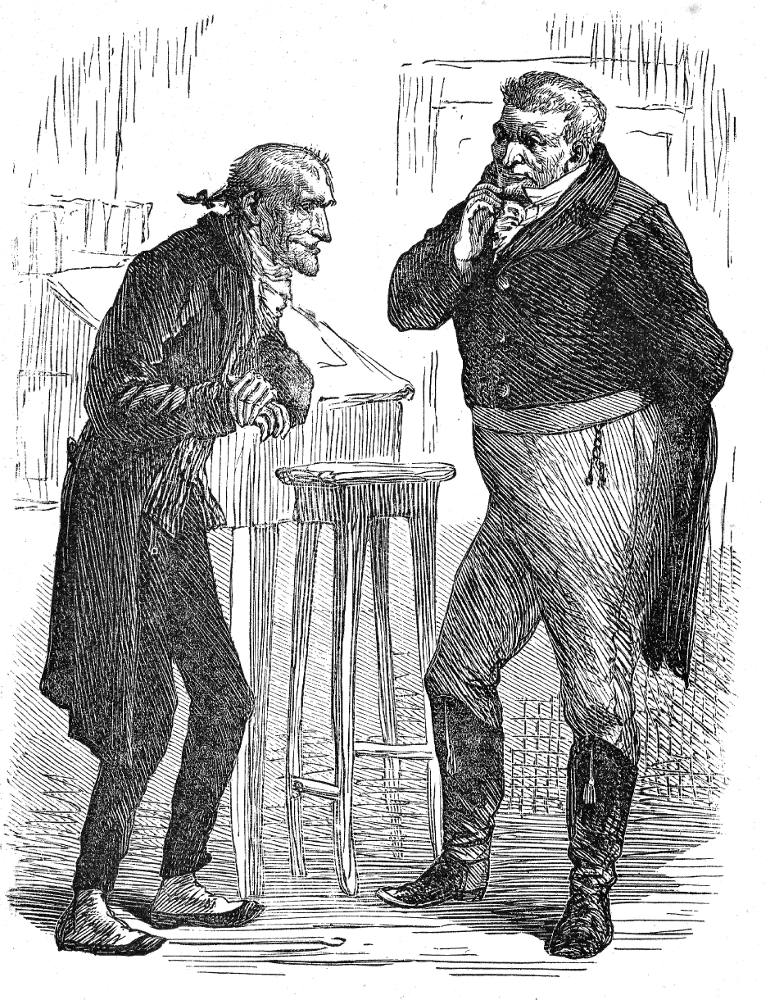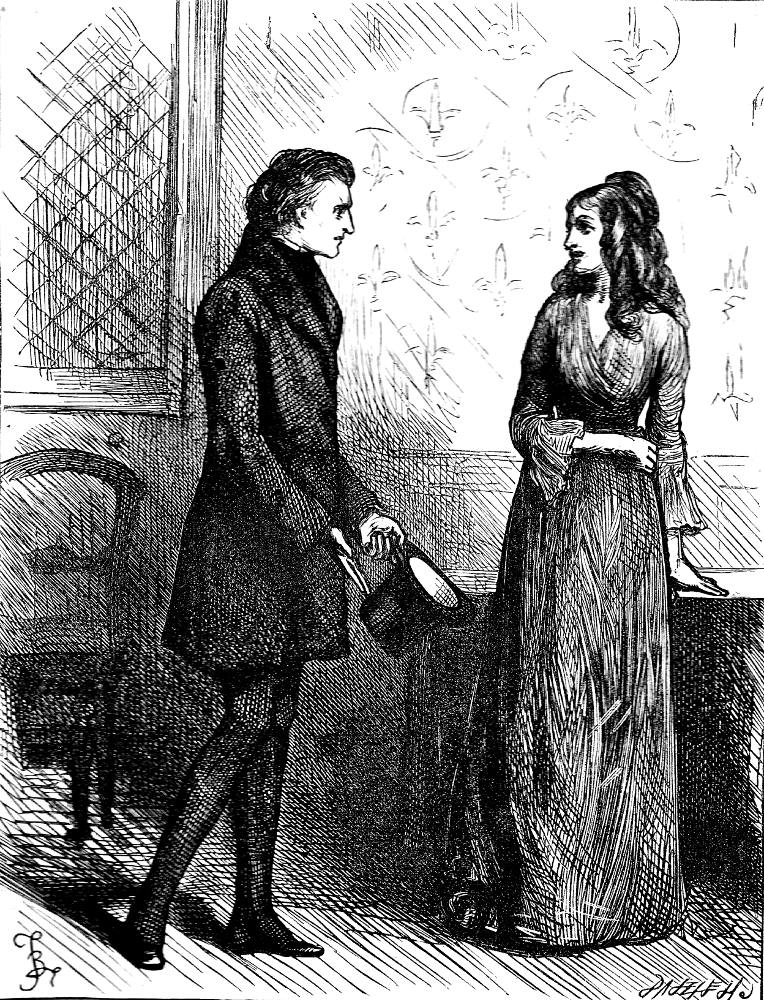 Left: Phiz shows how Nicholas outwits Gride and his uncle Ralph in Nicholas Congratulates Arthur Gride on His Wedding Morning (August 1839). Centre: Sol Eytinge, Jr.'s Diamond Edition study of the novel's miserly villains: Ralph Nickleby and Arthur Gride (1867). Right: Fred Barnard's Household Edition illustration for the next chapter involves Nicholas's entreating Madeline not to go through with the marriage: "I must beseech you to contemplate again the fearful curse to which you have been impelled." (1875)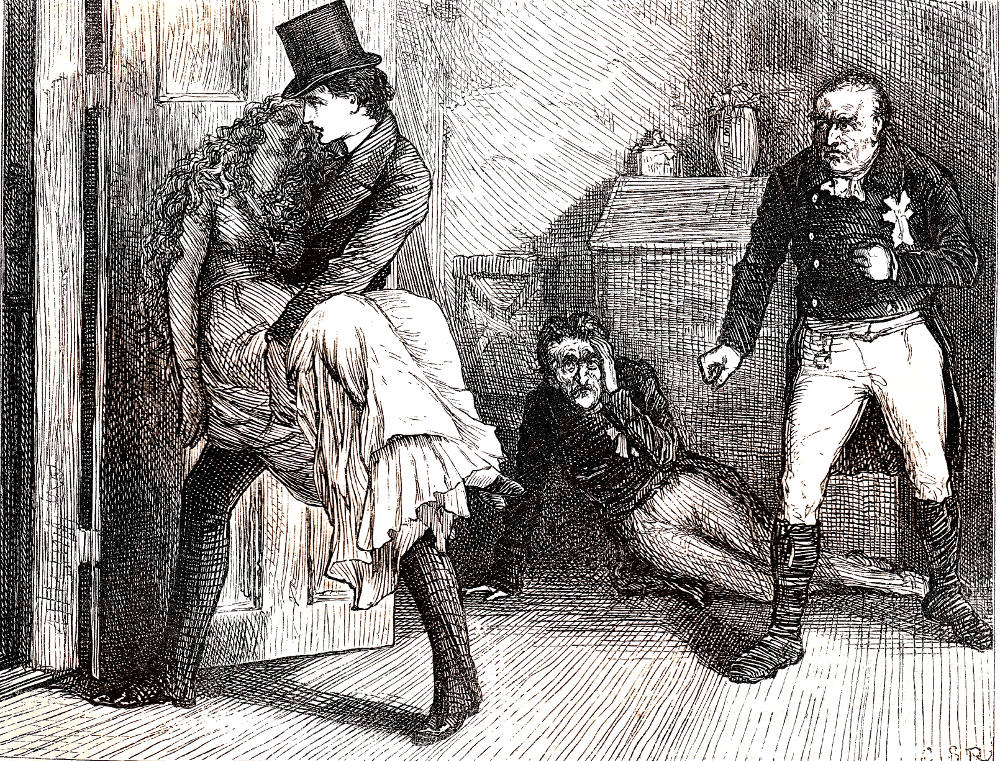 ​
Above: C. S. Reinhart's 1875 woodblock engraving of Nicholas's stealing the aged miser's bride: And then, taking the beautiful burden in his arms, rushed out in Chapter 54 of the American Household Edition.
Related material, including front matter and sketches, by other illustrators
Scanned image, colour correction, sizing, caption, and commentary by Philip V. Allingham. [You may use this image without prior permission for any scholarly or educational purpose, as long as you (1) credit the person who scanned the image, and (2) link your document to this URL in a web document or cite the Victorian Web in a print one.]
Bibliography
Barnard, J. "Fred" (il.). Charles Dickens's Nicholas Nickleby, with fifty-nine illustrations. The Works of Charles Dickens: The Household Edition. 22 vols. London: Chapman and Hall, 1875. XV. Rpt. 1890.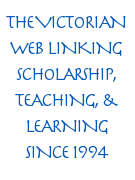 Bentley, Nicolas, Michael Slater, and Nina Burgis. The Dickens Index. Oxford and New York: Oxford U. P., 1988.
Davis, Paul. Charles Dickens A to Z: The Essential Reference to His Life and Work. New York: Facts On File, 1998.
Dickens, Charles. The Life and Adventures of Nicholas Nickleby. With fifty-two illustrations by C. S. Reinhart. The Household Edition. New York: Harper & Brothers, 1872. I.
__________. Nicholas Nickleby. With 39 illustrations by Hablot K. Browne ("Phiz"). London: Chapman & Hall, 1839.
__________. Nicholas Nickleby. Illustrated by Harry Furniss. The Charles Dickens Library Edition. 18 vols. London: Educational Book, 1910. Vol. 4.
__________. "Nicholas Nickleby." Scenes and Characters from the Works of Charles Dickens, being eight hundred and sixty-six drawings by Fred Barnard et al. Household Edition. London: Chapman and Hall, 1908.
---
Created 20 September 2021