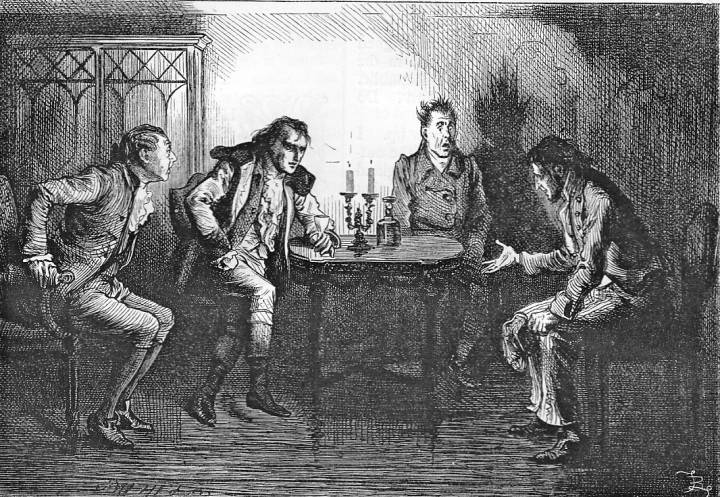 Here Mr. Lorry became aware, from where he sat, of a most remarkable goblin shadow on the wall (p. 141) by Fred Barnard. 1874. 9.9 x 13.6 cm. (framed). Sydney Carton seizes the opportunity that the unmasking of Miss Pross's long-lost brother, Solomon, as the former English and ancien regime "intelligence-operative" and informer John Barsad, "The Sheep of the Prisons," presents him. Carton now threatens to denounce Barsad and his former accomplice Roger Cly as foreign spies in "A Hand at Cards," in Dickens's A Tale of Two Cities, Book 3, chap. viii, originally in the December 1859 monthly number.
Scanned image and text by Philip V. Allingham. [You may use this image without prior permission for any scholarly or educational purpose as long as you (1) credit the person who scanned the image and (2) link your document to this URL in a web document or cite it in a print one.]
Commentary
Having suddenly discovered the explanation behind the empty coffin that he opened after the funeral of Roger Cly, Jerry Cruncher experiences a sudden shock as he listens to the dialogue between Carton and the turnkey at the Conciergerie (where Darnay has just been consigned after being re-arrested). The figures from left to right in the illustration are the elderly English banker Jarvis Lorry, the alcoholic attorney who speaks perfect French, Sydney Carton (just arrived from London), the "Resurrection Man" and quondam Tellson's messenger, Jerry Cruncher, and in a topcoat of French fashion John Barsad, now an official of the Republic. The scene is Jarvis Lorry's residence, just a few minutes' walk from the little wine-shop by the Pont Neuf where Miss Pross had recognised her brother. The passage thus realised is therefore this:
While he was at a loss, Carton said, resuming his former air of contemplating cards:
"And indeed, now I think again, I have a strong impression that I have another good card here, not yet enumerated. That friend and fellow-Sheep, who spoke of himself as pasturing in the country prisons; who was he?"
"French. You don't know him," said the spy quickly.
"French, eh?" repeated Carton, musing, and not appearing to notice him at all, though he echoed his word. "Well; he may be."
"Is, I assure you," said the spy; "though it's not important."
"Though it's not important," repeated Carton in the same mechanical way — "though it's not important — No, it's not important. No. Yet I know the face."
"I think not. I am sure not. It can't be," said the spy.
"It — can't — be," muttered Sydney Carton retrospectively, and filling his glass (which fortunately was a small one) again. "Can't — be. Spoke good French. Yet like a foreigner, I thought?"
"Provincial," said the spy.
"No. Foreign!" cried Carton, striking his open hand on the table, as a light broke clearly on his mind. "Cly! Disguised, but the same man. We had that man before us at the Old Bailey."
"Now, there you are hasty, sir," said Barsad, with a smile that gave his aquiline nose an extra inclination to one side; "there you really give me an advantage over you. Cly (who I will unreservedly admit, at this distance of time, was a partner of mine) has been dead several years. I attended him in his last illness. He was buried in London, at the church of Saint Pancras-in-the-Fields. His unpopularity with the blackguard multitude at the moment prevented my following his remains, but I helped to lay him in his coffin."
Here Mr. Lorry became aware, from where he sat, of a most remarkable goblin shadow on the wall. Tracing it to its source, he discovered it to be caused by a sudden extraordinary rising and stiffening of all the risen and stiff hair on Mr. Cruncher's head.
"Let us be reasonable," said the spy, "and let us be fair. To show you how mistaken you are, and what an unfounded assumption yours is, I will lay before you a certificate of Cly's burial, which I happened to have carried in my pocket-book," — with a hurried hand he produced and opened it — "ever since. There it is. Oh, look at it, look at it! You may take it in your hand; it's no forgery." — Book 3, chap. viii, p. 140-141.
But it is a forgery, of course, leading the reader to wonder how far the trio should place their confidence in such a duplicitous rogue. Carton leans toward his interlocutor, grasping the brandy glass that he has been continually filling and draining, as he realises he has sufficient evidence to condemn Barsad — unless of course Barsad agrees to assist him in his scheme (as yet undisclosed) to free Charles Darnay. Whereas John McLenan in the Harper's Weekly series had depicted the same group and realised almost the same narrative moment in "So you put him in his coffin!" (22 October 1859), McLenan had made the realisation more theatrical by having Jerry rise to denounce Barsad. McLenan's Carton, not confronting Barsad, seems less astute; McLenan's Jerry is much stockier and muscular (note the great hand he lays on Barsad's shoulder); and his Barsad a thoroughly disreputable-looking Jacobin in a Phyrgian cap and drooping moustache. McLenan's realisation lacks the dramatic tension that thoroughly informs Barnard's.
Barnard, known for his love of eccentric Dickens characters, cannot resist making Jerry a comic foil — his hair reminding the Household Edition reader of the tonsorial style of Seth Pecksniff in Barnard's illustrations for Martin Chuzzlewit. The illustration thus is an interesting blend of physical humour and growing suspense as the reader laughs at Jerry's reaction but wonders how Carton can blackmail Barsad into helping him break Darnay out of one of the Revolution's most secure prisons.
Phiz in one of the final four illustrations, The Double Recognition, dealt with the crucial moment in which Miss Pross identifies one of the very French-looking customers of the Pont Neuf wine-shop as her wayward brother, Solomon; the customers in the left-hand register suspect that something is amiss; and Phiz so positions the turncoat spy that Miss Pross can see his face, but the reader cannot. Despite the importance to the plot of The Double Recognition, the style of the picture is somewhat whimsical, with Miss Pross and Jerry Cruncher providing a comic counterpoint to Dickens's text. In terms of its dominant mood, then, Barnard's twentieth illustration is a considerable advance in capturing the essence of the text realised and treating the figures with a seriousness appropriate to the narrative's revelation, a seriousness underscored by the darkness of the scene, the chiaroscuro of the candles in the centre, and shadow which seems to engulf the gesticulating figure in the great-coat.
References
Davis, Paul. Charles Dickens A to Z: The Essential Reference to His Life and Work. New York: Checkmark and Facts On File, 1998.
Dickens, Charles. A Tale of Two Cities. Illustrated by Phiz. London: Chapman & Hall, 1859.
Dickens, Charles. A Tale of Two Cities. Illustrated by Fred Barnard. The Household Edition. London: Chapman & Hall, 1874.
Dickens, Charles. A Tale of Two Cities. Illustrated by John McLenan. Harper's Weekly. (22 October 1859): 685.
---
Last modified 2 April 2017