ike Fred Walker, Randolph Caldecott (1846-86) died while still relatively young but was tremendously influential as an illustrator, his specialty being the illustration of children's books. Like Walker, too, Caldecott illustrated both books and periodicals. Randolph Caledcott, Walter Crane, and Kate Greenaway remain the triumvirate of late Victorian children's book illustration. After his untimely death abroad, some of Caldecott's drawings for engraver and printer Edmund Evans fell into the hands of one of the artist's greatest admirers, the father of Beatrix Potter. She therefore had the opportunity to study and thoroughly assimilate Caldecott's style.
Born in Chester on 22 March 1846 at 150 Bridge Street, Caldecott often used the countryside of Cheshire and Shropshire as the backdrops of his pictures, although the costuming of his figures often suggests the period at the close of the eighteenth century rather than a contemporary setting. His artistic career began the year that he left King's School, 1861, when his sketch of the blaze that engulfed the Queen Railway Hotel in Chester, together with his account of the conflagration, appeared in the Illustrated London News; he was just fifteen. After working as a clerk at the Whitchurch and Ellesmere Bank, he pursued his artistic training by transferring to the firm's branch in Manchester, where he was able to take evening classes at the School of Art.
Finally, in 1872, Caldecott, now aged twenty-six, took the momentous step of moving to London to study at the Slade School and work full-time as a book and periodical illustrator, living in bachelor's lodgings at 46 Great Russell Street, opposite the British Museum, until 1879. Living in Bloomsbury and working for Punch, Caldecott became friendly with a number of well-known writers and artists, including Dante Gabriel Rossetti, George du Maurier, John Everett Millais, and Lord Frederic Leighton, for whom he designed the four peacock capitals in the Arab room at the painter's home in Kensington.
Meantime, Caldecott's periodical illustrations attracted the interest of the printer and engraver Edmund Evans in 1877 when he needed to replace Walter Crane as an illustrator. Evans had commissioned Caldecott to illustrate two children's books for the burgeoning Christmas market, The House That Jack Built and The Diverting History of John Gilpin (both 1878), leading to a series of fourteen children's books published by Routledge between 1878 and the artist's death in 1886: The Babes in the Wood and The Mad Dog (1879), Three Jovial Huntsmen and Sing a Sing of Sixpence (1880), The Queen of Hearts and The Farmer's Boy (1881), The Milkmaid and Hey Diddle Diddle (1882), A Frog He Would a-Wooing Go and The Fox Jumps Over The Parson's Gate (1883), Come Lasses and Lads and Ride a Cock Horse (1884), Oliver Goldsmith's Elegy on that Glory of Her Sex, Æsop's, and The Great Panjandrum in 1885. Each edition was initially limited to 6,000, but subsequent reprintings over the next three decades were numerous. In addition to all of these Christmas offerings, Caldecott illustrated Washington Irving's Old Christmas in 1876 for the British market, and in 1883 both Æsop's Fables and Julia Horatia Ewing's Jackanapes.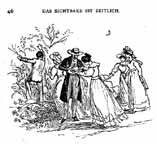 On each of these shilling publications Caldecott received the considerable royalty of a penny. His humorous line drawings also appeared in the periodicals Punch, London Society, and the London Graphic. In 1869 he had had a picture displayed in the Royal Manchester Institute, and in 1876 a picture in the Royal Academy, London. He was elected to the Royal Institute of Watercolour Painting in 1872. But it was his twelve illustrated volumes of nursery rhymes whose sales of 867,000 made him both rich and internationally famous.
Clearly at the peak of productivity and quality, Caldecott could afford to winter in the south of France and in Italy, where his and his wife, on account of his rheumatic fever and generally poor health (occasioned by both gastritis and a heart condition), had been going since their marriage in 1880, the year after he took the cottage named Wybornes in the village of Kemsing, Kent, near Chelsfield, where his fiancee, Marian Brind, had lived. In the fall of 1882, they shifted their principal residence to No. 24 Holland Street, Kensington, and acquired a house called Broomfield at Frensham in Surrey as their country retreat. On these continental trips, he enjoyed sketching the people and the scenery. Early in 1886, he and Marian decided to winter in Florida, sailing to New York and travelling down the eastern seaboard of the United States. However, northern Florida proved unseasonably cold; he caught a severe chill and died suddenly, not yet 40, at St. Augustine on 12 February. Shortly after his death, his artistic friends arranged to have a memorial to him designed by Alfred Gilbert placed in the Crypt of St. Paul's Cathedral, London. A more well-known memorial to him is the Caldecott Medal, awarded annually since 1938 to the best American illustrator of children's books.
References
Cambridge Biographical Dictionary, ed. Magnus Magnusson and Rosemary Goring. Cambridge, New York, etc.: Cambridge U. P., 1990.
Carpenter, Humphrey, and Mari Prichard, eds. The Oxford Companion to Children's Literature. Oxford and New York: Oxford U. P., 1987.
"Randolph Caldecott." Wikipedia. Accessed 31/08/2007. http://en.wikipedia/wiki/Randolph_Caldecott.
Randolph Caldecott Society. "Who Was Randolph Caldecott?" Accessed 31/08/2007. http://www.randolphcaledcott.org.uk/who.htm
---
Last modified 22 March 2017

Portrait added 19 July 2021