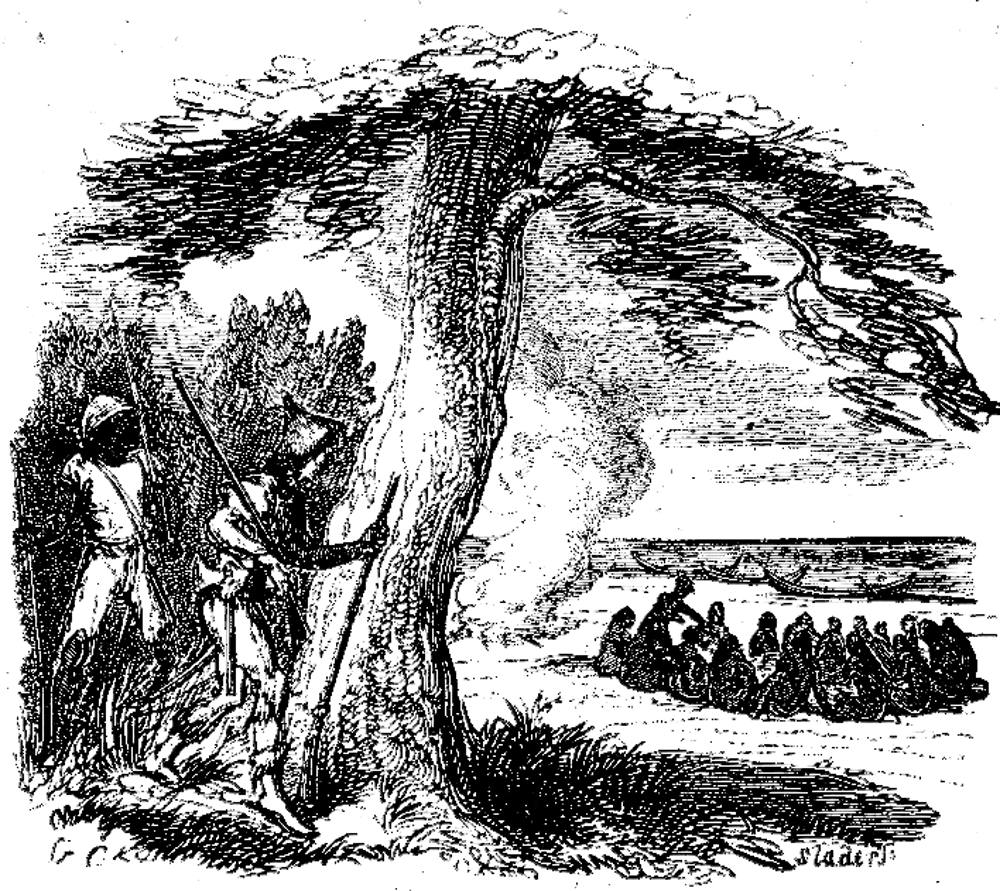 Crusoe and Friday watch the Cannibals from hiding by George Cruikshank as a realisation of the scene in Volume One, Chapter XIV, for the John Major edition of The Life and Surprising Adventures of Robinson Crusoe (1831). Whereas Crusoe and Friday, doing due surveillance before attacking, are heavily armed with two muskets each, the visitors appear unarmed and at ease as one of their number appears to be serving a beverage. Cruikshank (his initials prominently displayed lower left) gives no indication of the victims of the barbaric feast. Vignette: 5.2 cm high by 5.9 wide, p. 220. [Click on the image to enlarge it.]
Scanned image and text by Philip V. Allingham. [You may use this image without prior permission for any scholarly or educational purpose as long as you (1) credit the person who scanned the image and (2) link your document to this URL in a web document or cite the Victorian Web in a print one.]
Passage Illustrated: The Rescue of the Spaniard and Friday's Father
While I was making this march, my former thoughts returning, I began to abate my resolution: I do not mean that I entertained any fear of their number, for as they were naked, unarmed wretches, it is certain I was superior to them; nay, though I had been alone. But it occurred to my thoughts, what call, what occasion, much less what necessity I was in to go and dip my hands in blood, to attack people who had neither done or intended me any wrong? who, as to me, were innocent, and whose barbarous customs were their own disaster, being in them a token, indeed, of God's having left them, with the other nations of that part of the world, to such stupidity, and to such inhuman courses, but did not call me to take upon me to be a judge of their actions, much less an executioner of His justice; that, whenever He thought fit He would take the cause into His own hands, and by national vengeance punish them as a people for national crimes, but that, in the meantime, it was none of my business; that it was true Friday might justify it, because he was a declared enemy and in a state of war with those very particular people, and it was lawful for him to attack them; but I could not say the same with regard to myself. These things were so warmly pressed upon my thoughts all the way as I went, that I resolved I would only go and place myself near them that I might observe their barbarous feast, and that I would act then as God should direct; but that unless something offered that was more a call to me than yet I knew of, I would not meddle with them.
With this resolution I entered the wood, and, with all possible wariness and silence, Friday following close at my heels, I marched till I came to the skirts of the wood on the side which was next to them, only that one corner of the wood lay between me and them. Here I called softly to Friday, and showing him a great tree which was just at the corner of the wood, I bade him go to the tree, and bring me word if he could see there plainly what they were doing. He did so, and came immediately back to me, and told me they might be plainly viewed there; that they were all about their fire, eating the flesh of one of their prisoners, and that another lay bound upon the sand a little from them, whom he said they would kill next; and this fired the very soul within me. He told me it was not one of their nation, but one of the bearded men he had told me of, that came to their country in the boat. I was filled with horror at the very naming of the white bearded man; and going to the tree, I saw plainly by my glass a white man, who lay upon the beach of the sea with his hands and his feet tied with flags, or things like rushes, and that he was an European, and had clothes on.
There was another tree and a little thicket beyond it, about fifty yards nearer to them than the place where I was, which, by going a little way about, I saw I might come at undiscovered, and that then I should be within half a shot of them; so I withheld my passion, though I was indeed enraged to the highest degree; and going back about twenty paces, I got behind some bushes, which held all the way till I came to the other tree, and then came to a little rising ground, which gave me a full view of them at the distance of about eighty yards.
I had now not a moment to lose, for nineteen of the dreadful wretches sat upon the ground, all close huddled together, and had just sent the other two to butcher the poor Christian, and bring him perhaps limb by limb to their fire, and they were stooping down to untie the bands at his feet. I turned to Friday. "Now, Friday," said I, "do as I bid thee." Friday said he would. "Then, Friday," says I, "do exactly as you see me do; fail in nothing." So I set down one of the muskets and the fowling-piece upon the ground, and Friday did the like by his, and with the other musket I took my aim at the savages, bidding him to do the like; then asking him if he was ready, he said, "Yes." "Then fire at them," said I; and at the same moment I fired also. [Chapter XVI, "Rescue of Prisoners from Cannibals," pp. 218-221]
Commentary
Cruikshank presents a contrast with the scene of the cannibals dancing with which he opened the sequence, and which he has repeated in the main text. Here the celebrants are seated rather than engaged in orgiastic dance as if preparing for a communal meal. The illustrator has placed the bonfire and canoes, prominent in the previous illustration, well in the background to create suspense by foregrounding Crusoe and Friday. Whereas Phiz recorded thew violent assault on the natives, Cruikshank leaves the reader wondering about the outcome of the ensuing action.
Related Materials
Relevant illustrations from other 19th editions, 1790-1867
​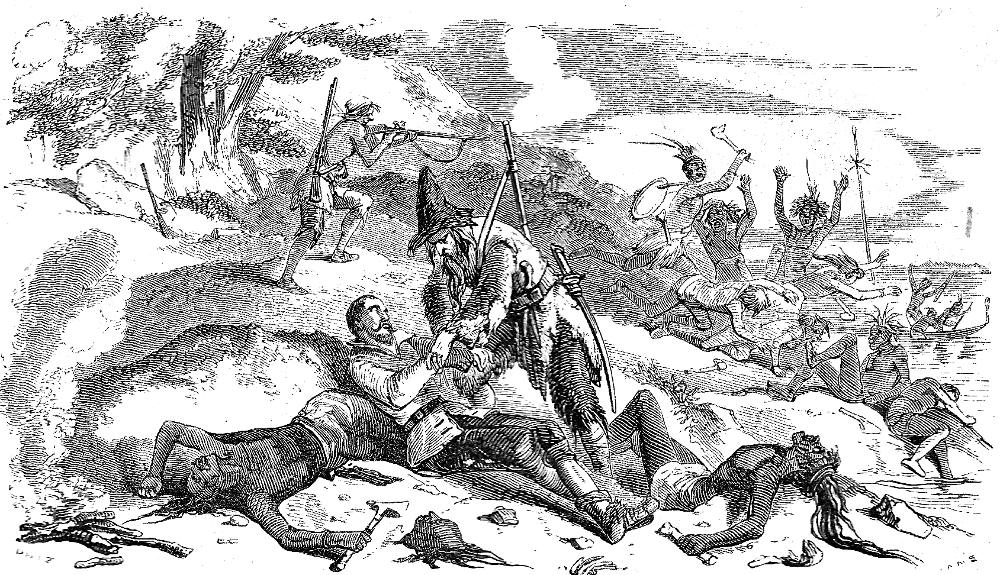 Above: Phiz's's dramatic steel-engraving of Crusoe's rescuing the cannibal's European captive, Robinson Crusoe rescues the Spaniard (1864). [Click on the image to enlarge it.]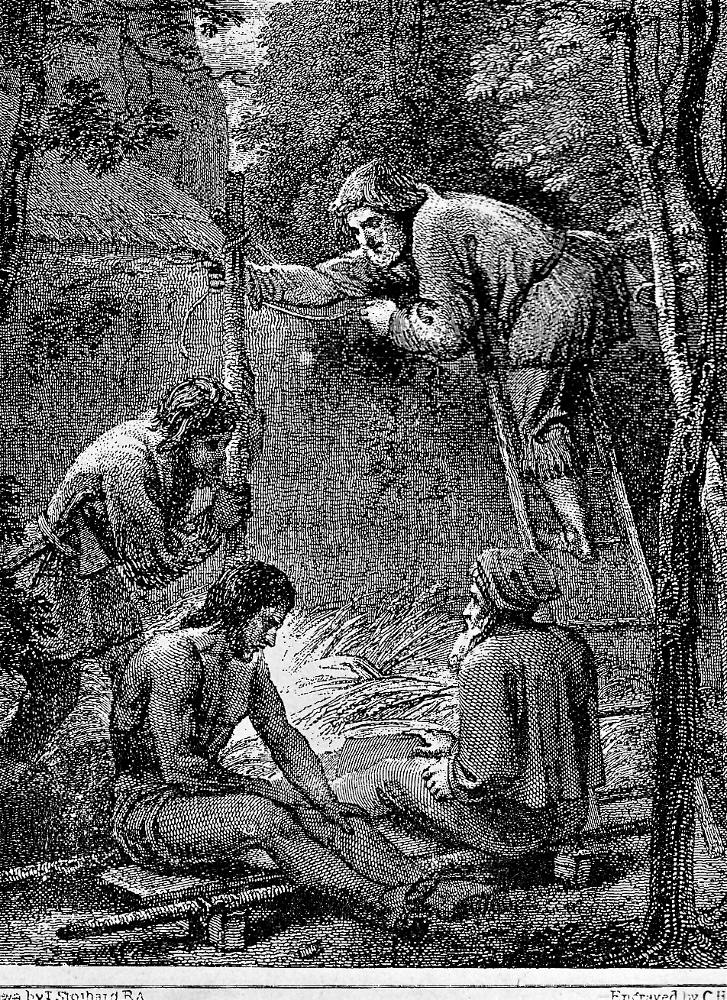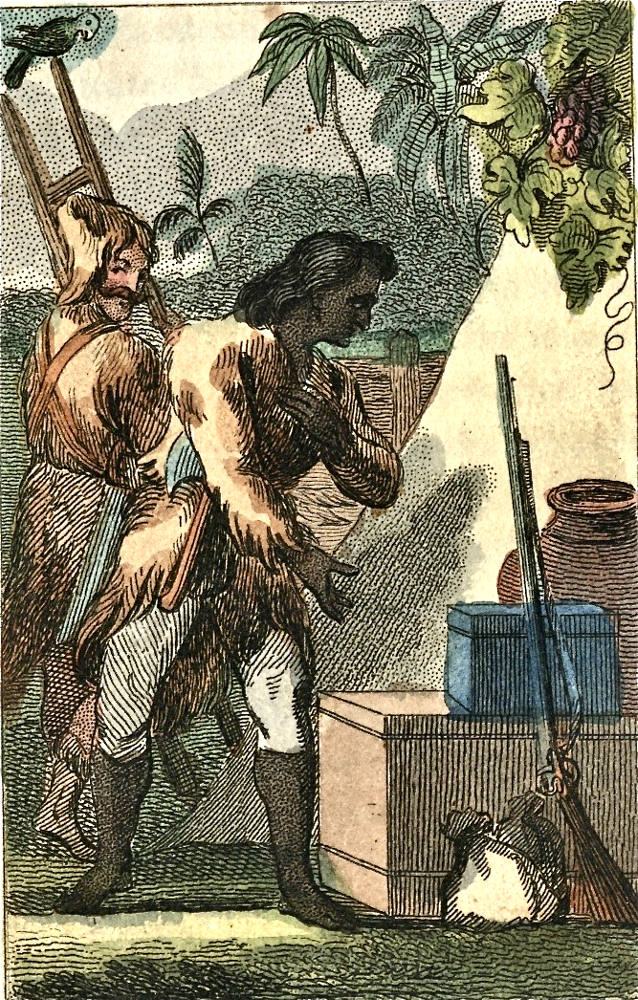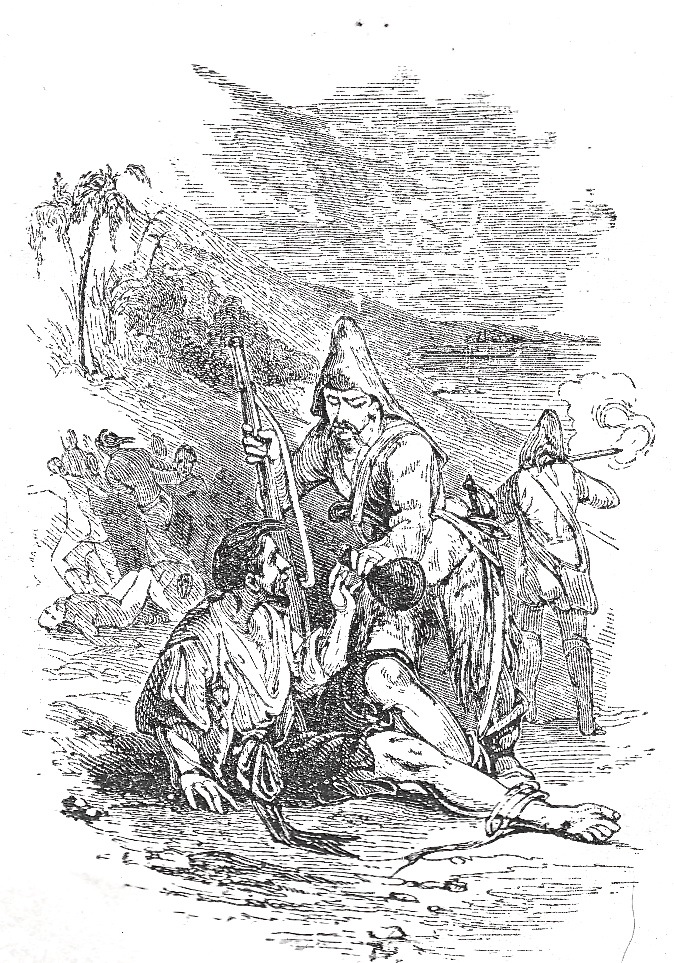 Left: The original Stothard copper-plate engraving in which Crusoe welcomes both former captives, the Spaniard and Friday's father (1790), Robinson Crusoe builds a tent for Friday's father and the Spaniard. Centre: From the 1818 children's book, the far less violent Friday and his Father. Right: John Gilbert's realisation of the rescue scene, de-emphasizing the violence and bloodshed, The Rescue of the Spaniard (1860s). [Click on the images to enlarge them.]
Bibliography
Defoe, Daniel. The Life and Surprising Adventures of Robinson Crusoe, of York, Mariner, with introductory verses by Bernard Barton, and illustrated with numerous engravings from drawings by George Cruikshank expressly designed for this edition. 2 vols. London: Printed at the Shakespeare Press, by W. Nichol, for John Major, Fleet Street, 1831.
De Foe, Daniel. The Life and Adventures of Robinson Crusoe, Written by Himself. Illustrated by Gilbert, Cruikshank, and Brown. London: Darton and Hodge, 1867?].
Defoe, Daniel. The Life and Surprising Adventures of Robinson Crusoe of York, Mariner. (1831). Illustrated by George Cruikshank. Major's Edition. London: Chatto & Windus, 1890.
Patten, Robert L. "Phase 2: "'The Finest Things, Next to Rembrandt's,' 1720–1835." Chapter 20, "Thumbnail Designs." George Cruikshank's Life, Times, and Art, vol. 1: 1792-1835. Rutgers, NJ: Rutgers U. P., 1992; London: The Lutterworth Press, 1992. Pp. 325-339.
---
Last modified 22 February 2018