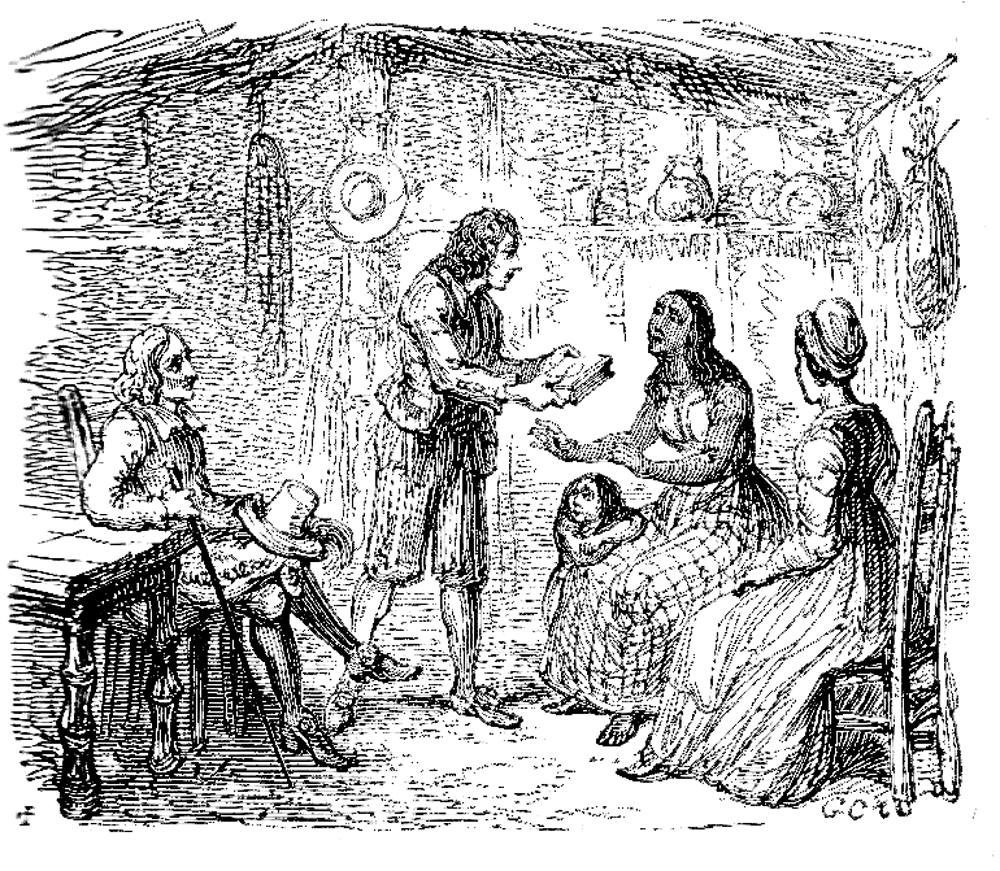 Crusoe presents a Bible to Will Atkins and his native wife by George Cruikshank as the eighth vignette for Part Two, The Farther Adventures of Robinson Crusoe, Chapter VIII, "Sails from the Island for the Brazils," 5.3 cm high by 6.3 cm wide, middle of page 433. In many of the scenes in Part Two, Crusoe is a mere spectator rather than an active participant, but here the wealthy planter who has just returned from England with much-needed supplies is the central figure, presenting a Bible to the formerly brutal Will Atkins, now a God-fearing family man and dutiful son of Empire. [Click on the image to enlarge it.]
Scanned image and text by Philip V. Allingham. [You may use this image without prior permission for any scholarly or educational purpose as long as you (1) credit the person who scanned the image and (2) link your document to this URL in a web document or cite the Victorian Web in a print one.]
Passage Illustrated
When I came to Will Atkins's house, I found that the young woman I have mentioned above, and Will Atkins's wife, were become intimates; and this prudent, religious young woman had perfected the work Will Atkins had begun; and though it was not above four days after what I have related, yet the new-baptized savage woman was made such a Christian as I have seldom heard of in all my observation or conversation in the world. It came next into my mind, in the morning before I went to them, that amongst all the needful things I had to leave with them I had not left them a Bible, in which I showed myself less considering for them than my good friend the widow was for me when she sent me the cargo of a hundred pounds from Lisbon, where she packed up three Bibles and a Prayer-book. However, the good woman's charity had a greater extent than ever she imagined, for they were reserved for the comfort and instruction of those that made much better use of them than I had done.
I took one of the Bibles in my pocket, and when I came to Will Atkins's tent, or house, and found the young woman and Atkins's baptized wife had been discoursing of religion together — for Will Atkins told it me with a great deal of joy — I asked if they were together now, and he said, "Yes"; so I went into the house, and he with me, and we found them together very earnest in discourse. "Oh, sir," says Will Atkins, "when God has sinners to reconcile to Himself, and aliens to bring home, He never wants a messenger; my wife has got a new instructor: I knew I was unworthy, as I was incapable of that work; that young woman has been sent hither from heaven — she is enough to convert a whole island of savages." The young woman blushed, and rose up to go away, but I desired her to sit-still; I told her she had a good work upon her hands, and I hoped God would bless her in it.
We talked a little, and I did not perceive that they had any book among them, though I did not ask; but I put my hand into my pocket, and pulled out my Bible. "Here," said I to Atkins, "I have brought you an assistant that perhaps you had not before." The man was so confounded that he was not able to speak for some time; but, recovering himself, he takes it with both his hands, and turning to his wife, "Here, my dear," says he, "did not I tell you our God, though He lives above, could hear what we have said? Here's the book I prayed for when you and I kneeled down under the bush; now God has heard us and sent it." When he had said so, the man fell into such passionate transports, that between the joy of having it, and giving God thanks for it, the tears ran down his face like a child that was crying. [Chapter VIII, "Sails from the Island for the Brazils," pp. 432-434]
Commentary
Cruikshank adds the dimension of character to the religious dialogue of the text, in particular focussing on Will Atkins' aboriginal wife and child. Whereas in the text, Crusoe presents the Bible to Atkins, in the illustrations Atkins in turn presents the large tome to his wife as Crusoe (left, in the style of clothing worn earlier than 1695) observes the scene. The scene occurs, as Crusoe explains, in the north-east quadrant of the island assigned to English colonists. Çruikshank has realised the basket-work walls, which serve to admit the breeze but, for the sake of security and privacy, have no windows. The young European woman seated to the right has been recently married to Crusoe's artisan, a Jack-of-all-Trades, whom Crusoe has brought with him to the island. Her presence in the text is easily overlooked, but Cruishank correctly includes her, since she was in the house, discoursing with Mrs. Atkins on religious matters, when Crusoe arrived with the Bible — which should, however, be pocket-sized.
Related Material
Relevant illustrations from other 19th editions, 1820-1862
​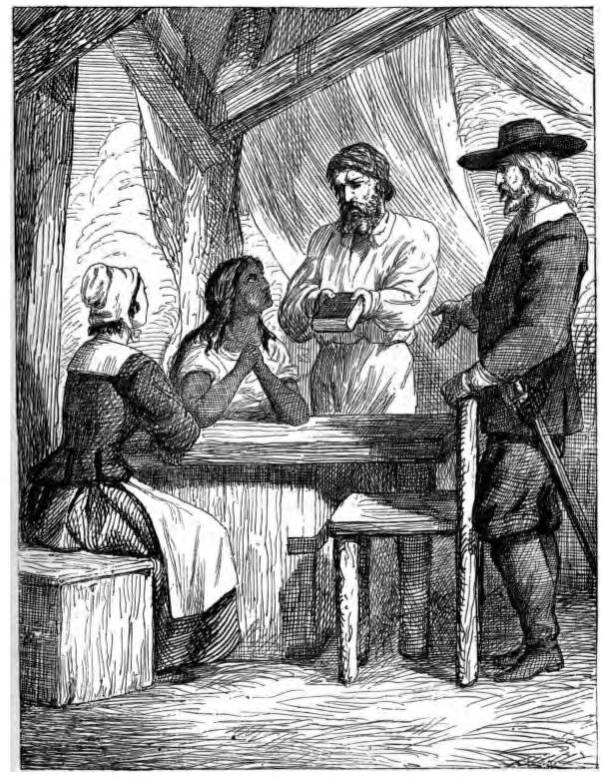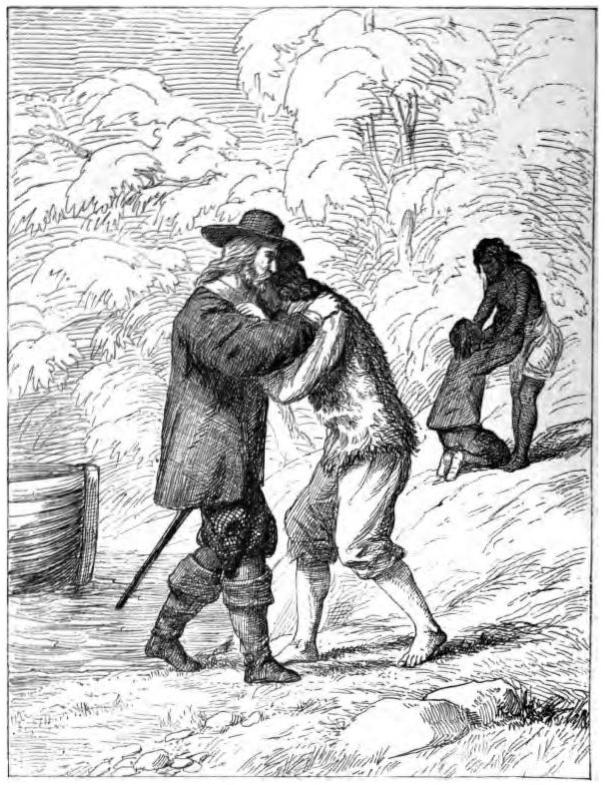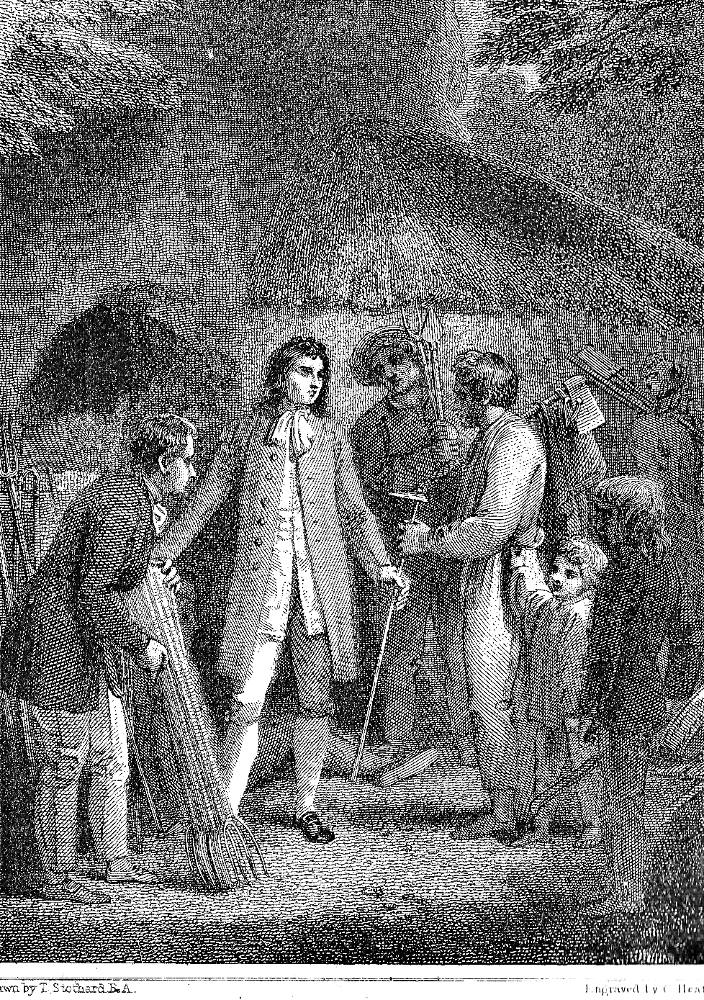 Left: The Wehnert engraving of the same scene, Crusoe giving Bible to Will Atkins (1862). Centre: Wehnert's realisation of Crusoe's return to the island with supplies — and Friday in European clothes, Crusoe's second landing on the island (1862). Right: The original Stothard scene of Crusoe's return, Robinson Crusoe distributing tools of husbandry among the inhabitants (1820). [Click on images to enlarge them.]
Bibliography
Defoe, Daniel. The Life and Surprising Adventures of Robinson Crusoe, of York, Mariner, with introductory verses by Bernard Barton, and illustrated with numerous engravings from drawings by George Cruikshank expressly designed for this edition. 2 vols. London: Printed at the Shakespeare Press, by W. Nichol, for John Major, Fleet Street, 1831.
De Foe, Daniel. The Life and Adventures of Robinson Crusoe, Written by Himself. Illustrated by Gilbert, Cruikshank, and Brown. London: Darton and Hodge, 1867?].
Defoe, Daniel. The Life and Surprising Adventures of Robinson Crusoe of York, Mariner. (1831). Illustrated by George Cruikshank. Major's Edition. London: Chatto & Windus, 1890.
Patten, Robert L. "Phase 2: "'The Finest Things, Next to Rembrandt's,' 1720–1835." Chapter 20, "Thumbnail Designs." George Cruikshank's Life, Times, and Art, vol. 1: 1792-1835. Rutgers, NJ: Rutgers U. P., 1992; London: The Lutterworth Press, 1992. Pp. 325-339.
---
Last modified 6 March 2018