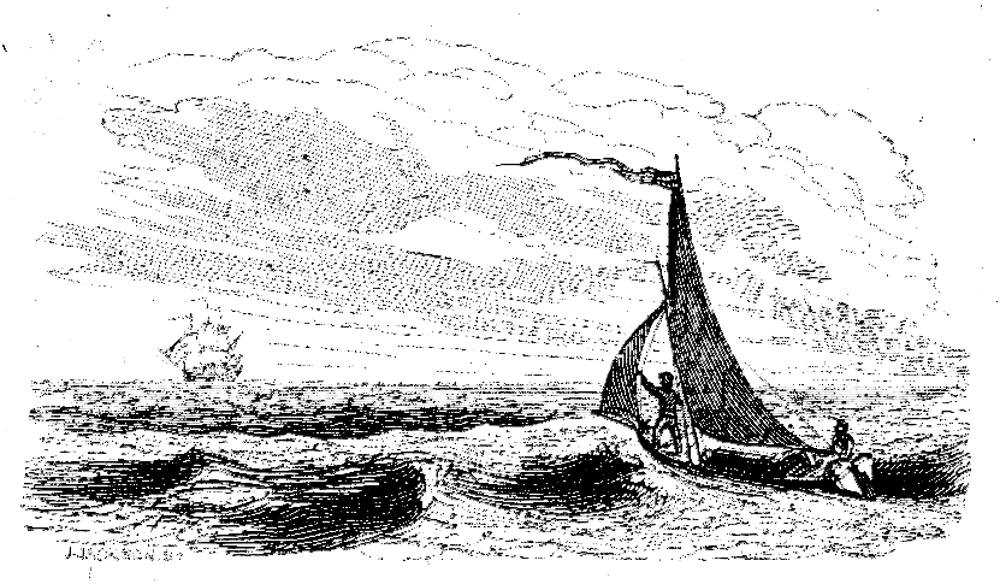 Crusoe sights a Portuguese vessel by George Cruikshank as the headpiece for the opening chapter in John Major's edition of The Life and Surprising Adventures of Robinson Crusoe (1831). Although this is but a small-scale vignette, Cruikshank emphasizes the small ship on the horizon that holds the promise of rescue for young Crusoe. Vignette: 3.7 cm high by 6.8 cm wide, p. 30. [Click on the image to enlarge it.]
Scanned image and text by Philip V. Allingham. [You may use this image without prior permission for any scholarly or educational purpose as long as you (1) credit the person who scanned the image and (2) link your document to this URL in a web document or cite the Victorian Web in a print one.]
Passage Illustrated
I was now furnished with roots and corn, such as it was, and water; and leaving my friendly negroes, I made forward for about eleven days more, without offering to go near the shore, till I saw the land run out a great length into the sea, at about the distance of four or five leagues before me; and the sea being very calm, I kept a large offing to make this point. At length, doubling the point, at about two leagues from the land, I saw plainly land on the other side, to seaward; then I concluded, as it was most certain indeed, that this was the Cape de Verde, and those the islands called, from thence, Cape de Verde Islands. However, they were at a great distance, and I could not well tell what I had best to do; for if I should be taken with a fresh of wind, I might neither reach one or other.
In this dilemma, as I was very pensive, I stepped into the cabin and sat down, Xury having the helm; when, on a sudden, the boy cried out, "Master, master, a ship with a sail!" and the foolish boy was frighted out of his wits, thinking it must needs be some of his master's ships sent to pursue us, but I knew we were far enough out of their reach. I jumped out of the cabin, and immediately saw, not only the ship, but that it was a Portuguese ship; and, as I thought, was bound to the coast of Guinea, for negroes. But, when I observed the course she steered, I was soon convinced they were bound some other way, and did not design to come any nearer to the shore; upon which I stretched out to sea as much as I could, resolving to speak with them if possible.​/p>
With all the sail I could make, I found I should not be able to come in their way, but that they would be gone by before I could make any signal to them: but after I had crowded to the utmost, and began to despair, they, it seems, saw by the help of their glasses that it was some European boat, which they supposed must belong to some ship that was lost; so they shortened sail to let me come up. I was encouraged with this, and as I had my patron's ancient on board, I made a waft of it to them, for a signal of distress, and fired a gun, both which they saw; for they told me they saw the smoke, though they did not hear the gun. Upon these signals they very kindly brought to, and lay by for me; and in about three hours; time I came up with them.​[Chapter III, "Wrecked on a Desert Island," pp. 29-30]
Related Material
Related Scenes from Stothard (1790), Children's Books (1815, 1818), and Cassell's (1863)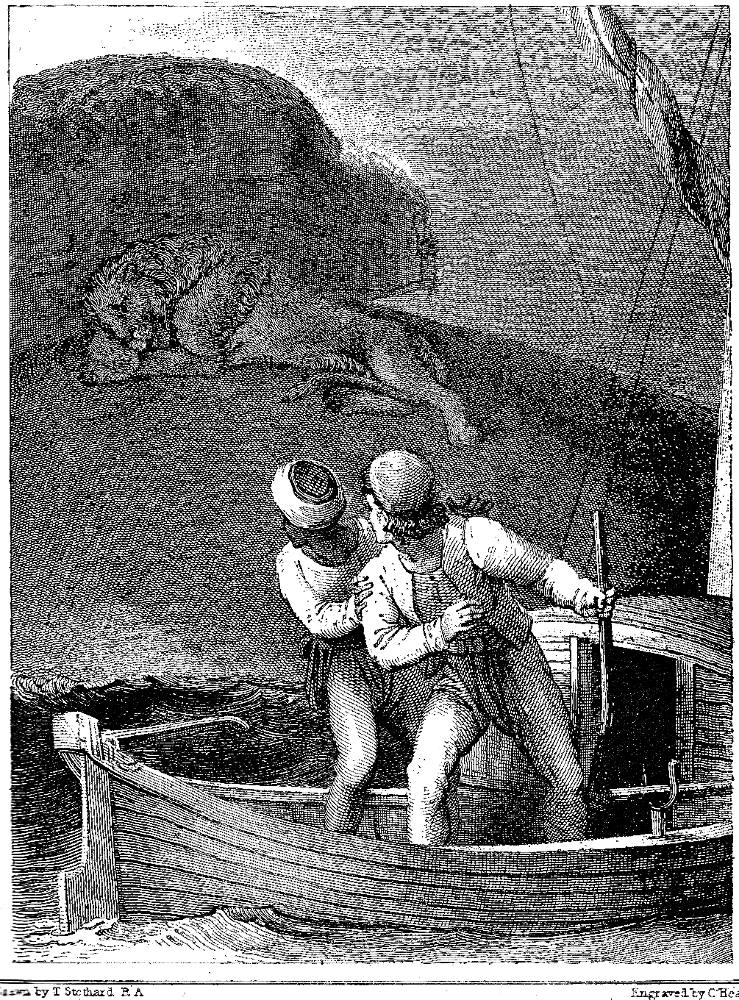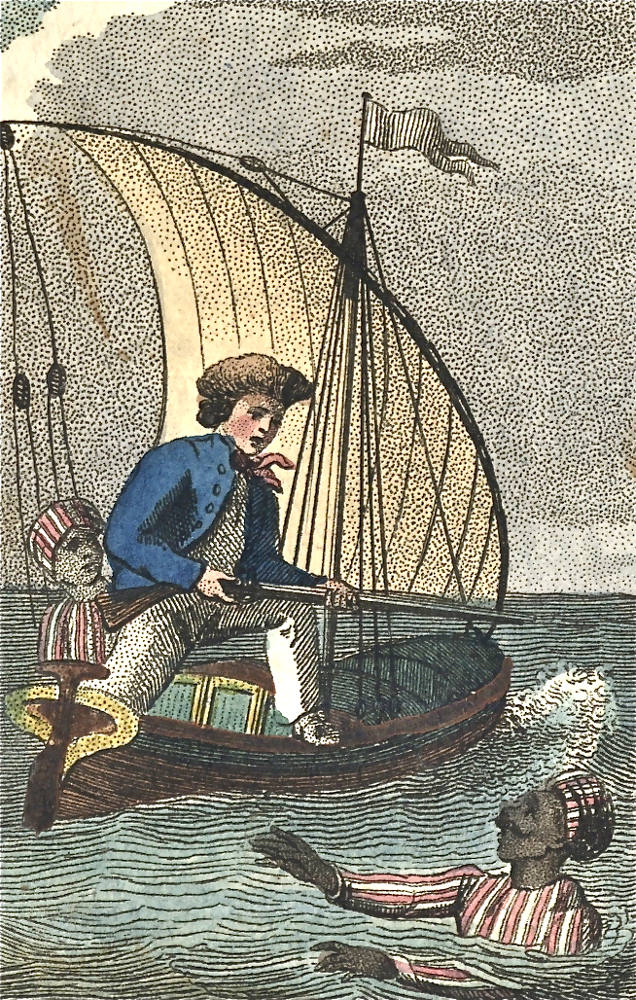 Left: Stothard's 1790 realisation of a later episode in the escape, Robinson Crusoe and Xury alarmed at the sight of a lion (copper-plate engraving, Chapter II, "Slavery and Escape"). Centre: A Chapbook-like woodblock engraving with broken chains signifying young Crusoe's escaping slavery, Robinson Crusoe throwing the Moor overboard (1815). Right: Colourful realisation of the same scene, but utterly lacking in realistic proportions: Robinson Crusoe's escaping from Sallee (1818). [Click on the images to enlarge them.]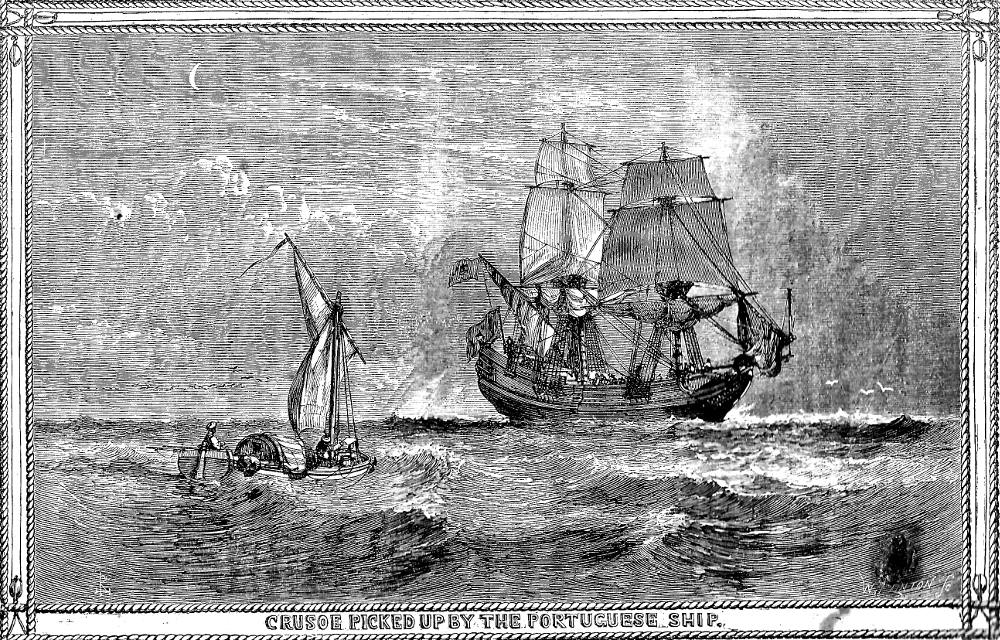 Above: A panoramic full-page illustration of Crusoe's small Moorish fishing-boat encountering the European bark that will save him, Crusoe picked up by the Portuguese ship. [Click on the image to enlarge it.]
Bibliography
Defoe, Daniel. The Life and Surprising Adventures of Robinson Crusoe, of York, Mariner, with introductory verses by Bernard Barton, and illustrated with numerous engravings from drawings by George Cruikshank expressly designed for this edition. 2 vols. London: Printed at the Shakespeare Press, by W. Nichol, for John Major, Fleet Street, 1831.
De Foe, Daniel. The Life and Adventures of Robinson Crusoe, Written by Himself. Illustrated by Gilbert, Cruikshank, and Brown. London: Darton and Hodge, 1867?].
Defoe, Daniel. The Life and Surprising Adventures of Robinson Crusoe of York, Mariner. (1831). Illustrated by George Cruikshank. Major's Edition. London: Chatto & Windus, 1890.
Patten, Robert L. "Phase 2: "'The Finest Things, Next to Rembrandt's,' 1720–1835." Chapter 20, "Thumbnail Designs." George Cruikshank's Life, Times, and Art, vol. 1: 1792-1835. Rutgers, NJ: Rutgers U. P., 1992; London: The Lutterworth Press, 1992. Pp. 325-339.
---
Last modified 21 February 2018