Scanned image by Philip V. Allingham. [You may use this image without prior permission for any scholarly or educational purpose as long as you (1) credit the person who scanned the image and (2) link your document to this URL in a web document or cite the Victorian Web in a print one.]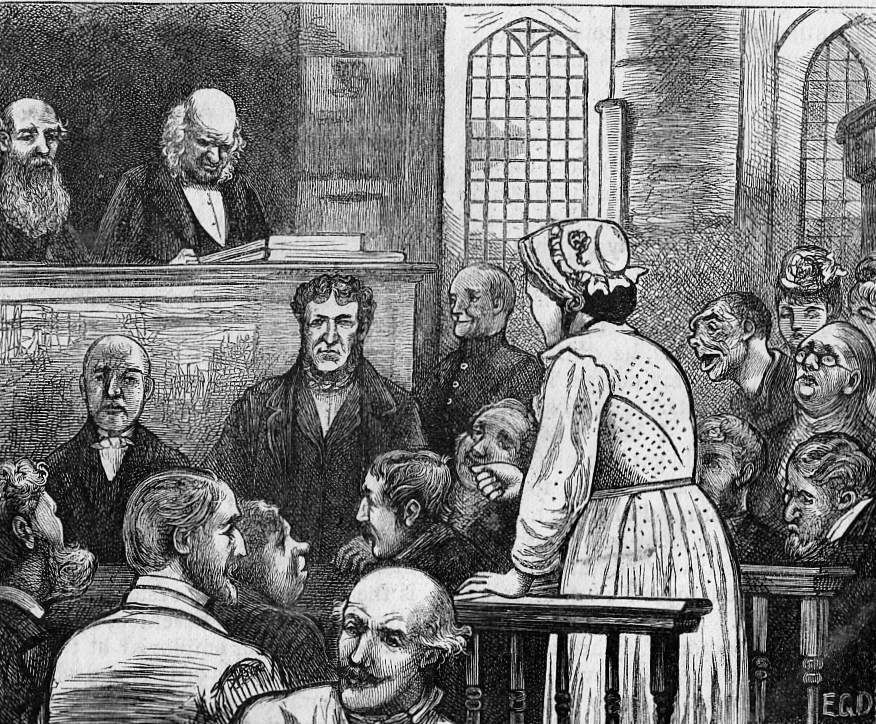 And White Riding Hood was fined ten shillings. by Edward G. Dalziel. Wood engraving. From Dickens's "The Ruffian," Ch. 36 in The Uncommercial Traveller. [Click on image to enlarge it.]
Passage realized
Conference took place between the Magistrate and clerk respecting the charge. During conference I was evidently regarded as a much more objectionable person than the prisoner; — one giving trouble by coming there voluntarily, which the prisoner could not be accused of doing. The prisoner had been got up, since I last had the pleasure of seeing her, with a great effect of white apron and straw bonnet. She reminded me of an elder sister of Red Riding Hood, and I seemed to remind the sympathising Chimney Sweep by whom she was attended, of the Wolf.
The Magistrate was doubtful, Mr. Uncommercial Traveller, whether this charge could be entertained. It was not known. Mr. Uncommercial Traveller replied that he wished it were better known, and that, if he could afford the leisure, he would use his endeavours to make it so. There was no question about it, however, he contended. Here was the clause.
The clause was handed in, and more conference resulted. After which I was asked the extraordinary question: "Mr. Uncommercial, do you really wish this girl to be sent to prison?" To which I grimly answered, staring: "If I didn't, why should I take the trouble to come here?" Finally, I was sworn, and gave my agreeable evidence in detail, and White Riding Hood was fined ten shillings, under the clause, or sent to prison for so many days. "Why, Lord bless you, sir," said the Police-officer, who showed me out, with a great enjoyment of the jest of her having been got up so effectively, and caused so much hesitation: "if she goes to prison, that will be nothing new to her. She comes from Charles Street, Drury Lane!" [173]
Commentary
The young woman's area of residence in London — the theatre district, specifically Drury Lane (which runs from New Oxford Street towards the Strand) suggests that she is disreputable, and probably a prostitute. And yet this denizen of brothels and gin shops (as seen in Dickens's earliest work, Sketches by Boz, 1836) elicits the compassion of the Uncommercial Traveller, the great observer and analyst of urban life. As a sign of his compassionate and imaginative interest in the girl from Charles Street (surely the writer has chosen the street to reflect his own identity as a child of London's seamier side), Dickens alludes to her as Little Red Riding-Hood's elder sister, like her sibling lost in the forest of life and observed closely by the "Wolf," the Uncommercial himself. Dickens often alludes to this, his favourite fairy-tale, and to his favourite heroine from childhood tales of fancy.
Unfortunately, Dalziel's handling of the scene is so prosaic that he shows us neither the young woman's face nor much of her white apron and straw bonnet. Instead, the illustrator focuses upon the male-dominated Magistrate's Court, contrasting the sole female present with the physically repulsive chimney-sweep, only mentioned in passing by the narrator and not otherwise distinguished.
Other urban scenes
Bibliography
Dickens, Charles. The Uncommercial Traveller. Il. E. G. Dalziel. The Household Edition. London: Chapman and Hall, 1877.
Scenes and Characters from the Works of Charles Dickens; being eight hundred and sixty-six drawings, by Fred Barnard, Hablot Knight Browne (Phiz); J. Mahoney; Charles Green; A. B. Frost; Gordon Thomson; J. McL. Ralston; H. French; E. G. Dalziel; F. A. Fraser, and Sir Luke Fildes; printed from the original woodblocks engraved for "The Household Edition." New York: Chapman and Hall, 1908. Copy in the Robarts Library, University of Toronto.
---
Last modified 7 February 2013