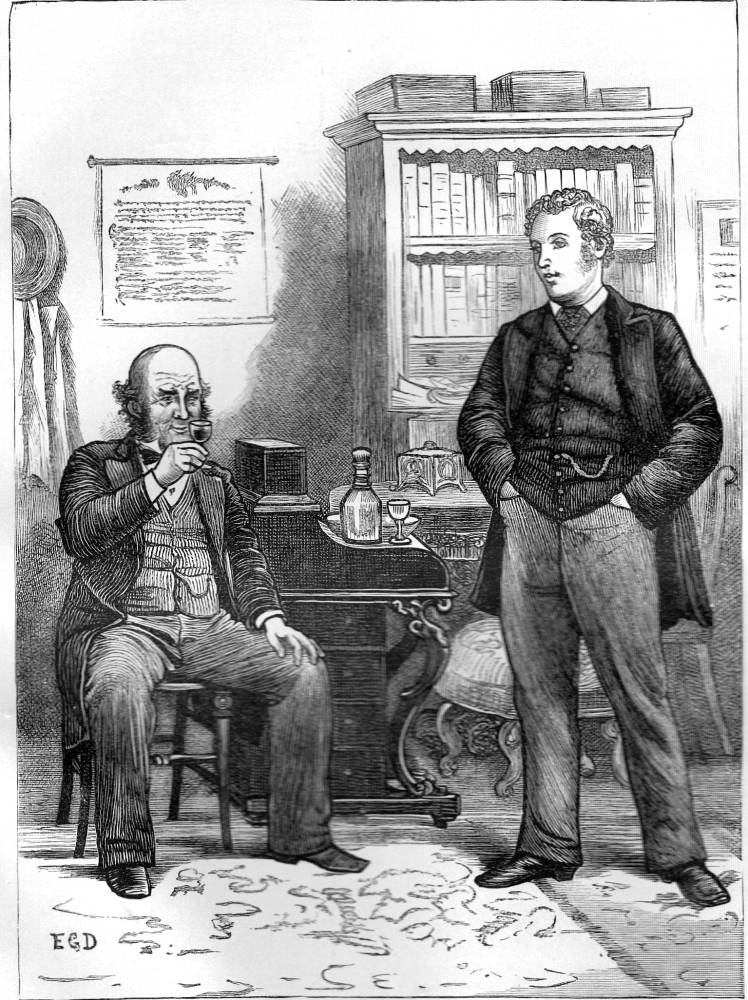 "It's from the best corner of our best forty-five year old bin," said Mr. Wilding. . .
Edward G. Dalziel
Wood engraving
17.4 cm high by 13.6 cm wide, framed.
Dickens's "No Thoroughfare," in Christmas Stories (1877), facing p. 222.
Scanned image and text by Philip V. Allingham
[You may use this image without prior permission for any scholarly or educational purpose as long as you (1) credit the person who scanned the image and (2) link your document to this URL in a web document or cite the Victorian Web in a print one.]
Passage Illustrated
"When a man at five-and-twenty can put his hat on, and can say 'this hat covers the owner of this property and of the business which is transacted on this property,' I consider, Mr. Bintrey, that, without being boastful, he may be allowed to be deeply thankful. I don't know how it may appear to you, but so it appears to me."
Thus Mr. Walter Wilding to his man of law, in his own counting-house; taking his hat down from its peg to suit the action to the word, and hanging it up again when he had done so, not to overstep the modesty of nature.
An innocent, open-speaking, unused-looking man, Mr. Walter Wilding, with a remarkably pink and white complexion, and a figure much too bulky for so young a man, though of a good stature. With crispy curling brown hair, and amiable bright blue eyes. An extremely communicative man: a man with whom loquacity was the irrestrainable outpouring of contentment and gratitude. Mr. Bintrey, on the other hand, a cautious man, with twinkling beads of eyes in a large overhanging bald head, who inwardly but intensely enjoyed the comicality of openness of speech, or hand, or heart.
"Yes," said Mr. Bintrey. "Yes. Ha, ha!"
A decanter, two wine-glasses, and a plate of biscuits, stood on the desk.
"You like this forty-five year old port-wine?" said Mr. Wilding.
"Like it?" repeated Mr. Bintrey. "Rather, sir!"
"It's from the best corner of our best forty-five year old bin," said Mr. Wilding.
"Thank you, sir," said Mr. Bintrey. "It's most excellent."
He laughed again, as he held up his glass and ogled it, at the highly ludicrous idea of giving away such wine. ["Act One: The Curtain Rises," p. 221-222 ]
Commentary
The 1867 Extra Christmas Number's fiction offering in All the Year Round is a Victorian thriller on the Collins model rather than, as its predecessors in Dickens's journals, a framed tale of some seven or eight separate short stories connected by the fortuitous meeting of their various narrators, as in The Seven Poor Travellers. In the numerous illustrated editions, the story has consistently been the subject of illustration. Edward Dalziel appears have avoided those sections of the collaboratively written novella for Christmas 1867 that Dickens did not write: Wilkie Collins, Dickens's co-author, wrote "The Overture and "Act II" entirely. However, Harry Furniss in his sequence of four illustrations for the novella in 1910 actually illustrated an incident from "The Overture," one of those sections written exclusively by Wilkie Collins. The key illustration for all editions, however, is the wrestling match in the Alps between the duplicitous and "foreign" Jules Obenreizer and the valiant young upper-middle-class Englishman, George Vendale.
After Doctor Marigold's Prescriptions, Dickens' interest in what had become the traditional Christmas number apparently declined. In Mugby Junction, as its table of contents indicates, he added the stories by other writers as a kind of inevitable supplement at the end of his own contributions. With No Thoroughfare, the holiday production for the following year, he dropped his usual format and leaned heavily on the help of Wilkie Collins. In 1868, he jettisoned the Christmas number altogether. [Thomas 152-153]
The seasonal offering for 1866, Mugby Junction, proved to be the last of Dickens's "framed tales for Christmas," since 1867's No Thoroughfare is a tightly organised joint venture with just one other writer, Wilkie Collins, who had not contributed any short stories whatsoever to Dickens's seasonal offerings since 1861. Thomas is rather dismissive of the 1867 novella, for which Dickens contributed just the "Overture" and "Act Three," although he collaborated with Collins on the first and fourth acts. She describes the work as
a technically unremarkable tangle of mistaken identity, murder, love, and larceny. Its form is that of a single story, narrated in the third person, without any interpolated pieces. [Thomas 108]
The 1876 Harper and Brothers edition of Christmas Books, illustrated by E. A. Abbey, does not contain the novella, possibly because its antecedent, the Diamond Edition volume of 1867, does not — because the story was still in press when Ticknor and Fields published the Diamond Edition. Edward Dalziel, Chapman and Hall's chosen illustrator for its own Household Edition volume the year following the publication the Harper and Brothers volume, did provide a series of large-scale wood-engravings for the last of the Christmas Stories. The British volume, more extensively illustrated, is dedicated entirely to the Christmas Stories from "Household Words" and "All the Year Round". E. G. Dalziel's execution of the illustrations for No Thoroughfare focuses on the characters, beginning with the London wine merchant Walter Wilding and his legal advisor, Bintrey. Except for He became roused to the knowledge that Obenreizer had set upon him, and that they were struggling desperately in the snow, these are surprisingly prosaic and static for so tension-filled a narrative.
The story also exists as a theatre script, but only one performance had authorial sanction: this occurred in the same month as the publication of the novella, at the New Adelphi in the Islington district of London, 26-30 December 1867 (Bolton 438). With so short a West End run, it is unlikely to have had much influence on nineteenth-century illustrators of the novella, but Londoner E. G. Dalziel may well have caught one of the few performances of the play at London's Olympic Theatre in November 1875, so that his choice of subjects may reflect the staging of the dramatic text. Certainly, the composition smacks of a scene on stage, with careful realisation of the details of the young wine merchant's office which foil the attorney's delighted examination of the colour and bouquet of the vintage. To emphasize the points of contrast between the two men Dalziel has emphasized Wilding's youthfulness and the attorney's baldness, but has failed to suggest the younger man's corpulence, for Dickens is explicit about the younger man's being overweight, for he has "a figure much too bulky for so young a man. . . ."
The plate serves as a suitable "induction" to the world of business, with the attorney and young businessman situated in a mundane office. Once Dickens and Collins have established this extraordinarily normal business environment (desk, ledgers, books, and wall certificate exemplifying the workaday world of businessman Walter Wilding in the City), they gradually introduce the elements of Sensation: embezzlement, purloined correspondence, mistaken identity, a suave but devious foreigner, embezzlement, and attempted murder.
Relevant Illustrated Library Edition (1868) and Charles Dickens Library Edition (1910) Illustrations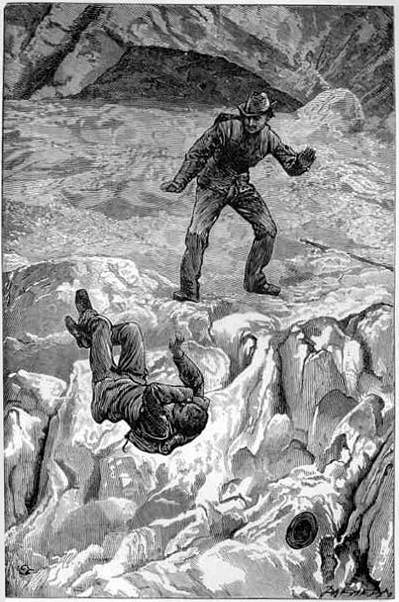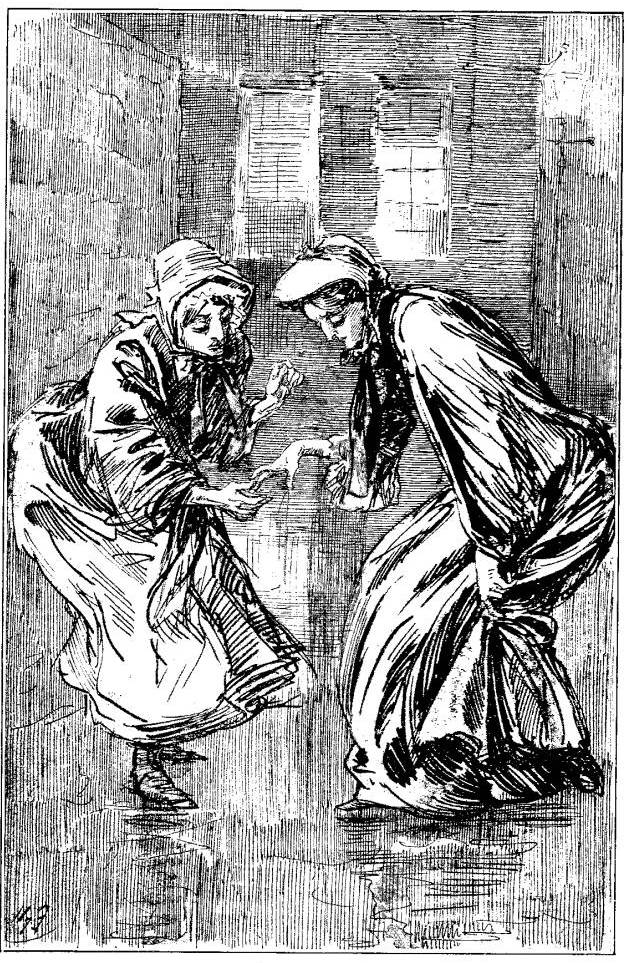 Left: Charles Green's dramatic 1868 illustration of the outcome of the struggle on the glacial ice between Vendale and Obenreiser in "No Thoroughfare". Right: Harry Furniss's impressionistic 1910 illustration for "The Overture" by Collins, "Nurse and Mother". [Click on images to enlarge them.]
Bibliography
Bentley, Nicolas, Michael Slater, and Nina Burgis. The Dickens Index. Oxford and New York: Oxford U. P., 1988.
Bolton, H. Philip. Dickens Dramatized. Boston: G. K. Hall, 1987.
Davis, Paul. Charles Dickens A to Z: The Essential Reference to His Life and Work. New York: Facts On File, 1998.
Dickens, Charles. Christmas Books and The Uncommercial Traveller. Illustrated by Harry Furniss. Charles Dickens Library Edition. 18 vols. London: Educational Book Company, 1910. Vol. 10.
Dickens, Charles. The Uncommercial Traveller and Additional Christmas Stories. Illustrated by Sol Eytinge, Junior. Boston: Ticknor and Fields, 1867.
Dickens, Charles. Christmas Stories from "Household Words" and "All The Year Round". Illustrated by Townley Green, Charles Green, Fred Walker, F. A. Fraser, Harry French, E. G. Dalziel, and J. Mahony. The Illustrated Library Edition. London: Chapman and Hall, 1868, rpt. in the Centenary Edition of Chapman & Hall and Charles Scribner's Sons (1911). 2 vols.
Dickens, Charles. Christmas Stories. Illustrated by E. A. Abbey. The Household Edition. New York: Harper and Brothers, 1876.
Dickens, Charles. Christmas Stories from "Household Words" and "All the Year Round". Illustrated by E. G. Dalziel. The Household Edition. London: Chapman and Hall, 1877.
Scenes and characters from the works of Charles Dickens; being eight hundred and sixty-six drawings, by Fred Barnard, Hablot Knight Browne (Phiz); J. Mahoney; Charles Green; A. B. Frost; Gordon Thomson; J. McL. Ralston; H. French; E. G. Dalziel; F. A. Fraser, and Sir Luke Fildes; printed from the original woodblocks engraved for "The Household Edition.". New York: Chapman and Hall, 1908. Copy in the Robarts Library, University of Toronto.
Thomas, Deborah A. Dickens and The Short Story. Philadelphia: U. Pennsylvania Press, 1982.
---

Victorian
Web

Charles
Dickens

Visual
Arts

Illustration

The Dalziel
Brothers

Next
Last modified 22 May 2014