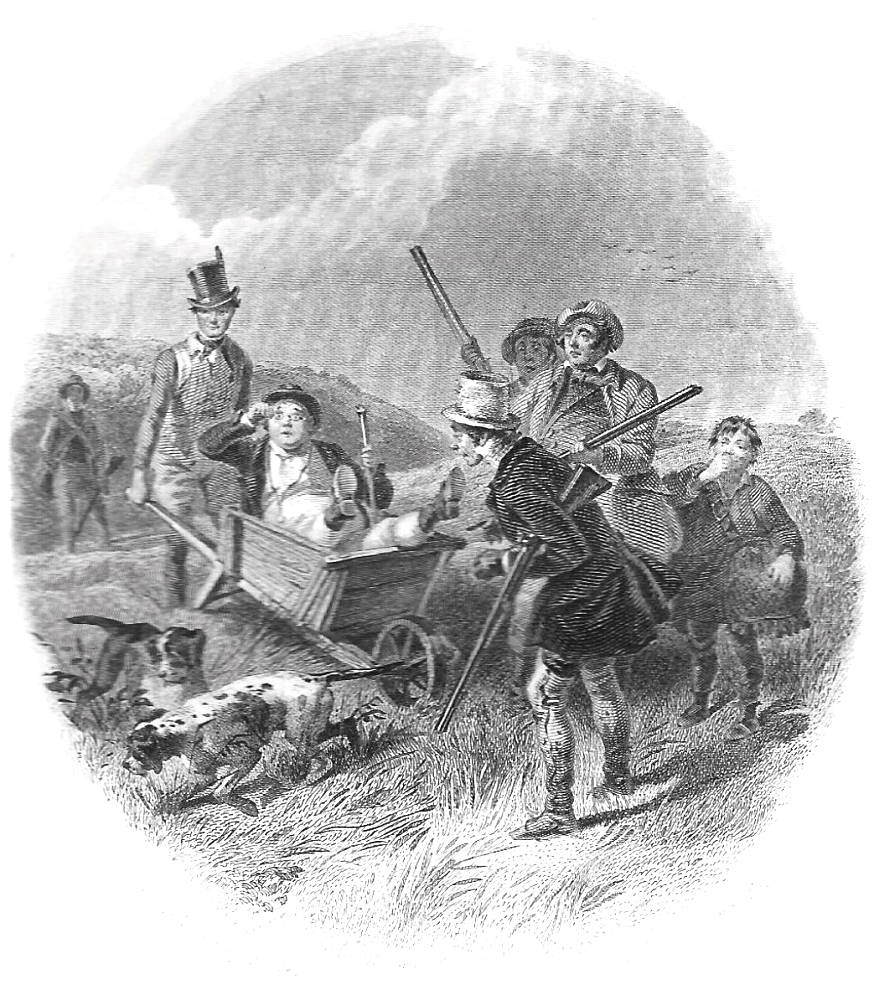 Making a Point — "What's the matter with the dogs' legs?"
Felix O. C. Darley
1861
Photogravure
9.9 x 8.5 cm vignetted
Dickens's The Pickwick Papers, Riverside Edition, vol. 1, facing page 87 in the second half of the volume.
Scanned image and text by Philip V. Allingham.
[You may use this image without prior permission for any scholarly or educational purpose as long as you (1) credit the person who scanned the image and (2) link your document to this URL in a web document or cite the Victorian Web in a print one.]
Passage Illustrated
"That gun of Tupman's is not safe: I know it isn't," said Mr. Pickwick.
"Eh? What! not safe?" said Mr. Tupman, in a tone of great alarm.
"Not as you are carrying it," said Mr. Pickwick. "I am very sorry to make any further objection, but I cannot consent to go on, unless you carry it as Winkle does his."
"I think you had better, sir," said the long gamekeeper, "or you're quite as likely to lodge the charge in yourself as in anything else."
Mr. Tupman, with the most obliging haste, placed his piece in the position required, and the party moved on again; the two amateurs marching with reversed arms, l ike a couple of privates at a royal funeral.
The dogs suddenly came to a dead stop, and the party advancing stealthily a single pace, stopped too.
"What's the matter with the dogs' legs?" whispered Mr. Winkle. "How queer they're standing."
"Hush, can't you?" replied Wardle softly. "Don't you see, they're making a point?"
"Making a point!" said Mr. Winkle, staring about him, as if he expected to discover some particular beauty in the landscape, which the sagacious animals were calling special attention to. "Making a point! What are they pointing at?"
"Keep your eyes open," said Wardle, not heeding the question in the excitement of the moment. "Now then."
There was a sharp whirring noise, that made Mr. Winkle start back as if he had been shot himself. Bang, bang, went a couple of guns — the smoke swept quickly away over the field, and curled into the air.
"Where are they!" said Mr. Winkle, in a state of the highest excitement, turning round and round in all directions. "Where are they? Tell me when to fire. Where are they — where are they?"
"Where are they!" said Wardle, taking up a brace of birds which the dogs had deposited at his feet. "Why, here they are." [Chapter 19, "A Pleasant Day, with an Unpleasant Termination," pages 86-87]
Commentary
The four 1861 frontispieces for the first four separate volumes of The Posthumous Papers of the Pickwick Club in the fifty-five volume set by a renowned American illustrator, Felix Octavius Carr Darley (then 39 and well established as a professional artist) and well-known British illustrator Sir John Gilbert, were a value-added feature for New York publisher James M. Gregory. Although beautifully printed and bound, the green volumes are essentially an American piracy since Dickens had assigned publication rights to Harper and Brothers.
Having already demonstrated his ineptitude in the handling of a horse and carriage in the streets of Rochester, Pickwick leads his companions on a September partridge hunt, but at least the impractical, bourgeois urbanites are now accompanied by the ever-prepared Sam Weller as they hunt game birds on Sir Geoffrey Manning's estate. Thus, Dickens delays for another few days Pickwick's confronting unscrupulous attorneys Dodson and Fogg about Mrs. Bardell's breach-of-promise suit.
Neither American Household Edition illustrator of the seventies, Thomas Nast, nor the successor to Robert Seymour (whose suicide with a firearm caused an abrupt change of illustrator for the monthly serial), Phiz selected for their series of illustrations this farcical hunting scene. Phiz decided upon the famous scene later in chapter 19, Mr. Pickwick in the Pound (1836), and forty years later in the Household Edition a subsequent hunting mishap, There was a scream as of an individual — not a rook — in corporeal anguish. Mr. Tupman had saved the lives of innumerable unoffending birds by receiving a portion of the charge in his left arm (1874), while Nast focuses on the ridiculous spectacle of Winkle in hunting garb, Mr. Winkle (1873). All three treatments are much funnier and more cartoon-like than Darley's, which may be taken as a limitation of the realist's response to the caricature style of illustration dominant in the 1840s.
Darley's choice of scene is interesting, however, in that it is another piece of the type of humour exploited by Robert Smith Surtees' (17 May 1805-16 March 1864) Cockney sporting series in the early 1830s in The New Sporting Magazine, although his volume work Jorrocks' Jaunts and Jollities actually came out after Dickens's Pickwick in 1838. The immediate origin of Dickens's Pickwickians was, in fact, Robert Seymour's "Nimrod Club" proposal to Chapman and Hall in 1835. In this satire of a traditional male hunting scene, the lame Pickwick is improbably in a wheel-barrow as his bumbling fellow club-members Mr. Winkle and Mr. Tupman, accompanied by Mr. Wardle, the owner of the idyllic Kentish estate of Manor Farm at the village of Dingley Dell, once more make fools of themselves outside their comfort zone, London. To add to the reader's amusement, Winkle, pretending to be something of a sportsman, mishandles his shotgun in such a manner that the reader apprehends a shooting accident is likely to occur — suspicions immediately confirmed by Winkle's accidentally discharging his firearm in the direction of the tall gamekeeper. Yet another complication is that Sir Geoffrey Manning's gamekeeper, Martin, has instructed his assistant to meet the shooting party on One-tree Hill, which is located on the estate of pompous and quick-tempered Captain Boldwig — setting up Pickwick's arrest for trespassing and being incarcerated with errant animals inna village "pound." Taken in sum, the shooting scene, then, constitutes the comedy of menace, a recurring feature of this picaresque novel.
References
Dickens, Charles. The Pickwick Papers. Il. F. O. C. Darley. Volume 1. The Riverside Edition. New York and Cambridge, Mass.: Hurd and Houghton, and Riverside, 1872.
Dickens, Charles. The Pickwick Papers. Il. Thomas Nast. The Household Edition. New York: Harper and Brothers, 1873.
Dickens, Charles. The Pickwick Papers. Il. Phiz. The Household Edition. London: Chapman and Hall, 1874.
---

Victorian
Web

Illustra-
tion

Pickwick
Papers

F. O. C.
Darley

Next
Last modified 24 February 2014