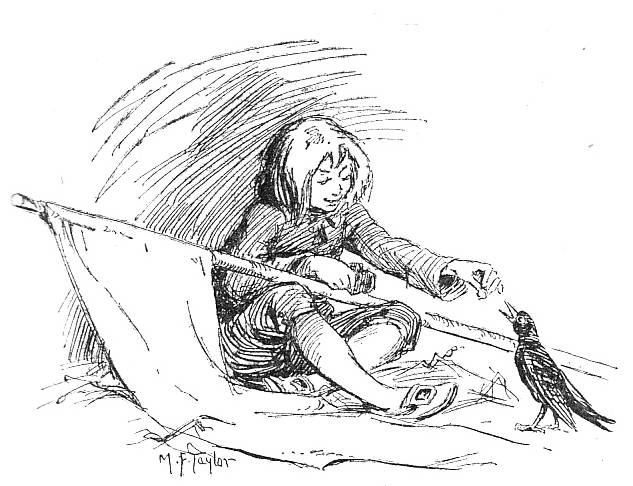 Barnaby Rudge and Grip by M. F. or E. M. Taylor. Photographic reproduction of line drawing, approximately 3.5 inches wide x 4 inches high. Dickens' Dream Children, realizing a scene in the third chapter, "Barnaby Rudge."
A true "natural" among Dickens's child characters is Barnaby Rudge, the titular character but not the protagonist of the historical novel based on the Gordon Riots, Barnaby Rudge. The artist exemplifies Barnaby's empathy with animals in the scene in which he feeds the tame raven Grip, his greatest friend and constant companion. The banner in the picture has just been transferred by Maypole Hugh from the rebel flag-bearer of Lord George Gordon's rioters: "when the tramping and cheering and flag-carrying were over for that day and Barnaby and Hugh were lying together on a heap of straw in a great stable where Hugh had led the Innocent, Grip was let out [of his travelling basket], and allowed to perch among the folds of the blue banner" (99). As he feeds his pet, Barnaby, oblivious to the extreme Protestant politics and anti-Catholic rhetoric of his leader, attempts to teach Grip to repeat "Gordon forever!"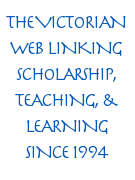 Scanned image and text by Philip V. Allingham [You may use this image without prior permission for any scholarly or educational purpose as long as you (1) credit the person who scanned the image and (2) link your document to this URL in a web document or cite it in one in a print medium.]
Bibliography
Dickens, Mary Angela [Charles Dickens' grand-daughter]. Dickens' Dream Children. Illustrated by Harold Copping, E. M. Taylor, and M. F. Taylor. London, Paris New, York: Raphael Tuck & Sons, Ltd., 1926.
---
Last modified 12 September 2010