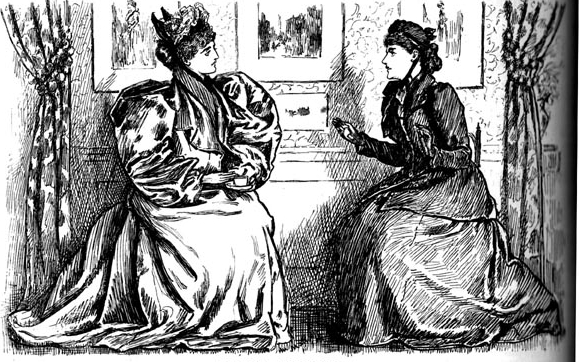 Feline Amenities George du Maurier. Punch. (2 May 1895): 210.
Miss Tregushing.— "Oh yes! There are such lovely Seas and Skies in Cornwall, and such rocks and caves– and Seats [?] — and the most magnificent wild Waves you ever saw– and–"
Mrs. Frou-Frou.— "But no Dress-makers, I suppose!"
Mrs. Frou-Frou, who wears the latest lavish outfit from Mr. Worth of Paris, cattily insults the enthusiastic young woman for her lack of fashion-sense.
Other Feline Amenities
---
Created 20 September 2001

Last modified 6 May 2020