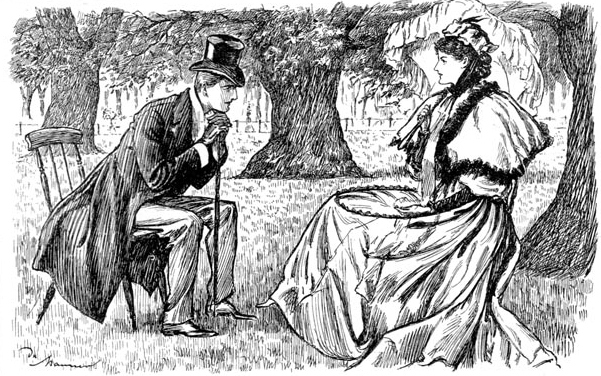 True Hyperbole George du Maurier. Punch. (13 July 1895): 18.
He.— "What a lovely Frock!. . . Worth, I suppose?"
She.— "Monsieur Worth is dead."
He.— "Ah! It looks as if it came from Heaven!""
The article entitled "Charles Frederick Worth (1825–1895) and the House of Worth" on the Metropolitan Museum of Art website describes Worth as "the designer who dominated Parisian fashion in the latter half of the nineteenth century" and whose "aggressive self-promotion earned him the titles father of 'haute couture' and 'the first couturier.' Worth had just died when du Maurier created his cartoon, which shows how he worked contemporary events into his works for Punch.
According to the Metropolitan Museum essay, "Worth's designs are notable for his use of lavish fabrics and trimmings," such as we see in many of du Maurier's drawings. In addition to his approach to fabrics, Worth also drew upon his knowledge of the history of women's clothing and paid particular attention to fit. Perhaps most important, although Worth "created one-of-a-kind pieces for his most important clients, he is especially known for preparing a variety of designs that were shown on live models at the House of Worth. Clients made their selections and had garments tailor-made in Worth's workshop."
Many clients traveled to Paris to purchase entire wardrobes from the House of Worth. For the wealthy woman, a complete wardrobe would consist of morning, afternoon, and evening dresses, and lavish "undress" items such as tea gowns and nightgowns, which were worn only in the privacy of one's home. Women also looked to Worth to supply gowns for special occasions, including weddings and ornate masquerade balls, a favorite entertainment in both the United States and Europe. Worth's clients also included stars of the theater and concert stage. He supplied performance costumes and personal wardrobes for leading actresses and singers such as Sarah Bernhardt, Lillie Langtry, Nellie Melba, and Jenny Lind.
The founder's sons continued the House of Worth, which ceased operations only in 1952.
Selected du Maurier Cartoons on Courtship & Marriage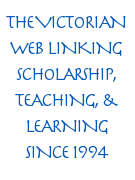 Bibliography
"Charles Frederick Worth (1825–1895) and the House of Worth." Metropolitan Museum of Art, New York. Web. 6 May 2020.
---
Created 20 September 2001

Last modified 6 May 2020