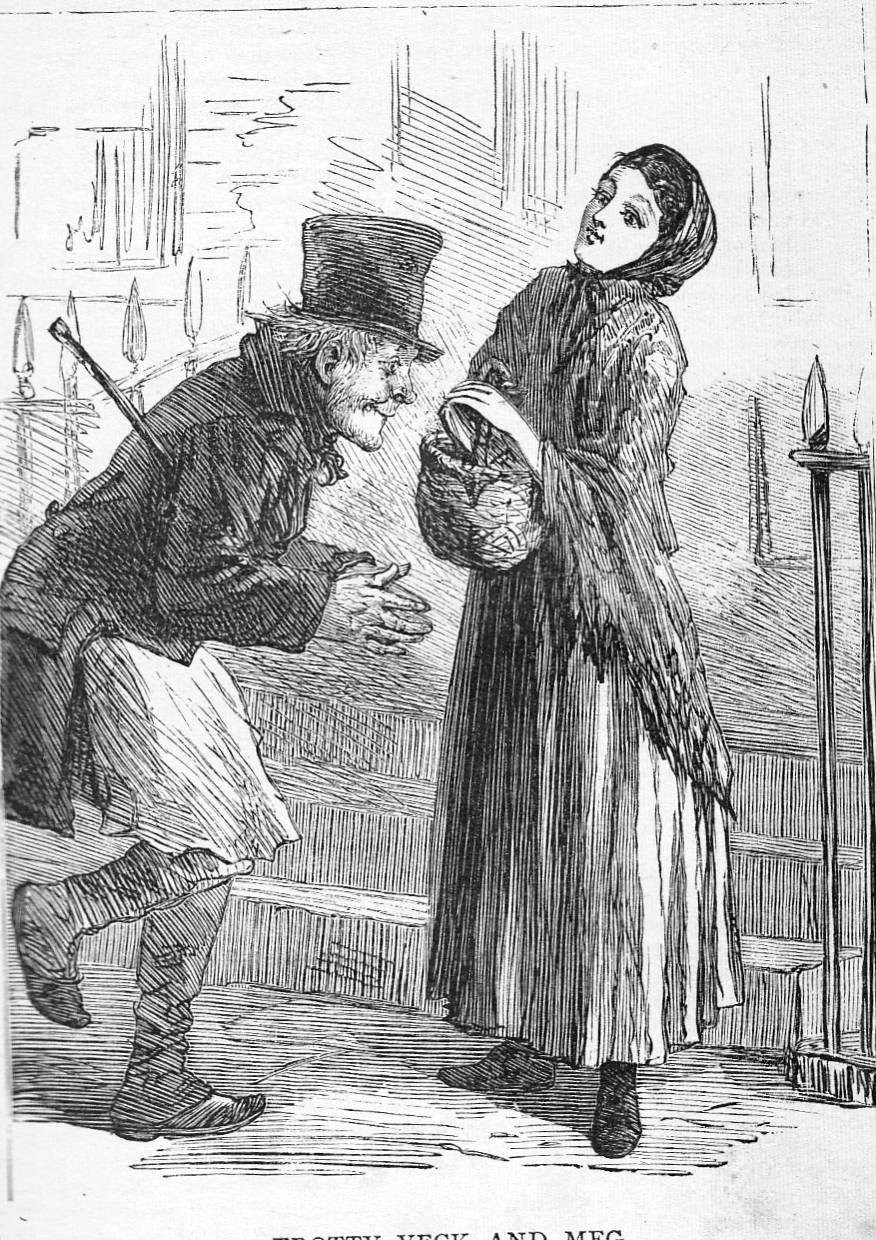 Trotty Veck and Meg
Sol Eytinge, Jr.
1867
Third illustration for Dickens's The Christmas Books in the Ticknor and Fields (Boston, 1867) Diamond Edition.
In this third full-page dual character study for the anthology, Eytinge characterises the relationship between the mid-mannered ticket-porter and his daughter.
[Click on image to enlarge it.]
Image scan and text by Philip V. Allingham.
You may use this image without prior permission for any scholarly or educational purpose as long as you (1) credit the person who scanned the image and (2) link your document to this URL in a web document or cite the Victorian Web in a print one.
Since the American artist had had the advantage of seeing the illustrations from the 1844 novel, it is not surprising that Eytinge has elected to depict Trotty and his pretty daughter in the context of the church steps where, waiting for a possible commission, Toby Veck receives a hot lunch that Meg has prepared.
Passage Illustrated:
"Why, father, father!" said the pleasant voice again.
Toby heard it this time; started; stopped; and shortening his sight, which had been directed a long way off as seeking the enlightenment in the very heart of the approaching year, found himself face to face with his own child, and looking close into her eyes. Bright eyes they were. Eyes that would bear a world of looking in, before their depth was fathomed. Dark eyes, that reflected back the eyes which searched them; not flashingly, or at the owner's will, but with a clear, calm, honest, patient radiance, claiming kindred with that light which Heaven called into being. Eyes that were beautiful and true, and beaming with Hope. With Hope so young and fresh; with Hope so buoyant, vigorous, and bright, despite the twenty years of work and poverty on which they had looked; that they became a voice to Trotty Veck, and said: "I think we have some business here a little!"
Trotty kissed the lips belonging to the eyes, and squeezed the blooming face between his hands.
"Why, Pet," said Trotty. "What's to do? I didn't expect you today, Meg."
"Neither did I expect to come, father," cried the girl, nodding her head and smiling as she spoke. "But here I am! And not alone; not alone!"
"Why you don't mean to say," observed Trotty, looking curiously at a covered basket which she carried in her hand, "that you."
"Smell it, father dear," said Meg. "Only smell it!"
Trotty was going to lift up the cover at once, in a great hurry, when she gaily interposed her hand.
"No, no, no," said Meg, with the glee of a child. "Lengthen it out a little. Let me just lift up the corner; just the lit-tle ti-ny cor-ner, you know," said Meg, suiting the action to the word with the utmost gentleness, and speaking very softly, as if she were afraid of being overheard by something inside the basket; "there. Now. What's that?"
Toby took the shortest possible sniff at the edge of the basket, and cried out in a rapture:
"Why, it's hot!"
"It's burning hot!" cried Meg. "Ha, ha, ha! It's scalding hot!"
"Ha, ha, ha!" roared Toby, with a sort of kick. "It's scalding hot!"
"But what is it, father?" said Meg. "Come. You haven't guessed what it is. And you must guess what it is. I can't think of taking it out, till you guess what it is. Don't be in such a hurry! Wait a minute! A little bit more of the cover. Now guess!"
Meg was in a perfect fright lest he should guess right too soon; shrinking away, as she held the basket towards him; curling up her pretty shoulders; stopping her ear with her hand, as if by so doing she could keep the right word out of Toby's lips; and laughing softly the whole time.
Meanwhile, Toby, putting a hand on each knee, bent down his nose to the basket, and took a long inspiration at the lid; the grin upon his withered face expanding in the process, as if he were unhaling laughing-gas.
"Ah! It's very nice," said Toby. "It ain't — I suppose it ain't Polonies?" [First Quarter; Diamond Edition, p. 50-51]
Commentary
Shortly after this point, Alderman Cute and his entourage, including a statistician named Filer, arrive on the scene; the conjunction of these political figures and Trotty, Meg, her fiance (Richard, a blacksmith) is the subject of John Leech's 1844 illustration "Alderman Cute and his Friends", in which the urban politician is commissioning Trotty to deliver a message to a Tory Member of Parliament, Sir Joseph Bowley.
By the logic of Dickens's description, Meggy Veck should be young and beautiful, and "beaming with Hope." Although Eytinge's Meg may not quite meet those specifications, she is as attractive as the images of her in the 1844 novella, though not as blossoming and full-cheeked as the young woman in Fred Barnard's 1878 Household Edition image of her in "'No,' said Toby after another sniff. 'It's — It's mellower than Polonies.'" and E. A. Abbey's "What's the matter? What's the matter?" said the gentleman for whom the door was opened.". The face of Meggy Veck is certainly attractive in both Harry Furniss's 1910 and Eytinge's 1867 illustrations, but the later artist employs the vigorous wind to delineate Meg's comely figure, which remains discretely shrouded in working-class shirt and shawl in Eytinge's illustration. The moment chosen by Eytinge has been popular with other nineteenth-century illustrators of the novella: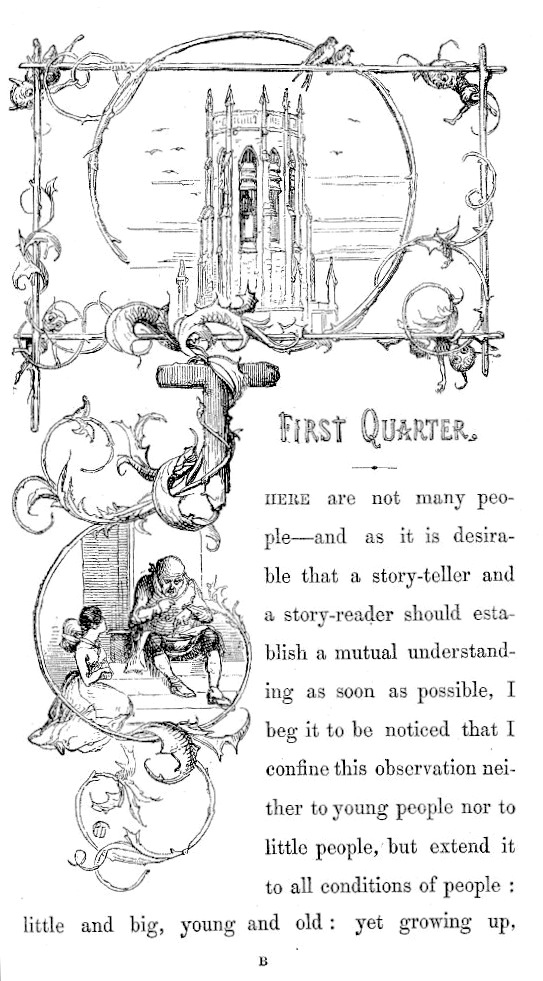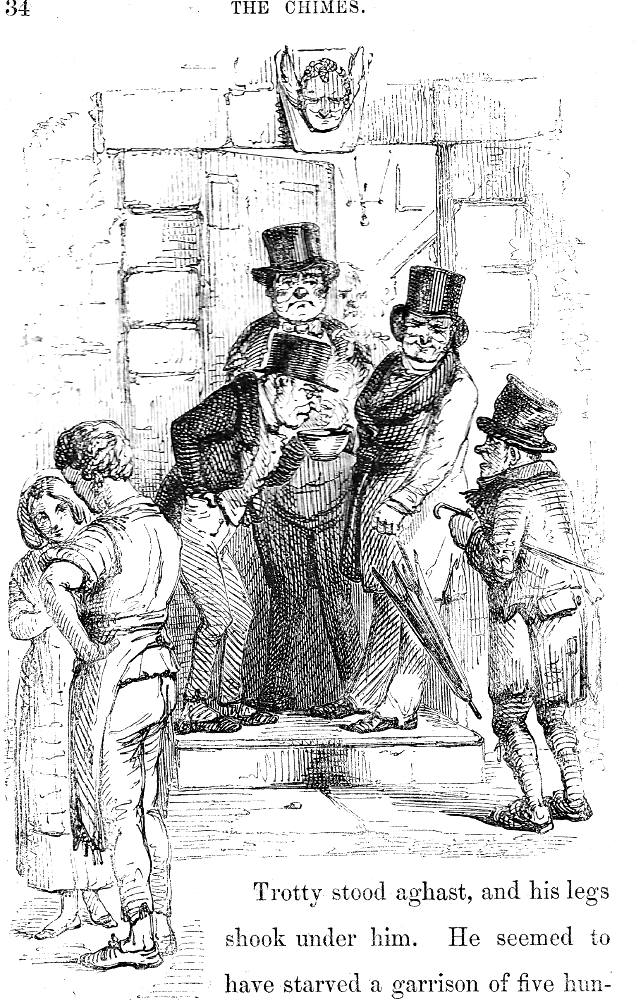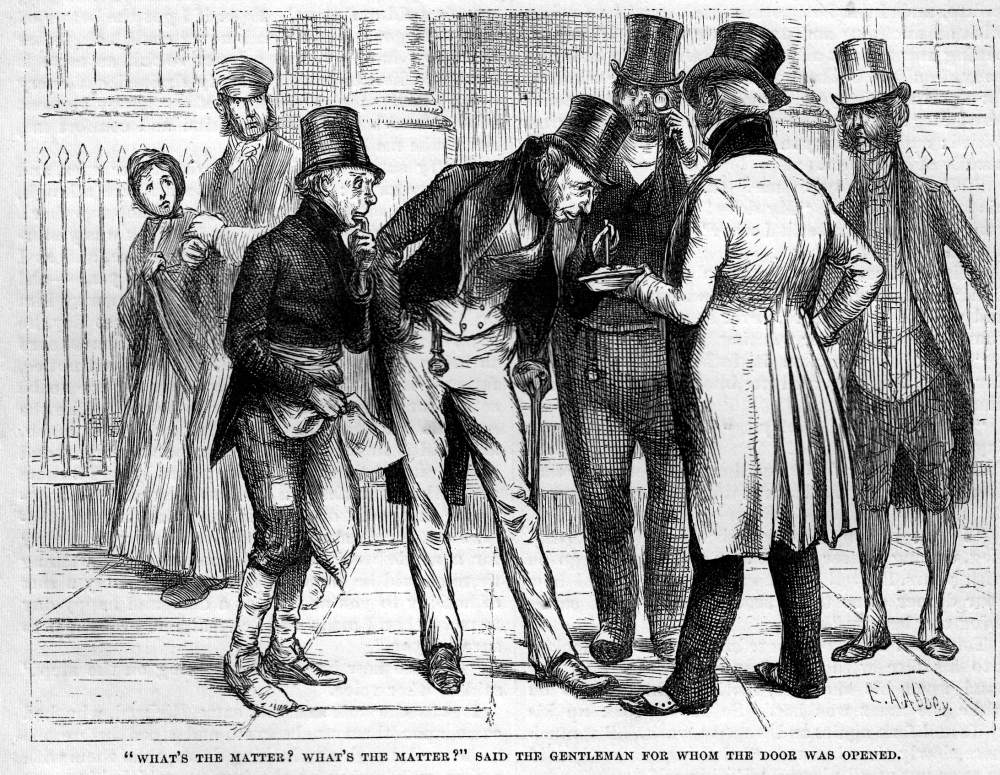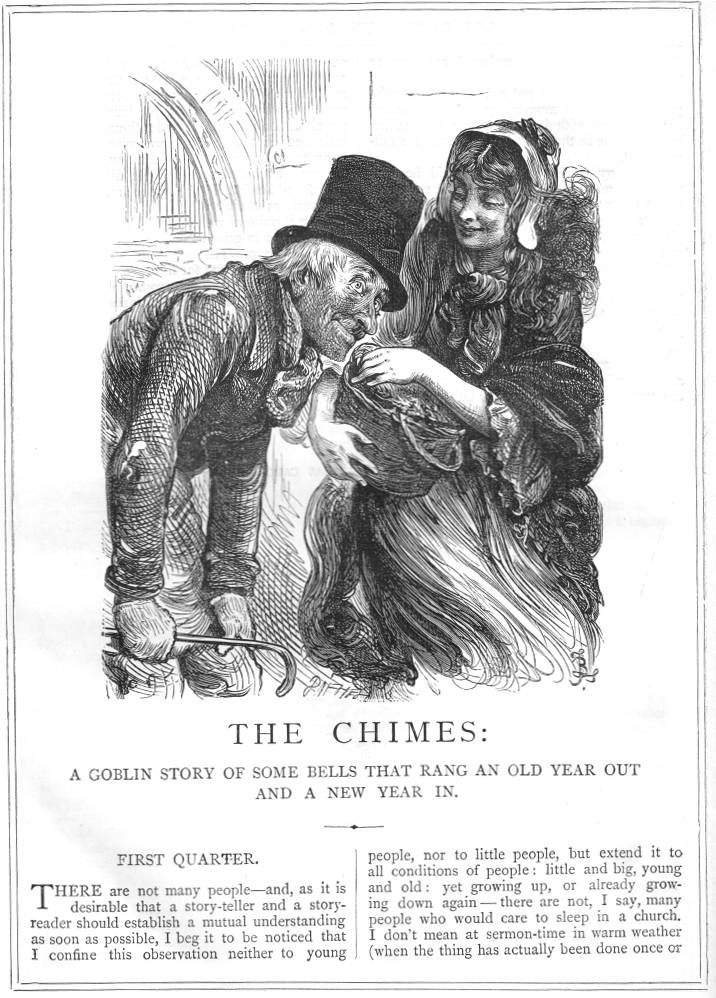 Various interpretations of Trotty's dinner al fresco — Left: Richard Doyle's illustration of "The Dinner on the Steps" (1844). Centre: John Leech's illustration of the Trotty's being upbraided for eating tripe: "Alderman Cute and His Friends" (1844). Right: In Abbey's illustration, Meg and Richard are in the background in "What's the matter? What's the matter?"said the gentleman for whom the door was opened." (1876); Fred Barnard's illustration of Trotty Veck's savouring the ordor of hot tripe in Meggy's basket on the steps of St. Dunstan's: "'No,' said Toby after another sniff. 'It's — It's mellower than Polonies'" (1878).
Although the illustrator of the Charles Dickens Library Edition (1910), Harry Furniss, probably did not have access to Eytinge's Diamond Edition illustrations, his initial wood-engraving for The Chimes, "Trotty Veck's Dinner," realises the same moment. However, whereas Furniss has taken pains to show the effect of the wind on the two figures, he shows nothing of the backdrop. A realism rather than an impressionist, Eytinge on the other hand shows the area railing and the steps, Although he does not specifically identify these as belonging to a church. These studies of the mild-mannered London ticket-porter all emphasize his red nose, porter's apron, battered top-hat, leggings, and staff of office, elements that John Leech had emphasized in "Trotty Veck" (p. 9) in the 1844 edition. Whereas in Furniss's 1910 illustration, Trotty bends over, hands on his knees (as described in the text), to better appreciate the aroma of his hot lunch which Meg presents to him, in Eytinge's illustration Trotty stamps his feet to ward off the chills as he claps his hands together in anticipation as he focuses on the contends of the small woven basket and sniffs deeply. In both, he laughs appreciatively, although more boisterously in the 1910 illustration, "as if he were inhaling laughing-gas" (Diamond Edition, p. 51).
Bibliography
Bentley, Nicolas, Michael Slater, and Nina Burgis. The Dickens Index. Oxford and New York: Oxford U. P., 1988.
Davis, Paul. Charles Dickens A to Z: The Essential Reference to His Life and Work. New York: Checkmark and Facts On File, 1998.
Dickens, Charles. The Christmas Books and Sketches by Boz. Il. Sol Eytinge, Jr. Engraved by A. V. S. Anthony. The Diamond Edition. Boston: Ticknor and Fields, 1867.
Dickens, Charles. The Chimes: A Goblin Story of Some Bells That Rang An Old Year Out and a New Year In. Il. John Leech, Richard Doyle, and Clarkson Stanfield. London: Bradbury and Evans, 1844.
Dickens, Charles. Christmas Books and Sketches by Boz Illustrative of Every-day Life and Every-day People. Il. Sol Eytinge, Jr. The Diamond Edition. Boston: Ticknor and Fields, 1867. Rpt., Boston: James R. Osgood, 1875.
Dickens, Charles. Christmas Books. Il. Fred Barnard. The Household Edition. London: Chapman and Hall, 1878.
Hammerton, J. A. The Dickens Picture-Book. The Charles Dickens Library edition. London: Educational Book Co., 1910.
Kitton, Frederic G. Dickens and His Illustrators. 1899. Rpt. Honolulu: U. Press of the Pacific, 2004.
Lester, Valerie Browne. Phiz: The Man Who Drew Dickens. London: Chatto and Windus, 2004.
Winter, William. "Charles Dickens" and "Sol Eytinge." Old Friends: Being Literary Recollections of Other Days. New York: Moffat, Yard, & Co., 1909. Pp. 181-207, 317-319.
---

Victorian
Web

Illus-
tration

Christmas
Books

Sol
Eytinge

Next
Last modified 22 April 2013