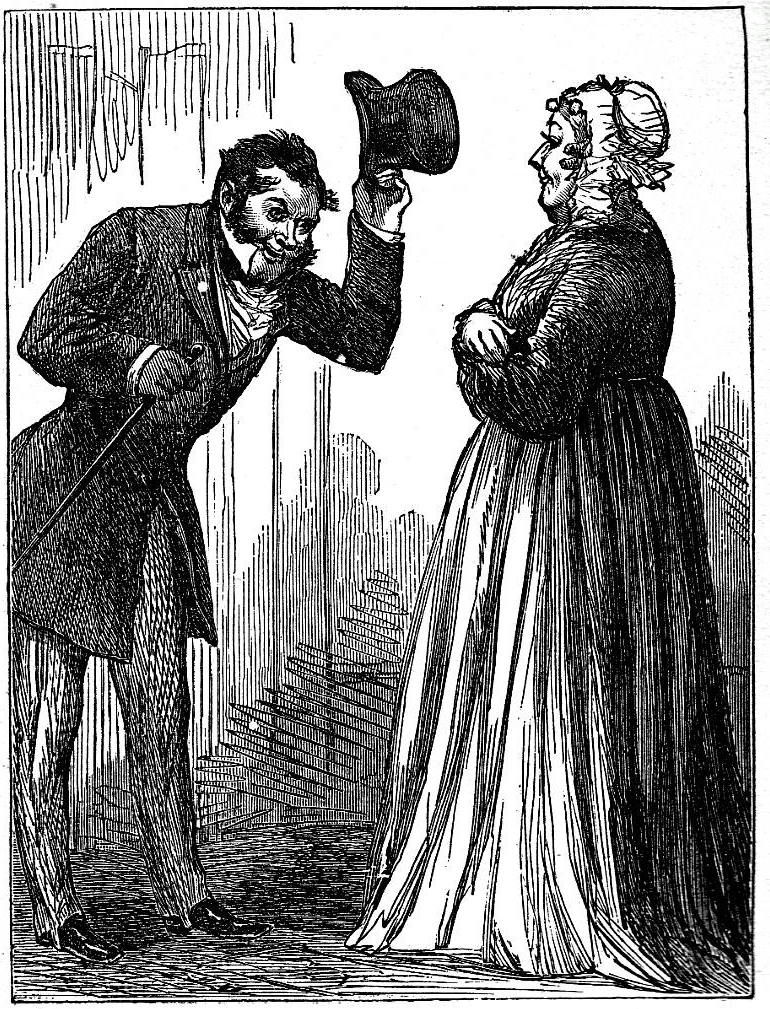 "Mrs. Lirriper and The Major"
Sol Eytinge, Junior
1867
Wood-engraving
9.9 cm high x 7.4 cm wide
The second illustration for Dickens's Additional Christmas Stories in the Ticknor & Fields (Boston, 1867) Diamond Edition, facing page 238.
The sentimental first-person narrative of the kindly landlady and her eccentric lodger, a flamboyant retired military man, who between them adopt an orphan whom they name "Jemmy," was once a "framed-tale" sequence entitled Mrs. Lirriper's Lodgings. [Commentary continues below.]
Scanned image and text by Philip V. Allingham.
[You may use these images without prior permission for any scholarly or educational purpose as long as you (1) credit the photographer and (2) link your document to this URL in a web document or cite the Victorian Web in a print one.]
Passage Illustrated
Dear dear, thirteen years have passed though it seems but yesterday since I was sitting with my glasses on at the open front parlour window one evening in August (the parlours being then vacant) reading yesterday's paper my eyes for print being poor though still I am thankful to say a long sight at a distance, when I hear a gentleman come posting across the road and up the street in a dreadful rage talking to himself in a fury and d'ing and c'ing somebody. "By George!" says he out loud and clutching his walking-stick, "I'll go to Mrs. Lirriper's. Which is Mrs. Lirriper's?" Then looking round and seeing me he flourishes his hat right off his head as if I had been the queen and he says, "Excuse the intrusion Madam, but pray Madam can you tell me at what number in this street there resides a well-known and much-respected lady by the name of Lirriper?" A little flustered though I must say gratified I took off my glasses and courtesied and said "Sir, Mrs. Lirriper is your humble servant." "Astonishing!" says he. "A million pardons! Madam, may I ask you to have the kindness to direct one of your domestics to open the door to a gentleman in search of apartments, by the name of Jackman?" I had never heard the name but a politer gentleman I never hope to see, for says he, "Madam I am shocked at your opening the door yourself to no worthier a fellow than Jemmy Jackman. After you Madam. I never precede a lady." Then he comes into the parlours and he sniffs, and he says "Hah! These are parlors! Not musty cupboards" he says "but parlors, and no smell of coal-sacks." Now my dear it having been remarked by some inimical to the whole neighbourhood that it always smells of coal-sacks which might prove a drawback to Lodgers if encouraged, I says to the Major gently though firmly that I think he is referring to Arundel or Surrey or Howard but not Norfolk. "Madam" says he "I refer to Wozenham's lower down over the way — Madam you can form no notion what Wozenham's is — Madam it is a vast coal-sack, and Miss Wozenham has the principles and manners of a female heaver — Madam from the manner in which I have heard her mention you I know she has no appreciation of a lady, and from the manner in which she has conducted herself towards me I know she has no appreciation of a gentleman — Madam my name is Jackman — should you require any other reference than what I have already said, I name the Bank of England — perhaps you know it!" Such was the beginning of the Major's occupying the parlors and from that hour to this the same and a most obliging Lodger and punctual in all respects except one irregular which I need not particularly specify, but made up for by his being a protection and at all times ready to fill in the papers of the Assessed Taxes and Juries and that, and once collared a young man with the drawing-room clock under his coat, and once on the parapets with his own hands and blankets put out the kitchen chimney and afterwards attending the summons made a most eloquent speech against the Parish before the magistrates and saved the engine, and ever quite the gentleman though passionate. And certainly Miss Wozenham's detaining the trunks and umbrella was not in a liberal spirit though it may have been according to her rights in law or an act I​would myself have stooped to, the Major being so much the gentleman that though he is far from tall he seems almost so when he has his shirt-frill out and his frock-coat on and his hat with the curly brims, and in what service he was I cannot truly tell you my dear whether Militia or Foreign, for I never heard him even name himself as Major but always simple "Jemmy Jackman" and once soon after he came when I felt it my duty to let him know that Miss Wozenham had put it about that he was no Major and I took the liberty of adding "which you are sir" his words were "Madam at any rate I am not a Minor, and sufficient for the day is the evil thereof" which cannot be denied to be the sacred truth, nor yet his military ways of having his boots with only the dirt brushed off taken to him in the front parlour every morning on a clean plate and varnishing them himself with a little sponge and a saucer and a whistle in a whisper so sure as ever his breakfast is ended, and so neat his ways that it never soils his linen which is scrupulous though more in quality than quantity, neither that nor his mustachios which to the best of my belief are done at the same time and which are as black and shining as his boots, his head of hair being a lovely white. [p. 238]
Commentary
The seven-part seasonal offering as originally published in 1863 was subsequently reduced in 1867 to just two chapters, the first narrated by Emma Lirriper, the last by Major Jackman — thus, the novella became a frame without a picture. In the original version of the Christmas Story as published in the Extra Christmas number (12 December 1863) for All the Year Round, Dickens supplemented the opening and closing (the only portions that he actually wrote) with five by "other hands," namely additional stories by Elizabeth Gaskell ("How the First Floor Went to Crowley Castle"), Andrew Halliday ("How the Side-Room was Attended by a Doctor"), regular contributor Edmund H. Yates ("How the Second-Floor Kept a Dog"), Amelia B. Edwards ("How the Third-Floor Knew the Potteries"), and Dickens's son-in-law, Charles Allston Collins ("How the Best Attic was Under a Cloud"). So popular a "voice" was the genial Cockney landlady of Norfolk Street that Dickens arranged a sequel for the following Extra Christmas Number.
Whereas E. G. Dalziel in his Household Edition illustration focuses on the minor, comic character of Sophy, the genial landylady's maid-of-all-help, in Mrs. Lirriper's Lodgings Willing Sophy down upon her knees scrubbing early and late and ever cheerful but always smiling with a black face, Sol Eytinge presents the reader with the framed-tale's most significant characters — the orphaned "Jemmy's" surrogate parents at their initial meeting.
Harry Furniss's illustration in The Charles Dickens Library Edition, Jemmy and The Major, considers the delightful play in which the Major and "Gran" (as Jemmy calls Mrs. Lirriper) engage in her lodging house, years after his mother's death there. Eytinge, in introducing the two principals of the story in their initial meeting, conveys the Major's gallantry and Mrs. Lirriper's geniality — and little more. Curiously, Eytinge has chosen in both of his "Lirriper" illustrations to depict the Major without the moustache that Dickens specifies, but otherwise is faithful to the text in the Major's dress and military bearing.
Library, Household, and Charles Dickens Library Edition (1868, 1876-77, and 1910) Illustrations Relevant to "Mrs. Lirriper's Lodgings" (1863)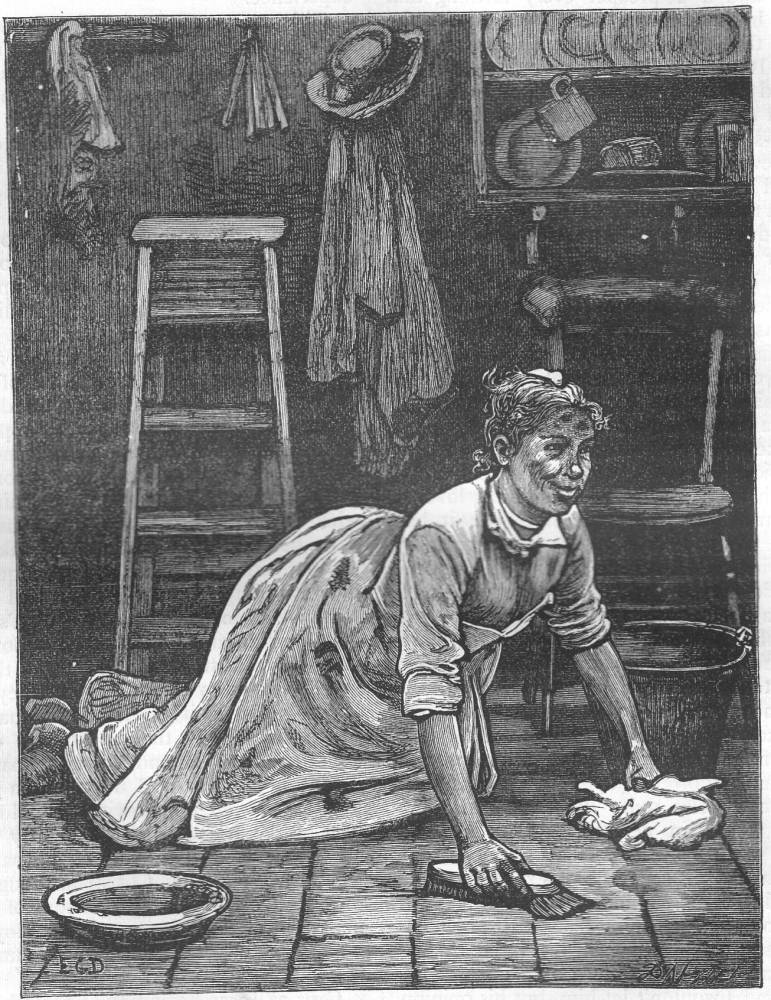 Later Editions. Left: E. A. Abbey's "She prayed a good good prayer and I joined in it poor me." (1876). Right: E. G. Dalziel's "Willing Sophy down upon her knees scrubbing early and late and ever cheerful but always smiling with a black face (1877). [Click on images to enlarge them.]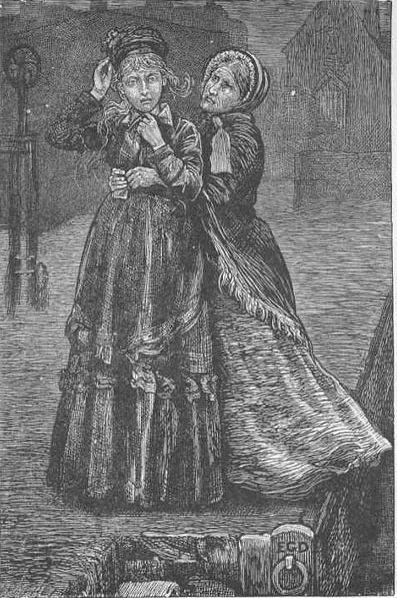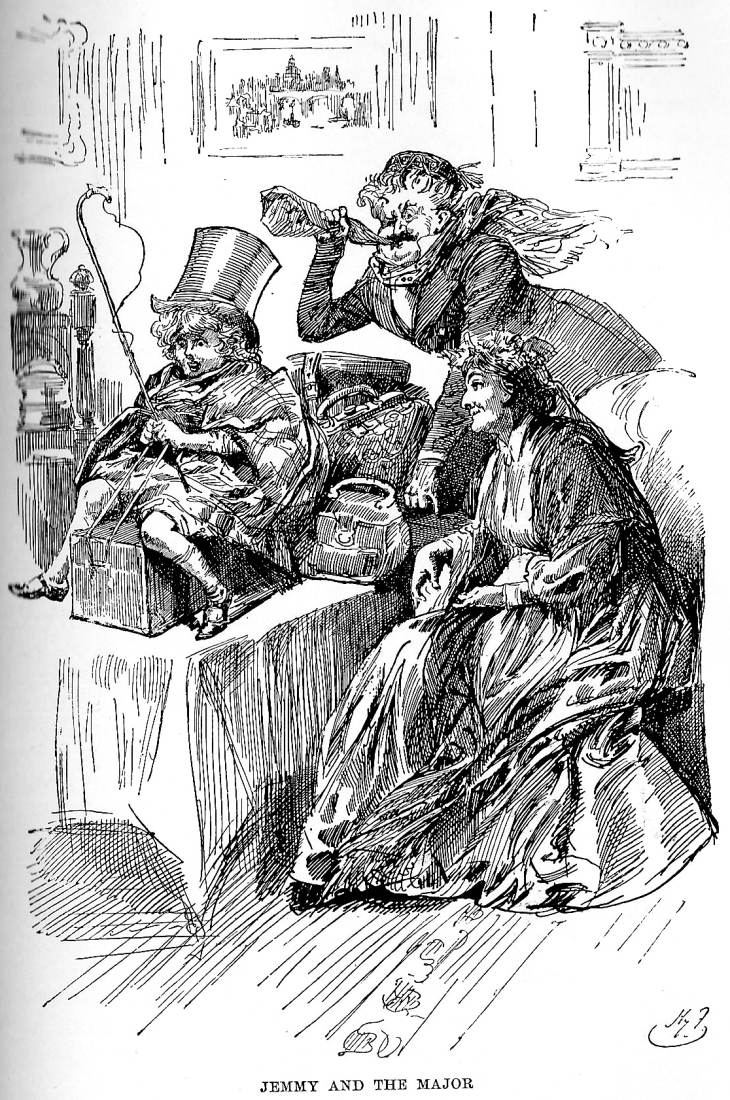 Left: E. G. Dalziel's "Mrs. Lirriper's Lodgings" (1868). Right: Harry Furniss's "Jemmy and the Major" (1910). [Click on images to enlarge them.]
Bibliography
Bentley, Nicolas, Michael Slater, and Nina Burgis. The Dickens Index. Oxford and New York: Oxford U. P., 1988.
Davis, Paul. Charles Dickens A to Z: The Essential Reference to His Life and Work. New York: Checkmark and Facts On File, 1998.
Dickens, Charles. Christmas Books and The Uncommercial Traveller. Illustrated by Harry Furniss. Charles Dickens Library Edition. 18 vols. London: Educational Book Company, 1910. Vol. 10.
Dickens, Charles. The Uncommercial Traveller and Additional Christmas Stories. Illustrated by Sol Eytinge, Junior. Boston: Ticknor and Fields, 1867.
Dickens, Charles. Christmas Stories from "Household Words" and "All The Year Round". Illustrated by Townley Green, Charles Green, Fred Walker, F. A. Fraser, Harry French, E. G. Dalziel, and J. Mahony. The Illustrated Library Edition. London: Chapman and Hall, 1868, rpt. in the Centenary Edition of Chapman & Hall and Charles Scribner's Sons (1911). 2 vols.
Dickens, Charles. Christmas Stories. Illustrated by E. A. Abbey. The Household Edition. New York: Harper and Brothers, 1876.
Dickens, Charles. Christmas Stories from "Household Words" and "All the Year Round". Illustrated by E. G. Dalziel. The Household Edition. London: Chapman and Hall, 1877.
Parker, David. "Christmas Books and Stories, 1844 to 1854." Christmas and Charles Dickens. New York: AMS Press, 2005. Pp. 221-282.
Scenes and characters from the works of Charles Dickens; being eight hundred and sixty-six drawings, by Fred Barnard, Hablot Knight Browne (Phiz); J. Mahoney; Charles Green; A. B. Frost; Gorgon Thomson; J. McL. Ralston; H. French; E. G. Dalziel; F. A. Fraser, and Sir Luke Fildes; printed from the original woodblocks engraved for "The Household Edition.". New York: Chapman and Hall, 1908. Copy in the Robarts Library, University of Toronto.
Thomas, Deborah A. Dickens and The Short Story. Philadelphia: U. Pennsylvania Press, 1982.
---

Victorian
Web

Illus-
tration

Christmas
Books
>

Sol
Eytinge

Next
Last modified 15 April 2014