The fourth full-page illustration for "The Adventures of Oliver Twist", Mr. Brownlow and Mr. Grimwig. by Sol Eytinge, Jr. 7.5 cm high by 9.9 cm wide, framed. The Diamond Edition of Dickens's The Adventures of Oliver Twist, Pictures from Italy, American Notes for General Circulation (Boston: Ticknor and Fields, 1867). Scanned image and text by Philip V. Allingham. [You may use this image without prior permission for any scholarly or educational purpose as long as you (1) credit the person who scanned the image and (2) link your document to this URL.]
Passages Illustrated
At this moment, there walked into the room: supporting himself by a thick stick: a stout old gentleman, rather lame in one leg, who was dressed in a blue coat, striped waistcoat, nankeen breeches and gaiters, and a broad-brimmed white hat, with the sides turned up with green. A very small-plaited shirt frill stuck out from his waistcoat; and a very long steel watch-chain, with nothing but a key at the end, dangled loosely below it. The ends of his white neckerchief were twisted into a ball about the size of an orange; the variety of shapes into which his countenance was twisted, defy description. He had a manner of screwing his head on one side when he spoke; and of looking out of the corners of his eyes at the same time: which irresistibly reminded the beholder of a parrot. In this attitude, he fixed himself, the moment he made his appearance; and, holding out a small piece of orange-peel at arm's length, exclaimed, in a growling, discontented voice.
Look here! do you see this! Isn't it a most wonderful and extraordinary thing that I can't call at a man's house but I find a piece of this poor surgeon's friend on the staircase? I've been lamed with orange-peel once, and I know orange-peel will be my death, or I'll be content to eat my own head, sir!"
This was the handsome offer with which Mr. Grimwig backed and confirmed nearly every assertion he made; and it was the more singular in his case, because, even admitting for the sake of argument, the possibility of scientific improvements being brought to that pass which will enable a gentleman to eat his own head in the event of his being so disposed, Mr. Grimwig's head was such a particularly large one, that the most sanguine man alive could hardly entertain a hope of being able to get through it at a sitting — to put entirely out of the question, a very thick coating of powder.
"I'll eat my head, sir," repeated Mr. Grimwig, striking his stick upon the ground. "Hallo! what's that!" looking at Oliver, and retreating a pace or two.
. . . ."Let me see: He'll be back in twenty minutes, at the longest," said Mr. Brownlow, pulling out his watch, and placing it on the table. "It will be dark by that time."
"Oh! you really expect him to come back, do you?" inquired Mr. Grimwig.
"Don't you?" asked Mr. Brownlow, smiling.
The spirit of contradiction was strong in Mr. Grimwig's breast, at the moment; and it was rendered stronger by his friend's confident smile.
"No," he said, smiting the table with his fist, "I do not. The boy has a new suit of clothes on his back, a set of valuable books under his arm, and a five-pound note in his pocket. He'll join his old friends the thieves, and laugh at you. If ever that boy returns to this house, sir, I'll eat my head."
With these words he drew his chair closer to the table; and there the two friends sat, in silent expectation, with the watch between them. [Chapter 14, "Comprising further particulars of Oliver's stay at Mr. Brownlow's, with the remarkable prediction which one Mr. Grimwig uttered concerning him, when he went out on an errand," pages 61-62, and 64]
Commentary
What could be an odder friendship than that of the misanthropic, pessimistic Mr. Grimwig (so aptly named) and the generous, impulsive humanitarian and optimist Mr. Brownlow? And yet here they are, both pronouncing judgment on Oliver, Grimwig certain that the boy will revert to his criminal associates (with the books and the five-pound note), and Brownlow certain that the boy will return shortly. Grimwig, at heart a decent man who does not want to see his friend disappointed,revises his opinion of Oliver later in the story. Although many illustrators offer several interpretations of the philanthropic Brownlow, the only other artist to do justice to Grimwig as a student of human nature is Harry Furniss in his rather more animated treatment of this scene in Waiting for Oliver, in which the pair of elderly bourgeoisie studying Brownlow's watch and awaiting the end of the predicted twenty minutes. Eytinge's illustration conveys are a far subtler sense of the elderly bachelors with contrasting natures — and includes both the pocket-watch and the portrait of Oliver's mother (upper centre). Mahoney's study of the pair fails to distinuish one friend from the other in the scene in chapter seventeen in which Bumble turns up at Brownlow's home in Pentonville in response to the advertisement in the London newspaper offering five guineas for information that will "tend to throw any light upon [Oliver's] previous history" (Household Edition, p. 62).
Relevant Original Serial (1838-9), Household Edition (1871) and Illustrated Library Edition (1910) Illustrations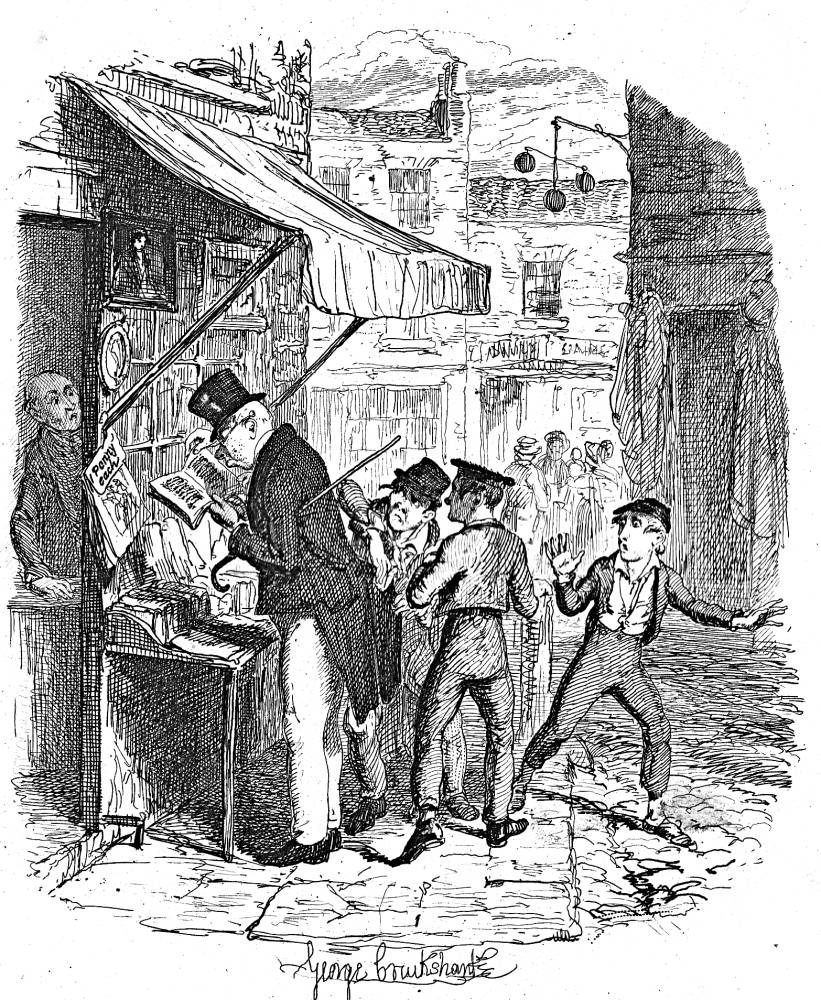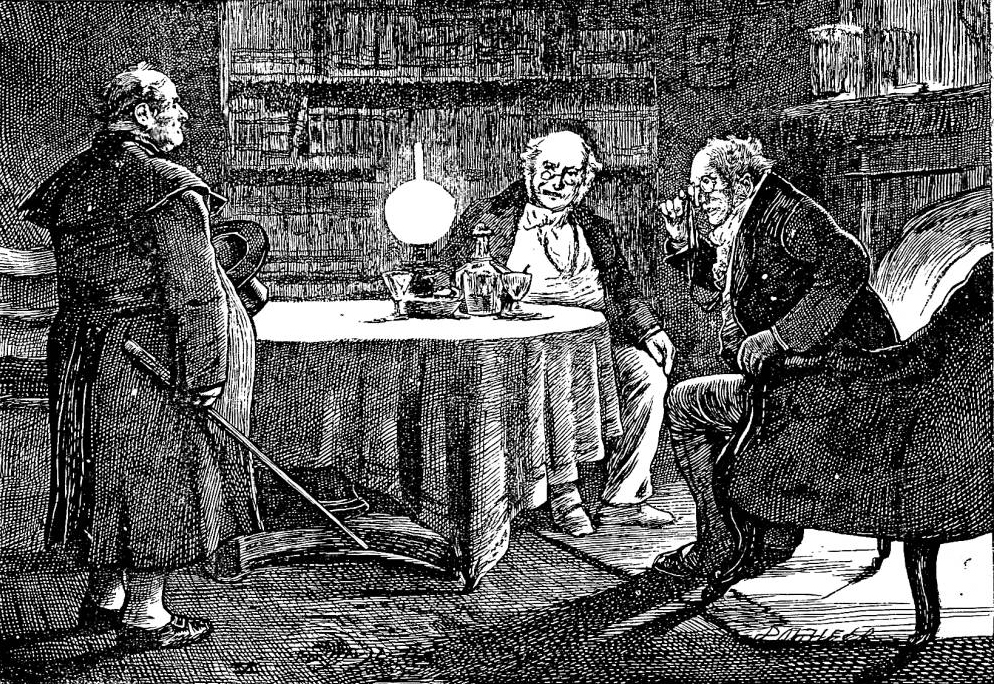 Left: George Cruikshank's Oliver amazed at the Dodger's mode of going to work. Right: James Mahoney's "A beadle! A parish beadle, or I'll eat my head.". [Click on images to enlarge them.]
Above: Harry Furniss's Waiting for Oliver (1910). [Click on images to enlarge them.]
Bibliography
Bentley, Nicolas, Michael Slater, and Nina Burgis. The Dickens Index. Oxford and New York: Oxford U. P., 1988.
Cohen, Jane Rabb. "George Cruikshank." Charles Dickens and His Original Illustrators. Columbus: Ohio State U. P., 1980. Pp. 15-38.
Darley, Felix Octavius Carr. Character Sketches from Dickens. Philadelphia: Porter and Coates, 1888.
Davis, Paul. Charles Dickens A to Z: The Essential Reference to His Life and Work. New York: Facts On File, 1998.
Dickens, Charles. The Adventures of Oliver Twist; or, The Parish Boy's Progress. Il. George Cruikshank. London: Bradbury and Evans; Chapman and Hall, 1846.
Dickens, Charles. Oliver Twist. Works of Charles Dickens. Household Edition. 55 vols. Il. F. O. C. Darley and John Gilbert. New York: Sheldon and Co., 1865.
Dickens, Charles. The Adventures of Oliver Twist. Works of Charles Dickens. Diamond Edition. 14 vols. Il. Sol Eytinge, Jr. Boston: Ticknor and Fields, 1867.
Dickens, Charles. Oliver Twist. . Household Edition. Il. James Mahoney. London: Chapman and Hall, 1871.
Dickens, Charles. Oliver Twist. The Annotated Dickens. Ed. Edward Guiliano and Philip Collins. New York: Clarkson N. Potter, 1986. Vol. 1. Pp. 534-823.
Dickens, Charles. The Adventures of Oliver Twist. Works of Charles Dickens. Charles Dickens Library Edition. Il. Harry Furniss. London: Educational Book Company, 1910. Vol. 3.
Forster, John. "Oliver Twist 1838." The Life of Charles Dickens. Ed. B. W. Matz. The Memorial Edition. 2 vols. Philadelphia: J. B. Lippincott, 1911. Vol. 1, book 2, chapter 3. Pp. 91-99.
Kitton, Frederic G. "George Cruikshank." Dickens and His Illustrators: Cruikshank, Seymour, Buss, "Phiz," Cattermole, Leech, Doyle, Stanfield, Maclise, Tenniel, Frank Stone, Topham, Marcus Stone, and Luke Fildes. 1899. Rpt. Honolulu: U. Press of the Pacific, 2004. Pp. 1-28.
---
Last modified 6 October 2014