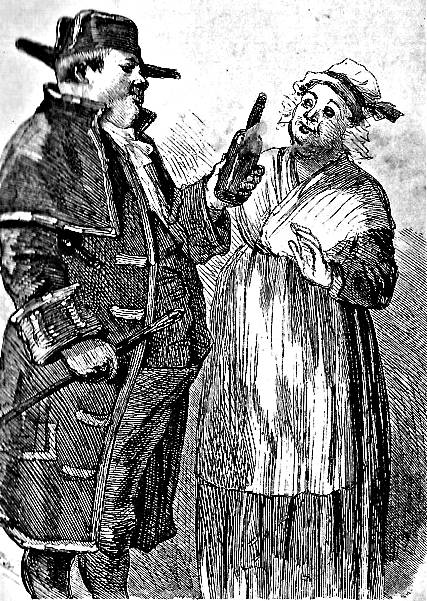 Mr. Bumble and Mrs. Corney
Sol Eytinge, Jr.
1867
Although George Cruikshank made the most of his opportunities to satirize the arch hypocrite Bumble, the venial Beadle of Oliver's home parish., and his wife, formerly the widow Mrs. Corney, subsequent illustrators such as Sol Eytinge have continued the visual satire of the pair.
Scanned image and text by Philip V. Allingham.
[You may use this image without prior permission for any scholarly or educational purpose as long as you (1) credit the person who scanned the image and (2) link your document to this URL in a web document or cite the Victorian Web in a print one.].
Passage Illustrated
"Mrs. Corney," said the beadle, smiling as men smile who are conscious of superior information, "out-of-door relief, properly managed, ma'am: is the porochial safeguard. The great principle of out-of-door relief is, to give the paupers exactly what they don't want; and then they get tired of coming."
"Dear me!" exclaimed Mrs. Corney. "Well, that is a good one, too!"
"Yes. Betwixt you and me, ma'am," returned Mr. Bumble, "that's the great principle; and that's the reason why, if you look at any cases that get into them owdacious newspapers, you'll always observe that sick families have been relieved with slices of cheese. That's the rule now, Mrs. Corney, all over the country. But, however," said the beadle, stopping to unpack his bundle, "these are official secrets, ma'am; not to be spoken of; except, as I may say, among the porochial officers, such as ourselves. This is the port wine, ma'am, that the board ordered for the infirmary; real, fresh, genuine port wine; only out of the cask this forenoon; clear as a bell, and no sediment!"
Having held the first bottle up to the light, and shaken it well to test its excellence, Mr. Bumble placed them both on top of a chest of drawers; folded the handkerchief in which they had been wrapped; put it carefully in his pocket; and took up his hat, as if to go. [Chapter 23, "Which contains the substance of a pleasant conversation between Mr. Bumble and a Lady; and shows that even a Beadle may be susceptible on some points," p. 100]
Commentary
Sol Eytinge, Junior, in the 1867 Diamond Edition volume that Dickens himself may very well have perused on his second American reading tour, depicts Bumble in full uniform presenting Mrs. Corney with the bottle of port that technically is not his property, implying his abuse of authority. However, Eytinge's dual study lacks the amorous overtones of the Cruikshank serial plate, Mr. Bumble and Mrs. Corney taking tea (February 1838). In contrast, Household Edition illustrator James Mahoney realised the same room and figures, although not precisely the same scene as Cruikshank's in the round, but transforms the playful cats into tranquil felines dozing before the fire as Mr. Bumble prepares to propose to the widow, tearfully considering her single marital status. Sentiment has unfortunately replaced humour, and Bumble in this illustration seems genuinely concerned about the lachrymose widow (when in fact he has just scrutinized her silverware and china). However, in 1910 Harry Furniss reinjected the humorous element and the playful cats in his visual satire of the corpulent agents of the Poor Law. He even retains the background portrait and birdcage, adding, moreover, a grandfather clock, perhaps to represent Mrs. Corney's apprehension that, at her age, she is unlikely to replace the lamented Mr. Corney — certainly it implies her affluence. Conspicuous in his drawing, however, is the door to the rear at which the knocking will shortly come, interrupting the tender moment between two venial characters who very much deserve one another. Both Cruikshank and Furniss depict the breakdown in this marriage as Mrs. Corney, still the matron of the workhouse, asserts her authority over her hapless husband.
Relevant Illustrations from the serial edition (1838), Household Edition (1871), and Charles Dickens Library Edition (1910)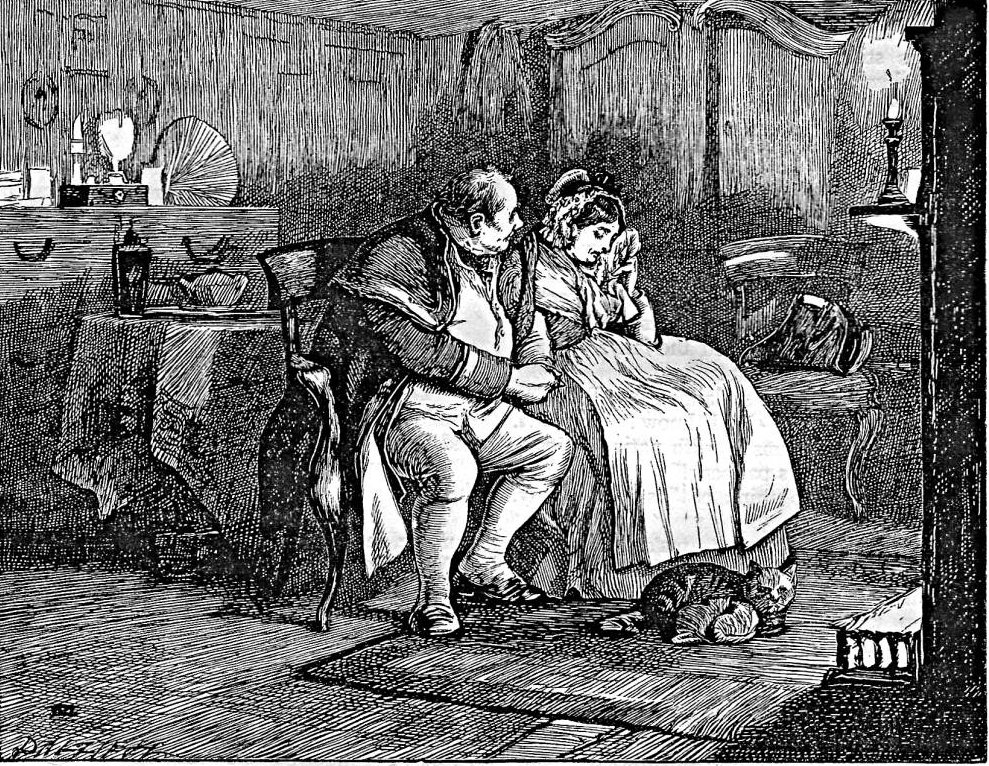 Left: George Cruikshank's Mr. Bumble and Mrs. Corney taking tea (1838). Right: James Mahoney's "Don't sigh, Mrs. Corney" (1871). [Click on images to enlarge them.]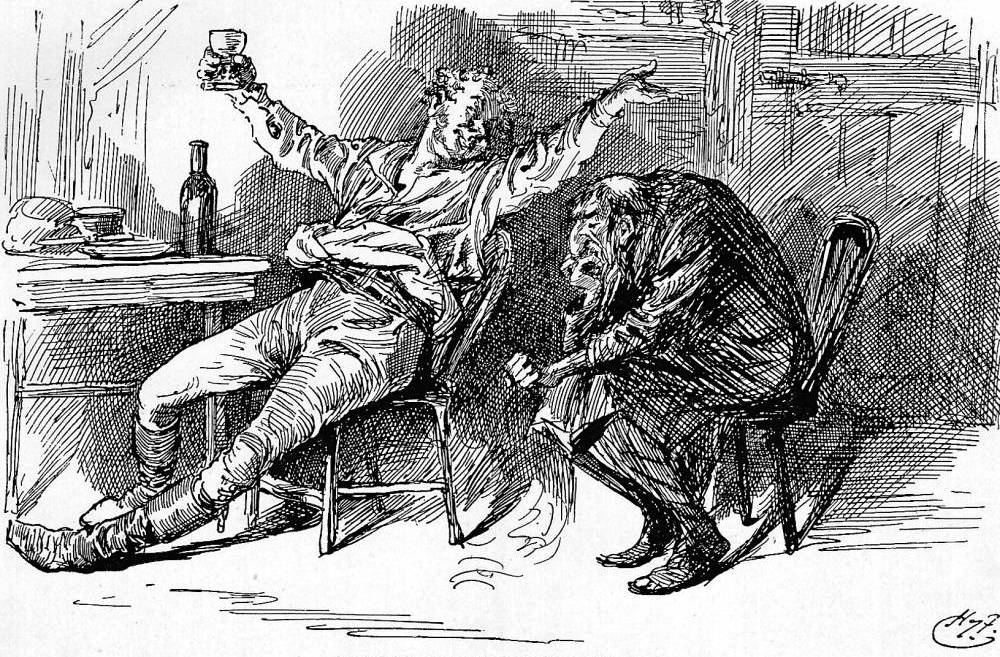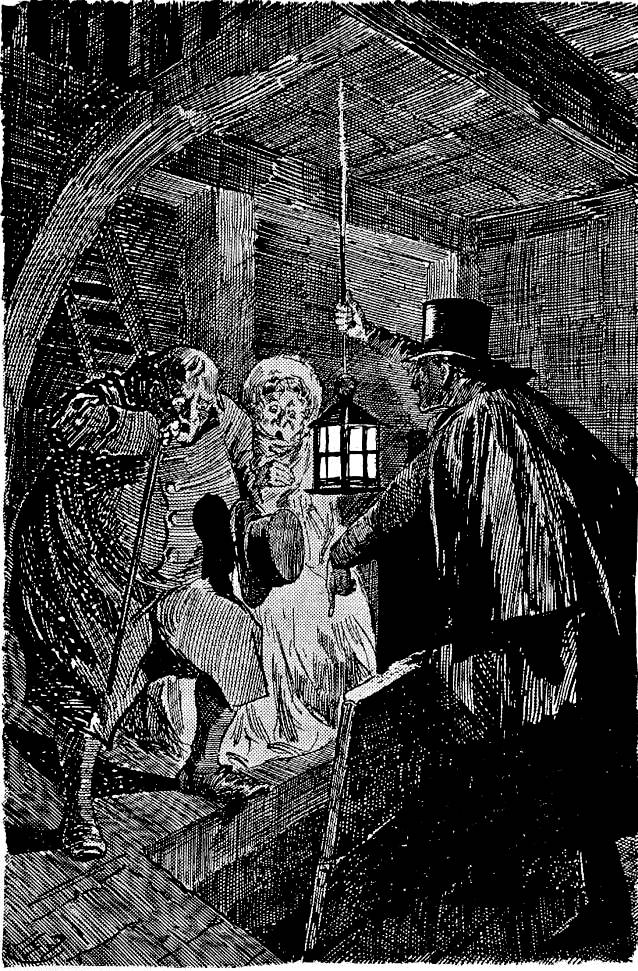 Left: Harry Furniss's Charles Dickens Library Edition illustration Mr. Bumble and Mrs. Corney; right: Furniss's depiction of the breakdown of the marriage in Mrs. Bumble turns Mr. Bumble out (1910). [Click on images to enlarge them.]
Bibliography
Bentley, Nicolas, Michael Slater, and Nina Burgis. The Dickens Index. New York and Oxford: Oxford U. P., 1990.
Cohen, Jane Rabb. "George Cruikshank." Charles Dickens and His Original Illustrators. Columbus: Ohio State U. P., 1980. Pp. 15-38.
Darley, Felix Octavius Carr. Character Sketches from Dickens. Philadelphia: Porter and Coates, 1888.
Davies, Philip. "Warren of Sunless Courts." Lost London, 1870-1945. Croxley Green, Hertfordshire: Transatlantic, 2009. Pp. 258- 260.
Davis, Paul. Charles Dickens A to Z: The Essential Reference to His Life and Work. New York: Facts On File, 1998.
Dickens, Charles. The Adventures of Oliver Twist; or, The Parish Boy's Progress. Il. George Cruikshank. London: Bradbury and Evans; Chapman and Hall, 1846.
Dickens, Charles. Oliver Twist. Works of Charles Dickens. Household Edition. 55 vols. Il. F. O. C. Darley and John Gilbert. New York: Sheldon and Co., 1865.
Dickens, Charles. The Adventures of Oliver Twist. Works of Charles Dickens. Diamond Edition. 14 vols. Il. Sol Eytinge, Jr. Boston: Ticknor and Fields, 1867.
Dickens, Charles. Oliver Twist. . Household Edition. Il. James Mahoney. London: Chapman and Hall, 1871.
Dickens, Charles. Oliver Twist. The Annotated Dickens. Ed. Edward Guiliano and Philip Collins. New York: Clarkson N. Potter, 1986. Vol. 1. Pp. 534-823.
Dickens, Charles. The Adventures of Oliver Twist. Works of Charles Dickens. Charles Dickens Library Edition. Il. Harry Furniss. London: Educational Book Company, 1910. Vol. 3.
Forster, John. "Oliver Twist 1838." The Life of Charles Dickens. Ed. B. W. Matz. The Memorial Edition. 2 vols. Philadelphia: J. B. Lippincott, 1911. Vol. 1, book 2, chapter 3. Pp. 91-99.
Kitton, Frederic G. "George Cruikshank." Dickens and His Illustrators: Cruikshank, Seymour, Buss, "Phiz," Cattermole, Leech, Doyle, Stanfield, Maclise, Tenniel, Frank Stone, Topham, Marcus Stone, and Luke Fildes. 1899. Rpt. Honolulu: U. Press of the Pacific, 2004. Pp. 1-28.
---

Victorian
Web

Illus-
tration

Oliver
Twist

Sol
Eytinge

Next
Last modified 15 October 2014