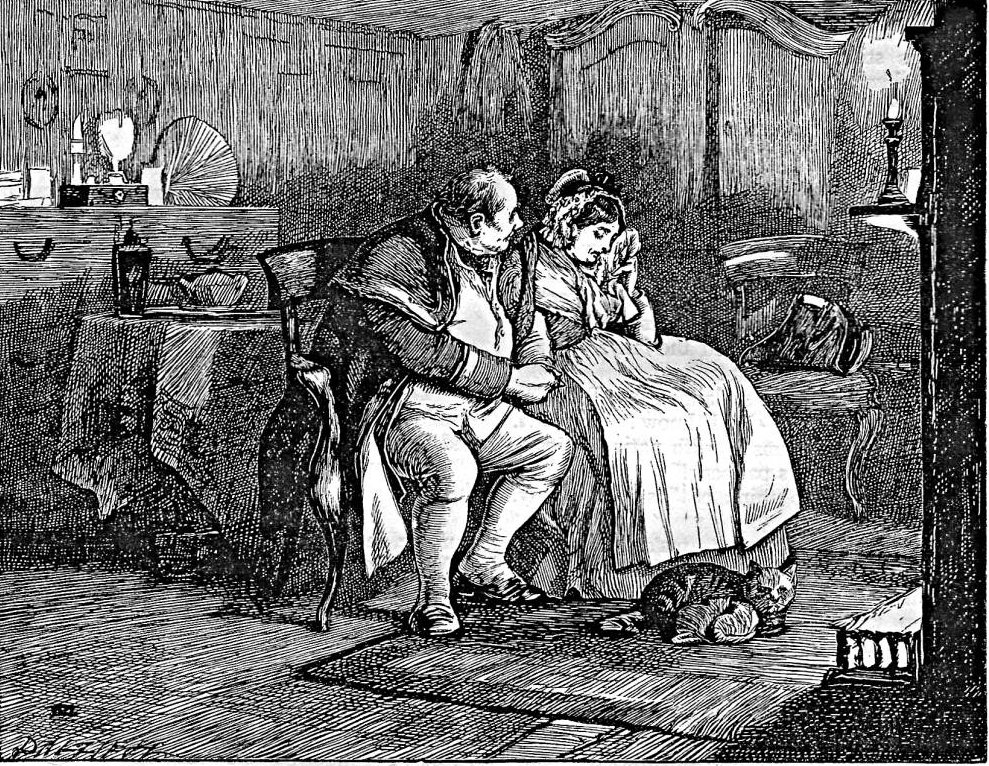 "Don't sigh, Mrs. Corney," said Mr. Bumble. — James Mahoney's fifteenth illustration, entertaining the readers of the Household Edition with the comic relief afforded by the scene in which the corpulent, greedy Bumble makes love to the matron of the workhouse, the widow Mrs. Corney (Chapters 23 and 27). In the original narrative-pictorial serial sequence by George Cruikshank in Bentley's Miscellany, the periodical reader encountered a pictorial realization of Bumble's initiating his courtship of the comfortable widow in Chapter 23, but one in a caricatural style more suited to the character comedy of the text than Mahoney's rather more sentimental handling of the latter part of the courtship in Chapter 27. Thus, the reader is more aware Bumble's insincerity in Mr. Bumble and Mrs. Corney taking tea in the north of England town where Oliver began his journey. Mahoney's sentimentalized scene, situated in Chapter 27 rather than in Chapter 23, which opens Bumble's courtship, occurs on page 97. 1871. Wood engraving by the Dalziels, 10.6 cm high by 13.7 cm wide.
Scanned image and text by Philip V. Allingham. [You may use this image without prior permission for any scholarly or educational purpose as long as you (1) credit the person who scanned the image and (2) link your document to this URL in a web document or cite it in a print one.]
Passage Illustrated
"Put out, ma'am!" exclaimed Mr. Bumble; "who has dared to —? I know!" said Mr. Bumble, checking himself, with native majesty, "this is them wicious paupers!"
"It's dreadful to think of!" said the lady, shuddering.
"Then don't think of it, ma'am," rejoined Mr. Bumble.
"I can't help it," whimpered the lady.
"Then take something, ma'am," said Mr. Bumble soothingly. "A little of the wine?"
"Not for the world!" replied Mrs. Corney. "I couldn't, — oh! The top shelf in the right-hand corner — oh!" Uttering these words, the good lady pointed, distractedly, to the cupboard, and underwent a convulsion from internal spasms. Mr. Bumble rushed to the closet; and, snatching a pint green-glass bottle from the shelf thus incoherently indicated, filled a tea-cup with its contents, and held it to the lady's lips.
"I'm better now," said Mrs. Corney, falling back, after drinking half of it.
Mr. Bumble raised his eyes piously to the ceiling in thankfulness; and, bringing them down again to the brim of the cup, lifted it to his nose.
"Peppermint," exclaimed Mrs. Corney, in a faint voice, smiling gently on the beadle as she spoke. "Try it! There's a little — a little something else in it."
Mr. Bumble tasted the medicine with a doubtful look; smacked his lips; took another taste; and put the cup down empty.
"It's very comforting," said Mrs. Corney.
"Very much so indeed, ma'am," said the beadle. As he spoke, he drew a chair beside the matron, and tenderly inquired what had happened to distress her.
"Nothing," replied Mrs. Corney. "I am a foolish, excitable, weak creetur."
"Not weak, ma'am," retorted Mr. Bumble, drawing his chair a little closer. "Are you a weak creetur, Mrs. Corney?"
"We are all weak creeturs," said Mrs. Corney, laying down a general principle.
"So we are," said the beadle.
Nothing was said on either side, for a minute or two afterwards. By the expiration of that time, Mr. Bumble had illustrated the position by removing his left arm from the back of Mrs. Corney's chair, where it had previously rested, to Mrs. Corney's apron-string, round which it gradually became entwined.
"We are all weak creeturs," said Mr. Bumble.
Mrs. Corney sighed.
"Don't sigh, Mrs. Corney," said Mr. Bumble.
"I can't help it," said Mrs. Corney. And she sighed again.
"This is a very comfortable room, ma'am," said Mr. Bumble looking round. "Another room, and this, ma'am, would be a complete thing."
[Chapter 27, "Atones for the Unpoliteness of a Former Chapter; Which Deserted a Lady, Most Unceremoniously," p. 98]
Commentary
Having enunciated his principle about outdoor relief of sturdy paupers, Bumble takes Mrs. Corney's invitation to tea as an invitation to romance. Accordingly we should regard Cruikshank's rendition of the domestic scene as comic relief. Dickens regards Mrs. Corney and Mr. Bumble as irresponsible public servants who exploit positions of trust for personal gain. For Dickens poetic justice is ultimately served by placing the couple as inmates into the workhouse they had once administered. They are justly punished for attempting to suppress the truth of Oliver's birth by secreting the locket that belonged to his mother.
Although George Cruikshank took obvious delight in depicting the budding romance of the parish beadle and the workhouse matron (a match made in the bureaucracy of the Poor Law if not in Heaven), having already depicted the self-satisfied humbug in Oliver Escapes Being Bound Apprentice to the Sweep (Part 2, March 1837), he repeats the figure of Bumble, in love with Mrs. Corney's possessions, if not with the widow herself. With an eye for the grotesque, Cruikshank must have found the notion of the courtship of Mrs. Corney by the arrogant, ridiculous Bumble irresistible, a scene which he echoed in the domestic romance of Charlotte and Noah Claypole, Mr. Claypole as he appeared when his master was out (Part 12, March 1838), in which Bumble has a minor role, peering in at the window. Cruikshank in both instances undercuts the romance by the leering, smirking faces of the would-be lovers.
Subsequent illustrators, too, have enjoyed to varying degrees the opportunity for visual satire that the pompous Bumble presents. Sol Eytinge, Junior, in the 1867 Diamond Edition volume that Dickens himself may very well have perused on his second American reading tour, depicts Bumble in full uniform presenting Mrs. Corney with the bottle of port, but the dual study lacks the amorous overtones of the Cruikshank plate. In contrast, Household Edition illustrator James Mahoney has realised the same room and figures, but in a later chapter, in which Dickens concludes the courtship phase of the Bumble-Corney relationship. Mahoney transforms the playful cats (representative in Cruikshank of the humans' mutual flirtatiousness) into tranquil felines dozing before the fire as Mr. Bumble prepares to propose to the widow, tearfully considering her single marital status as he anticipates enjoying all her material possessions and comforts. Sentiment in Mahoney has unfortunately replaced Cruikshank's humour, and Bumble in this illustration seems genuinely concerned about the lachrymose widow (when in fact he has just scrutinized her silverware and china). Unusually in the Household Edition volume, the sentimental illustration appears only a page ahead of its textual equivalent, so that the reader is acutely aware of Bumble's true motives here, for he in the midst of re-counting her tea-spoons, re-weighing her sugar-tongs, and conducting a general financial appraisal of the apartment as the reader encounters the wood-engraving in the middle of the page. Bumble has laid his enormous hat to one side (right), signifying that this is a personal rather than official visit. Mrs. Bumble's bric-a-brac, tea-pot, and chest-of-drawers fill up the left-hand register, while Mahoney casts a spotlight upon the middle-aged figures comfortably ensconced before the fire with a purring cat at their feet. The enormous wardrobe immediately behind Mrs. Corney again reminds the viewer that Bumble regards Mrs. Corney as just so much property, the ultimate complement to the furnishings of this comfortable parlour. Thus, Mahoney has sentimentality (the solicitous Bumble and the tearful widow) vy for tonal supremacy with Bumble's acquisitiveness.
However, in 1910 Harry Furniss re-injected the more obvious humour and the playful cats of the Cruikshank original in his visual satire of the corpulent agents of the Poor Law. He even retains the background portrait and birdcage, adding, moreover, a grandfather clock, perhaps to represent Mrs. Corney's apprehension that, at her age, she is unlikely to replace the lamented Mr. Corney — certainly it implies her affluence. Conspicuous in his drawing, however, is the door to the rear at which the knocking will shortly come, interrupting the tender moment between two venial characters who very much deserve one another.
Relevant Illustrations from the serial edition (1837-39), Diamond Edition (1867), and Charles Dickens Library Edition (1910)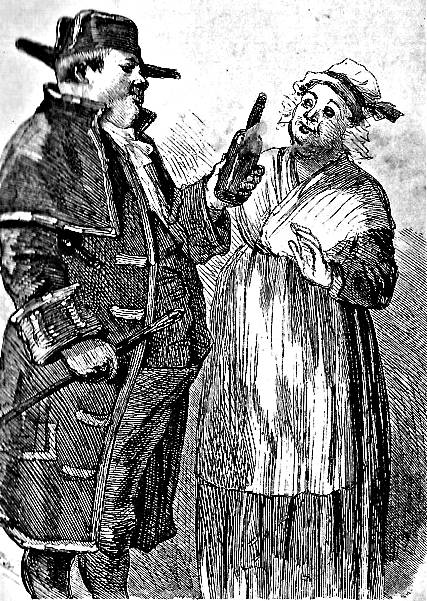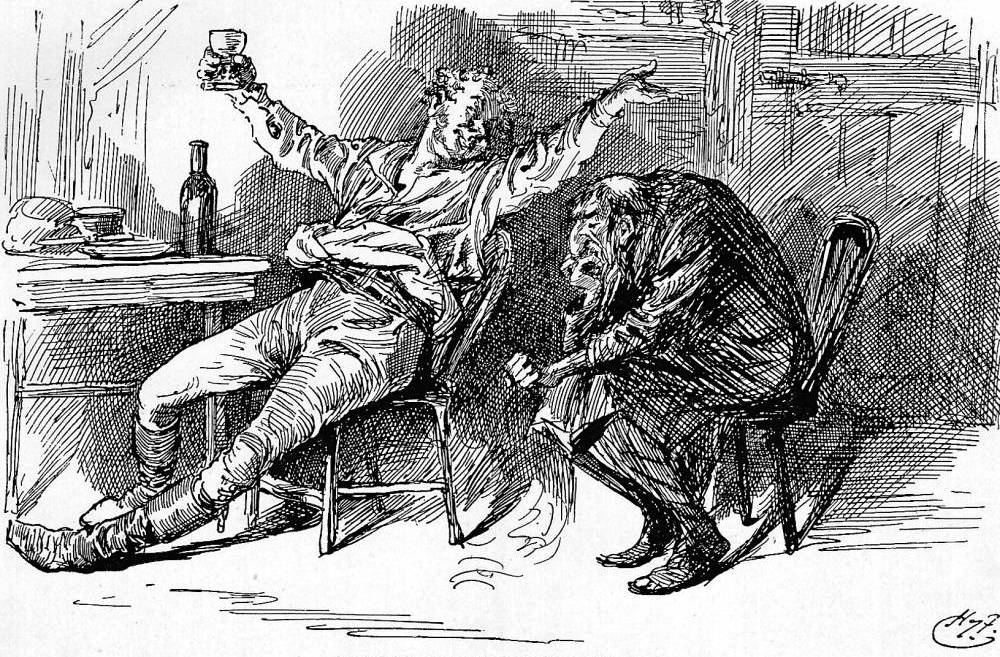 Left: Sol Eytinge, Junior's Mrs. Corney and Mr. Bumble (1867). Centre: George Cruikshank's Mrs. Corney and Mr. Bumble taking tea (1838). Right: Harry Furniss's Charles Dickens Library Edition illustration Mr. Bumble and Mrs. Corney (1910). [Click on images to enlarge them.]
References
Bentley, Nicolas, Michael Slater, and Nina Burgis. The Dickens Index. New York and Oxford: Oxford U. P., 1990.
Darley, Felix Octavius Carr. Character Sketches from Dickens. Philadelphia: Porter and Coates, 1888.
Davis, Paul. Charles Dickens A to Z: The Essential Reference to His Life and Work. New York: Facts On File, 1998.
Dickens, Charles. Oliver Twist. Illustrated by George Cruikshank. London: Bradbury and Evans; Chapman and Hall, 1846.
Dickens, Charles. Oliver Twist. Works of Charles Dickens. Household Edition. 55 vols. Il. F. O. C. Darley and John Gilbert. New York: Sheldon and Co., 1865.
Dickens, Charles. Oliver Twist. Works of Charles Dickens. Diamond Edition. 18 vols. Illustrated by Sol Eytinge, Jr. Boston: Ticknor and Fields, 1867.
Dickens, Charles. The Adventures of Oliver Twist. Works of Charles Dickens. Household Edition. Illustrated by James Mahoney. London: Chapman and Hall, 1871.
Dickens, Charles. Oliver Twist. Works of Charles Dickens. Charles Dickens Library Edition. Illustrated by Harry Furniss. London: Educational Book Company, 1910.
---
Last modified 8 December 2014