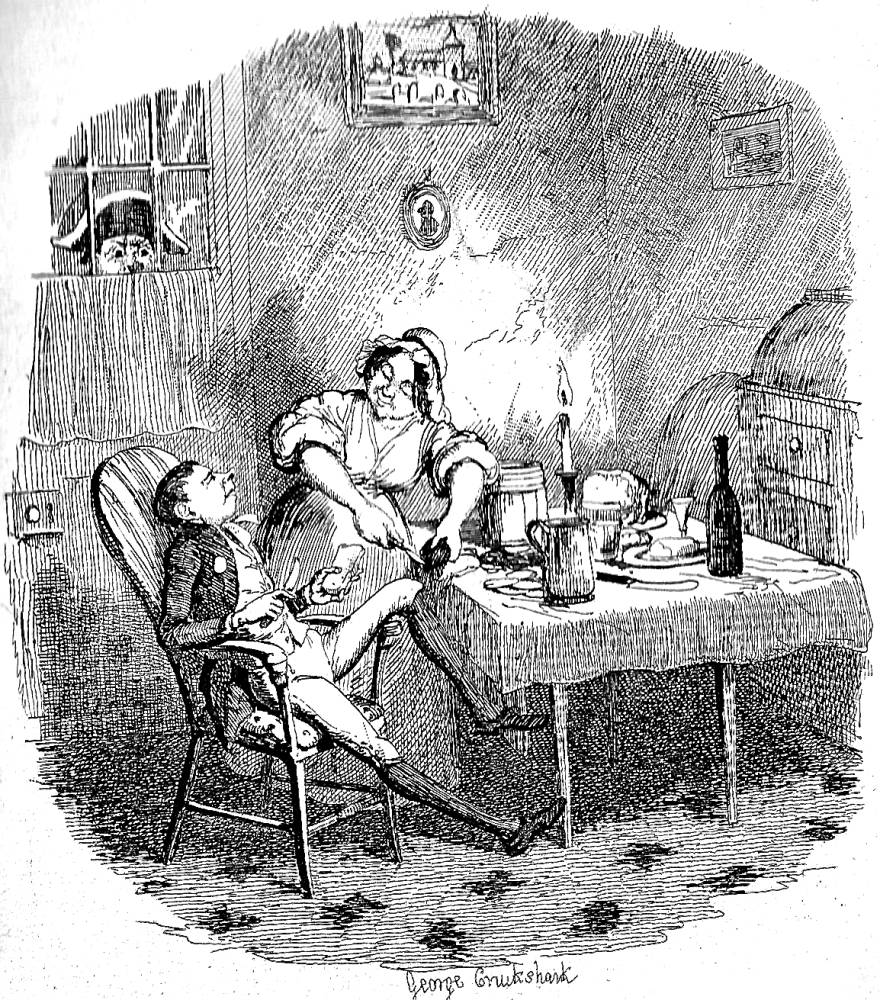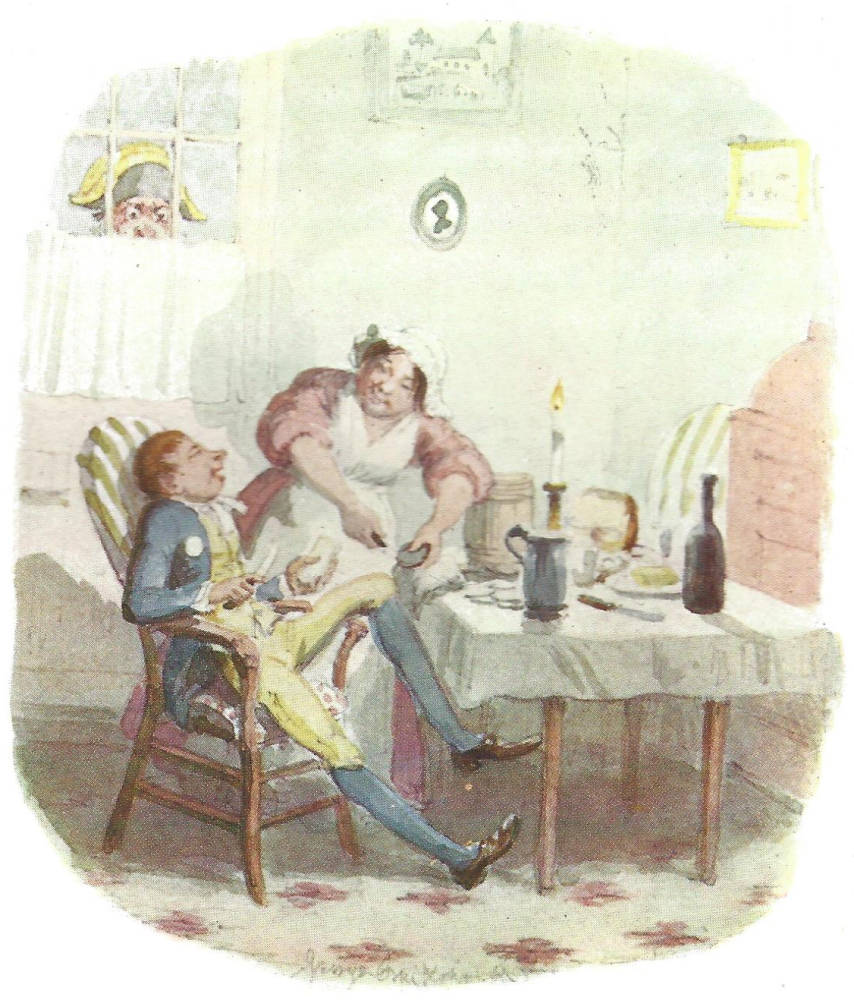 Mr. Claypole as he appeared when his master was out — the twelfth steel engraving and later a watercolour for Charles Dickens's The Adventures of Oliver Twist; or, The Parish Boy's Progress, first published in volume by Richard Bentley after its March 1838 appearance in Bentley's Miscellany, Chapter XXVII (twelfth instalment). 4 ¼ by 3 ¾ inches (10.8 cm by 9.6 cm), vignetted, facing page 150 in the 1846 edition (originally leading off the monthly number). Cruikshank's own 1866 watercolour, commissioned by book-collector F. W. Cosens, is the basis for the 1903 chromolithograph. [Click on the images to enlarge them.]
Passage Illustrated: Consuming Oysters and Amorous Behaviour
Now, Mr. and Mrs. Sowerberry having gone out to tea and supper: and Noah Claypole not being at any time disposed to take upon himself a greater amount of physical exertion than is necessary to a convenient performance of the two functions of eating and drinking, the shop was not closed, although it was past the usual hour of shutting-up. Mr. Bumble tapped with his cane on the counter several times; but, attracting no attention, and beholding a light shining through the glass-window of the little parlour at the back of the shop, he made bold to peep in and see what was going forward; and when he saw what was going forward, he was not a little surprised.
The cloth was laid for supper; the table was covered with bread and butter, plates and glasses; a porter-pot and a wine-bottle. At the upper end of the table, Mr. Noah Claypole lolled negligently in an easy-chair, with his legs thrown over one of the arms: an open clasp-knife in one hand, and a mass of buttered bread in the other. Close beside him stood Charlotte, opening oysters from a barrel: which Mr. Claypole condescended to swallow, with remarkable avidity. A more than ordinary redness in the region of the young gentleman's nose, and a kind of fixed wink in his right eye, denoted that he was in a slight degree intoxicated; these symptoms were confirmed by the intense relish with which he took his oysters, for which nothing but a strong appreciation of their cooling properties, in cases of internal fever, could have sufficiently accounted.
"Here's a delicious fat one, Noah, dear!" said Charlotte; "try him, do; only this one."
"What a delicious thing is a oyster!" remarked Mr. Claypole, after he had swallowed it. "What a pity it is, a number of 'em should ever make you feel uncomfortable; isn't it, Charlotte?"
"It's quite a cruelty," said Charlotte.
"So it is," acquiesced Mr. Claypole. "A'n't yer fond of oysters?"
"Not overmuch," replied Charlotte. "I like to see you eat 'em, Noah dear, better than eating 'em myself."
"Lor'!" said Noah, reflectively; "how queer!"
"Have another," said Charlotte. "Here's one with such a beautiful, delicate beard!"
"I can't manage any more," said Noah. "I'm very sorry. Come here, Charlotte, and I'll kiss yer."
"What!" said Mr. Bumble, bursting into the room. "Say that again, sir." [Chapter XXVII, "Atones for the unpoliteness of a former chapter; which deserted a lady, most unceremoniously," pp. 149-150 in the 1846 edition]
Commentary: While the Master's away, the Servants will play.
After the beadle's romancing the workhouse matron, the widow Mrs. Corney, Dickens presents a parallel scene in which the undertaker's apprentice, Noah Claypole, enjoys an oyster supper prepared for him by the Sowerberrys' infatuated maid, Charlotte.
Dickens wrestled with the issue of the writer's control of the illustrations that would accompany his work, but in this instance he merely selected the title from among several which his illustrator offered him. Frederic G. Kitton reproduces the original sketch that the illustrator sent to Dickens in a letter, the pencilled image, energetically and rapidly sketched, surrounded by handwriting, that at the bottom of the sketch involving a series of possible captions:
Here . . . we find the first sketch of Noah Claypole enjoying an oyster-supper, with the following query written by the artist: "Dr. [Dear] Dickens, 'Title' wanted — will any of these do? Yours, G. Ck." The proposed titles are then given, thus: "Mr. Claypole Astonishing Mr. Bumble and 'the Natives' [i. e., Colchester Natives, or oysters]; "Mr. Claypole Indulging;" "Mr. Claypole as he Appeared when his Master was Out," — the latter being adopted. [14]
The pencil sketch is very much like the finished etching, although Bumble is barely discernible in the window, rear. With an eye for grotesque character comedy, Cruikshank must have found the notion of the oyster-consuming scene to represent the romance of Noah and Charlotte as irresistible as that of Mr. Bumble and Mrs. Corney in the previous instalment. Cruikshank in both instances undercuts the spirit of romance (youthful or middle-aged) by the leering, smirking faces of the would-be lovers, in this and the previous illustration Mr. Bumble and Mrs. Corney taking tea. As in the previous month's plate, too, the detailism of the furnishings and theatrical properties, including the curtained parlour door, the little keg of oysters, and Charlotte's shucking an oyster beside a laden table, contributes to the effectiveness of the illustration. In particular, we should note the framed print on the wall, a country church with a cemetery in front — an undoubted allusion to Mr. Soweberry's occupation. Finally, that we should regard this month's illustration as a companion to the previous month's is signaled by the fabric covering the back of Noah's chair: it is identical to that of Mrs. Corney's easy-chair in the earlier plate, and the chair is positioned identically. However, to emphasize Noah's stick-thin, gangly legs Cruikshank has given this easy-chair similar legs.
Accordingly we should regard Cruikshank's rendition of the romantic interlude, about to be interrupted by the beadle (centre, rear), as yet further comic relief. Cruikshank foregrounds Dickens's description of the pair's oyster binge in which Charlotte provides and Noah consumes, possibly with a view to sexual innuendo, as is the case with the mother cat and three kittens romping on the carpet before the fire in the previous month's illustration. Subsequent illustrators, too, have enjoyed to varying degrees yet another opportunity for visual satire that the self-centered apprentice-undertaker and the fatuous and infatuated maid presents. Sol Eytinge, Junior, in the 1867 Diamond Edition volume that Dickens himself may very well have perused on his second American reading tour, depicts Noah carrying a slight bundle and Charlotte laboring under an enormous burden as the two make their way to London. Neither figure much resembles his or her Cruikshankian equivalent.
Subsequent studies of the couple, including Eytinge's, lack any sense of romance between the pair, as Noah has made the sturdy Charlotte a beast of burden. In the Household Edition illustrator James Mahoney reflects the same understanding of the couple, and likewise realizes a Noah who is less cartoon-like, if less visually humorous. However, in 1910 Harry Furniss reinjects the humorous element in the figure of Noah, having an indignant Bumble burst in on a shocked Charlotte (hiding her face behind her apron) and the gangly Noah in the Sowerberrys' parlour. Curiously, in his synopsis of Chapter 27, the usually astute Paul Davis does not remark upon this in flagrante delicto scene (very much an English translation of a French farce), focussing instead in his Chapter 27 (Part Twelve) summary on Bumble's determining to pop the question to Mrs. Corney now that he has been able to assess the value of her possessions and the likelihood of their becoming co-directors of the local workhouse, a sinecure as delectable to the acquisitive beadle as the widow's china and furnishings. Instead, like Eytinge, Davis focusses upon the scene in Chapter 42 in which, having robbed Sowerberry's till, the odd couple make their way to the anonymity of the metropolis, where they join forces with Fagin (a scene ably realized by Harry Furniss).
Relevant Illustrations from the serial and later editions (1837-1910)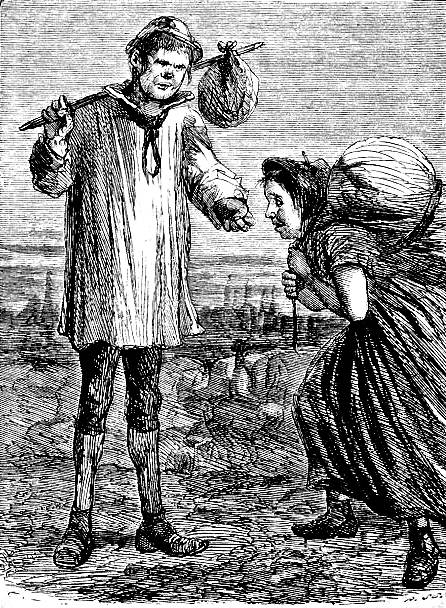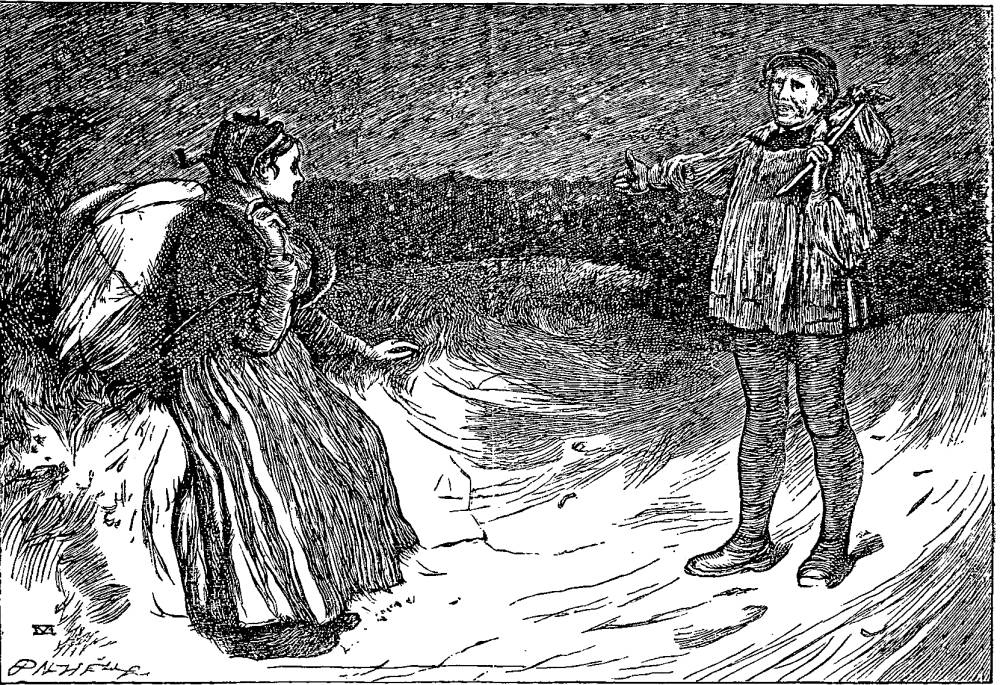 Left: George Cruikshank's Mr. Bumble and Mrs. Charlotte. Right: James Mahoney's Household Edition illustration "Look there! Those are the lights of London" (1871). [Click on the images to enlarge them.]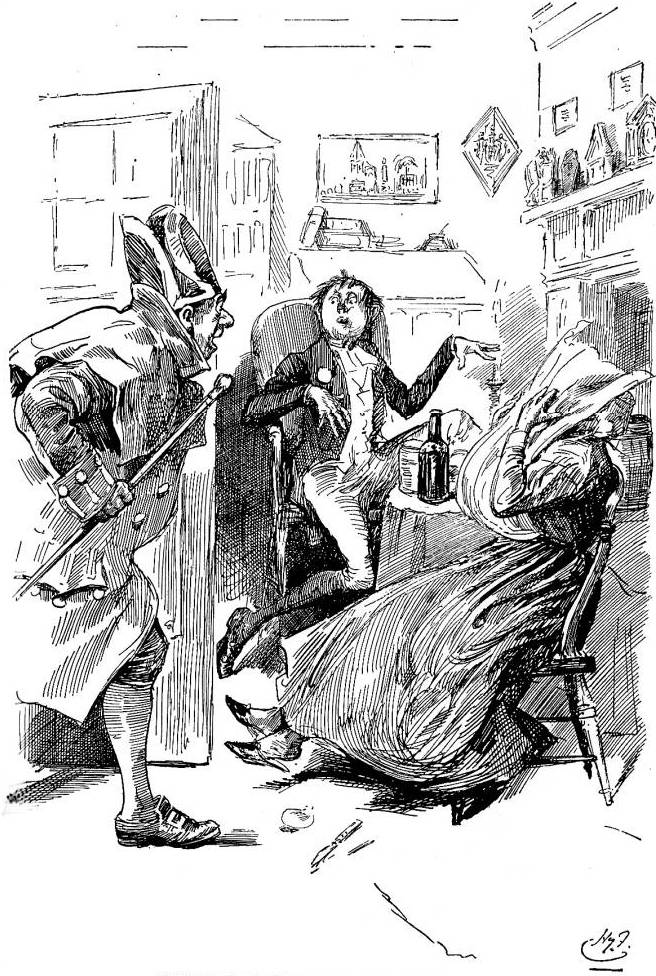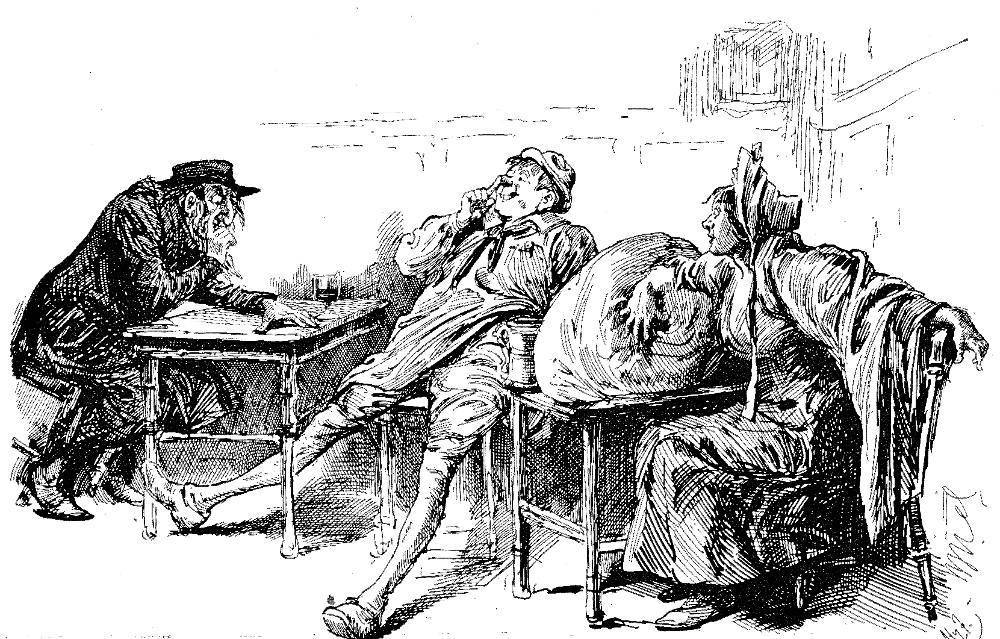 Left: Harry Furniss's Bumble surprises Noah and Charlotte (1910). Right: Furniss's Fagin and Noah understand each other (1910). [Click on images to enlarge them.]
Related Material
Scanned images and text by Philip V. Allingham. [You may use these images without prior permission for any scholarly or educational purpose as long as you (1) credit the photographer and (2) link your document to this URL in a web document or cite the Victorian Web in a print one.]
Bibliography
Bentley, Nicolas, Michael Slater, and Nina Burgis. The Dickens Index. New York and Oxford: Oxford U. P., 1990.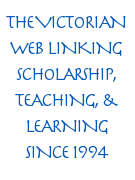 Cohen, Jane Rabb. "George Cruikshank." Charles Dickens and His Original Illustrators. Columbus: Ohio State U. P., 1980. Pp. 15-38.
Darley, Felix Octavius Carr. Character Sketches from Dickens. Philadelphia: Porter and Coates, 1888.
Davis, Paul. Charles Dickens A to Z: The Essential Reference to His Life and Work. New York: Facts On File, 1998.
Dickens, Charles. The Adventures of Oliver Twist; or, The Parish Boy's Progress. Illustrated by George Cruikshank. London: Bradbury and Evans; Chapman and Hall, 1846.
_______. Oliver Twist. Works of Charles Dickens. Household Edition. 55 vols. Illustrated by F. O. C. Darley and John Gilbert. New York: Sheldon and Co., 1865.
_______. Oliver Twist. Works of Charles Dickens. Diamond Edition. 14 vols. Illustrated by Sol Eytinge, Jr. Boston: Ticknor and Fields, 1867.
_______. Oliver Twist. Works of Charles Dickens. Household Edition. 22 vols. Illustrated by James Mahoney. London: Chapman and Hall, 1871. Vol. I.
_______. The Adventures of Oliver Twist. Works of Charles Dickens. Charles Dickens Library Edition. 18 vols. Illustrated by Harry Furniss. London: Educational Book Company, 1910. Vol. 3.
Forster, John. "Oliver Twist 1838." The Life of Charles Dickens. Ed. B. W. Matz. The Memorial Edition. 2 vols. Philadelphia: J. B. Lippincott, 1911. Vol. 1, book 2, chapter 3. Pp. 91-99.
Grego, Joseph (intro) and George Cruikshank. "Mr. Claypole as he appeared when his master was out." Cruikshank's Water Colours. [27 Oliver Twist illustrations, including thewrapper and the 13-vignette title-page produced for F. W. Cosens; 20 plates for WilliamHarrison Ainsworth's The Miser's Daughter: A Tale of the Year1774; 20 plates plus the proofcover the work for W. H. Maxwell's History of the Irish Rebellion in 1798 and Emmetts Insurrection in1803]. London: A. & C. Black, 1903. OT = pp. 1-106]. Page 48.
Kitton, Frederic G. "George Cruikshank." Dickens and His Illustrators: Cruikshank, Seymour, Buss, "Phiz," Cattermole, Leech, Doyle, Stanfield, Maclise, Tenniel, Frank Stone, Topham, Marcus Stone, and Luke Fildes. 1899. Rpt. Honolulu: U. Press of the Pacific, 2004. Pp. 1-28.
Pailthorpe, Frederic W. (Illustrator). Charles Dickens's Oliver Twist. London: Robson & Kerslake, 1886. Set No. 118 (coloured) of 200 sets of proof impressions.
Patten, Robert L. George Cruikshank's Life, Times, and Art, Volume Two: 1836-1878. New Brunswick, New Jersey: Rutgers University Press, 1996.
Patten, Robert L. George Cruikshank: A Revaluation. Princeton: Princeton U. P., 1992.
---
Created 7 September 2014 Last updated 11 January 2022