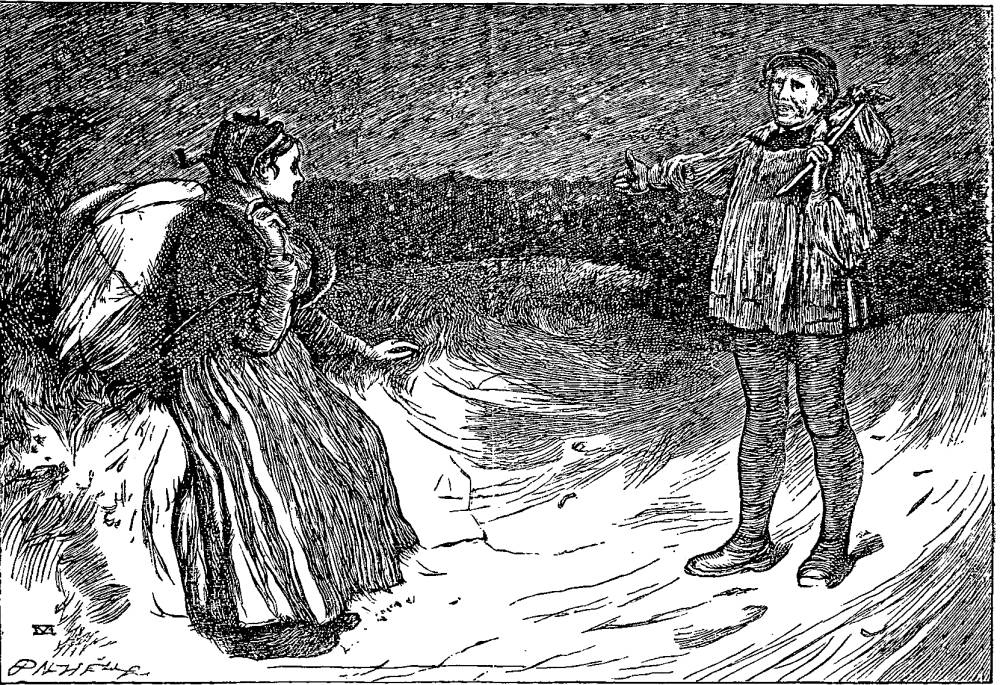 "Look there! Those are the lights of London." — James Mahoney's illustration of the reprobates Charlotte and Noah Claypole as they reach outskirts of north London in Chapter 42, a re-injection of these characters into the action which prepares readers of the Household Edition for Noah Claypole's assuming a position of trust with Fagin as "Morris Bolter" (Fagin's nickname for him derived from his having made off with the contents of Sowerberry's cash-register, in company with the Sowerberrys' former housemaid, Charlotte). In the original narrative-pictorial serial sequence by George Cruikshank in Bentley's Miscellany, the periodical reader encountered instead the pair sharing a beverage with the canny Fagin as he secures the services of "Morris Bolter" (otherwise, Noah Claypole) to steal coins from children running errands for their parents and to observe the Dodger's trial for petty theft in The Jew & Morris Both begin to understand each other, for Chapter 42 of The Adventures of Oliver Twist; or, The Parish Boy's Progress in Part 19 (November 1838). After the Dodger's trial, "Morris" compacts with Fagin to shadow Nancy's movements. The​Mahoney illustration of the ill-sorted couple's approaching the metropolis occurs on page 153 in Chapter 41, four pages before the textual passage in Chapter 42. 1871. Wood engraving by the Dalziels, 10.8 cm high by 13.7 cm wide.
Scanned image and text by Philip V. Allingham. [You may use this image without prior permission for any scholarly or educational purpose as long as you (1) credit the person who scanned the image and (2) link your document to this URL in a web document or cite the Victorian Web in a print one.].
Passage Illustrated
Thus, they had toiled along the dusty road, taking little heed of any object within sight, save when they stepped aside to allow a wider passage for the mail-coaches which were whirling out of town, until they passed through Highgate archway; when the foremost traveller stopped and called impatiently to his companion.
"Come on, can't yer? What a lazybones yer are, Charlotte."
"It's a heavy load, I can tell you," said the female, coming up, almost breathless with fatigue.
"Heavy! What are yer talking about? What are yer made for?" rejoined the male traveller, changing his own little bundle as he spoke, to the other shoulder. "Oh, there yer are, resting again! Well, if yer ain't enough to tire anybody's patience out, I don't know what is!"
"Is it much farther?" asked the woman, resting herself against a bank, and looking up with the perspiration streaming from her face.
"Much farther! Yer as good as there," said the long-legged tramper, pointing out before him. "Look there! Those are the lights of London."
"They're a good two mile off, at least,' said the woman despondingly.
"Never mind whether they're two mile off, or twenty," said Noah Claypole; for he it was; "but get up and come on, or I'll kick yer, and so I give yer notice."
As Noah's red nose grew redder with anger, and as he crossed the road while speaking, as if fully prepared to put his threat into execution, the woman rose without any further remark, and trudged onward by his side.
"Where do you mean to stop for the night, Noah?" she asked, after they had walked a few hundred yards.
"How should I know?" replied Noah, whose temper had been considerably impaired by walking.
[Chapter 42, "An Old Acquaintance of Oliver's, Exhibiting Decided Marks of Genius, Becomes a Public Character in the Metropolis," p. 150-51]
Commentary: Noah and Charlotte as Punch and Judy
Whereas Cruikshank enjoys the character comedy of country-bumpkin Noah's attempting to look as "knowing," as worldly wise as his new Hogarthian acquaintance, both Sol Eytinge and James Mahoney have realised the moment when Noah and Charlotte, exhausted and footsore — and quite fed up with one another — see the lights of London in the distance. In contrast to these "dark" scenes Harry Furniss has remodelled the Cruikshank plate in Fagin and Noah understand each other in Chapter 42. The setting is once again The Three Cripples in Little Saffron Hill, the part of London through which the Artful Dodger leads Oliver at the beginning of the book. The bundle that sturdy Charlotte has shouldered all the way to London now lies between the exploitative males, and Noah is again to the left of the table, satisfying his appetite, as he is in Mr. Claypole as he appeared when his master was out in chapter 27.
Eytinge depicts Noah and Charlotte as a species of Industrial Age Punch and Judy, with Noah's small burden and upright posture contrasting​the bent-over figure of Charlotte, labouring under a much larger burden. Gone are Noah's fashionable regency clothes, replaced by a carter's white linen smock-frock that extends past his waist. That the two are apparently suffering​not so much from the rigours of the journey south as from each​ other's company would seem to the nineteenth-century reader, whether American or British, to assert the power of Poetic Justice. Eytinge makes the heavy Charlotte puffy and breathless, the spindly-legged Noah belligerent and red-nosed; in other words, Eytinge renders them without sympathy, whereas Mahoney makes Charlotte far more attractive physically, and much better dressed.
Mahoney depicts them as just another young couple, down on their luck, seeking their fortune in the metropolis. Noah, dressed as a carter in a linen smock-frock (a disguise that in fact he acquires only once he has agreed to attend the trial of the Artful Dodger), points towards the lights of London on the horizon as he chastizes Charlotte, resting for a moment, but her gigantic pack on her back still ​on her back. Without an accompanying text, the reader can be forgiven if he or she does not recognize the figures of the scene at the Sowerberrys' home 140 pages earlier, the distressed Charlotte rushing into the kitchen, left, and the craven Noah lying on the floor, centre, his face turned towards Oliver and necessarily away from the reader, in Oliver rather astonishes Noah in Chapter 5. In the interval, Charlotte has matured into an attractive young woman (if one may credit Mahoney's interpretation of her), but Noah is still the same surly boy and whining, cajoling bully — indeed, more a distinct voice than a readily identifiable image.
Illustrations from the serial edition (November 1838), Household Edition (1871), and Charles Dickens Library Edition (1910)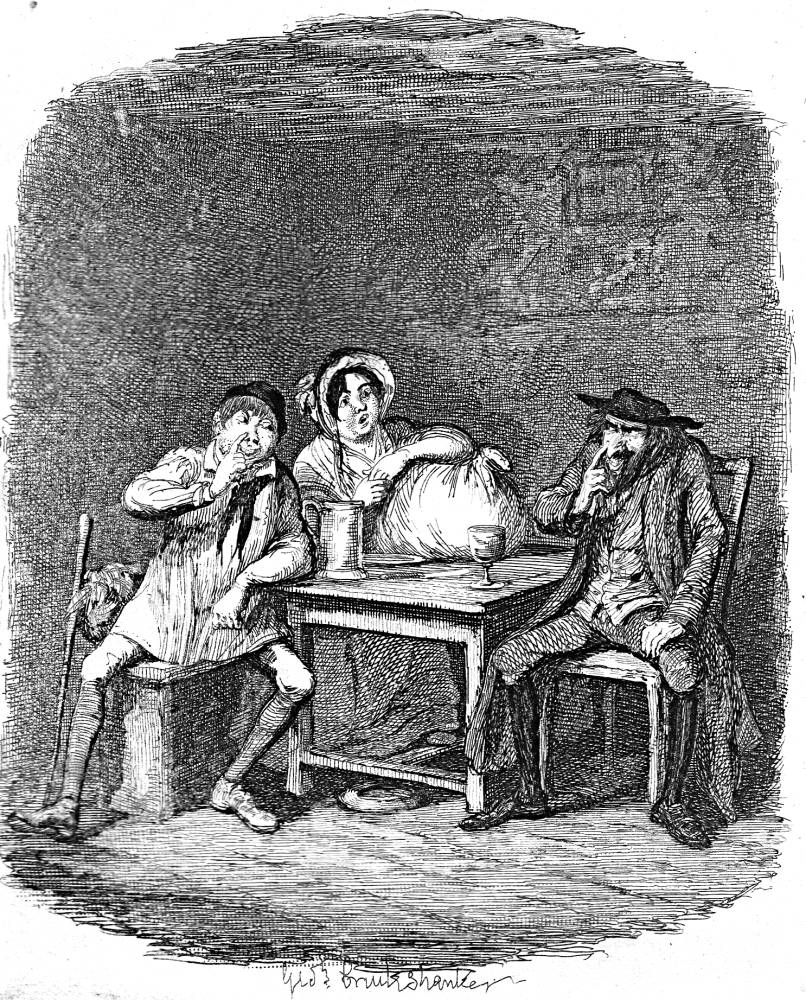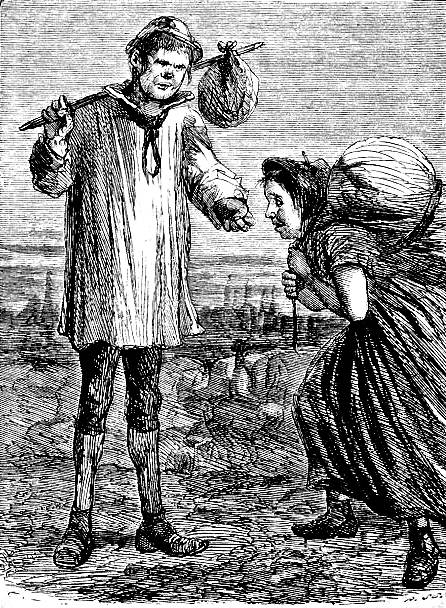 Left: George Cruikshank's serial engraving "The Jew & Morris Both begin to understand each other" (1838). Right: Sol Eytinge, Jr.'s "Noah and Charlotte" (1871). [Click on images to enlarge them.]
Above: Harry Furniss's Charles Dickens Library Edition illustration "Fagin and Noah understand each other" (1910). [Click on images to enlarge them.]
References
Bentley, Nicolas, Michael Slater, and Nina Burgis. The Dickens Index. New York and Oxford: Oxford U. P., 1990.
Cohen, Jane Rabb. "George Cruikshank." Charles Dickens and His Original Illustrators. Columbus: Ohio State U. P., 1980. Pp. 15-38.
Darley, Felix Octavius Carr. Character Sketches from Dickens. Philadelphia: Porter and Coates, 1888.
Davis, Paul. Charles Dickens A to Z: The Essential Reference to His Life and Work. New York: Facts On File, 1998.
Dickens, Charles. The Letters of Charles Dickens. Ed. Graham Storey, Kathleen Tillotson, and Angus Eassone. The Pilgrim Edition. Oxford: Clarendon, 1965. Vol. 1 (1820-1839).
Dickens, Charles. Oliver Twist. Illustrated by George Cruikshank. London: Bradbury and Evans; Chapman and Hall, 1846.
Dickens, Charles. Oliver Twist. Works of Charles Dickens. Household Edition. 55 vols. Il. F. O. C. Darley and John Gilbert. New York: Sheldon and Co., 1865.
Dickens, Charles. Oliver Twist. Works of Charles Dickens. Diamond Edition. 18 vols. Illustrated by Sol Eytinge, Jr. Boston: Ticknor and Fields, 1867.
Dickens, Charles. The Adventures of Oliver Twist. Works of Charles Dickens. Household Edition. Illustrated by James Mahoney. London: Chapman and Hall, 1871.
Dickens, Charles. Oliver Twist. Works of Charles Dickens. Charles Dickens Library Edition. Illustrated by Harry Furniss. London: Educational Book Company, 1910.
---
Last modified 23​December 2014