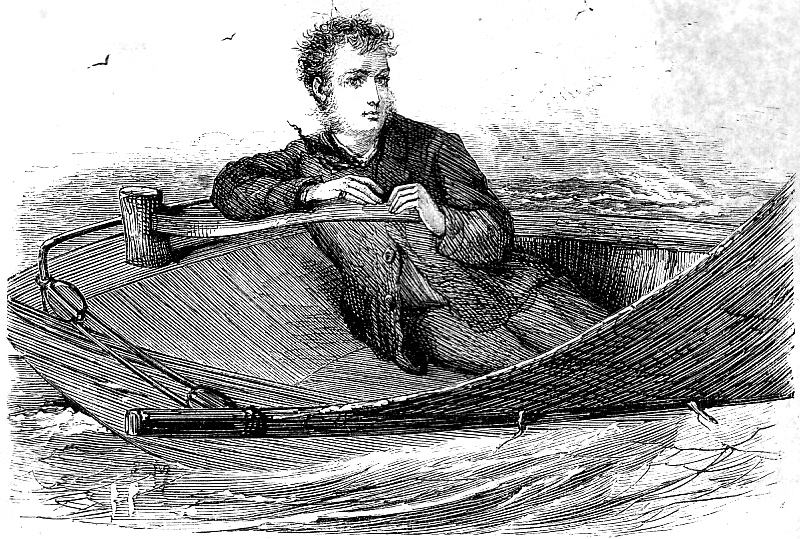 "Steerforth, the ninth full-page illustration for the volume by Sol Eytinge, Jr. 1867. 7.5 cm high by 10 cm wide (4 by 3 inches), partially vignetted. Charles Dickens's The Personal History of David Copperfield (Boston: Ticknor and Fields, 1867), facing page 179. [Mouse over the text for links. Click on the image to enlarge it.]
Commentary: The Dashing Steerforth
Whereas Phiz in the 1849-50 serial sequence chose to depict James Steerforth, the novel's rake, as a handsome, well-dressed senior schoolboy in his first appearance in the serial illustrations, in his only treatment of the protagonist's alter-ego Eytinge depicts him at the helm of a small boat, anticipating his purchase of the "Little Em'ly." There is definitely something in the brow of Eytinge's handsome youth reminiscent of George Gordon, Lord Byron. Eschewing the tailored look, this Steerforth wears sailing garb and, in a manner reminiscent of portraits of Lord Byron, is ruggedly handsome, with slightly disheveled blond hair. Whereas Phiz depicted him in social situations, Eytinge has chosen to study him in isolation — but very much in control. The boat seems inordinately small, and the waves come right up to the boom of the main sail, and the breakers in the background may be a visual foreshadowing to Steerforth's perishing in the great storm on the Yarmouth Denes. Again, we may be studying him, but his gaze suggests that he is studying us. At this point in the narrative, Steerforth, having consumed biscuit, dried fish, and Hollands with David, Ham, and Dan'l Peggotty, catches a glimpse of "A most engaging little Beauty" (179) in chapter 21, "Little Em'ly." Since the illustration depicts Steerforth sailing, an activity about which David presumably learns from the Peggottys and Steerforth himself, the passage realized is likely this:
He was a good sailor, and I was but an indifferent one; and when he went out boating with Mr. Peggotty, which was a favourite amusement of his, I generally remained ashore. . . . . Thus it came about, that I heard of his making little treats for the fishermen at Mr. Peggotty's house of call, "The Willing Mind," after I was in bed, and of his being afloat, wrapped in fisherman's clothes, whole moonlight nights, and coming back when the morning tide was at flood [ Chapter XXII, "Some Old Scenes, and Some New People," 179]
Thus, the imagined scene of Steerforth alone on the sea beyond Yarmouth is something that exists only in David's — and the reader's — imagination, for he is not present to witness it, and it is barely described. The pleasure voyage for Steerforth mocks the serious business of the Yarmouth fishermen's labours on the deep, and the illustration reflects the narrator's narrow focus by eliminating Steerforth's proletarian companions.
Related Resources
Scanned image and text by Philip V. Allingham. [You may use this image without prior permission for any scholarly or educational purpose as long as you (1) credit the person who scanned the image and (2) link your document to this URL in a web document or cite the Victorian Web in a print one.]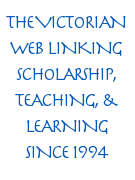 Bibliography
Dickens, Charles. The Personal History of David Copperfield, illustrated by Hablot Knight Browne ("Phiz"). The Centenary Edition. London & New York: Chapman & Hall, Charles Scribner's Sons, 1911 [rpt. from 1850]. 2 vols.
_______. The Personal History of David Copperfield. Illustrated by Sol Eytinge, Jr. The Diamond Edition. Boston: Ticknor & Fields, 1867. Vol. V.
---
Created 19 January 2011 Last modified 11 JUly 2022