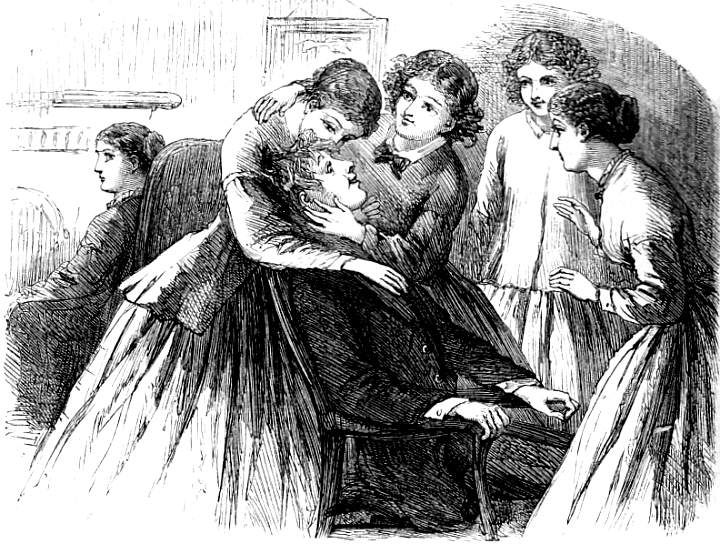 "Traddles and the Girls, the sixteenth and final full-page illustration for the volume by Sol Eytinge, Jr. 7.7 cm high by 10 cm wide (3 by 3 ⅞ inches). Charles Dickens's The Personal History of David Copperfield (Boston: Ticknor and Fields, 1867), facing page 467. [Mouse over the text for links. Click on the image to enlarge it.]
Commentary
Whereas Phiz concludes his narrative-pictorial series with an appropriate visual resolution, namely Dan'l Peggotty's returning from Australia to visit a mature Agnes and David Copperfield and their children, in "A Stranger calls to see me", Sol Eytinge has chosen a very different scene of domestic bliss in a study of Tommy Traddles and his extended family, albeit a synthetic scene that incorporates his mother-in-law (left) before the Crewler family hearth that the marriage has deprived of Mrs. Crewler's oldest daughter.
For the mid-Victorian, the reward for a virtuous life was domestic bliss— hearth, home, and family. Consequently, Eytinge in describing Traddles and his sisters-in-law is demonstrating the power of poetic justice in the lives of Dickens's characters. The moment realized would appear to be in Traddles' reporting to Copperfield about his lifestyle resulting from his marriage six weeks before to Miss Sophy Crewler, "the best of all girls":
"And in short, my dear friend," said I, "you feel as blest as you deserve to feel!"
O, that's your partiality," laughed Traddles. "But, indeed, I am in a most enviable state. I work hard, and read law insatiably. I get up at five every morning, and don't mind it at all. I hide the girls in the daytime and make merry with them in the evening. And I assure you I am quite sorry that they are going home on Tuesday, which is the day before the first day of Michaelmas Term. But here," said Traddles, and speaking aloud, "are the girls! Mr. Copperfield, Miss Crewler — Miss Sarah — Miss Louisa — Margaret and Lucy!"
They were a perfect nest of roses; they looked cso wholesome and fresh. They were all pretty, and Miss Caroline was very handsome; but there was a loving, cheerful, fireside quality in Sophy's bright looks, which was better than that, and which assured me that my friend had chosen well. [467]
Presumably the woman sitting aloof from all this youthful boisterousness is Mrs. Crewler, while the young woman immediately behind Traddles is Sophy, eldest daughter of Devonshire curate the Reverend Horace Crewler, a character whom Dickens may have based loosely on Jane Austen's Mr. Bennet in Pride and Prejudice.
The final illustration's horizontal orientation and group composition both distinguish it from the rest of Eytinge's character studies from The Personal History of David Copperfield and point to a flaw in his "ornamental" or "incidental" approach to illustrating the great mid-century novel that established the first-person confessional as one of the nineteenth-century novel's dominant strategies, in line with Jane Eyre. With the exception of David's Bargain, Eytinge's other illustrations are generally not calculated to conjure up a precise moment; rather, they synthesize narrative-pictorial elements to present an appreciation of a character, or (more often in the series) a pair of related characters, such as Mrs. Heep and her devious son in the fifteenth illustration, Uriah Heep and His Mother. Here, instead of bringing the narrative-pictorial sequence to a climax with some depiction of the resolution of the Em'ly/Ham/Steerforth plot or of the dénouement with Agnes and David happily married, Eytinge feels obliged to follow through with his scheme to analyse the last major character of the story — the kind-hearted, true friend from David's school days who proves instrumental in the downfall of Uriah Heep and the restoration of Betsey Trotwood's fortunes.
Related Resources
Scanned image and text by Philip V. Allingham. [You may use this image without prior permission for any scholarly or educational purpose as long as you (1) credit the person who scanned the image and (2) link your document to this URL in a web document or cite the Victorian Web in a print one.]
Bibliography
Bentley, Nicolas, Michael Slater, and Nina Burgis. The Dickens Index. Oxford, New York, and Toronto: Oxford UP, 1990.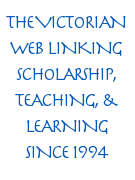 Dickens, Charles. The Personal History of David Copperfield, illustrated by Hablot Knight Browne ("Phiz"). The Centenary Edition. London & New York: Chapman & Hall, Charles Scribner's Sons, 1911 [rpt. from 1850]. 2 vols.
_______. The Personal History of David Copperfield. Illustrated by Sol Eytinge, Jr. The Diamond Edition. Boston: Ticknor & Fields, 1867. Vol. V.
---
Created 29 January 2011 Last modified 11 July 2022