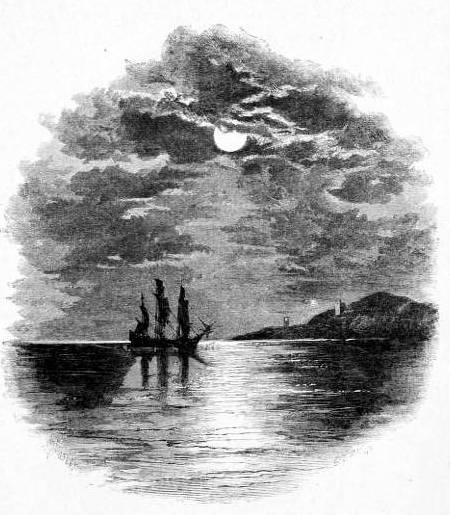 Introduction
Myles Birket Foster was one of the most prolific illustrators of the nineteenth century. Although he produced some seascapes, he was primarily concerned with the representation of rural life – a narrow range that included village scenes, landscapes, and, most typically of all, enclosed bowers with verdant trees. These were largely based on views in Surrey and the south of England, and provide a vivid portrait of rural England as an unspoiled landscape at a period of rapid industrialization.
Birket Foster's approach to his subject is partly journalistic – acting as an historical record of agricultural practice, architecture and the appearance of the workers – but is essentially a matter of idealising, presenting a notion of England as a rustic idyll. Indeed, his version of country life is in practice a mode of escapism that runs in parallel to other Victorian evasions in the form of Pre-Raphaelite medievalism, neo-classicism, and fairy-art.
This rural imagery, with its emphasis on a sort of Edenic innocence, was hugely popular among the metropolitan middle-classes, providing what Christopher Wood has described as a 'paradise of refreshment for thirsty urban souls' (p.74). Foster's paintings presented the same subjects for those of appropriate financial means, but for the majority of viewers his art could be enjoyed in the form of wood-engravings inspected at the fire-side, and was essentially a portable version of Nature.
His illustrations must have run into many hundreds, appearing principally in Christmas gift-books, compilations of nature poetry and reprints of Wordsworth and the Romantics. The Dalziel Brothers, who engraved much of his work, note how he would turn up at the office, 'generally bringing a parcel of drawings with him' (p.149). Wherever a rustic scene was required, Birket Foster could provide it; and critics regularly accused him of repetitiveness and resorting to formula. However, Foster was an inventive designer, and his work displays plenty of variation within the limits of his pastoral theme. Modern critics have tended to view his book-art as superior to his paintings, and he is widely regarded as one of the most distinctive illustrators of his time.
Pictures of English Landscape
Among Birket Foster's dozens of publications the most distinguished was Pictures of English Landscape (1863). Pictures was commissioned by the Dalziel Brothers and was intended to show-case the artist and the abilities of the engravers. Bound in an elaborate casing by Owen Jones and issued with poems written to match the pictures by Tom Taylor (after the commission was declined by Tennyson), it was presented to the public as an elaborate gift-book to be enjoyed by the fireside over the festive season. The emphasis was entirely on the engravings, and the book embodies all of the artist's characteristic motifs.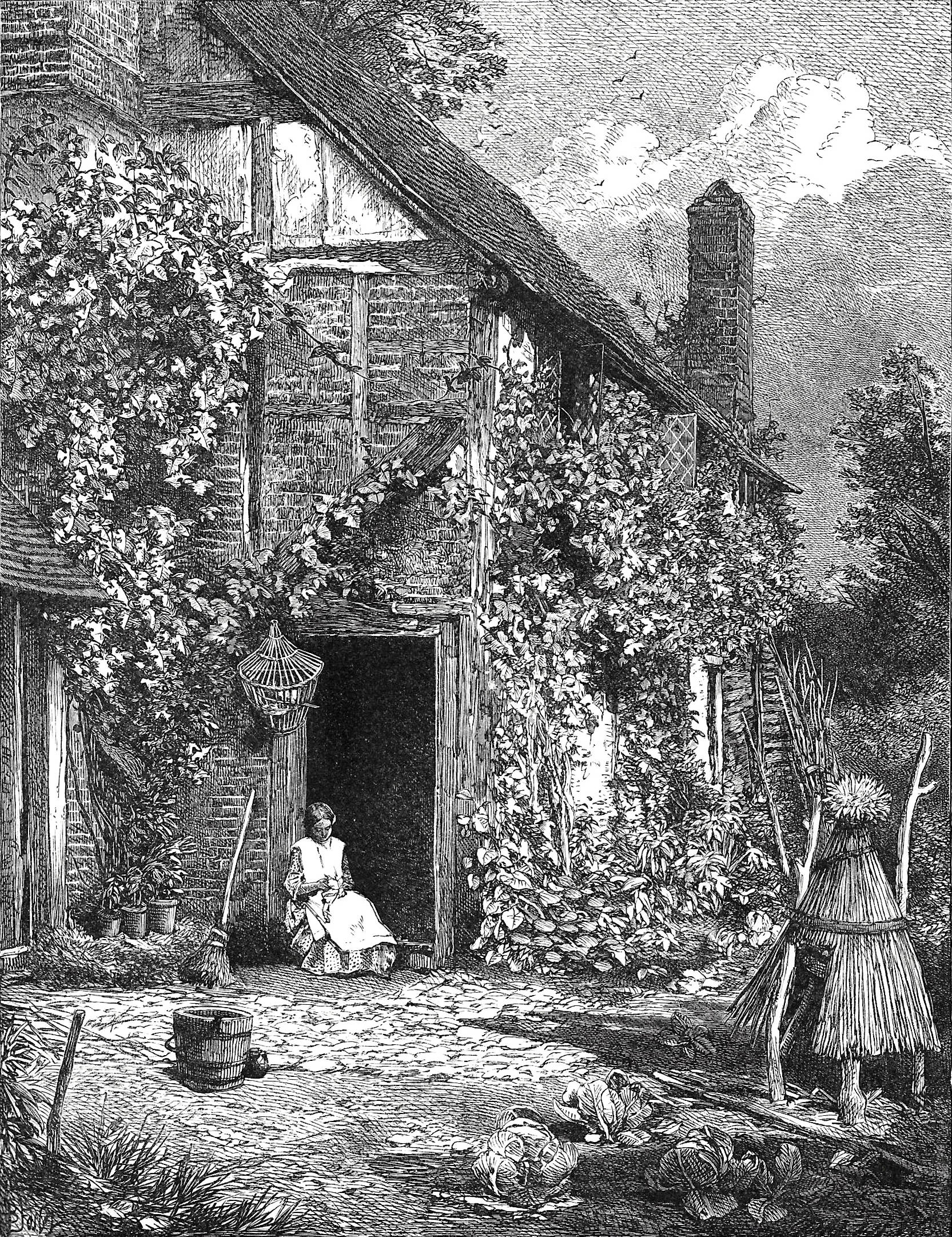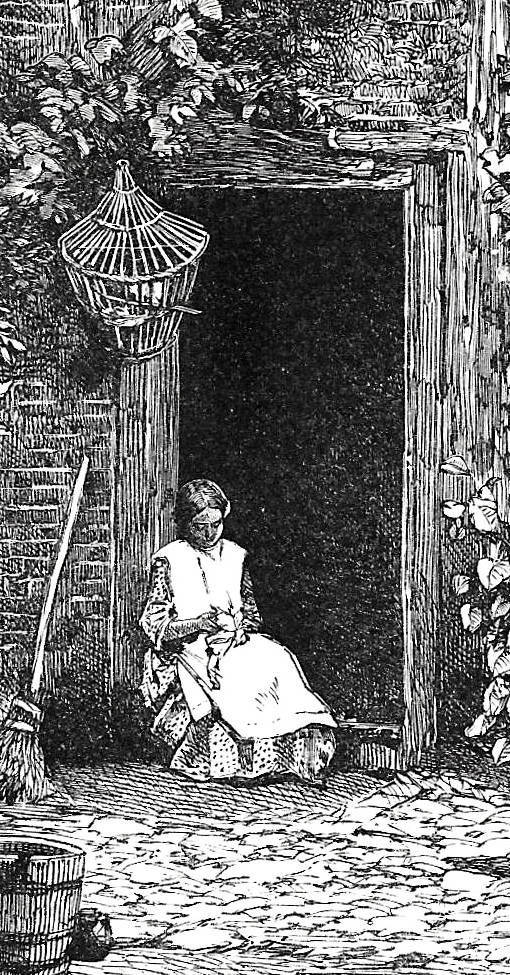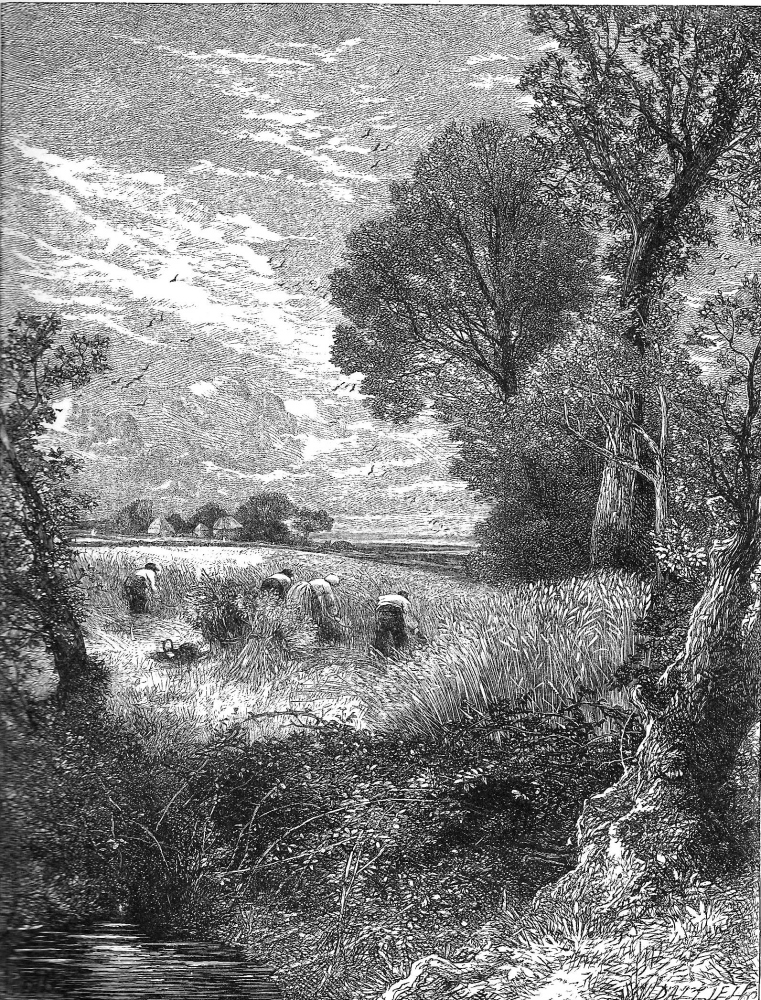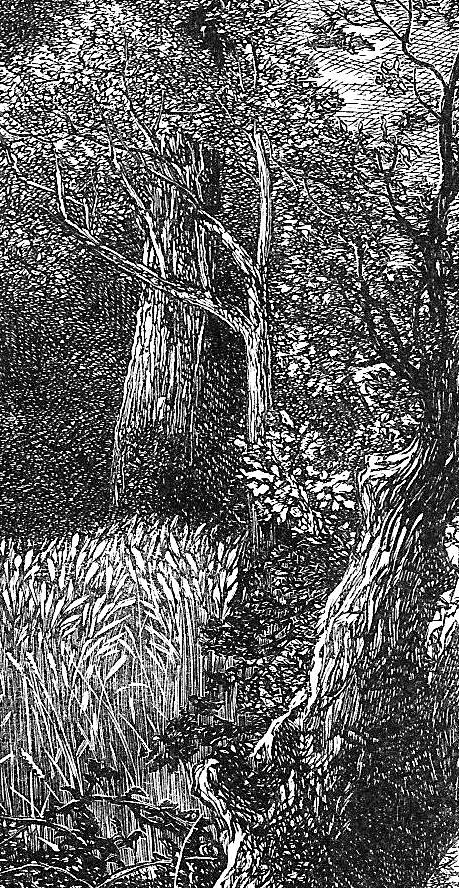 Two of Foster's illustrations and details from them.
Several of the scenes are sentimental representations of cottage-life that recall the imagery of Helen Allingham, presenting what we today would regard as a stereotypical idea of Englishness. In this version of British rural life it is usually summer; the characters' lives are ruled by leisure or light activity; where there is hard work it always takes places in a beautiful setting, man and nature in unity; ivies or roses cluster around ancient doorways in half-timbered buildings with quaint chimneys; and all is harmony and contentment.
In contrast to the landscapes of J. W. North, the Pictures gives little sense of the privations of the rural poor, and are entirely Romantic in effect. The idylls of John Clare and William Wordsworth are their literary equivalents, and Birket Foster was also heavily influenced by the paintings of John Constable, George Morland and John Crome, all from the end of the eighteenth and the earlier part of the nineteenth centuries.
Enduring in its depiction of this pastoral mythology, Birket Foster's imagery is carried forward in numberless subsequent representations; it recurs in neo-romanticism of the 1930s and forties, and informs the visualization of landscape in British films produced during World War II. — Simon Cooke
Works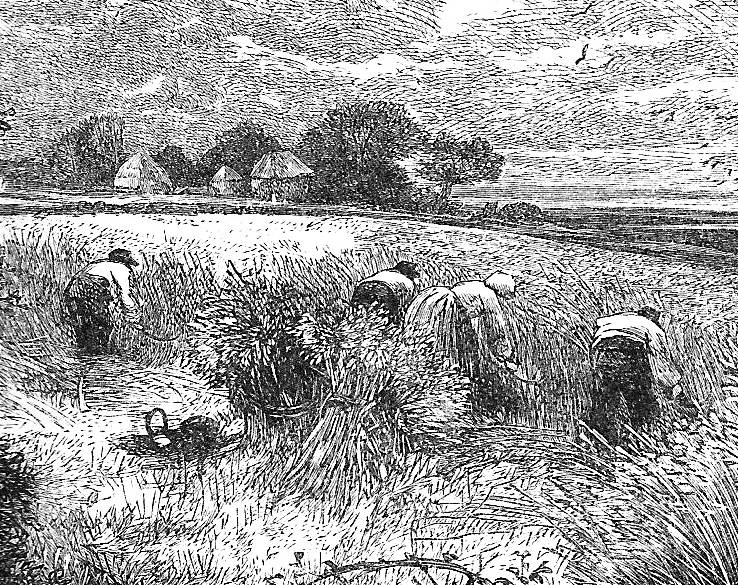 Works Cited
Birket Foster's Pictures of English Landscape. London: Routledge, 1863 [1862].
The Brothers Dalziel: A Record of Work. 1901; rpt. London: Batsford, 1978.
Reynolds, Jan. Birket Foster. London: Batsford, 1984.
Wood, Christoper. Paradise Lost. London: Barrie & Jenkins, 1988.
---
Last modified 17 August 2013