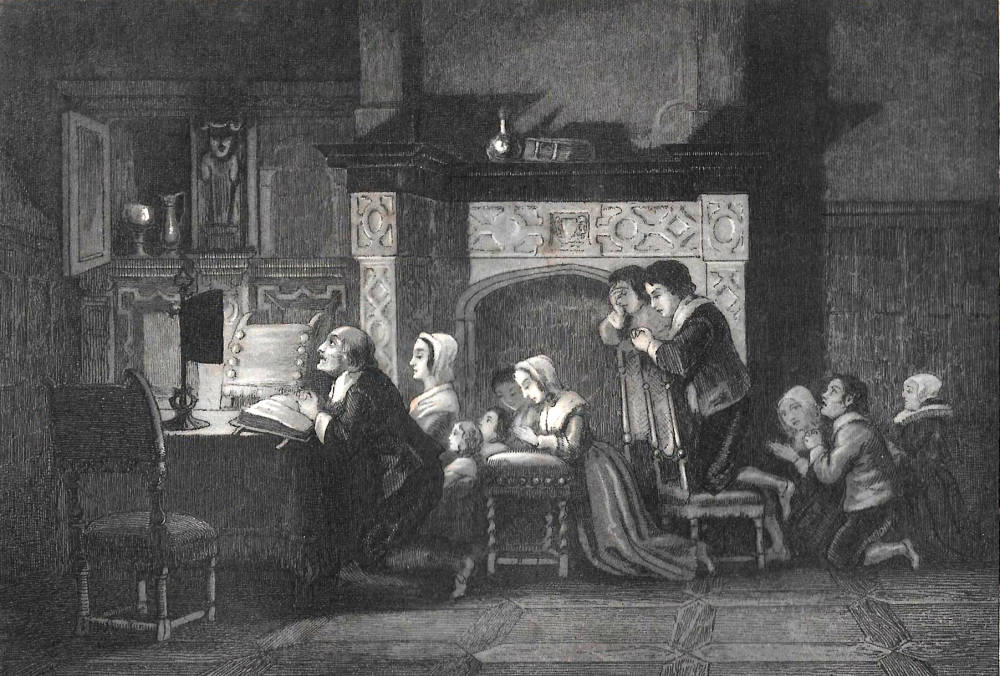 The Grocer and his Family at Prayers. Artist: John Franklin. Drawn and engraved by Franklin, 1841, reprinted 1847. Steel-plate etching, 9.5 cm high by 14.2 cm wide. Sixth illustration by this artist for W. H. Ainsworth's historical romance, Old St. Paul's: A Tale of the Plague and the Fire (London: Parry, Blenkharn & Co., 1847): Book the First, "April, 1665," Chapter I, "The Grocer of Wood-Street and His Family," facing p. 83. Ainsworth initially serialised the novel in The Sunday Times, from 3 January through 26 December 1841 in fifty-one weekly instalments, which Ainsworth almost immediately reconfigured as twelve monthly parts for publication that same year, a pattern more famously emulated by Charles Dickens in 1859 for A Tale of Two Cities (June-December).
Scanned image by Simon Cooke, color correction and sizing by George P. Landow. Caption and commentary by Philip V. Allingham. You may use this image without prior permission for any scholarly or educational purpose as long as you (1) credit the person who scanned the image and (2) link your document to this URL in a web document or cite the Victorian Web in a print one.
Passage Illustrated
The ordinary prayers gone through, Stephen Bloundel offered up along and fervent supplication to the Most High for protection against the devouring pestilence with which the city was then scourged. He acknowledged that this terrible visitation had been justly brought upon it by the wickedness of its inhabitants; that they deserved their doom, dreadful though it was; that, like the dwellers in Jerusalem before it was given up to ruin and desolation, they "had mocked the messengers of God and despised His word;" that in the language of the prophet, "they had refused to hearken, and pulled away the shoulder, and stopped their ears that they should not hear; yea, had made their heart like an adamant stone, lest they should hear the law and the words which the Lord of Hosts had sent in his spirit by the former prophets." He admitted that great sins require great chastisement, and that the sins of London were enormous; that it was filled with strifes, seditions, heresies, murders, drunkenness, revellings, and every kind of abomination; that the ordinances of God were neglected, and all manner of vice openly practised; that, despite repeated warnings and afflictions less grievous than the present, these vicious practices had been persisted in. All this he humbly acknowledged. But he implored a gracious Providence, in consideration of his few faithful servants, to spare the others yet a little longer, and give them a last chance of repentance and amendment; or, if this could not be, and their utter extirpation was inevitable, that the habitations of the devout might be exempted from the general destruction — might be places of refuge, as Zoar was to Lot. He concluded by earnestly exhorting those around him to keep constant watch upon themselves; not to murmur at God's dealings and dispensations; but so to comport themselves, that "they might be able to stand in the day of wrath, in the day of death, and in the day of judgment." The exhortation produced a powerful effect upon its hearers, and they arose, some with serious, others with terrified looks. [Book the First, "April, 1665," Chapter I, "The Grocer of Wood-Street and His Family," p. 83]
Commentary
Despite the abundance of decorations and comforts in the Cheapside home, citizen and merchant Stephen Bloundel is every inch a Puritan. On this night towards the end of April 1665 he gathers his extended family in the parlour for general prayers, in which he serves as priest and chief congregant (extreme left) as he exhorts Heaven on his knees. As Ainsworth indicates in the text, Franklin has depicted the family in almost feudal order: grocer Bloundel first, then his wife, three sons, and two daughters. Finally, his apprentice; an elderly female serving as cook; and her son, a young man of about five-and-twenty; and a kitchen-maid complete the pious gathering.
Related Material: Phiz's Frontispiece and Title-page Vignette (1847)
Reference
Ainsworth, William Harrison. Old Saint Paul's: A Tale of the Plague and the Fire. London: Parry, Blenkharn & Co., 1847. This was a one-volume reprint of the three-decker published by Hugh Cunningham in 1841. Routledge re-issued the single volume with the Franklin illustrations prefaced by two additional engravings by Hablot Knight Brown.
---
Last modified 4 November 2018