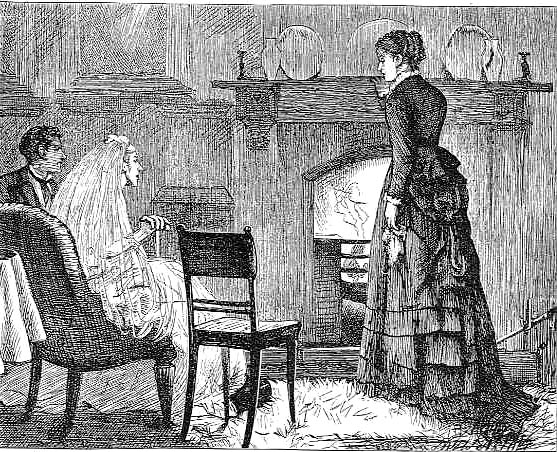 "What!" said Estella, 'do you reproach me for being cold? You'" [Alternate title: EstellaDefends Herself by Fraser (1844-1896). 10.8 cm high by 13.6 cm wide (4 ¼ by 5 ⅜ inches), framed (half-page, horizontally mounted), on page 144. Nineteenth illustration; for Chapter Thirty-eight in Charles Dickens's Great Expectations, which appeared as Volume 11 in the Household Edition in 1876. Running head: "And She Encourages Him" (145). [Click on the images to enlarge them.]
Passage Illustrated: Estella Challenges Miss Havisham's Assessment of Her
"Speak the truth, you ingrate!" cried Miss Havisham, passionately striking her stick upon the floor; "you are tired of me."
Estella looked at her with perfect composure, and again looked down at the fire. Her graceful figure and her beautiful face expressed a self-possessed indifference to the wild heat of the other, that was almost cruel.
"You stock and stone!" exclaimed Miss Havisham. "You cold, cold heart!"
"What?" said Estella, preserving her attitude of indifference as she leaned against the great chimney-piece and only moving her eyes; "do you reproach me for being cold? You?"
"Are you not?" was the fierce retort.
"You should know," said Estella. "I am what you have made me. Take all the praise, take all the blame; take all the success, take all the failure; in short, take me."
"O, look at her, look at her!" cried Miss Havisham, bitterly; "Look at her so hard and thankless, on the hearth where she was reared! Where I took her into this wretched breast when it was first bleeding from its stabs, and where I have lavished years of tenderness upon her!"
"At least I was no party to the compact," said Estella, "for if I could walk and speak, when it was made, it was as much as I could do. But what would you have? You have been very good to me, and I owe everything to you. What would you have?"
"Love," replied the other.
"You have it."
"I have not," said Miss Havisham. [Chapter XXXVIII, 141]
Related Material
Other Artists' Illustrations for Dickens's
Great Expectations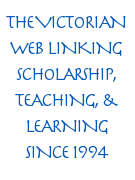 Scanned images and text by Philip V. Allingham. [You may use these images without prior permission for any scholarly or educational purpose as long as you (1) credit the photographer and (2) link your document to this URL in a web document or cite the Victorian Web in a print one.]
Bibliography
Allingham, Philip V. "The Illustrations for Great Expectations in Harper's Weekly (1860-61) and in the Illustrated Library Edition (1862) — 'Reading by the Light of Illustration'." Dickens Studies Annual, Vol. 40 (2009): 113-169.
Dickens, Charles. Great Expectations. Illustrated by John McLenan. [The First American Edition]. Harper's Weekly: A Journal of Civilization, Vols. IV: 740 through V: 495 (24 November 1860-3 August 1861).
______. ("Boz."). Great Expectations. With thirty-four illustrations from original designs by John McLenan. Philadelphia: T. B. Peterson (by agreement with Harper & Bros., New York), 1861.
______. Great Expectations. Illustrated by Marcus Stone. The Illustrated Library Edition. London: Chapman and Hall, 1862. Rpt. in The Nonesuch Dickens, Great Expectations and Hard Times. London: Nonesuch, 1937; Overlook and Worth Presses, 2005.
______. A Tale of Two Cities and Great Expectations. Illustrated by Sol Eytinge, Jr. The Diamond Edition. 16 vols. Boston: Ticknor and Fields, 1867.
______. Great Expectations. Volume 6 of the Household Edition. Illustrated by F. A. Fraser. London: Chapman and Hall, 1876.
______. Great Expectations. The Gadshill Edition. Illustrated by Charles Green. London: Chapman and Hall, 1898.
______. Great Expectations. The Grande Luxe Edition, ed. Richard Garnett. Illustrated by Clayton J. Clarke ('Kyd'). London: Merrill and Baker, 1900.
______. Great Expectations. "With 28 Original Plates by Harry Furniss." Volume 14 of the Charles Dickens Library Edition. London: Educational Book Co., 1910.
______. Great Expectations. Illustrated by Henry Matthew Brock. London: Hodder and Stoughton, n. d. [1916].
---
Created 19 March 2004 Last modified 3 September 2021