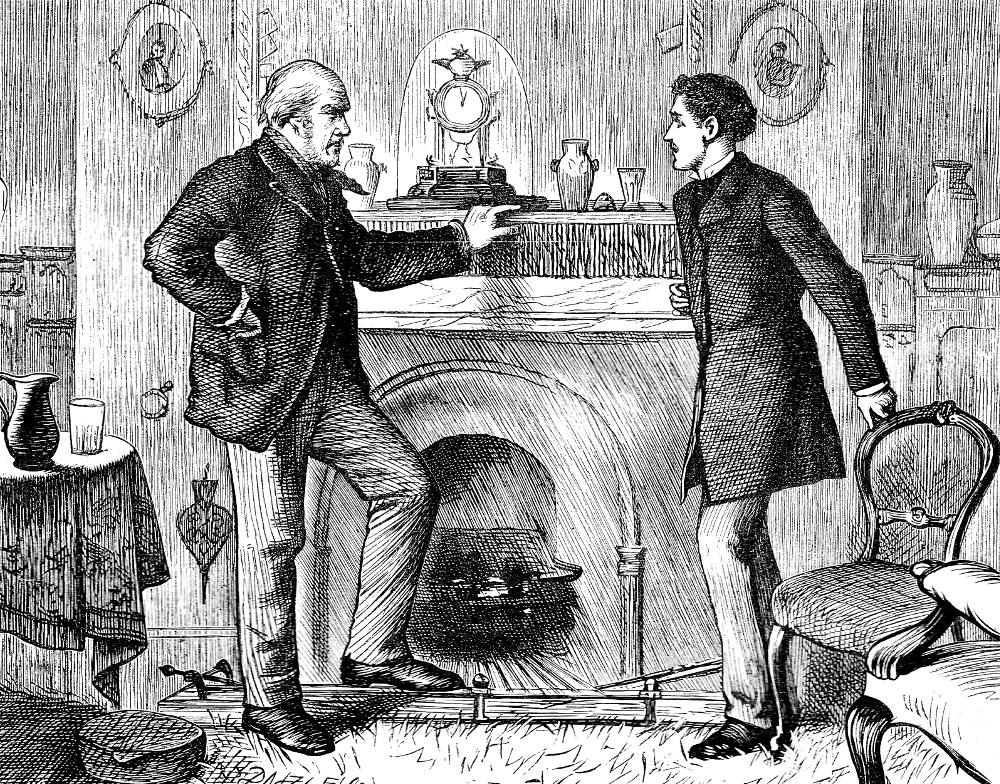 I rose out of my chair, and stood with my hand upon the back of it by F. A. Fraser (1844-1896). 10.9 cm high by 13.6 cm wide (4 ¼ by 5 ⅜ inches), framed (half-page, horizontally mounted), on page 149. Twentieth illustration; for Chapter Thirty-nine in Charles Dickens's Great Expectations, which appeared as Volume 11 in the Household Edition in 1876. Running head: "He Explains My Great Mistake" (149). [Click on the images to enlarge them.]
Passage Illustrated: Magwitch reveals himself to be the Source of the Expectations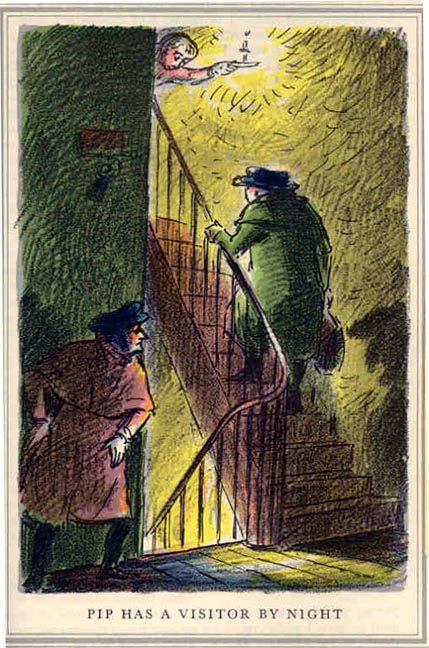 Left: Edward Ardizzone's coloured lithograph of Magwitch's arrival: "Pip has a visitor by night (1939).
It was only now that I began to tremble.
When my lips had parted, and had shaped some words that were without sound, I forced myself to tell him (though I could not do it distinctly), that I had been chosen to succeed to some property.
"Might a mere warmint ask what property?" said he.
I faltered, "I don't know."
"Might a mere warmint ask whose property?" said he.
I faltered again, "I don't know."
"Could I make a guess, I wonder," said the Convict, "at your income since you come of age! As to the first figure now. Five?"
With my heart beating like a heavy hammer of disordered action, I rose out of my chair, and stood with my hand upon the back of it, looking wildly at him.
"Concerning a guardian," he went on. "There ought to have been some guardian, or such-like, whiles you was a minor. Some lawyer, maybe. As to the first letter of that lawyer's name now. Would it be J?"
All the truth of my position came flashing on me; and its disappointments, dangers, disgraces, consequences of all kinds, rushed in in such a multitude that I was borne down by them and had to struggle for every breath I drew. [Chapter XXXIX, 148]
Commentary: A Revelation is at Hand
No edition leaves much doubt about the identity of the uncouth nocturnal visitor, but compared to the other versions Fraser is somewhat prosaic in his handling of the much anticipated revelation of the source of Pip's Great Expectations. The long-awaited arrival of the mysterious benefactor — Abel Magwitch, transported felon and prosperous Australian sheep-rancher, is not shrouded in mystery. And the quondam monster, an object of terror in Pip's memories of his childhood, becomes quite suddenly a surrogate parent, now an elderly man in need of nurturing, not the physically powerful, desperate escapee that so many illustrators have depicted. Nevertheless, Fraser gives his returned felon a shrewd look as he appraises what his years of labour have wrought, and perhaps he even communicates a sense of the danger into which Magwitch's illicit return has thrown him, since he is a felon transported for life. If apprehended, he will face capital punishment and the forfeiture of his considerable overseas fortune. Fraser reveals something of Magwitch's labouring background in his coarse wollen jacket and neckerchief.
Two other aspects of the illustration condition the viewer's reception of Fraser's depiction of the convict's return: the upper-middle-class furnishings and bric-a-brac, and the rigid Pip's balancing himself on an elegant chair. The glass-domed clock on the mantelpiece, the miniatures on the wall, the patterned tablecloth, and various vases all betoken the gentleman's taste and affluence. But the other aspect of the scene, Pip's riveted attention to Magwitch's words, is not lost on the careful viewer.
Other Editions' Versions of the Return of Magwitch (1861-1909)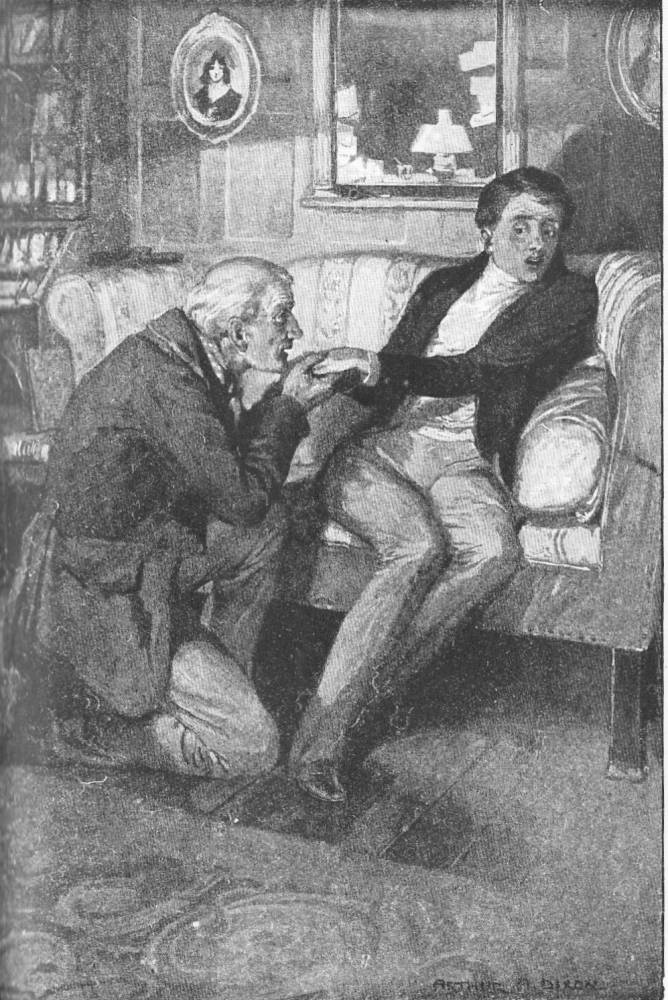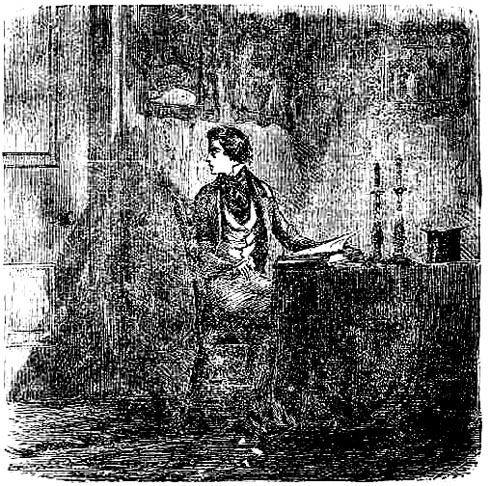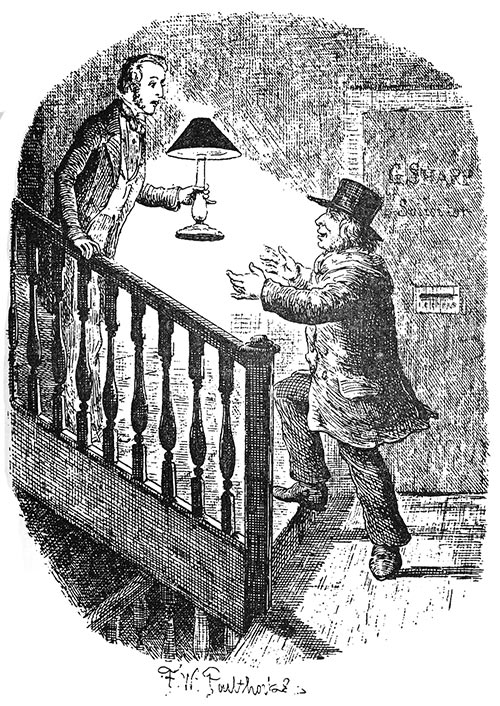 Left: A. A. Dixon's 1909 lithograph of Magwitch's emotional reunion with Pip: Again he took both my hands and put them to his lips, in the Collins Clear-type Edition. Centre: The original American serial illustration of the shock Pip experiences as Magwitch's reveals himself as Pip's benefactor: "Let me sit listening as I would, with dread," etc. in Harper's Weekly 5 (15 June 1861). Right: Frederick W. Pailthorpe in the Robson & Kerslake edition creates an air of mystery by introducing Magwitch outside Pip's apartments, in the darkness: On the Stairs (1885).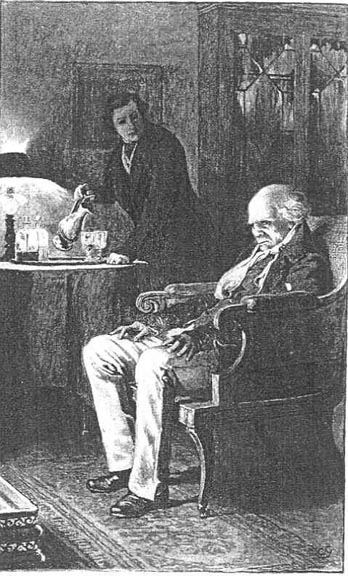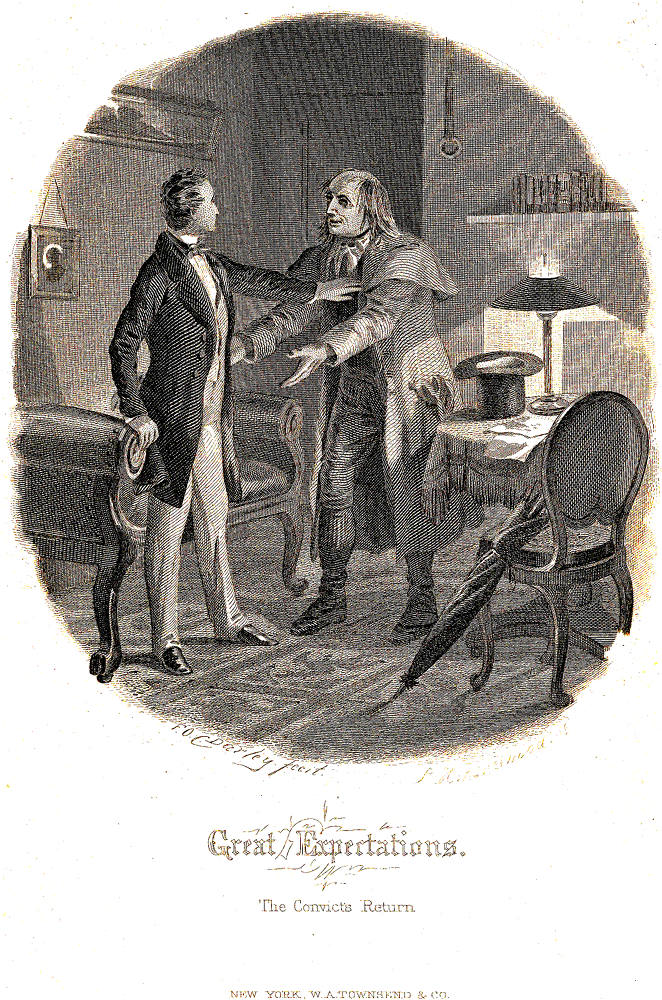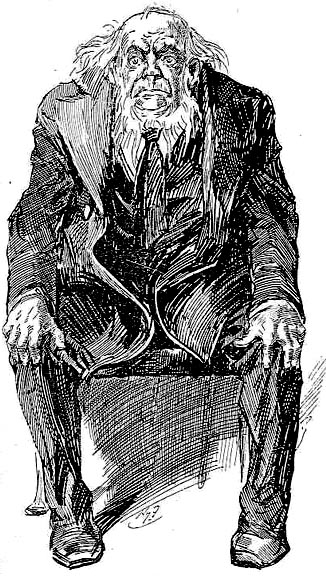 Left: Charles Green's "I made him some hot rum-and-water" (1897). Center: F. O. C. Darley's The Convict's Return (1861). Right: Harry Furniss's "Provis" (1910). [Click on images to enlarge them.]
Related Material: Australian Transportation
Related Material: The Role of Magwitch in the Story
Depictions of Abel Magwitch in other scenes, in other editions (1861-1910)
Related Material
Other Artists' Illustrations for Dickens's
Great Expectations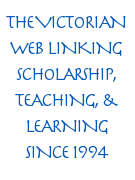 Scanned images and text by Philip V. Allingham. [You may use these images without prior permission for any scholarly or educational purpose as long as you (1) credit the photographer and (2) link your document to this URL in a web document or cite the Victorian Web in a print one.]
Bibliography
Allingham, Philip V. "The Illustrations for Great Expectations in Harper's Weekly (1860-61) and in the Illustrated Library Edition (1862) — 'Reading by the Light of Illustration'." Dickens Studies Annual, Vol. 40 (2009): 113-169.
Dickens, Charles. Great Expectations. Illustrated by John McLenan. [The First American Edition]. Harper's Weekly: A Journal of Civilization, Vols. IV: 740 through V: 495 (24 November 1860-3 August 1861).
______. ("Boz."). Great Expectations. With thirty-four illustrations from original designs by John McLenan. Philadelphia: T. B. Peterson (by agreement with Harper & Bros., New York), 1861.
______. Great Expectations. Illustrated by Marcus Stone. The Illustrated Library Edition. London: Chapman and Hall, 1862. Rpt. in The Nonesuch Dickens, Great Expectations and Hard Times. London: Nonesuch, 1937; Overlook and Worth Presses, 2005.
______. A Tale of Two Cities and Great Expectations. Illustrated by Sol Eytinge, Jr. The Diamond Edition. 16 vols. Boston: Ticknor and Fields, 1867.
______. Great Expectations. Volume 6 of the Household Edition. Illustrated by F. A. Fraser. London: Chapman and Hall, 1876.
______. Great Expectations. The Gadshill Edition. Illustrated by Charles Green. London: Chapman and Hall, 1898.
______. Great Expectations. The Grande Luxe Edition, ed. Richard Garnett. Illustrated by Clayton J. Clarke ('Kyd'). London: Merrill and Baker, 1900.
______. Great Expectations. "With 28 Original Plates by Harry Furniss." Volume 14 of the Charles Dickens Library Edition. London: Educational Book Co., 1910.
______. Great Expectations. Illustrated by Henry Matthew Brock. London: Hodder and Stoughton, n. d. [1916].
---
Created 19 March 2004 Last modified 6 September 2021