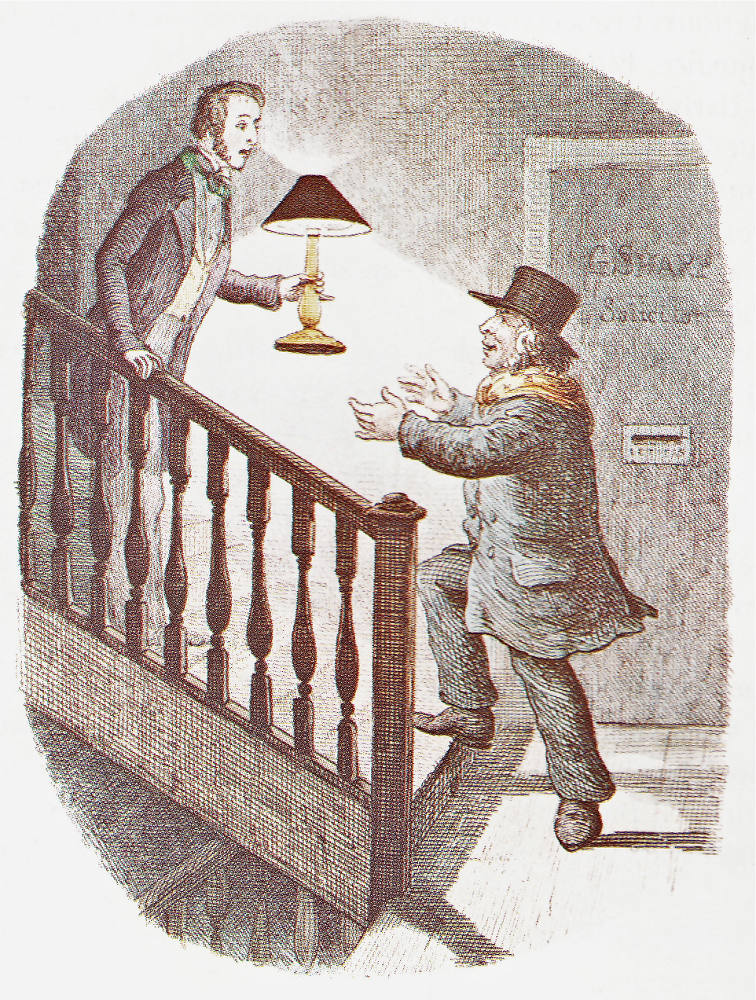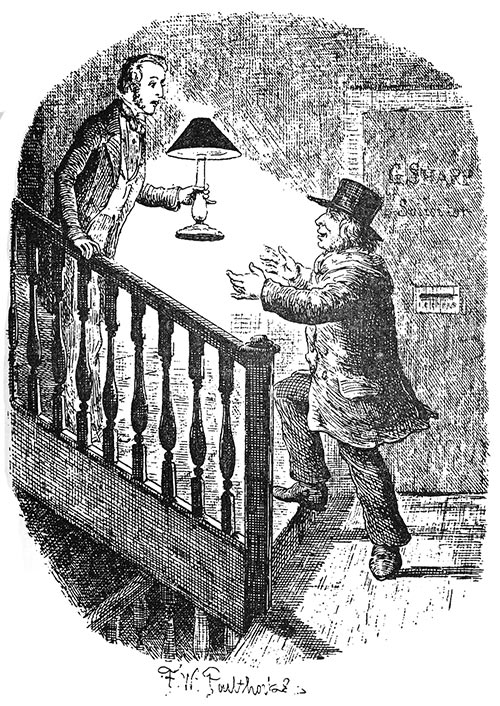 On the stairs (page 342) — fourteenth black-and-white lithograph from engraving (1885), but eleventh hand-coloured lithograph (1979) for Charles Dickens's Great Expectations, first published in the Robson and Kerslake edition, Chapter XXXIX. 4 by 3 inches (10 cm by 7.7 cm), vignetted, facing p. 310.
Passage Illustrated: Magwitch Returns to England Incognito
"There is some one down there, is there not?" I called out, looking down.
"Yes," said a voice from the darkness beneath.
"What floor do you want?"
"The top. Mr. Pip."
"That is my name.—There is nothing the matter?"
"Nothing the matter," returned the voice. And the man came on.
I stood with my lamp held out over the stair-rail, and he came slowly within its light. It was a shaded lamp, to shine upon a book, and its circle of light was very contracted; so that he was in it for a mere instant, and then out of it. In the instant, I had seen a face that was strange to me, looking up with an incomprehensible air of being touched and pleased by the sight of me.
Moving the lamp as the man moved, I made out that he was substantially dressed, but roughly, like a voyager by sea. That he had long iron-grey hair. That his age was about sixty. That he was a muscular man, strong on his legs, and that he was browned and hardened by exposure to weather. As he ascended the last stair or two, and the light of my lamp included us both, I saw, with a stupid kind of amazement, that he was holding out both his hands to me.
"Pray what is your business?" I asked him.
"My business?" he repeated, pausing. "Ah! Yes. I will explain my business, by your leave."
"Do you wish to come in?"
"Yes," he replied; "I wish to come in, Master." [Chapter XXXIX, 342]
Commentary: A Vast Difference in Social Status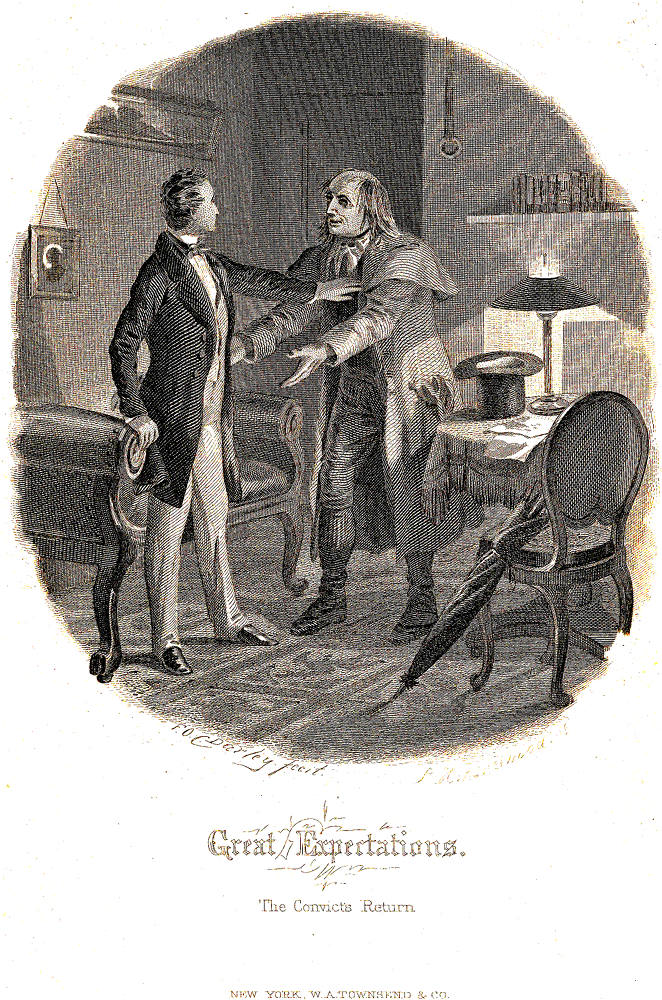 Right: Felix Octavius Carr Darley's illustration of Magwitch just returned from Australia after fifteen years away: The Convict's Return (1861).
Abel Magwitch is a wealthy sheep-rancher and the very source of Pip's "expectations" — and therefore of Pip's affluent lifestyle and education. Yet the disguised "returned felon" from London's criminal classes acknowledges the difference in their social status by addressing Pip as "Master." Whereas Magwitch expresses utter delight in being reunited with the urchin from the churchyard, Pip as yet does not recognize Magwitch. The staircase in this illustration is not just the physical means of ascending to Pip's rooms. It also indicates the vast difference between the young gentleman holding up his elegant lamp and the roughly clad, middle-aged traveller. This is the first of the 1861 Bildungsroman's sensational revelations, revealing the plot secret that the narrator has held back through thirty-eight chapters.
Behind Magwitch as he strides forward, expecting a welcome from the dubious youth on the stairs, Pailthorpe has emblazoned the nane and occupation of the occupant of the office below Pip's fashionable London rooms: a solicitor's office. Thus, the illustrator subtly reminds the reader of Jaggers' involvement in the delivery and administration of Pip's great expectations, a role that has led Pip to confuse the origins of his inherited wealth and erroneously believe that his "benefactress," the brewery heiress, intends him to marry her adopted daughter. The fairy-tale that Pip has nourished for so many years is about to be shattered.
Other Artists' Renderings of the Middle-aged Traveller and the London Gentleman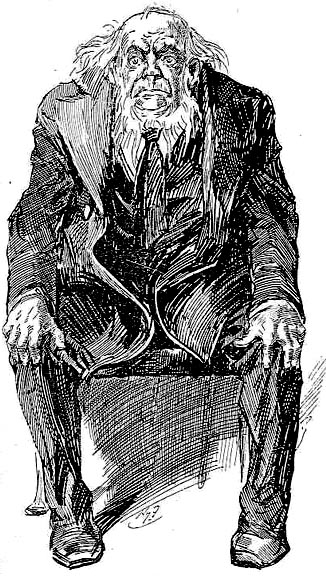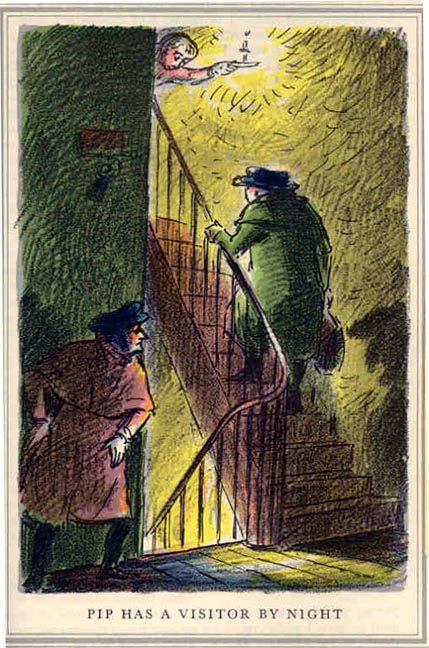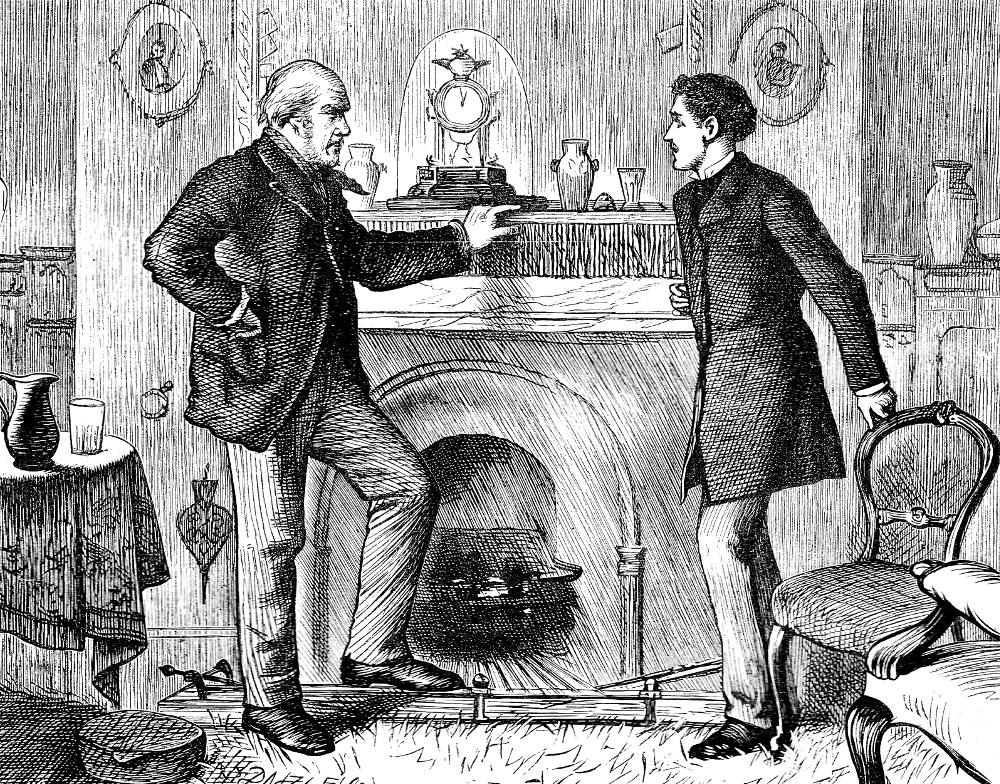 Left: Harry Furniss's Charles Dickens Library Edition illustration of the returned convict using an alias: Provis (1910). Centre: Edward Ardizzone's version of Magwitch's return: Pip has a visitor by night (1939). Right: F. A. Fraser's Household Edition portrait of Pip, shocked by Magwitch's revelations: I rose out of my chair, and stood with my hand upon the back of it, looking wildly at him (1876).
Related Material, Including Penal Transportation and Film Adaptations
Other Artists' Illustrations for Dickens's
Great Expectations
Bibliography
Allingham, Philip V. "The Illustrations for Great Expectations in Harper's Weekly (1860-61) and in the Illustrated Library Edition (1862) — 'Reading by the Light of Illustration'." Dickens Studies Annual, Vol. 40 (2009): 113-169.
Dickens, Charles. Great Expectations. Illustrated by John McLenan. [The First American Edition]. Harper's Weekly: A Journal of Civilization, Vols. IV: 740 through V: 495 (24 November 1860-3 August 1861).
______. ("Boz."). Great Expectations. With thirty-four illustrations from original designs by John McLenan. Philadelphia: T. B. Peterson (by agreement with Harper & Bros., New York), 1861.
______. Great Expectations. Illustrated by Marcus Stone. The Illustrated Library Edition. London: Chapman and Hall, 1862. Rpt. in The Nonesuch Dickens, Great Expectations and Hard Times. London: Nonesuch, 1937; Overlook and Worth Presses, 2005.
_____. Great Expectations. Illustrated by Sol Eytinge, Junior. Diamond Edition. 14 vols. Boston: Ticknor & Fields, 1867. XIII.
______. Great Expectations. Volume 6 of the Household Edition. Illustrated by F. A. Fraser. London: Chapman and Hall, 1876.
______. Great Expectations. The Gadshill Edition. Illustrated by Charles Green. London: Chapman and Hall, 1898.
______. Great Expectations. The Grande Luxe Edition, ed. Richard Garnett. Illustrated by Clayton J. Clarke ('Kyd'). London: Merrill and Baker, 1900.
______. Great Expectations. "With 28 Original Plates by Harry Furniss." Volume 14 of the Charles Dickens Library Edition. London: Educational Book Co., 1910.
_____. Great Expectations. Illustrated by Frederic W. Pailthorpe with 17 hand-tinted water-colour lithographs. The Franklin Library. Franklin Center, Pennsylvania: 1979. Based on the Robson and Kerslake (London) edition, 1885.
Harmon, William, and C. Hugh Holman. "Picaresque Novel." A Handbook to Literature. Upper Saddle River, NJ: Prentice Hall, 2000. Pp. 389-390.
Paroissien, David. The Companion to "Great Expectations." Westport, Conn.: Greenwood, 2000.
---
Created 26 February 2004 Last modified 6 November 2021