I entreated her to rise" by F. A. Fraser (1844-1896). 9.7 cm high by 13.7 cm wide (3 ¾ by 5 ⅜ inches), framed (half-page, horizontally mounted), on page 188. Twenty-sixth illustration; for Chapter Forty-Eight in Charles Dickens's Great Expectations, which appeared as Volume 11 in the Household Edition in 1876. Running head: "I Begin to get a Boat Ready" (177). [Click on the images to enlarge them.]
Passage Illustrated: Can Pip forgive her?
She read me what she had written; and it was direct and clear, and evidently intended to absolve me from any suspicion of profiting by the receipt of the money. I took the tablets from her hand, and it trembled again, and it trembled more as she took off the chain to which the pencil was attached, and put it in mine. All this she did without looking at me.
"My name is on the first leaf. If you can ever write under my name, "I forgive her," though ever so long after my broken heart is dust pray do it!"
"O Miss Havisham," said I, "I can do it now. There have been sore mistakes; and my life has been a blind and thankless one; and I want forgiveness and direction far too much, to be bitter with you."
She turned her face to me for the first time since she had averted it, and, to my amazement, I may even add to my terror, dropped on her knees at my feet; with her folded hands raised to me in the manner in which, when her poor heart was young and fresh and whole, they must often have been raised to heaven from her mother's side.
To see her with her white hair and her worn face kneeling at my feet gave me a shock through all my frame. I entreated her to rise, and got my arms about her to help her up; but she only pressed that hand of mine which was nearest to her grasp, and hung her head over it and wept. I had never seen her shed a tear before, and, in the hope that the relief might do her good, I bent over her without speaking. She was not kneeling now, but was down upon the ground.
"O!" she cried, despairingly. "What have I done! What have I done!" [Chapter XLVIII, ]
Comparable Images from Other Editions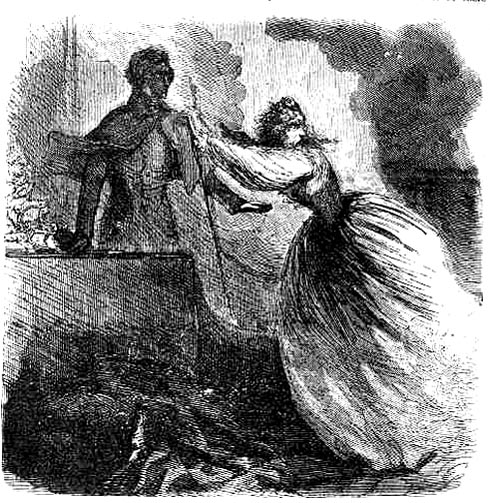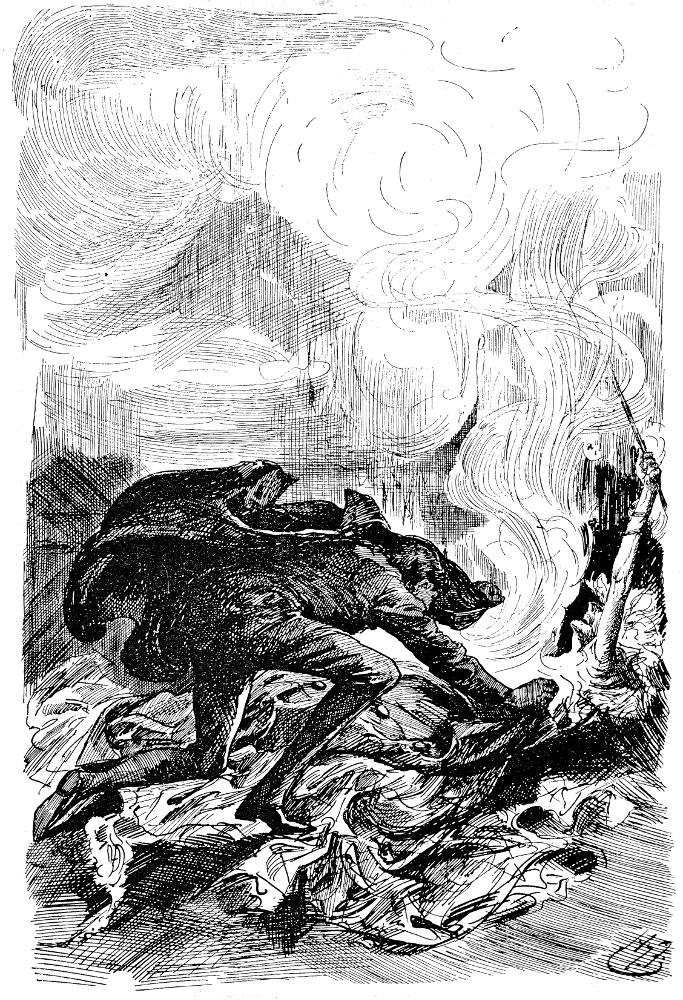 Left: In the first American serialisation, periodical illustrator John McLenan realizes the sensational death of the brewery heiress: I saw her running at me, shrieking, with a whirl of fire blazing all about her (22 June 1861). Right: Harry Furniss's vigorous realisation of Pip's attempting to rescue Miss Havisham: Pip Rescues Miss Havisham from the Fire (1910).
Related Material
Other Artists' Illustrations for Dickens's
Great Expectations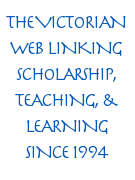 Scanned images and text by Philip V. Allingham. [You may use these images without prior permission for any scholarly or educational purpose as long as you (1) credit the photographer and (2) link your document to this URL in a web document or cite the Victorian Web in a print one.]
Bibliography
Allingham, Philip V. "The Illustrations for Great Expectations in Harper's Weekly (1860-61) and in the Illustrated Library Edition (1862) — 'Reading by the Light of Illustration'." Dickens Studies Annual, Vol. 40 (2009): 113-169.
Dickens, Charles. Great Expectations. Illustrated by John McLenan. [The First American Edition]. Harper's Weekly: A Journal of Civilization, Vols. IV: 740 through V: 495 (24 November 1860-3 August 1861).
______. ("Boz."). Great Expectations. With thirty-four illustrations from original designs by John McLenan. Philadelphia: T. B. Peterson (by agreement with Harper & Bros., New York), 1861.
______. Great Expectations. Illustrated by Marcus Stone. The Illustrated Library Edition. London: Chapman and Hall, 1862. Rpt. in The Nonesuch Dickens, Great Expectations and Hard Times. London: Nonesuch, 1937; Overlook and Worth Presses, 2005.
______. A Tale of Two Cities and Great Expectations. Illustrated by Sol Eytinge, Jr. The Diamond Edition. 16 vols. Boston: Ticknor and Fields, 1867.
______. Great Expectations. Volume 6 of the Household Edition. Illustrated by F. A. Fraser. London: Chapman and Hall, 1876.
______. Great Expectations. Illustrated by Frederic W. Pailthorpe. 16 unnumbered pages of plates: color illustrations. London: Robson and Kerslake, 1885.
______. Great Expectations. The Gadshill Edition. Illustrated by Charles Green. London: Chapman and Hall, 1898.
______. Great Expectations. The Grande Luxe Edition, ed. Richard Garnett. Illustrated by Clayton J. Clarke ('Kyd'). London: Merrill and Baker, 1900.
______. Great Expectations. "With 28 Original Plates by Harry Furniss." Volume 14 of the Charles Dickens Library Edition. London: Educational Book Co., 1910.
______. Great Expectations. Illustrated by Henry Matthew Brock. London: Hodder and Stoughton, n. d. [1916].
---
Created 19 March 2004 Last modified 12 September 2021