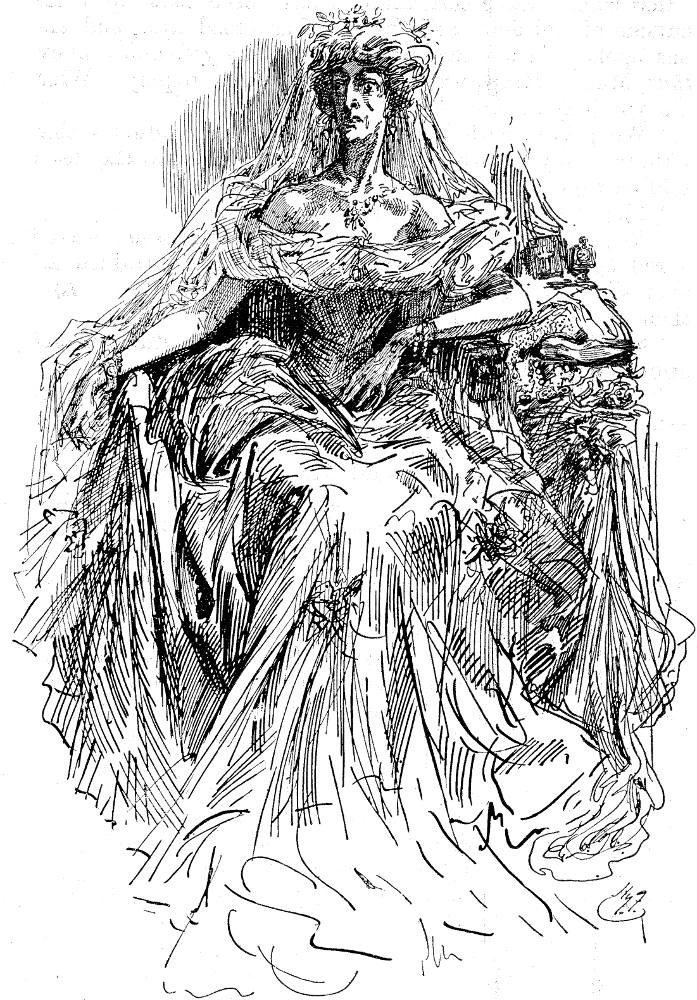 Miss Havisham
Harry Furniss
lithograph from pen-and-ink
1910
7 x 4.7 inches
Dickens's Great Expectations, Charles Dickens Library Edition, facing p. 64.
Scanned image and text by Philip V. Allingham.
[You may use these images without prior permission for any scholarly or educational purpose as long as you (1) credit the photographer and (2) link your document to this URL in a web document or cite the Victorian Web in a print one.]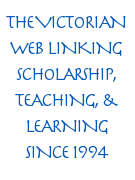 Passage Illustrated: A Child's Perspective on Madness and Age
Whether I should have made out this object so soon if there had been no fine lady sitting at it, I cannot say. In an arm-chair, with an elbow resting on the table and her head leaning on that hand, sat the strangest lady I have ever seen, or shall ever see.
She was dressed in rich materials,—satins, and lace, and silks,—all of white. Her shoes were white. And she had a long white veil dependent from her hair, and she had bridal flowers in her hair, but her hair was white. Some bright jewels sparkled on her neck and on her hands, and some other jewels lay sparkling on the table. Dresses, less splendid than the dress she wore, and half-packed trunks, were scattered about. She had not quite finished dressing, for she had but one shoe on, — the other was on the table near her hand, — her veil was but half arranged, her watch and chain were not put on, and some lace for her bosom lay with those trinkets, and with her handkerchief, and gloves, and some flowers, and a Prayer-Book all confusedly heaped about the looking-glass. [Chapter VIII, p. 53]
Second Passage Realised: Miss Havisham holds court with the Pockets
"On this day of the year, long before you were born, this heap of decay," stabbing with her crutched stick at the pile of cobwebs on the table, but not touching it, "was brought here. It and I have worn away together. The mice have gnawed at it, and sharper teeth than teeth of mice have gnawed at me."
She held the head of her stick against her heart as she stood looking at the table; she in her once white dress, all yellow and withered; the once white cloth all yellow and withered; everything around in a state to crumble under a touch.
"When the ruin is complete," said she, with a ghastly look, "and when they lay me dead, in my bride's dress on the bride's table,—which shall be done, and which will be the finished curse upon him, — so much the better if it is done on this day!"
She stood looking at the table as if she stood looking at her own figure lying there. I remained quiet. Estella returned, and she too remained quiet. It seemed to me that we continued thus for a long time. In the heavy air of the room, and the heavy darkness that brooded in its remoter corners, I even had an alarming fancy that Estella and I might presently begin to decay. [Chapter XI, 83]
Commentary: The Queen of Satis House holds Court
Furniss conveys Miss Havisham's mania through the jagged lines and cascading folds in her dress, as if she is a distorted reflection in a broken mirror. Her skeletal neck and protruding eyes contribute to the sense that she is emaciated, that she has skrivelled up inside her bridal gown. Her regal posture and seated pose contribute to the impression that she is enthroned, with erect pose and a bridal headpiece suggestive of a crown. In Pip's little Kentish village, she is the acme of the social pyramid.
Relevant Images of Pip, Joe, Miss Havisham and Estella from Other Editions (1860-1910)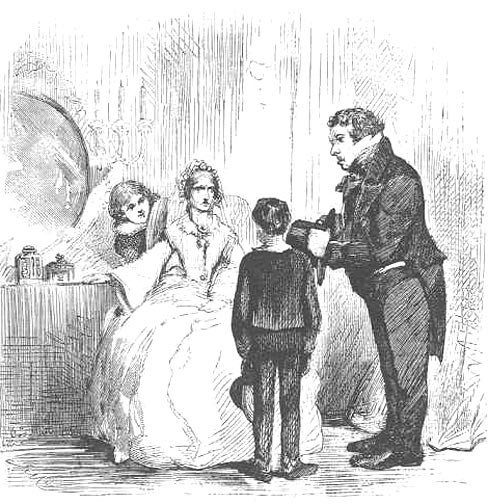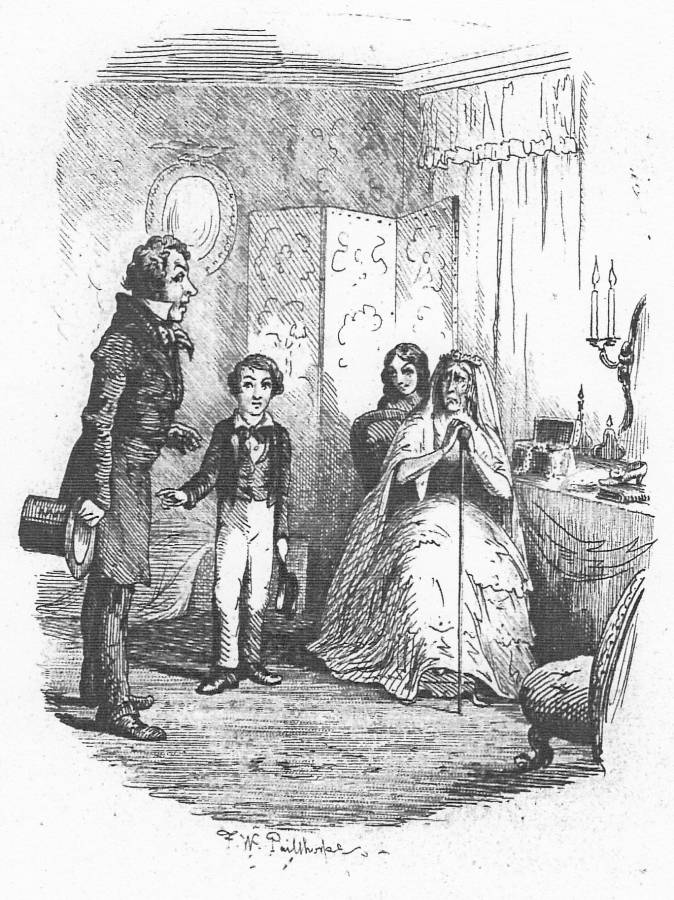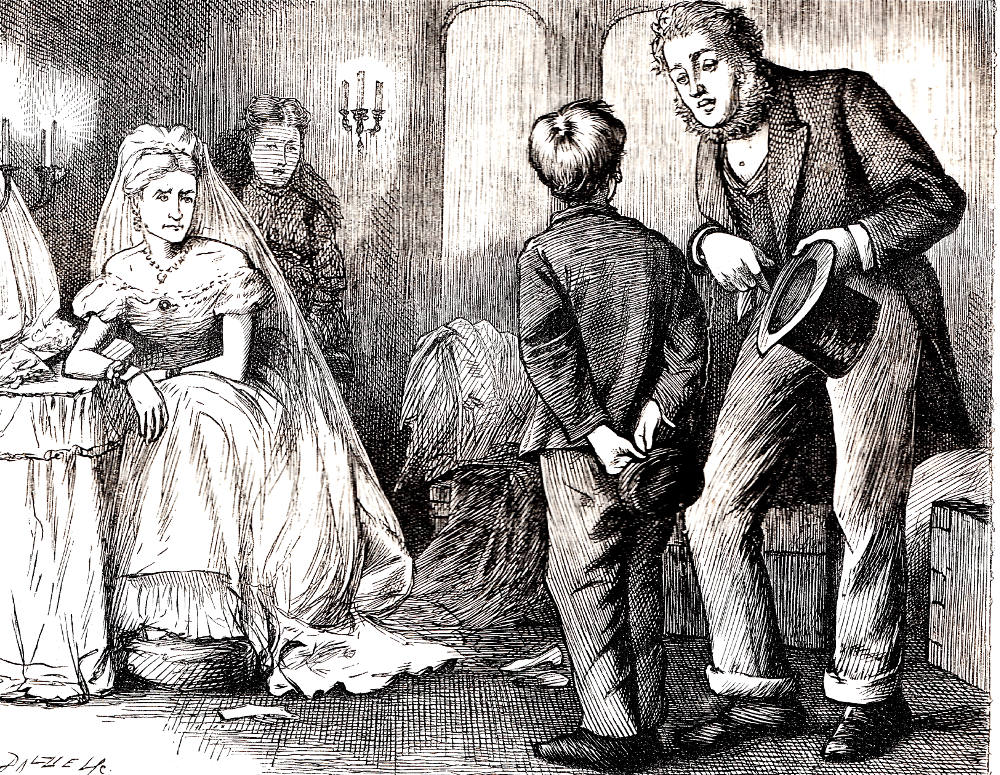 Left: In the first American serialisation, periodical illustrator John McLenan emphasizes the close relationship between Estella and her adoptive mother when Joe pays a call about pip's apprenticeship in "Which I meantersay, Pip." (12 January 1861). Centre: F. W. Pailthorpe introduces Miss Havisham only once Pip is to be apprenticed to Joe: I present Joe to Miss Havisham (1885). Right: F. A. Fraser's Household Edition version of the same scene: "Well, Pip, you know, . . . . you yourself see me put 'em in my 'at" (1876).
Related Material
Other Artists' Illustrations for Dickens's Great Expectations
Bibliography
Allingham, Philip V. "The Illustrations for Great Expectations in Harper's Weekly (1860-61) and in the Illustrated Library Edition (1862) — 'Reading by the Light of Illustration'." Dickens Studies Annual, Vol. 40 (2009): 113-169.
Dickens, Charles. Great Expectations. Illustrated by John McLenan. [The First American Edition]. Harper's Weekly: A Journal of Civilization, Vols. IV: 740 through V: 495 (24 November 1860-3 August 1861).
______. ("Boz."). Great Expectations. With thirty-four illustrations from original designs by John McLenan. Philadelphia: T. B. Peterson (by agreement with Harper & Bros., New York), 1861.
______. Great Expectations. Illustrated by Marcus Stone. The Illustrated Library Edition. London: Chapman and Hall, 1862. Rpt. in The Nonesuch Dickens, Great Expectations and Hard Times. London: Nonesuch, 1937; Overlook and Worth Presses, 2005.
______. A Tale of Two Cities and Great Expectations. Illustrated by Sol Eytinge, Jr. The Diamond Edition. 16 vols. Boston: Ticknor and Fields, 1867.
______. Great Expectations. Volume 6 of the Household Edition. Illustrated by F. A. Fraser. London: Chapman and Hall, 1876.
______. Great Expectations. The Gadshill Edition. Illustrated by Charles Green. London: Chapman and Hall, 1898.
______. Great Expectations. The Grande Luxe Edition, ed. Richard Garnett. Illustrated by Clayton J. Clarke ('Kyd'). London: Merrill and Baker, 1900.
______. Great Expectations. "With 28 Original Plates by Harry Furniss." Volume 14 of the Charles Dickens Library Edition. London: Educational Book Co., 1910.
Paroissien, David. The Companion to "Great Expectations." Westport, Conn.: Greenwood, 2000.
---

Victorian
Web

Illustration

Harry
Furniss

Great
Expectations

Next
Created 16 February 2007 last updated 8 October 2021