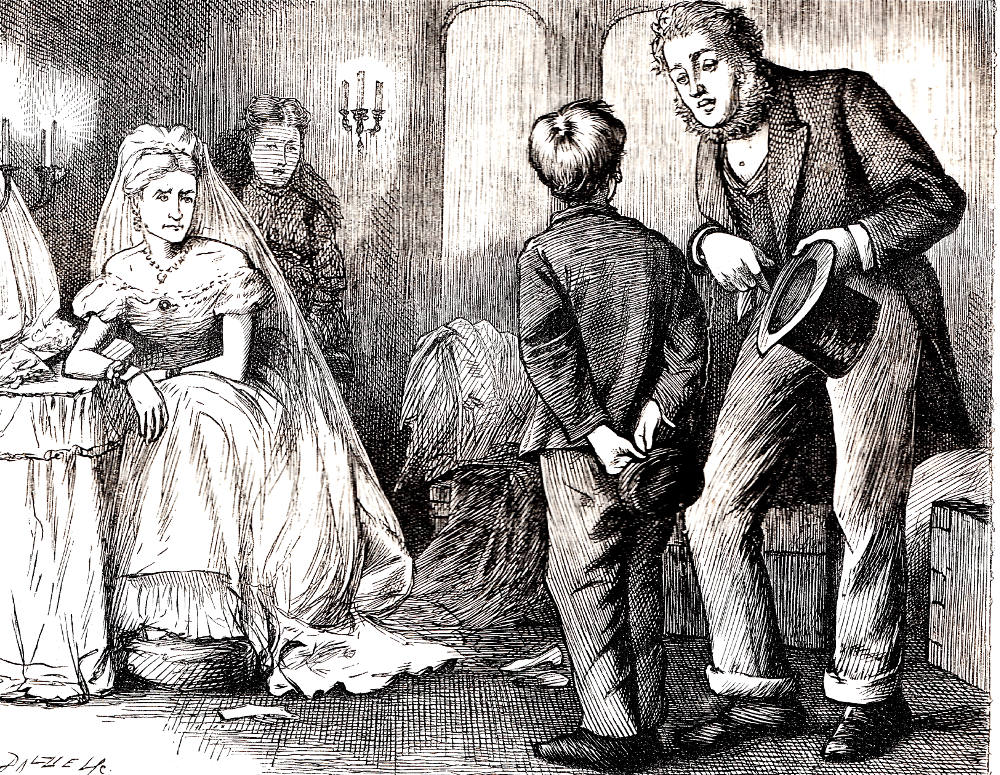 "Well, Pip, you know, . . . . you yourself see me put 'em in my 'at" by F. A. Fraser (1844-1896). 10.7 cm high by 13.8 cm wide (4 ¼ by 5 ⅜ inches), framed (half-page, horizontally mounted), p. 46, Chapter Thirteen, in Charles Dickens's Great Expectations, which appeared as Volume 11 in the British Household Edition (1876). Running head: "Joe's Account of the Proceedings at Miss Havisham's" (47). [Click on the images to enlarge them.]
Passage Illustrated: Pip becomes an Indentured Apprentice thanks to Miss Havisham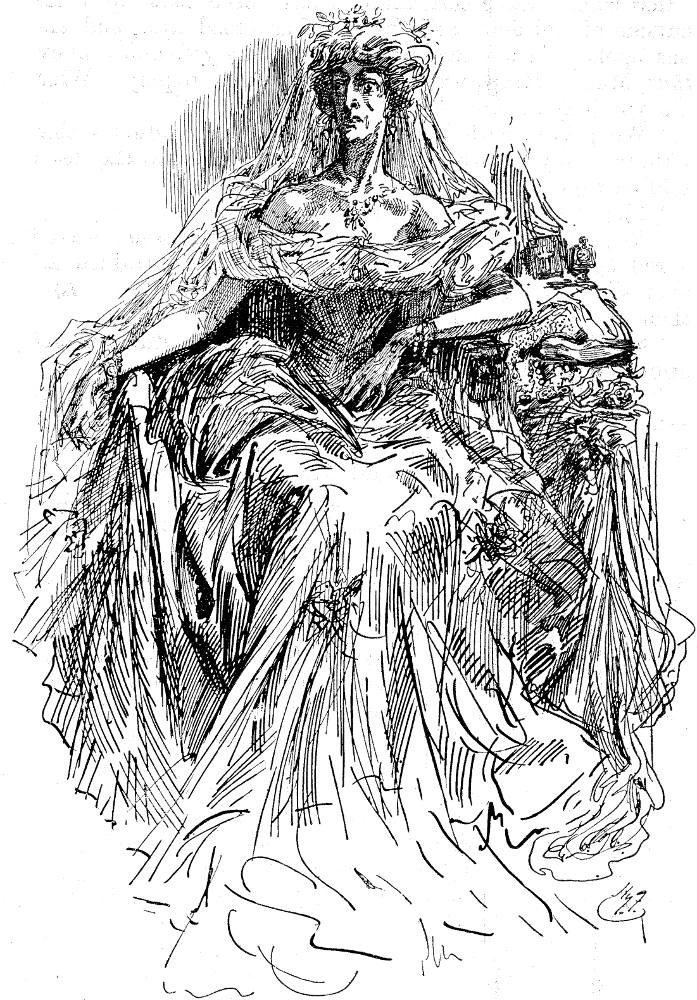 Harry Furniss's 1910 lithographic portrait of the eccentric heiress as Pip first encounters her: Miss Havisham, in the Charles Dickens Library Edition, Vol. 14.
I could hardly have imagined dear old Joe looking so unlike himself or so like some extraordinary bird; standing as he did speechless, with his tuft of feathers ruffled, and his mouth open as if he wanted a worm.
"You are the husband," repeated Miss Havisham, "of the sister of this boy?"
It was very aggravating; but, throughout the interview, Joe persisted in addressing Me instead of Miss Havisham.
"Which I meantersay, Pip," Joe now observed in a manner that was at once expressive of forcible argumentation, strict confidence, and great politeness, "as I hup and married your sister, and I were at the time what you might call (if you was anyways inclined) a single man."
"Well!" said Miss Havisham. "And you have reared the boy, with the intention of taking him for your apprentice; is that so, Mr. Gargery?"
"You know, Pip," replied Joe, "as you and me were ever friends, and it were looked for'ard to betwixt us, as being calc'lated to lead to larks. Not but what, Pip, if you had ever made objections to the business, — such as its being open to black and sut, or such-like, — not but what they would have been attended to, don't you see?"
"Has the boy," said Miss Havisham, "ever made any objection? Does he like the trade?"
"Which it is well beknown to yourself, Pip," returned Joe, strengthening his former mixture of argumentation, confidence, and politeness, "that it were the wish of your own hart." (I saw the idea suddenly break upon him that he would adapt his epitaph to the occasion, before he went on to say) "And there weren't no objection on your part, and Pip it were the great wish of your hart!"
It was quite in vain for me to endeavour to make him sensible that he ought to speak to Miss Havisham. The more I made faces and gestures to him to do it, the more confidential, argumentative, and polite, he persisted in being to Me.
"Have you brought his indentures with you?" asked Miss Havisham.
"Well, Pip, you know," replied Joe, as if that were a little unreasonable, "you yourself see me put 'em in my 'at, and therefore you know as they are here." With which he took them out, and gave them, not to Miss Havisham, but to me. I am afraid I was ashamed of the dear good fellow, — I know I was ashamed of him,—when I saw that Estella stood at the back of Miss Havisham's chair, and that her eyes laughed mischievously. I took the indentures out of his hand and gave them to Miss Havisham.
"You expected," said Miss Havisham, as she looked them over, "no premium with the boy?"
"Joe!" I remonstrated, for he made no reply at all. "Why don't you answer —" [Chapter XIII, 46]
Commentary: Pip's Apprenticeship Arranged
Pip's frustration with Joe's addressing Miss Havisham only obliquely is matched only by his secret mortification that becoming Joe's apprentice will bar him forever from the ranks of "gentlemen." As a tradesman and an artisan he cannot hope for more than being the one who repairs the wheels on Estella's carriage. His hopes for romance at this point seem irrevocably blighted — as Miss Havisham certainly expects, for she has destined her adopted heart-breaker for higher pursuits and bigger game.
With the premium of twenty-five guineas that Miss Havisham provides Joe for accepting Pip as his apprentice. Subsequently, Mrs. Joe insists that they celebrate their sudden good fortune with a triumphant dinner at The Blue Boar, a public house far above Joe Gargery's usual haunt, the proletarian Three Jolly Bargemen. But from this scene onward, despite his shame at disappointing Joe, Pip is wretched, for Estella is lost to him. In the Fraser illustration, Joe, dressed to the nines in his Sunday best, looks quite the bourgeois, but he is so self-conscious that he neither looks at nor addresses Miss Havisham directly, looking instead away from her. Meantime, Miss Havisham is studying Pip's reaction. Fraser significantly leaves the reader to construct Pip's facial expression and read his feelings.
Relevant Images of Pip, Joe, Miss Havisham and Estella from Other Editions (1860-1910)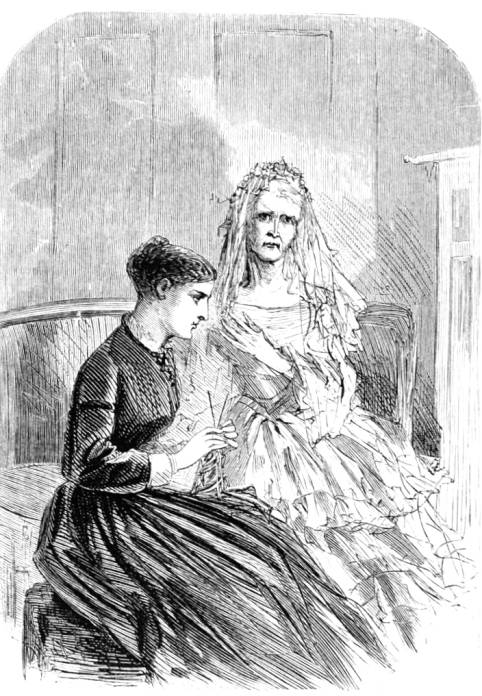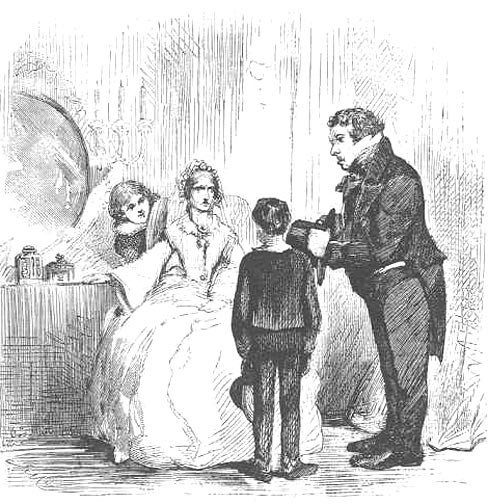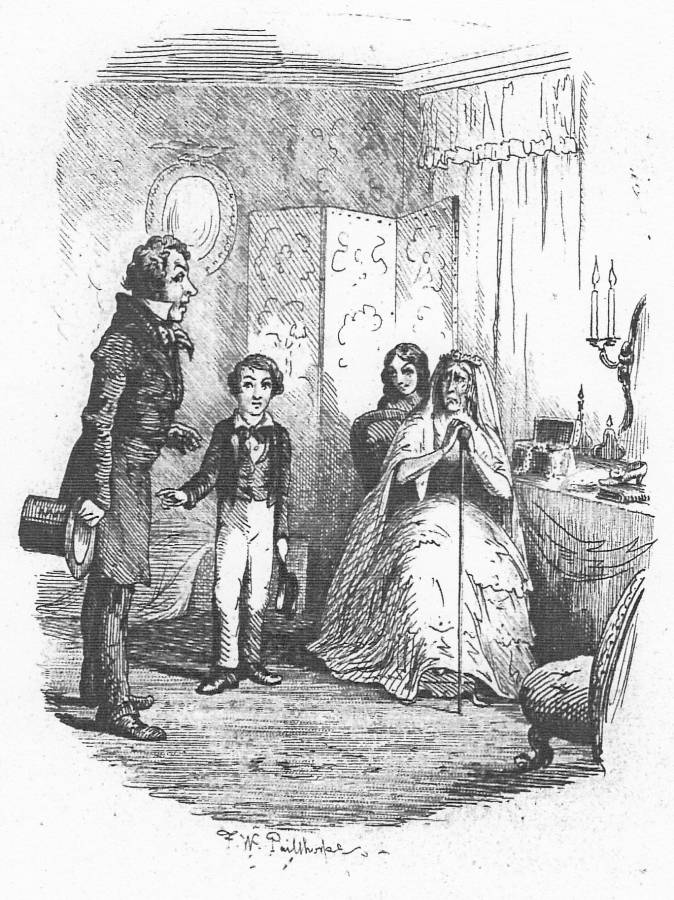 Left: Miss Havisham and Estella (1867), from the Diamond Edition by Sol Eytinge, Jr. Centre: In the first American serialisation, periodical illustrator John McLenan emphasizes the close relationship between Estella and her adoptive mother when joe pays a call about pip's apprenticeship in "Which I meantersay, Pip." (12 January 1861). Right: Frederic W. Pailthorpe's version of this same scene: I present Joe to Miss Havisham, in the Garnett Edition (1885).
Related Material
Other Artists' Illustrations for Dickens's
Great Expectations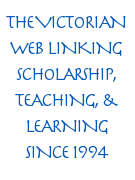 Scanned images and text by Philip V. Allingham. [You may use these images without prior permission for any scholarly or educational purpose as long as you (1) credit the photographer and (2) link your document to this URL in a web document or cite the Victorian Web in a print one.]
Bibliography
Allingham, Philip V. "The Illustrations for Great Expectations in Harper's Weekly (1860-61) and in the Illustrated Library Edition (1862) — 'Reading by the Light of Illustration'." Dickens Studies Annual, Vol. 40 (2009): 113-169.
Dickens, Charles. Great Expectations. Illustrated by John McLenan. [The First American Edition]. Harper's Weekly: A Journal of Civilization, Vols. IV: 740 through V: 495 (24 November 1860-3 August 1861).
______. ("Boz."). Great Expectations. With thirty-four illustrations from original designs by John McLenan. Philadelphia: T. B. Peterson (by agreement with Harper & Bros., New York), 1861.
______. Great Expectations. Illustrated by Marcus Stone. The Illustrated Library Edition. London: Chapman and Hall, 1862. Rpt. in The Nonesuch Dickens, Great Expectations and Hard Times. London: Nonesuch, 1937; Overlook and Worth Presses, 2005.
______. A Tale of Two Cities and Great Expectations. Illustrated by Sol Eytinge, Jr. The Diamond Edition. 16 vols. Boston: Ticknor and Fields, 1867.
______. Great Expectations. Volume 6 of the Household Edition. Illustrated by F. A. Fraser. London: Chapman and Hall, 1876.
______. Great Expectations. The Gadshill Edition. Illustrated by Charles Green. London: Chapman and Hall, 1898.
______. Great Expectations. The Grande Luxe Edition, ed. Richard Garnett. Illustrated by Clayton J. Clarke ('Kyd'). London: Merrill and Baker, 1900.
______. Great Expectations. "With 28 Original Plates by Harry Furniss." Volume 14 of the Charles Dickens Library Edition. London: Educational Book Co., 1910.
---
Created 14 February 2007 Last modified 22 August 2021