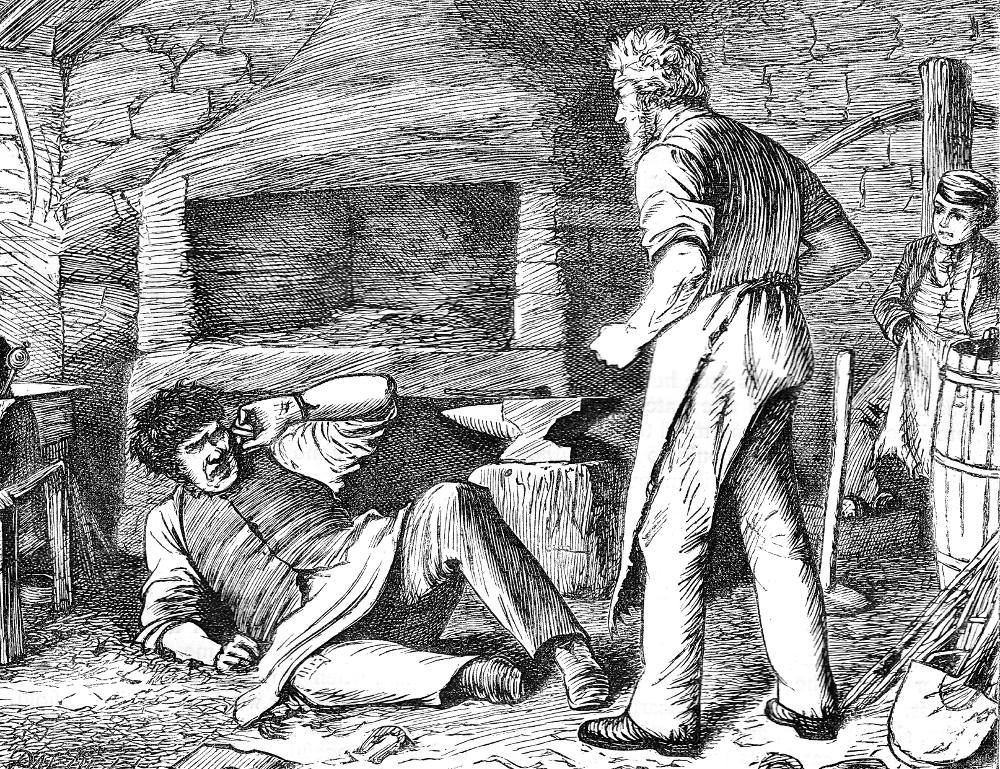 Orlick . . . . was very soon among the coal-dust, and in no hurry to come out of it by F. A. Fraser (1844-1896). 10.8 cm high by 13.8 cm wide (4 ¼ by 5 ⅜ inches), framed (half-page, horizontally mounted), p. 53, Chapter Fifteen, in Charles Dickens's Great Expectations, which appeared as Volume 11 in the British Household Edition (1876). Running head: "Old Orlick and Mrs. Joe" (53). [Click on the images to enlarge them.]
Passage Illustrated: Pip becomes an Indentured Apprentice thanks to Miss Havisham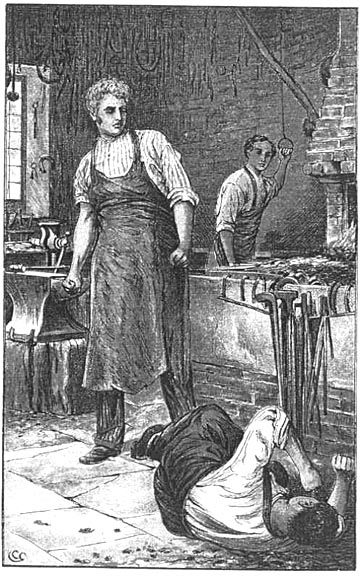 Charles Green's lithographic portrayal of the same scene emphasizes Joe's physical domination of the situation: Orlick . . . very soon among the coal-dust, in the Gadshill Edition (1898).
"Ah-h-h!" growled the journeyman, between his teeth, "I'd hold you, if you was my wife. I'd hold you under the pump, and choke it out of you."
("I tell you, let her alone," said Joe.)
"Oh! To hear him!" cried my sister, with a clap of her hands and a scream together, — which was her next stage. "To hear the names he's giving me! That Orlick! In my own house! Me, a married woman! With my husband standing by! Oh! Oh!" Here my sister, after a fit of clappings and screamings, beat her hands upon her bosom and upon her knees, and threw her cap off, and pulled her hair down, — which were the last stages on her road to frenzy. Being by this time a perfect Fury and a complete success, she made a dash at the door which I had fortunately locked.
What could the wretched Joe do now, after his disregarded parenthetical interruptions, but stand up to his journeyman, and ask him what he meant by interfering betwixt himself and Mrs. Joe; and further whether he was man enough to come on? Old Orlick felt that the situation admitted of nothing less than coming on, and was on his defence straightway; so, without so much as pulling off their singed and burnt aprons, they went at one another, like two giants. But, if any man in that neighbourhood could stand uplong against Joe, I never saw the man. Orlick, as if he had been of no more account than the pale young gentleman, was very soon among the coal-dust, and in no hurry to come out of it. [Chapter XV, 53-54]
Commentary: Clash of the Titans
In F. A. Fraser's twenty-eighth Household Edition wood-engravings, one detects the pattern established by Marcus Stone in the 1862 Library Edition. In illustrations containing three figures, one is often the observer, as in Orlick . . . . Was Very Soon Among the Coal-dust, and in No Hurry To Come Out of It, in which a small Pip observes the aftermath of the battle of the Titans from the extreme right, and the Titans hold centre stage. Already Orlick is rubbing his head, and Joe, fists clenched, seems to be preparing for Orlick to renew the combat. Fraser emphasizes the physical setting through the open forge, the large anvil (head pointing directly at Orlick's head), and the table vice (left). Fraser leaves the reader to supply the aggressive expression on Joe's stolid face, a visage which undoubtedly reflects the master-blacksmith's frustration with both his fractious wife and surly journeyman. Through Orlick's chagrin at being knocked down summarily and his squinting at the triumphant Joe Barnard sets the stage for the morose blacksmith's assault on Mrs. Joe.
Relevant Images of Joe and Orlick from Other Editions (1860-1910)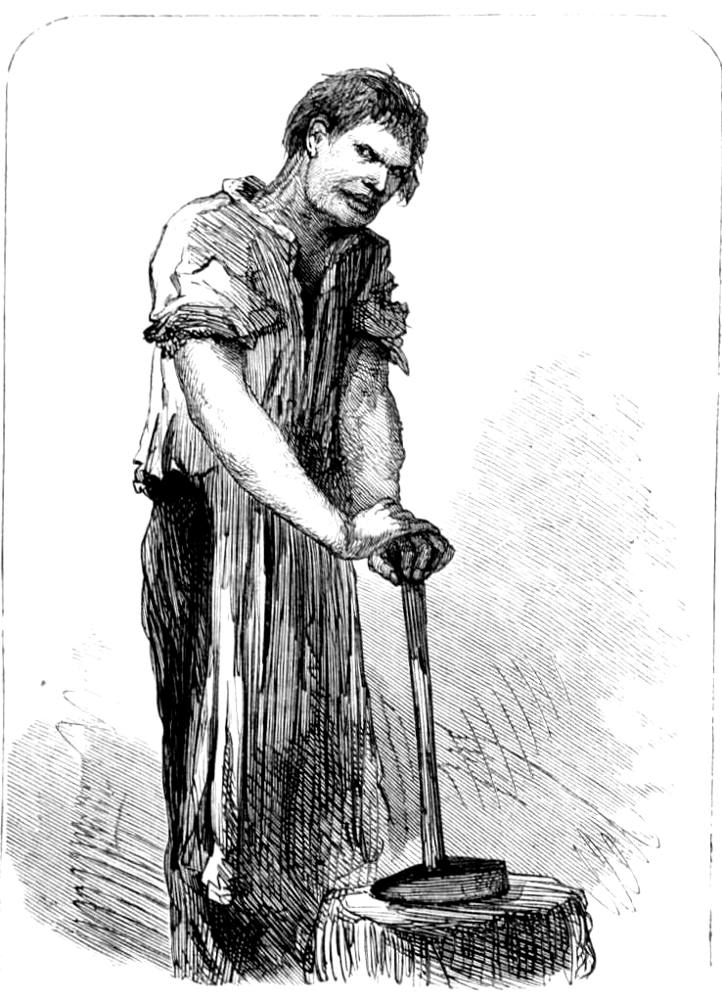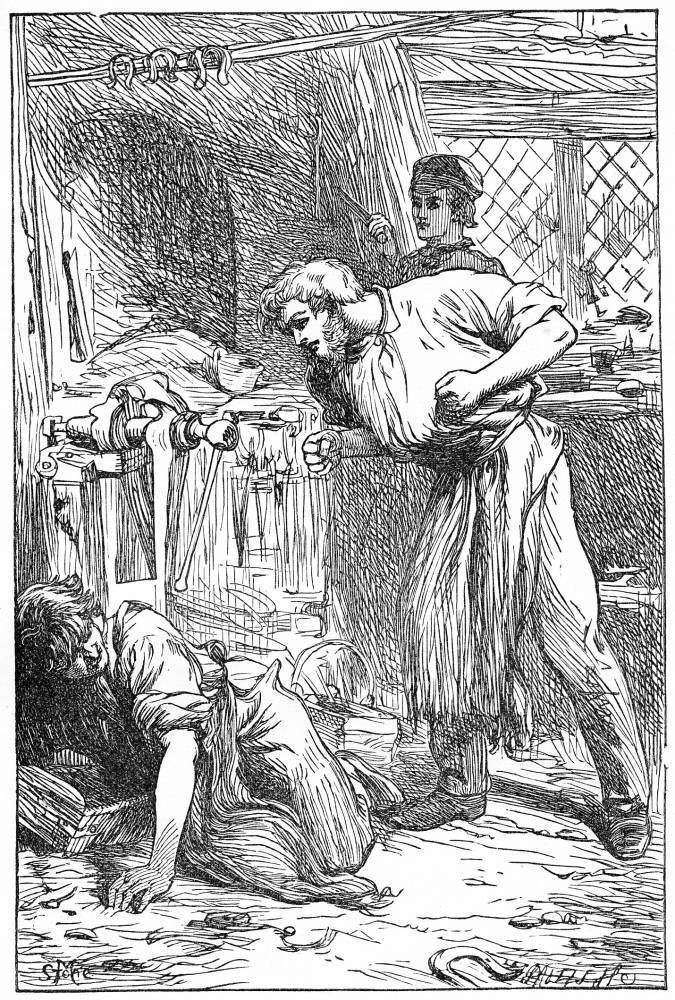 Left: Old Orlick (1867), from the Diamond Edition by Sol Eytinge, Jr. Centre: In the first American serialisation, periodical illustrator John McLenan emphasizes Orlick's growing antipathy towards Pip, the workshop favourite, in "Hulloa!" he growled; "Where are you two going?" (2 February 1861). Right: Marcus Stone's version of this same scene: Old Orlick Among the Cinders, in the Illustrated Library Edition (1862).
Further Depictions of Dolge Orlick in Other Editions
Related Material
Other Artists' Illustrations for Dickens's
Great Expectations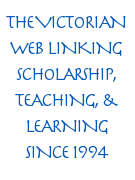 Scanned images and text by Philip V. Allingham. [You may use these images without prior permission for any scholarly or educational purpose as long as you (1) credit the photographer and (2) link your document to this URL in a web document or cite the Victorian Web in a print one.]
Bibliography
Allingham, Philip V. "The Illustrations for Great Expectations in Harper's Weekly (1860-61) and in the Illustrated Library Edition (1862) — 'Reading by the Light of Illustration'." Dickens Studies Annual, Vol. 40 (2009): 113-169.
Dickens, Charles. Great Expectations. Illustrated by John McLenan. [The First American Edition]. Harper's Weekly: A Journal of Civilization, Vols. IV: 740 through V: 495 (24 November 1860-3 August 1861).
______. ("Boz."). Great Expectations. With thirty-four illustrations from original designs by John McLenan. Philadelphia: T. B. Peterson (by agreement with Harper & Bros., New York), 1861.
______. Great Expectations. Illustrated by Marcus Stone. The Illustrated Library Edition. London: Chapman and Hall, 1862. Rpt. in The Nonesuch Dickens, Great Expectations and Hard Times. London: Nonesuch, 1937; Overlook and Worth Presses, 2005.
______. A Tale of Two Cities and Great Expectations. Illustrated by Sol Eytinge, Jr. The Diamond Edition. 16 vols. Boston: Ticknor and Fields, 1867.
______. Great Expectations. Volume 6 of the Household Edition. Illustrated by F. A. Fraser. London: Chapman and Hall, 1876.
______. Great Expectations. The Gadshill Edition. Illustrated by Charles Green. London: Chapman and Hall, 1898.
______. Great Expectations. The Grande Luxe Edition, ed. Richard Garnett. Illustrated by Clayton J. Clarke ('Kyd'). London: Merrill and Baker, 1900.
______. Great Expectations. "With 28 Original Plates by Harry Furniss." Volume 14 of the Charles Dickens Library Edition. London: Educational Book Co., 1910.
---
Created 28 December 2004 Last modified 24 August 2021