"Hulloa!" he growled; "Where are you two going?" (Vol. V, page 69) — sixteenth wood-engraving for Charles Dickens's Great Expectations, first published in Harper's Weekly V for 2 February 1861), Chapter XVII. 10.4 cm high by 10.7 cm wide (4 ⅛ by 4 ¼ inches), vignetted (appears on the same page as pl. 15). This is Plate 12 (facing p. 86) in the T. B. Peterson single-volume edition of 1861. [Click on the images to enlarge them.]
Passage Illustrated: The Creepy Journeyman
When we came near the churchyard, we had to cross an embankment, and get over a stile near a sluice-gate. There started up, from the gate, or from the rushes, or from the ooze (which was quite in his stagnant way), Old Orlick.
"Halloa!" he growled, "where are you two going?"
"Where should we be going, but home?"
"Well, then," said he, "I'm jiggered if I don't see you home!"
This penalty of being jiggered was a favourite supposititious case of his. He attached no definite meaning to the word that I am aware of, but used it, like his own pretended Christian name, to affront mankind, and convey an idea of something savagely damaging. When I was younger, I had had a general belief that if he had jiggered me personally, he would have done it with a sharp and twisted hook.
Biddy was much against his going with us, and said to me in a whisper, "Don't let him come; I don't like him." As I did not like him either, I took the liberty of saying that we thanked him, but we didn't want seeing home. He received that piece of information with a yell of laughter, and dropped back, but came slouching after us at a little distance. [Chapter XVII, 69]
Commentary: The American Milieu
Orlick here probably does not much resemble the surly journeyman and sordid villain of Dickens's story as serialised in All the Year Round. He certainly looks nothing like the hulking Titan that Marcus stone depicts in physical combat with Joe in Old Orlick Among the Cinders in the 1862 Illustrated Library Edition. here, McLenan transforms Orlick into a sort of Western Desperado.
This tendency to bring in the American milieu is nowhere more evident than in his depiction of the blacksmith's journeyman "old" Orlick as a Western villain in a high-crowned, wide-brimmed "Western" hat . . . in which Biddy wears a decidedly 1860s "poke-bonnet" similar to that worn by Estella in the final Harper's plate. At least McLenan has given his villain gaiters rather than cowboy boots, but the eyes in particular betray a style geared toward caricature than realism, despite the wealth of detail incorporated into each scene such as the pollarded willow, and cattails here. [DSA 40, 129]
Relevant Illustrations from other editions: 1860-61, 1867, 1876, 1897, and 1910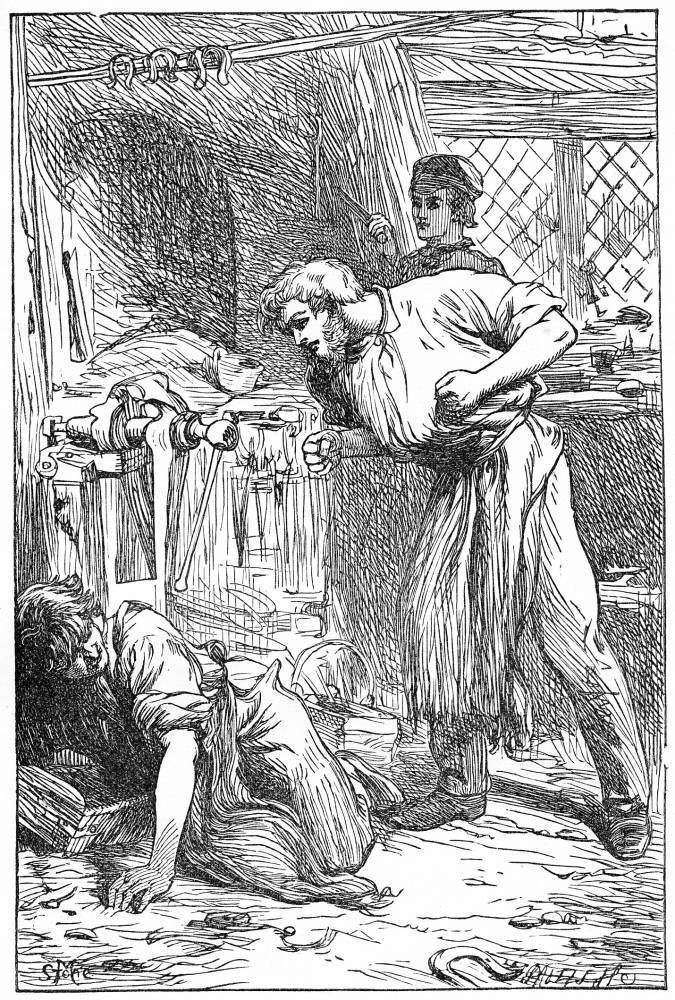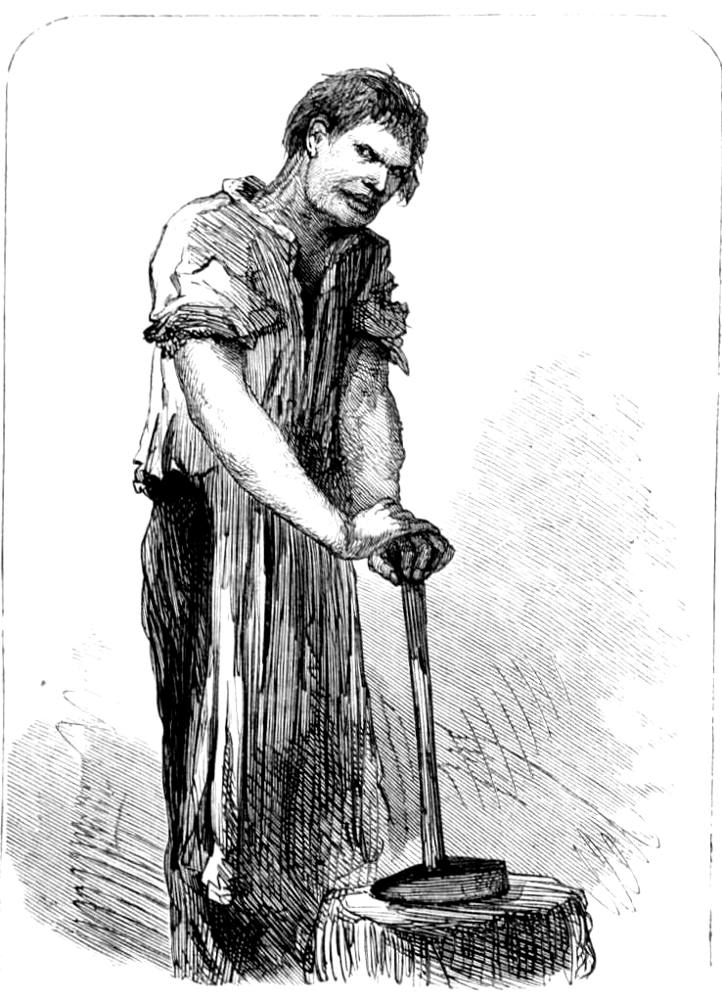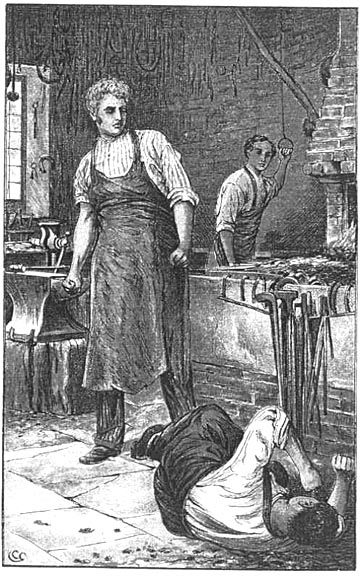 Left: Marcus Stone's dynamic 1862 wood-engraving of Joe's vanquishing the unruly journeyman who has insulted Mrs. Joe: Old Orlick Among the Cinders. Middle: Portrait of Old Orlick by Sol Eytinge, Junior in the Diamond Edition (1867), which involves a more sinister and knowing villain wielding a sledge-hammer. Right: Charles Green's Gadshill Edition lithograph of the blacksmith and his assistants in the forge, "Orlick . . . very soon among the coal-dust" (1897).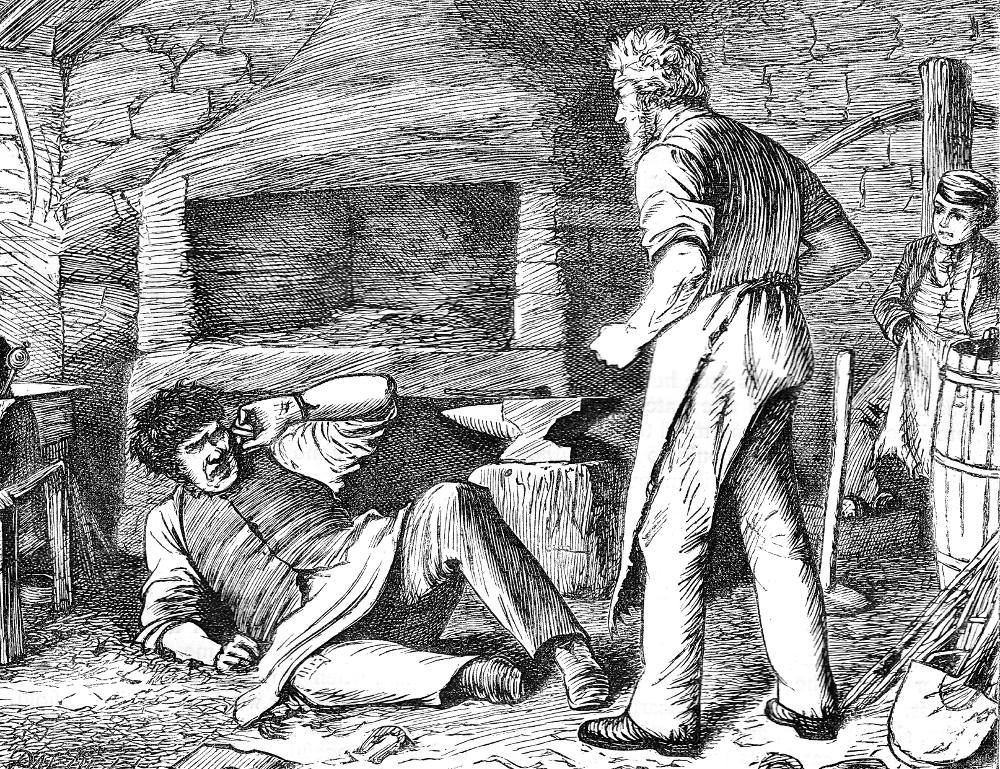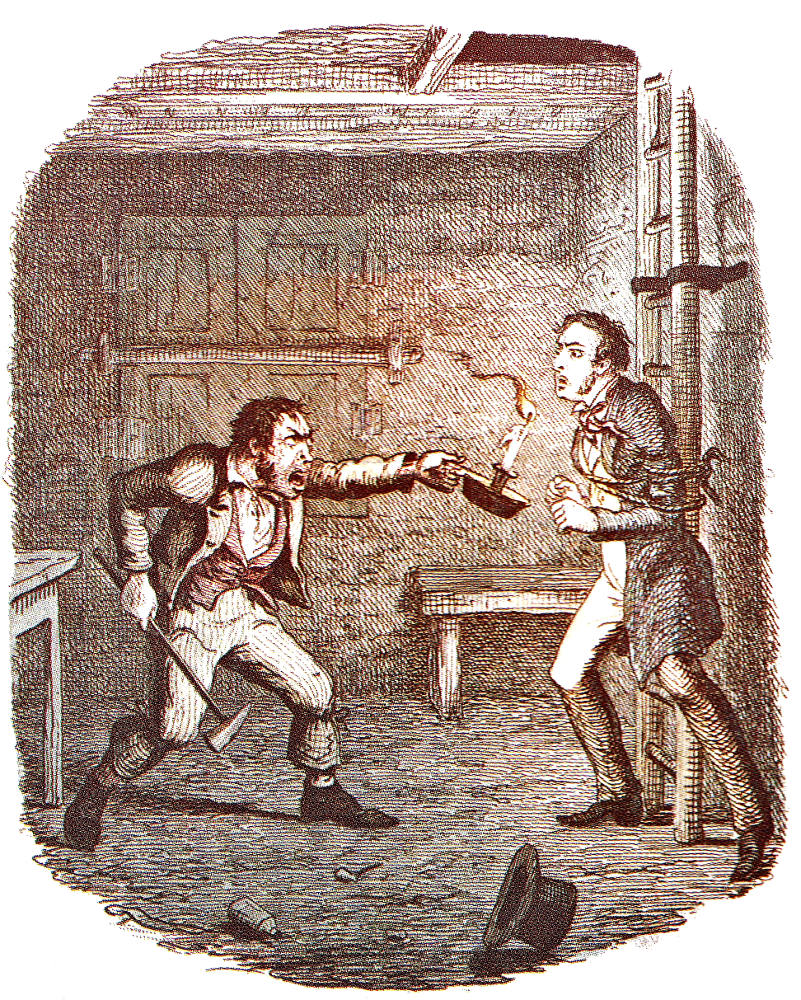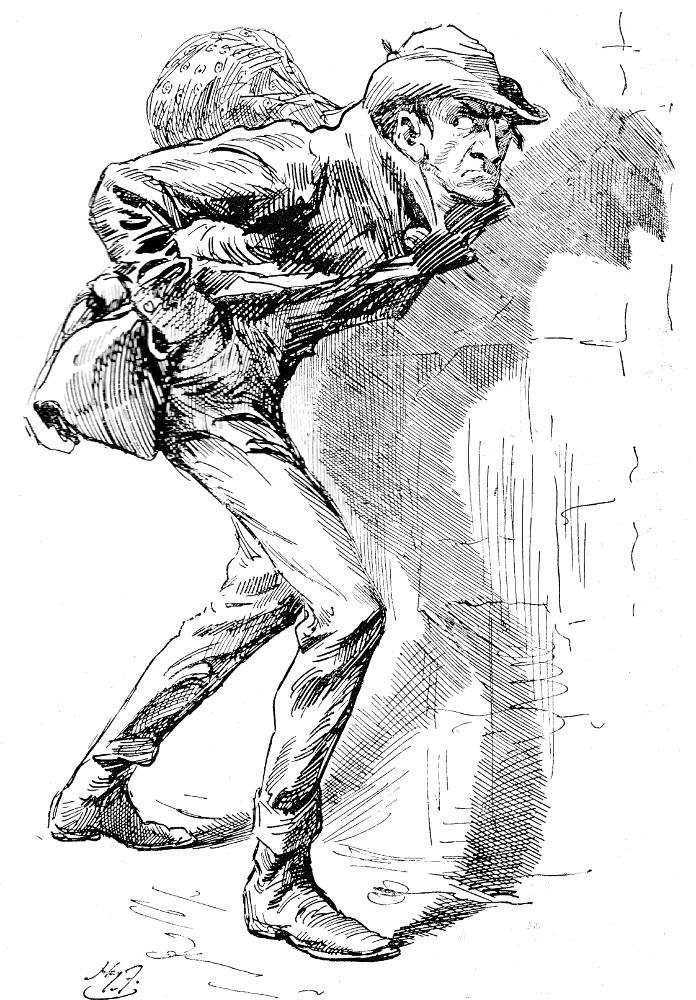 =
Left: F. A. Fraser's Household Edition illustration of the same scene, but a marginalised rather than central Pip, in ""Orlick . . . . was very soon among the coal-dust, and in no hurry to come out of it" (1876). Centre: F. W. Pailthorpe effectively communicates Orlick's descent into madness in Old Orlick means murder (1885). Right: Harry Furniss's portrait of a far less physically intimidating Orlick, but with a posture, gait, and shiftiness of the eyes suggestive of duplicity, "Dolge Orlick" (1910). [Click on the images to enlarge them.]
Related Material
Other Artists' Illustrations for Dickens's
Great Expectations
Scanned images and text by Philip V. Allingham. [You may use these images without prior permission for any scholarly or educational purpose as long as you (1) credit the photographer and (2) link your document to this URL in a web document or cite the Victorian Web in a print one.]
Bibliography
Allingham, Philip V. "The Illustrations for Great Expectations in Harper's Weekly (1860-61) and in the Illustrated Library Edition (1862) — 'Reading by the Light of Illustration'." Dickens Studies Annual, Vol. 40 (2009): 113-169.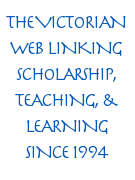 _______. "'We Can Now See That the Days of Illustrated Novels Were Drawing to an End' — Not So." The Dickens Magazine. Haslemere, Surrey: Bishops Printers. Series 1, Issue 3, pp. 6-7.
Dickens, Charles. Great Expectations. Harper's Weekly: A Journal of Civilization. Illustrated by John McLenan. Vol. IV-V (24 November 1860 through 3 August 1861).
______. ("Boz."). Great Expectations. With thirty-four illustrations from original designs by John McLenan. Philadelphia: T. B. Peterson (by agreement with Harper & Bros., New York), 1861.
______. Great Expectations. Volume 6 of the Household Edition. Illustrated by F. A. Fraser. London: Chapman and Hall, 1876.
Paroissien, David. The Companion to "Great Expectations." Westport, Conn.: Greenwood, 2000.
Watts, Alan S. "Why Wasn't Great Expectations Illustrated?" The Dickens Magazine. Haslemere, Surrey: Bishops Printers. Series 1, Issue 2, pp. 8-9.
Waugh, Arthur. "Charles Dickens and His Illustrators." Retrospectus and Prospectus: The Nonesuch Dickens. London: Bloomsbury, 1937, rpt. 2003. Pp. 6-52.
---
Created 20 November 2005 Last updated 11 November 2021