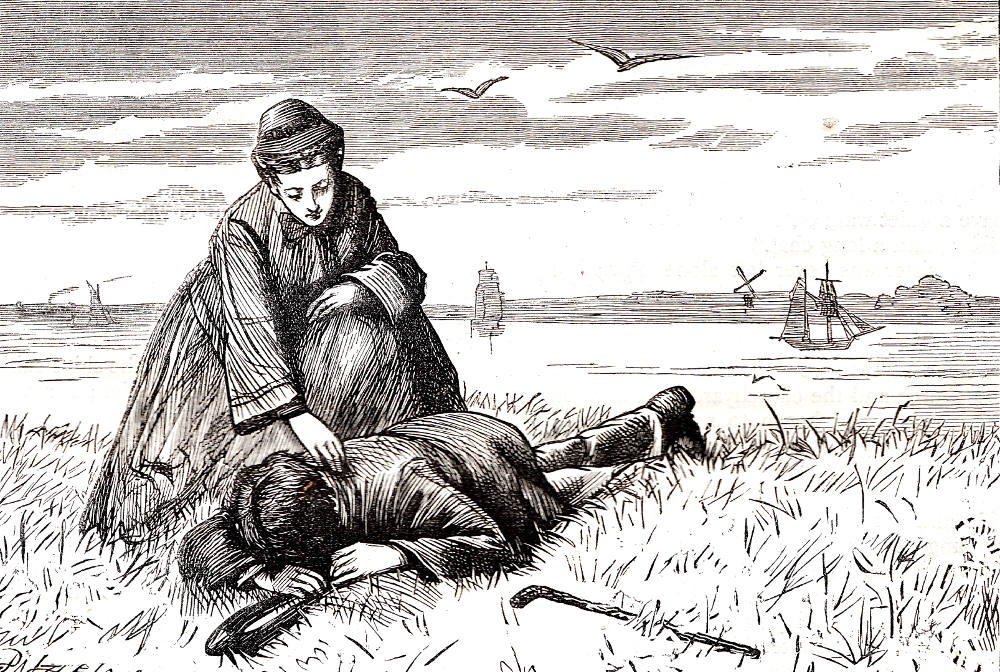 Then she softly patted my shoulder in a soothing way by F. A. Fraser (1844-1896). 9.4 cm high by 13.7 cm wide (3 ¾ by 5 ⅜ inches), framed (half-page, horizontally mounted), p. 60, Chapter Seventeen, in Charles Dickens's Great Expectations, which appeared as Volume 11 in the British Household Edition (1876). Running head: "I Confide in Biddy" (59). [Click on the images to enlarge them.]
Passage Illustrated: Pip's anguish at losing Estella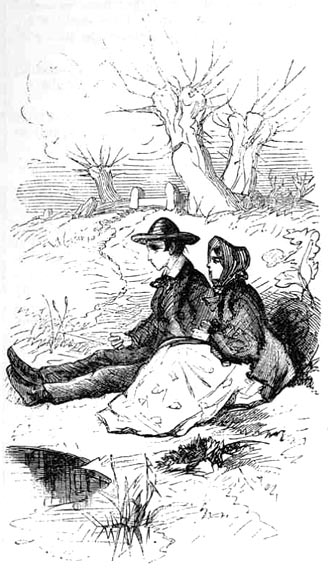 John McLenan's periodical illustration of the same scene in Harper's Weekly: Pip and Biddy sitting on a bank in the Marshes (2 February 1861).
Biddy sighed as she looked at the ships sailing on, and returned for answer, "Yes; I am not over-particular." It scarcely sounded flattering, but I knew she meant well.
"Instead of that," said I, plucking up more grass and chewing a blade or two, "see how I am going on. Dissatisfied, and uncomfortable, and — what would it signify to me, being coarse and common, if nobody had told me so!"
Biddy turned her face suddenly towards mine, and looked far more attentively at me than she had looked at the sailing ships.
"It was neither a very true nor a very polite thing to say," she remarked, directing her eyes to the ships again. "Who said it?"
I was disconcerted, for I had broken away without quite seeing where I was going to. It was not to be shuffled off now, however, and I answered, "The beautiful young lady at Miss Havisham's, and she's more beautiful than anybody ever was, and I admire her dreadfully, and I want to be a gentleman on her account." Having made this lunatic confession, I began to throw my torn-up grass into the river, as if I had some thoughts of following it.
"Do you want to be a gentleman, to spite her or to gain her over?" Biddy quietly asked me, after a pause.
"I don't know," I moodily answered.
"Because, if it is to spite her," Biddy pursued, "I should think — but you know best — that might be better and more independently done by caring nothing for her words. And if it is to gain her over, I should think — but you know best — she was not worth gaining over."
Exactly what I myself had thought, many times. Exactly what was perfectly manifest to me at the moment. But how could I, a poor dazed village lad, avoid that wonderful inconsistency into which the best and wisest of men fall every day?
"It may be all quite true," said I to Biddy, "but I admire her dreadfully."
In short, I turned over on my face when I came to that, and got a good grasp on the hair on each side of my head, and wrenched it well. All the while knowing the madness of my heart to be so very mad and misplaced, that I was quite conscious it would have served my face right, if I had lifted it up by my hair, and knocked it against the pebbles as a punishment for belonging to such an idiot.
Biddy was the wisest of girls, and she tried to reason no more with me. She put her hand, which was a comfortable hand though roughened by work, upon my hands, one after another, and gently took them out of my hair. Then she softly patted my shoulder in a soothing way, while with my face upon my sleeve I cried a little, — exactly as I had done in the brewery yard, — and felt vaguely convinced that I was very much ill-used by somebody, or by everybody; I can't say which. [Chapter XVII, 59-60]
Commentary: Pip and Biddy with Thames shipping as the Backdrop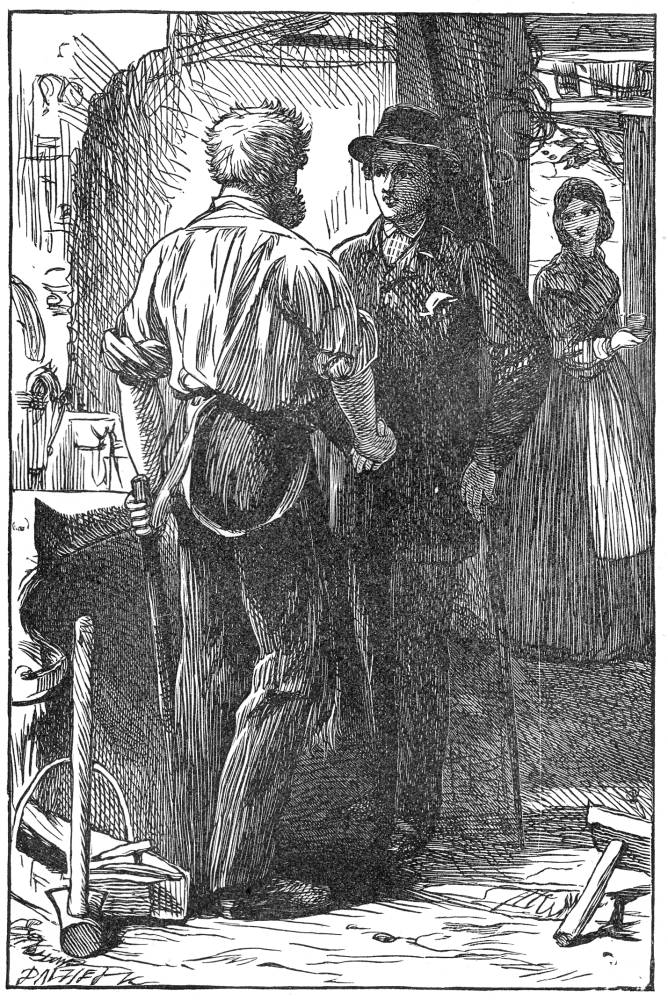 Marcus Stone's 1862 Library Edition of Pip saying farewell to the forge, with Biddy discretely in the background: Taking Leave of Joe (1862).
The illustration establishes Biddy as a sort of alternative heroine upon whom Pip will eventually settle as a suitable wife — only to discover she has already married Joe during his prolonged absence in London. As the assistant teacher at her great-aunt's dame school, Biddy has a significant secondary role in Pip's story as she is largely responsible for his becoming literate. Although she treats him with great compassion here, all too often Pip returns her caring with condescension, and rejects her sensible advice in favour of pursuing gentlemanly status in order to realise his impossible dream: marrying Estella. At this point in the novel, Biddy is much in evidence at the forge as she has come to look after Joe, Mrs. Joe, and Pip after a mysterious assault has rendered Mrs. Joe a moribund invalid. In all the other Victorian pictorial series for Great Expectations, Biddy rarely appears; indeed, this is the chief representation of her. Marcus Stone in his short series for the Illustrated Library Edition (1862) only depicts her once, as a background figure in the scene in which Pip bids farewell to Joe, the forge, and his humble origins. Fraser employs the commercial shipping and windmills on the Thames in the background to suggest their rural and working-class backgrounds.
Related Material
Other Artists' Illustrations for Dickens's
Great Expectations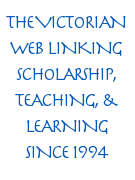 Scanned images and text by Philip V. Allingham. [You may use these images without prior permission for any scholarly or educational purpose as long as you (1) credit the photographer and (2) link your document to this URL in a web document or cite the Victorian Web in a print one.]
Bibliography
Allingham, Philip V. "The Illustrations for Great Expectations in Harper's Weekly (1860-61) and in the Illustrated Library Edition (1862) — 'Reading by the Light of Illustration'." Dickens Studies Annual, Vol. 40 (2009): 113-169.
Dickens, Charles. Great Expectations. Illustrated by John McLenan. [The First American Edition]. Harper's Weekly: A Journal of Civilization, Vols. IV: 740 through V: 495 (24 November 1860-3 August 1861).
______. ("Boz."). Great Expectations. With thirty-four illustrations from original designs by John McLenan. Philadelphia: T. B. Peterson (by agreement with Harper & Bros., New York), 1861.
______. Great Expectations. Illustrated by Marcus Stone. The Illustrated Library Edition. London: Chapman and Hall, 1862. Rpt. in The Nonesuch Dickens, Great Expectations and Hard Times. London: Nonesuch, 1937; Overlook and Worth Presses, 2005.
______. A Tale of Two Cities and Great Expectations. Illustrated by Sol Eytinge, Jr. The Diamond Edition. 16 vols. Boston: Ticknor and Fields, 1867.
______. Great Expectations. Volume 6 of the Household Edition. Illustrated by F. A. Fraser. London: Chapman and Hall, 1876.
______. Great Expectations. The Gadshill Edition. Illustrated by Charles Green. London: Chapman and Hall, 1898.
______. Great Expectations. The Grande Luxe Edition, ed. Richard Garnett. Illustrated by Clayton J. Clarke ('Kyd'). London: Merrill and Baker, 1900.
______. Great Expectations. "With 28 Original Plates by Harry Furniss." Volume 14 of the Charles Dickens Library Edition. London: Educational Book Co., 1910.
---
Created 7 march 2004 Last modified 24 August 2021