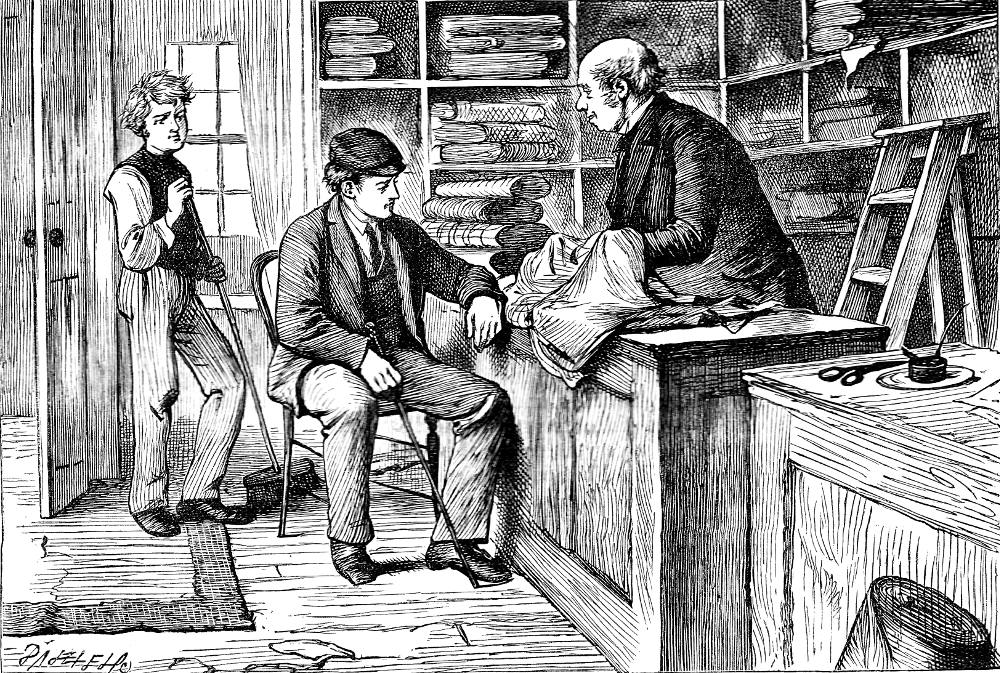 "Now, this," said Mr. Trabb, "is a very sweet article" by F. A. Fraser (1844-1896). 9.4 cm high by 13.8 cm wide (3 ⅜ by 5 ⅜ inches), framed (half-page, horizontally mounted), p. 72, Chapter Nineteen, in Charles Dickens's Great Expectations, which appeared as Volume 11 in the British Household Edition (1876). Running head: "Servility of Pumblechook" (71). [Click on the images to enlarge them.]
Passage Illustrated: Local Tradesman responds to Pip's suddenly becoming a Gentleman
Mr. Trabb's boy was the most audacious boy in all that country-side. When I had entered he was sweeping the shop, and he had sweetened his labours by sweeping over me. He was still sweeping when I came out into the shop with Mr. Trabb, and he knocked the broom against all possible corners and obstacles, to express (as I understood it) equality with any blacksmith, alive or dead.
"Hold that noise," said Mr. Trabb, with the greatest sternness, "or I'll knock your head off! — Do me the favour to be seated, sir. Now, this," said Mr. Trabb, taking down a roll of cloth, and tiding it out in a flowing manner over the counter, preparatory to getting his hand under it to show the gloss, "is a very sweet article. I can recommend it for your purpose, sir, because it really is extra super. But you shall see some others. Give me Number Four, you!" (To the boy, and with a dreadfully severe stare; foreseeing the danger of that miscreant's brushing me with it, or making some other sign of familiarity.)
Mr. Trabb never removed his stern eye from the boy until he had deposited number four on the counter and was at a safe distance again. Then he commanded him to bring number five, and number eight. "And let me have none of your tricks here," said Mr. Trabb, "or you shall repent it, you young scoundrel, the longest day you have to live." [Chapter XIX, 70]
Commentary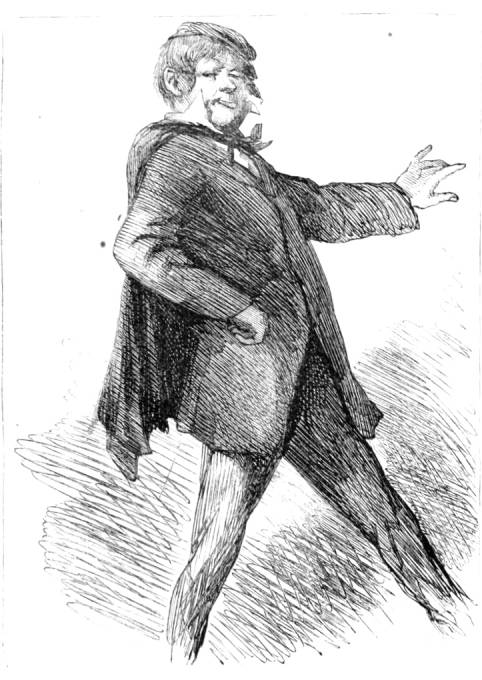 Sol Eytinge, Junior's 1867 portrait of the sarcastic shop apprentice: Trabb's Boy, in the Diamond Edition.
Jaggers' announcement that Pip has come into "Great Expectations," and must go up to London to be educated for his new social status effectively brings the first phase of the novel to a close. But first Pip will require an appropriate suit in the approved upper-middle class fashion, and therefore goes to visit the emporium of the local tailor, Mr. Trabb. Since there has been an ongoing rivalry between the young blacksmith apprentice and tailor's apprentice (in the background, with the push-broom), Pip notes with approval how the tailor remonstrates with the shop-boy. F. A. Fraser's emphasis in the illustration, however, is Trabb's showing Pip an expensive piece of suiting.
Although the scene is narrated from the perspective of the protagonist in the first-person, Fraser has made Trabb's shop-assistant the embedded observer, and has transformed the narrative stance into the objective. Pip, the focal character, wears his working-class Sunday best; although he has acquired a gentlemanly cane, he still sports a working-class cap, which he has failed to remove indoors. The balding merchant displays his wares for Pip's approval, and Pip is evidently studying the fabric, although he has scant experience of such matters as a custom-tailored suit in the approved London fashion.
Images of Pip's Receiving News and Plaudits for his Expectations from Other Editions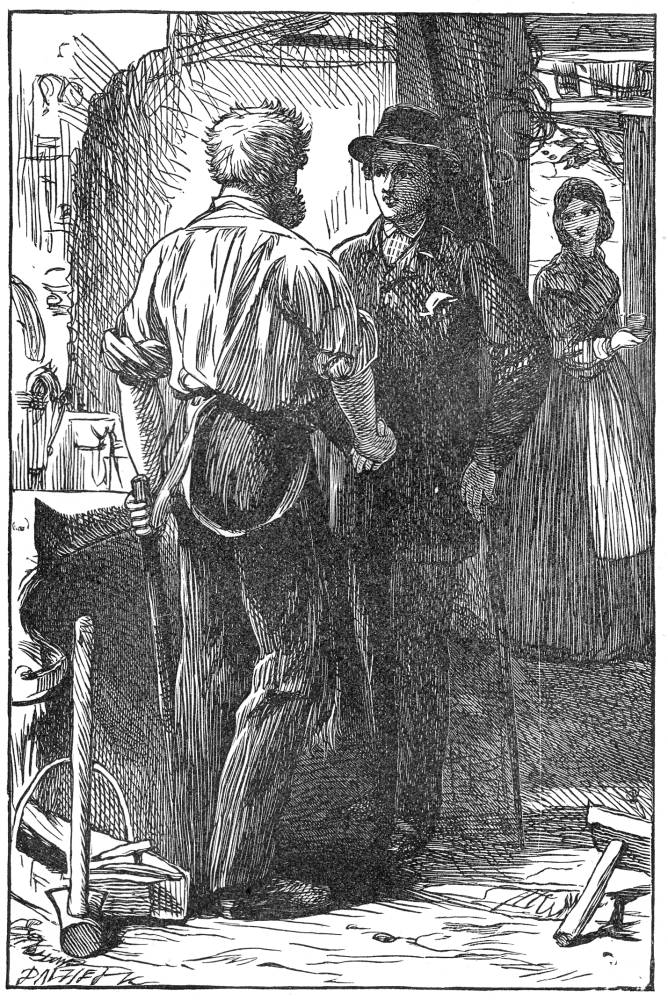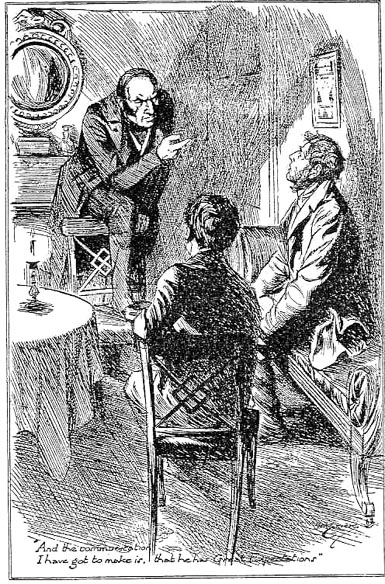 Left: Taking Leave of Joe (1862), from the Illustrated Library Edition by Marcus Stone. Centre: In the first American serialisation, periodical illustrator John McLenan satirizes Uncle Pumblechook's sudden servility: "And may I — May I —?" (16 February 1861). Right: H. M. Brock's realisation of the very moment at which Jaggers announces Pip's new-found status and wealth: "And the communication I have got to make is, that he has Great Expectations" (1903).
Related Material
Other Artists' Illustrations for Dickens's
Great Expectations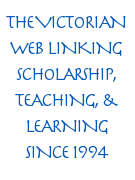 Scanned images and text by Philip V. Allingham. [You may use these images without prior permission for any scholarly or educational purpose as long as you (1) credit the photographer and (2) link your document to this URL in a web document or cite the Victorian Web in a print one.]
Bibliography
Allingham, Philip V. "The Illustrations for Great Expectations in Harper's Weekly (1860-61) and in the Illustrated Library Edition (1862) — 'Reading by the Light of Illustration'." Dickens Studies Annual, Vol. 40 (2009): 113-169.
______. Great Expectations. Illustrated by John McLenan. [The First American Edition]. Harper's Weekly: A Journal of Civilization, Vols. IV: 740 through V: 495 (24 November 1860-3 August 1861).
______. ("Boz."). Great Expectations. With thirty-four illustrations from original designs by John McLenan. Philadelphia: T. B. Peterson (by agreement with Harper & Bros., New York), 1861.
______. Great Expectations. Illustrated by Marcus Stone. The Illustrated Library Edition. London: Chapman and Hall, 1862. Rpt. in The Nonesuch Dickens, Great Expectations and Hard Times. London: Nonesuch, 1937; Overlook and Worth Presses, 2005.
______. A Tale of Two Cities and Great Expectations. Illustrated by Sol Eytinge, Jr. The Diamond Edition. 16 vols. Boston: Ticknor and Fields, 1867.
______. Great Expectations. Volume 6 of the Household Edition. Illustrated by F. A. Fraser. London: Chapman and Hall, 1876.
______. Great Expectations. The Gadshill Edition. Illustrated by Charles Green. London: Chapman and Hall, 1898.
______. Great Expectations. The Grande Luxe Edition, ed. Richard Garnett. Illustrated by Clayton J. Clarke ('Kyd'). London: Merrill and Baker, 1900.
______. Great Expectations. "With 28 Original Plates by Harry Furniss." Volume 14 of the Charles Dickens Library Edition. London: Educational Book Co., 1910.
---
Created 19 March 2004 Last modified 26 August 2021