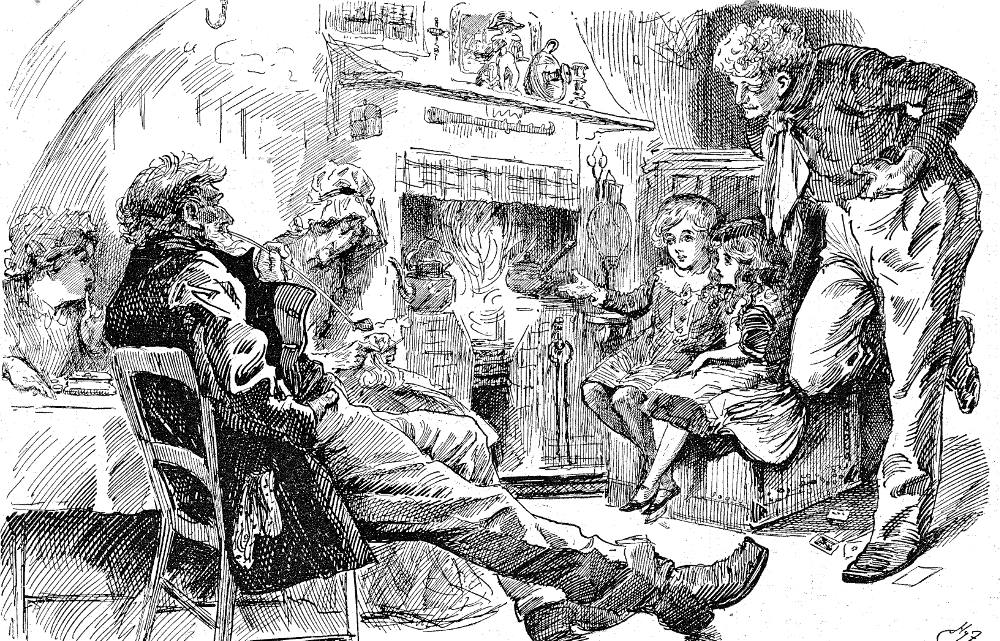 Little David in the Peggotty Household by Harry Furniss. Fourth illustration for Dickens's Personal History and Experience of David Copperfield, Volume 10 in the Charles Dickens Library Edition (1910), Chapter III, "I Have A Change," facing page 33. 9.1 x 13.7 mm (3 ¾ by 5 ⅜ inches) vignetted. Caption: "I'm a bacheldore, said Mr. Peggotty. "A bachelor!" I said, astonished. "Why, who's that, Mr. Peggotty?" pointing to the person in the apron who was knitting. "That's Missus Gummidge," answered Mr. Peggotty. — Copperfield, p. 33. [Click on the image to enlarge it.]
Passage Illustrated: David becomes an honourary member of the Peggottys
I was very much surprised that Mr. Peggotty was not Ham's father, and began to wonder whether I was mistaken about his relationship to anybody else there. I was so curious to know, that I made up my mind to have it out with Mr. Peggotty.
"Little Em'ly," I said, glancing at her. "She is your daughter, isn't she, Mr. Peggotty?"
"No, sir. My brother-in-law, Tom, was her father."
I couldn't help it. "— Dead, Mr. Peggotty?" I hinted, after another respectful silence.
"Drowndead," said Mr. Peggotty.
I felt the difficulty of resuming the subject, but had not got to the bottom of it yet, and must get to the bottom somehow. So I said:
"Haven't you any children, Mr. Peggotty?"
"No, master," he answered with a short laugh. "I'm a bacheldore."
"A bachelor!" I said, astonished. "Why, who's that, Mr. Peggotty?" pointing to the person in the apron who was knitting.
"That's Missis Gummidge," said Mr. Peggotty.
"Gummidge, Mr. Peggotty?"
But at this point Peggotty — I mean my own peculiar Peggotty — made such impressive motions to me not to ask any more questions, that I could only sit and look at all the silent company, until it was time to go to bed. [Chapter III, "I Have A Change," 33]
Commentary: Peggotty Peculiarites and Domestic Realia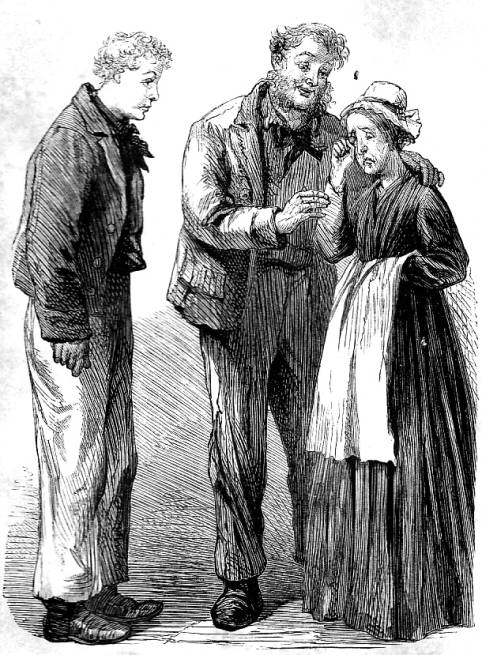 Sol Eytinge, Jr.'s Diamond Edition study of the Peggotty trio: Mr. Peggotty, Ham, and Mrs. Gummidge (1867.
One might be forgiven for confusing Ham Peggotty (right) with his Uncle Dan'l left; obviously Furniss wished to emphasize the familial resemblance. In spite of the fact that this is in essence a family portrait, Furniss has created a dynamic scene rather than a static portrait by individualizing the poses and varying the postures as the nautical family fills the space defined by the curving wooden beam to the right which suggests the odd nature of the Peggottys' residence: a converted boat. Furniss admirably contrasts the burly, bearded rough-and-ready working-class males with the petite Em'ly and the higher class David (distinguished by his upper middle class clothing), sitting on a steamer trunk by the roaring fire which represents the Peggottys' amiable home life. The two females of differing ages ("Missis Gummidge" the elder of the two, and "Mrs. Peggotty, with the white apron" — that is, Clara, David's nurse) are less developed, less interesting, and less significant than the other four figures, but Furniss expends considerable artistic energy on the detailing of the fireplace, including the kettles and tongs, and the fanciful figurines on the mantelpiece. Furniss uses the dangling handkerchief and heavy work-boots to distinguish the class of the Pater familias of this somewhat unconventional "family." Furniss uses this amiable group as a sharp contrast to the more respectable but far less congenial family in the next illustration, Mr. Murdstone Takes David Upstairs, which is in every way a contrast to this amiable domestic scene of a well-knit working class family.
Other Studies of David at the Peggottys' Houseboat from Other Editions (1849 and 1872)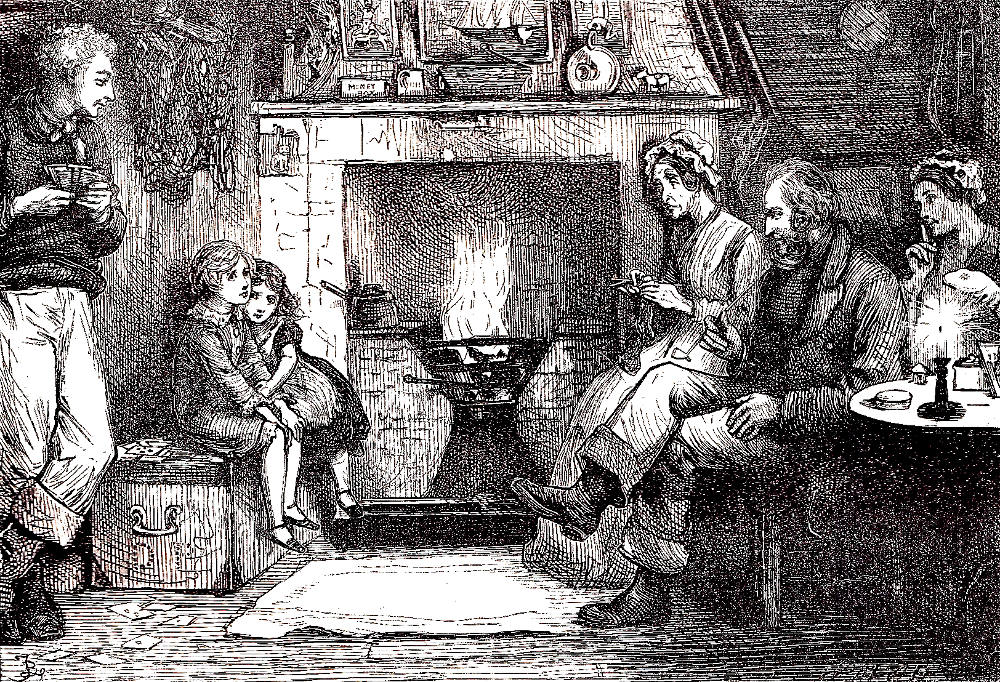 Left: Fred Barnard's Household Edition study of the same incident: "Dead, Mr. Peggotty?" I hinted, after a respectful pause. "Drowndead," said Mr. Peggotty. (1872). Right: Phiz's original April 1849 illustration of David with Little Em'ly at the Peggottys' fireside: I am hospitably received by Mr. Peggotty (Ch. III).
Relevant Illustrated Editions of this Novel (1849 through 1910)
Scanned image and text by Philip V. Allingham. [You may use this image without prior permission for any scholarly or educational purpose as long as you (1) credit the person who scanned the image and (2) link your document to this URL in a web document or cite the Victorian Web in a print one.]
Bibliography
Bentley, Nicolas, Michael Slater, and Nina Burgis. The Dickens Index. Oxford and New York: Oxford U. P., 1988.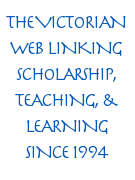 Davis, Paul. Charles Dickens A to Z: The Essential Reference to His Life and Work. New York: Facts On File, 1998.
Dickens, Charles. The Personal History of David Copperfield, illustrated by Hablot Knight Browne ("Phiz"). The Centenary Edition. London & New York: Chapman & Hall, Charles Scribner's Sons, 1911. 2 vols.
_______. The Personal History of David Copperfield. Illustrated by Sol Eytinge, Jr. The Diamond Edition. 14 vols. Boston: Ticknor & Fields, 1867. Vol. V.
_______. David Copperfield, with 61 illustrations by Fred Barnard. Household Edition. London: Chapman and Hall, 1872. Vol. III.
_______. The Personal History and Experiences of David Copperfield. Illustrated by Harry Furniss. The Charles Dickens Library Edition. London: Educational Book Company, 1910. Vol. X.
Hammerton, J. A., ed. The Dickens Picture-Book: A Record of the the Dickens Illustrations. London: Educational Book, 1910.
Steig, Michael. Dickens and Phiz. Bloomington & London: Indiana U. P., 1978.
---
Created 3 March 2022