Mr. Murdstone takes David upstairs by Harry Furniss. Fifth illustration for Dickens's Personal History and Experience of David Copperfield, Volume 10 in the Charles Dickens Library Edition (1910), Chapter V, "I Am Sent Away from Home," facing page 64. 9.3 x 13.3 mm (3 ⅝ by 5 ⅜ inches) vignetted. Caption: Mr. Murdstone rose and said, taking up the cane, "David, you and I will go upstairs, boy." As he took me out at the door, I saw my mother stop her ears, and I heard her crying. — Copperfield, p. 57. [Click on the image to enlarge it.]
Passage Illustrated: David's Stepfather drags him away for Physical Chastizement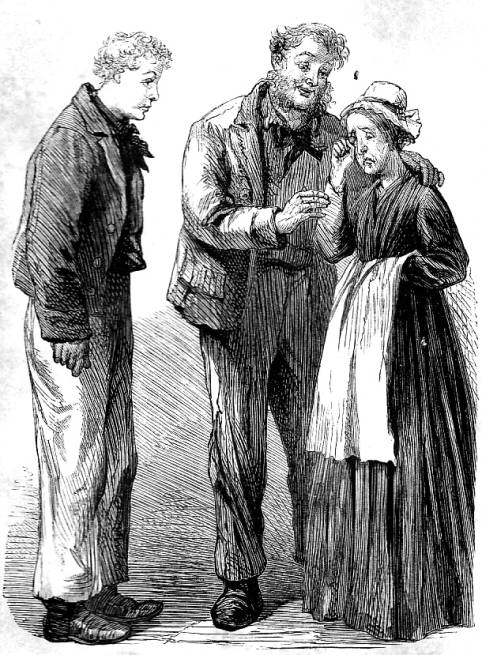 Sol Eytinge, Jr.'s Diamond Edition contrasts the determined brother and sister with David's all-too-yielding mother: Mr. and Miss Murdstone, and Mrs. Copperfield (1867).
"Clara!" said Miss Murdstone, in her warning voice.
"I am not quite well, my dear Jane, I think," said my mother.
I saw him wink, solemnly, at his sister, as he rose and said, taking up the cane:
"Why, Jane, we can hardly expect Clara to bear, with perfect firmness, the worry and torment that David has occasioned her today. That would be stoical. Clara is greatly strengthened and improved, but we can hardly expect so much from her. David, you and I will go upstairs, boy."
As he took me out at the door, my mother ran towards us. Miss Murdstone said, "Clara! are you a perfect fool?" and interfered. I saw my mother stop her ears then, and I heard her crying.
He walked me up to my room slowly and gravely—I am certain he had a delight in that formal parade of executing justice—and when we got there, suddenly twisted my head under his arm.
"Mr. Murdstone! Sir!" I cried to him. "Don't! Pray don't beat me! I have tried to learn, sir, but I can't learn while you and Miss Murdstone are by. I can't indeed!" [Chapter V, "I Am Sent Away from Home," 57]
Commentary: The Murdstone Menage A Sharp Contrast to the Peggottys' Amiability
This upper-middle-class family grouping sharply contrasts the amiability and unanimity of the somewhat unconventional Peggotty family grouping in the previous scene, Little David in the Peggotty Household (Chapter III). Everything about this second, upper-middle-class domestic scene contrasts amiable fireside scene in the working-class home. Whereas the working-class family were gathered happily around a roaring fire, Furniss suggests the friction and negatively charged emotional nature of the upper-middle-class parlour by the distraught figures of David and his mother, who contrast the rigid Murdstone and his expressionless sister, Jane. Despite the conventional, elegant furnishings and plethora of books above Clara Murdstone, the somewhat crowded nature of the parlour reinforces the lack of ease and comfort of this synthetic upper-middle-class family. Clearly respectability and sophistication in furnishings do not necessarily equate with domestic happiness.
Other Studies of David and the Mr. Murdstone from Other Editions (1849 and 1872)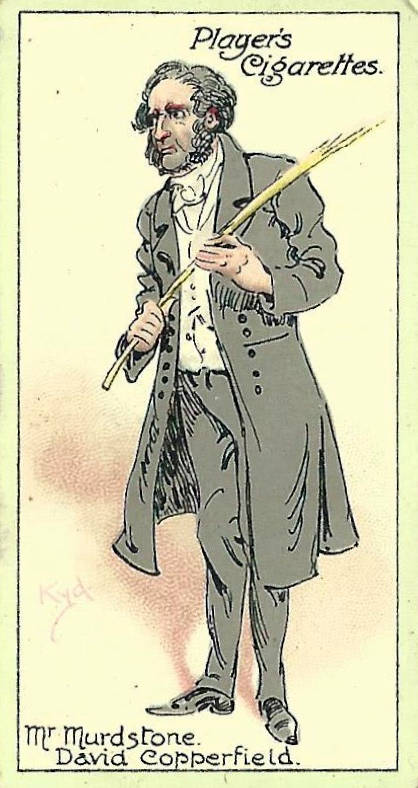 Left: Fred Barnard's Household Edition study of the stepfather's domineering behaviour with his ife and stepson: "And when we came at last to the five thousand cheeses (canes he made it that day, I remember), my mother burst out crying." (1872). Right: Kyd's watercolour translated into a lithograph for Player's Cigarette Card No. 37: Mr. Murdstone (1910).
Relevant Illustrated Editions of this Novel (1849 through 1910)
Scanned image and text by Philip V. Allingham. [You may use this image without prior permission for any scholarly or educational purpose as long as you (1) credit the person who scanned the image and (2) link your document to this URL in a web document or cite the Victorian Web in a print one.]
Bibliography
Bentley, Nicolas, Michael Slater, and Nina Burgis. The Dickens Index. Oxford and New York: Oxford U. P., 1988.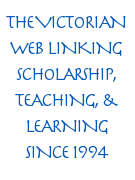 Davis, Paul. Charles Dickens A to Z: The Essential Reference to His Life and Work. New York: Facts On File, 1998.
Dickens, Charles. The Personal History of David Copperfield, illustrated by Hablot Knight Browne ("Phiz"). The Centenary Edition. London & New York: Chapman & Hall, Charles Scribner's Sons, 1911. 2 vols.
_______. The Personal History of David Copperfield. Illustrated by Sol Eytinge, Jr. The Diamond Edition. 14 vols. Boston: Ticknor & Fields, 1867. Vol. V.
_______. David Copperfield, with 61 illustrations by Fred Barnard. Household Edition. London: Chapman and Hall, 1872. Vol. III.
_______. The Personal History and Experiences of David Copperfield. Illustrated by Harry Furniss. The Charles Dickens Library Edition. London: Educational Book Company, 1910. Vol. X.
Hammerton, J. A., ed. The Dickens Picture-Book: A Record of the the Dickens Illustrations. London: Educational Book, 1910.
Steig, Michael. Dickens and Phiz. Bloomington & London: Indiana U.P., 1978.
---
Created 3 March 2022