"And when we came at last to the five thousand cheeses (canes he made it that day, I remember), my mother burst out crying.". 1872. Fifth illustration by Fred Barnard (engraved by the Dalziels) for Household Edition of David Copperfield, Chapter IV, "I Fall into Disgrace," p. 17. 10.6 x 13.7 cm (4 ⅛ by 5 ⅜ inches) framed. Caption: I Am in a Luxurious State of Mind. [Click on the image to enlarge it.]
Passage Illustrated: David under the Dictatorship of the Murdstones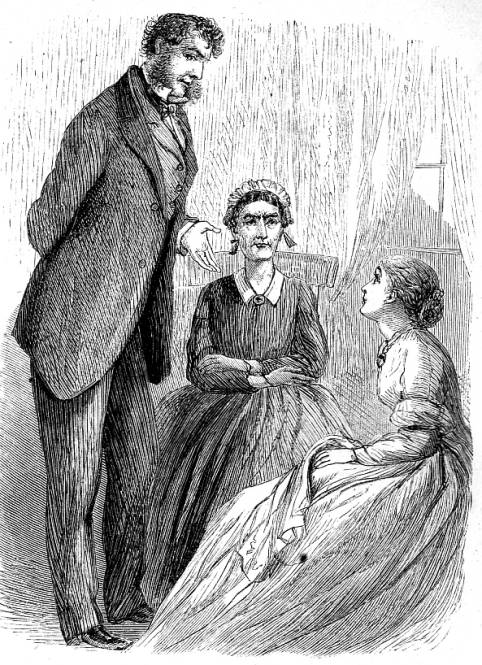 Sol Eytinge, Jr's Diamond Edition study of Clara Copperfield, her second husband, and her sister-in-law, Jane: Mr. and Miss Murdstone and Mrs. Copperfield (1867).
My mother starts, colours, and smiles faintly. Mr. Murdstone comes out of his chair, takes the book, throws it at me or boxes my ears with it, and turns me out of the room by the shoulders.
​Even when the lessons are done, the worst is yet to happen, in the shape of an appalling sum. This is invented for me, and delivered to me orally by Mr. Murdstone, and begins, 'If I go into a cheesemonger's shop, and buy five thousand double-Gloucester cheeses at fourpence-halfpenny each, present payment' — at which I see Miss Murdstone secretly overjoyed. I pore over these cheeses without any result or enlightenment until dinner-time, when, having made a Mulatto of myself by getting the dirt of the slate into the pores of my skin, I have a slice of bread to help me out with the cheeses, and am considered in disgrace for the rest of the evening.
It seems to me, at this distance of time, as if my unfortunate studies generally took this course. [Chapter IV, "I Fall into Disgrace," pp. 27-28]
Commentary
In the original serial illustrations, Phiz almost entirely excluded the Murdstones from David's childhood reminiscences, relegating the leering bachelor to one corner of Our Pew at Church (May 1849). The original illustrator permits the text unaided by illustration to shape the readers' conceptions of the cold, cruel, controlling step-father who makes the lives of his stepson and his vulnerable, young wife a misery. Barnard's approach to the satanic figure of Murdstone is entirely different, as he takes the earliest opportunity to show the melodramatic "evil step-father" in action with his switch, bent on drumming emotionless mathematical-commercial problems into David's consciousness, as if preparing him for a mercantile occupation as soon as circumstances permit. Barnard shows no love lost on either side. In this first "Murdstone" illustration, David, the focus of the composition, is thoroughly puzzled by the problem as his tender-hearted mother has dissolved into tears and the stern visages of the haughty Murdstones regard their distraught victims. Barnard makes the sister-in-law, Jane, look particularly gaunt, censorious, and emotionally aloof as her brother holds his switch, symbol of his iron rule as the Victorian Pater Familias in readiness for reproof.
Depictions of the Consequences of Clara's marrying Mr. Murdstone (1849 to 1910)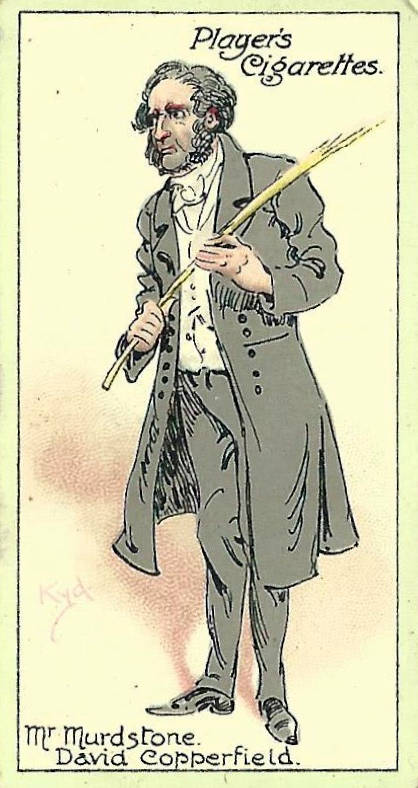 Left: Phiz entirely avoids the unpleasant brother and sister, and focusses instead on David's reaction Clara's newborn: Changes at Home (July 1849). Centre: Harry Furniss's caricural study of the domineering step-father: Mr. Murdstone takes David upstairs (1910). Right: Kyd's Player's Cigarette Card No. 37, Mr. Murdstone (1910).
Related Material
Scanned image and text by Philip V. Allingham. [You may use this image without prior permission for any scholarly or educational purpose as long as you (1) credit the person who scanned the image and (2) link your document to this URL in a web document or cite the Victorian Web in a print one.]
Bibliography
Dickens, Charles. The Personal History of David Copperfield, illustrated by Hablot Knight Browne ("Phiz"). The Centenary Edition. London & New York: Chapman & Hall, Charles Scribner's Sons, 1911 [rpt. from 1850]. 2 vols.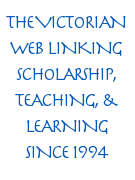 _______. David Copperfield, with 61 illustrations by Fred Barnard. Household Edition. London: Chapman and Hall, 1872. Vol. 3.
_______. David Copperfield. Illustrated by W. H. C. Groome. London and Glasgow: Collins Clear-type Press, 1907. No. 1.
The copy of the Household Edition from which this picture was scanned was the gift of George Gorniak, Editor of The Dickens Magazine, whose subject for the fifth series, beginning in January 2010, is this novel.
---
Created 17 August 2016 Last modified 8 July 2022