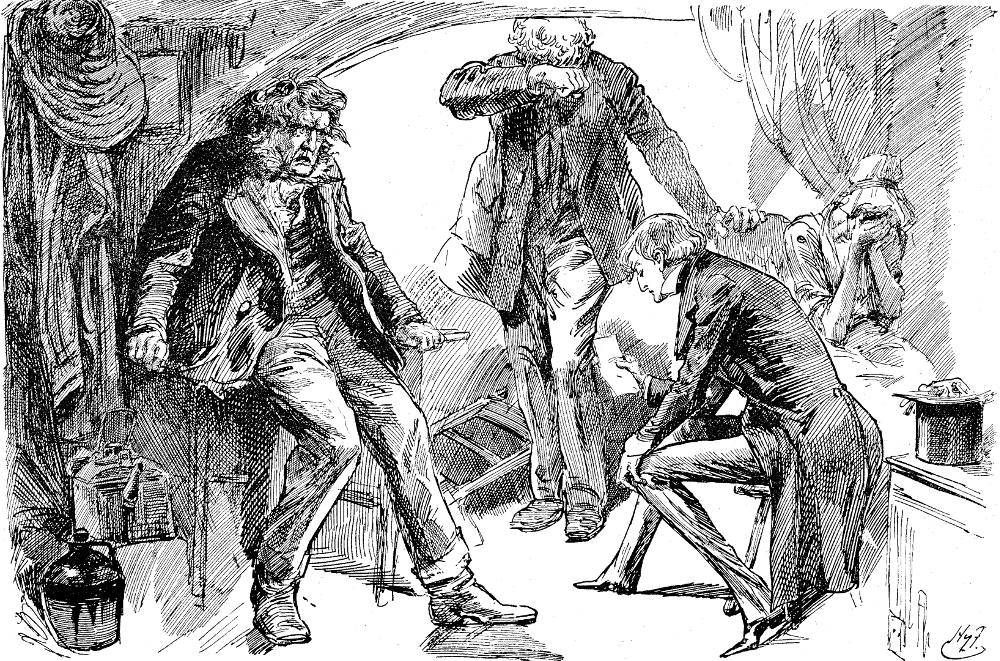 The Letter from Em'ly by Harry Furniss. Seventeenth illustration for Dickens's Personal History and Experience of David Copperfield, Volume 10 in the Charles Dickens Library Edition (1910), Chapter XXXI, "A Greater Loss," facing page 449. 9 x 13.7 cm (3 ½ by 5 ⅜ inches) vignetted. Caption: Ham gave me a paper in my hand; Mr. Peggotty, with his vest torn open, and his hair wild, looked fixedly at me. "Read it, Sir," he said, in a low shivering voice. "Slow, please. I don't know as I can understand. — Copperfield, p. 451. [Click on the image to enlarge it.]
Passage Illustrated: Em'ly announces she has run off with Steerforth
I remember a great wail and cry, and the women hanging about him, and we all standing in the room; I with a paper in my hand, which Ham had given me; Mr. Peggotty, with his vest torn open, his hair wild, his face and lips quite white, and blood trickling down his bosom (it had sprung from his mouth, I think), looking fixedly at me.
"Read it, sir," he said, in a low shivering voice. "Slow, please. I doen't know as I can understand."
In the midst of the silence of death, I read thus, from a blotted letter: —
'"When you, who love me so much better than I ever have deserved, even when my mind was innocent, see this, I shall be far away."'
"I shall be fur away," he repeated slowly. "Stop! Em'ly fur away. Well!"
'"When I leave my dear home — my dear home — oh, my dear home! — in the morning,"'
the letter bore date on the previous night:
'" — it will be never to come back, unless he brings me back a lady. This will be found at night, many hours after, instead of me. Oh, if you knew how my heart is torn. If even you, that I have wronged so much, that never can forgive me, could only know what I suffer! I am too wicked to write about myself! Oh, take comfort in thinking that I am so bad. Oh, for mercy's sake, tell uncle that I never loved him half so dear as now. Oh, don't remember how affectionate and kind you have all been to me — don't remember we were ever to be married — but try to think as if I died when I was little, and was buried somewhere. Pray Heaven that I am going away from, have compassion on my uncle! Tell him that I never loved him half so dear. Be his comfort. Love some good girl that will be what I was once to uncle, and be true to you, and worthy of you, and know no shame but me. God bless all! I'll pray for all, often, on my knees. If he don't bring me back a lady, and I don't pray for my own self, I'll pray for all. My parting love to uncle. My last tears, and my last thanks, for uncle!"'
That was all. [Chapter XXXI, "A Greater Loss," pp. 451-452]
Commentary: Equalling Visually the Passion of Dickens's Epistolary Technique
The chapter title, "A Greater Loss," refers to events immediately after the initial "loss," the death of Barkis, the carrier. Em'ly's having eloped with David's old school friend could bring his relationship with the Peggottys to the point of rupture, but Furniss shows that David is as genuinely distressed as they are, and in particular sympathizes with Em'ly's jilted fiancé Ham. The large straw hat and coat hanging to the left suggest that Em'ly has departed without any of her working-class clothing because, she believes, Steerforth intends to make her "a lady." Furniss realizes the shocking scene straight out of domestic melodrama by individualizing the reactions of each of the four figures. Whereas Mrs. Gummidge simply cries into her apron, David is numb, Ham gives way to "manly tears," and Mr. Peggotty, the pater familias, is overwhelmed. Thus, Furniss sets up the textual moment when David, the literate "scholar," reads the letter aloud. The illustrator must make the crucial moment visually believable yet moving as he attempts to complement the epistolary technique.
Other Studies of the Sensation in the Houseboat and its Upshot (1850-1872)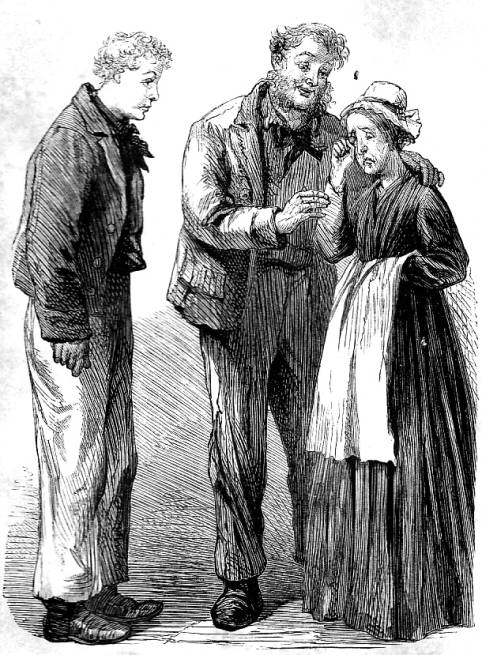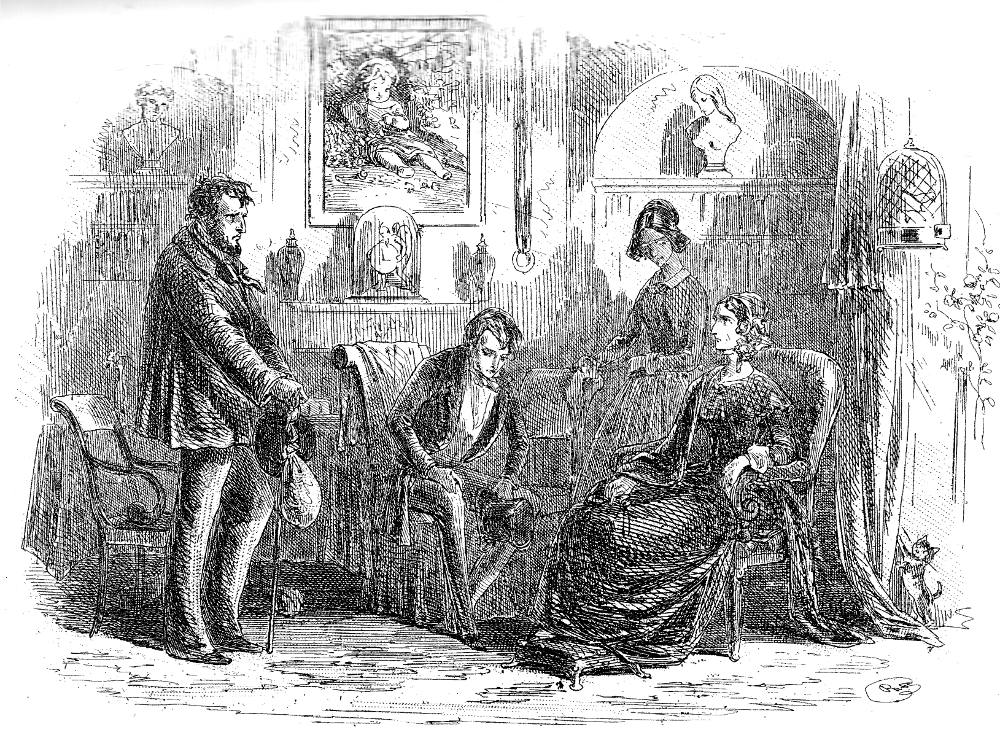 Left: Sol Eytinge, Jr.'s Diamond Edition portrait of the Peggotty household except Em'ly and Clara Barkis: Mr. Peggotty, Ham, and Mrs. Gummidge (1867). Centre: Fred Barnard's British Household Edition version of the same scene heightens the domestic melodrama: "Read it, sir," he said, in a low shivering voice. "Slow, please. I doen't know as I can understand." (1872). Right: Phiz's original serial illustration of Dan'l Peggotty's visit to Steerforth's mother as his quest for Em'ly begins: Mr. Peggotty and Mrs. Steerforth (Instalment No. 10, February 1850). [Click on the images to enlarge them.]
Relevant Illustrated Editions of this Novel (1849 through 1910)
Scanned image and text by Philip V. Allingham. [You may use this image without prior permission for any scholarly or educational purpose as long as you (1) credit the person who scanned the image and (2) link your document to this URL in a web document or cite the Victorian Web in a print one.]
Bibliography
Bentley, Nicolas, Michael Slater, and Nina Burgis. The Dickens Index. Oxford and New York: Oxford U. P., 1988.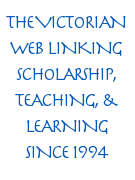 Davis, Paul. Charles Dickens A to Z: The Essential Reference to His Life and Work. New York: Facts On File, 1998.
Dickens, Charles. The Personal History of David Copperfield, illustrated by Hablot Knight Browne ("Phiz"). The Centenary Edition. London & New York: Chapman & Hall, Charles Scribner's Sons, 1911. 2 vols.
_______. The Personal History of David Copperfield. Illustrated by Sol Eytinge, Jr. The Diamond Edition. 14 vols. Boston: Ticknor & Fields, 1867. Vol. V.
_______. David Copperfield, with 61 illustrations by Fred Barnard. Household Edition. London: Chapman and Hall, 1872. Vol. III.
_______. The Personal History and Experiences of David Copperfield. Illustrated by Harry Furniss. The Charles Dickens Library Edition. London: Educational Book Company, 1910. Vol. X.
"Dora Spenlow." George Arents Collection. The New York Public Library Digital Collections. https://digitalcollections.nypl.org/items/510d47de-789e-a3d9-e040-e00a18064a99
Hammerton, J. A., ed. The Dickens Picture-Book: A Record of the the Dickens Illustrations. London: Educational Book, 1910.
Steig, Michael. Dickens and Phiz. Bloomington & London: Indiana U. P., 1978.
---
Created 12 March 2022