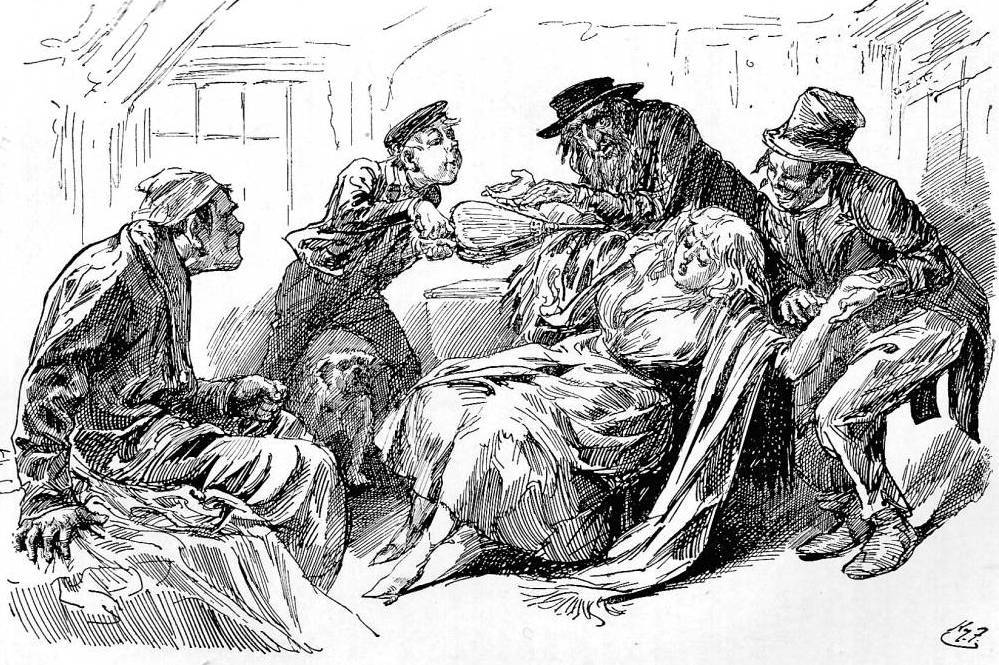 Nancy in hysterics by Harry Furniss. Dickens's The Adventures of Oliver Twist, Charles Dickens Library Edition, facing III, 296. Chapter 39. 1910. lithograph. 9.0 by 13.8 ​cm vignetted, with extensive caption beneath: "Give her a whiff of fresh air with the bellows, Charley," said Mr. Dawkins; "and you slap her hands, Fagin." — Oliver Twist, p. 202.
Passage Illustrated
"What's the matter here, my dear?" said Fagin, looking in.
"Lend a hand to the girl, can't you?" replied Sikes impatiently. "Don't stand chattering and grinning at me!"
With an exclamation of surprise, Fagin hastened to the girl's assistance, while Mr. John Dawkins (otherwise the Artful Dodger), who had followed his venerable friend into the room, hastily deposited on the floor a bundle with which he was laden; and snatching a bottle from the grasp of Master Charles Bates who came close at his heels, uncorked it in a twinkling with his teeth, and poured a portion of its contents down the patient's throat: previously taking a taste, himself, to prevent mistakes.
"Give her a whiff of fresh air with the bellows, Charley," said Mr. Dawkins; "and you slap her hands, Fagin, while Bill undoes the petticuts."
These united restoratives, administered with great energy: especially that department consigned to Master Bates, who appeared to consider his share in the proceedings, a piece of unexampled pleasantry: were not long in producing the desired effect. [Chapter Thirty-Nine, "Introduces Some Respectable Characters with whom the Reader is already Acquainted, and Shows How Monks and the Jew Laid Their Worthy Heads Together," 291-92]
Commentary: Nancy Collapses under the Stress of Looking after Sikes
Things have not gone well for Sikes and Nancy since the abortive robbery at Chertsey, and the pair on the "lamb" in a shabby apartment not far from Sikes's former East End residence, which he has had to abandon for fear that the Bow Street Runners might take him up there for the attempted robbery since he has been clearly identified asthe principal participant in the botched robbery at Chertsey. In the interim, in Chapter 38 Fagin's diabolical confederate, Edward Leeford (alias, "Monks"), has located and destroyed the artefacts which might have established Oliver as an heir to the estate of the late Edwin Leeford, his father. In the Furniss scene, it is now early evening in the "mean and badly furnished apartment" (290), and, just as Nancy descends into hysterics as a result of the stress of having to nurse Sikes through the fever for weeks with nothing but remonstrations and blows for recompense, Fagin, Charley, and The Artful Dodger happen by. The trio are delivering "beau-ti-ful things" (293) to bring the burglar out of his funk:
"Sitch a rabbit pie, Bill," exclaimed that young gentleman [Charley Bates], disclosing to view a huge pasty; "sitch delicate creeturs, with sitch tender limbs, Bill, that the wery bones melt in your mouth, and there's no occasion to pick 'em; half a pound of seven and six-penny green, so precious strong that if you mix it with biling water, it'll go nigh to blow the lid of the tea-pot off; a pound and a half of moist sugar that the niggers [i. e., West Indian plantation workers] didn't work at all at, afore they got it up to sitch a pitch of goodness, — oh no! Two half-quartern brans; pound of best fresh; piece of double Glo'ster; and, to wind up all, some of the richest sort you ever lushed!"
Uttering this last panegyric, Master Bates produced, from one of his extensive pockets, a full-sized wine-bottle, carefully corked; while Mr. Dawkins, at the same instant, poured out a wine-glassful of raw spirits from the bottle he carried: which the invalid [Sikes in his dirty nightcap] tossed down his throat without a moment's hesitation. [293]
The delicacies are not yet in evidence as the crew attempt revive Nancy, a woman very different from the persuasive "sister" of Oliver and the hectoring bully of the scene outside the beershop earlier, as realised by Cruikshank in Oliver claimed by his affectionate friends (Part 7, September 1837), and by Harry Furniss in Oliver Trapped by Nancy and Sikes (Chapter 15). The figures in the present group study left to right are as follows: Bill Sikes (in nightcap), Charley (applying the bellows), Fagin and Nancy, and, in his signature battered top-hat, Jack Dawkins (right, checking Nancy's pulse).
The Change in Representations of Nancy from Cruikshank to Furniss and Beyond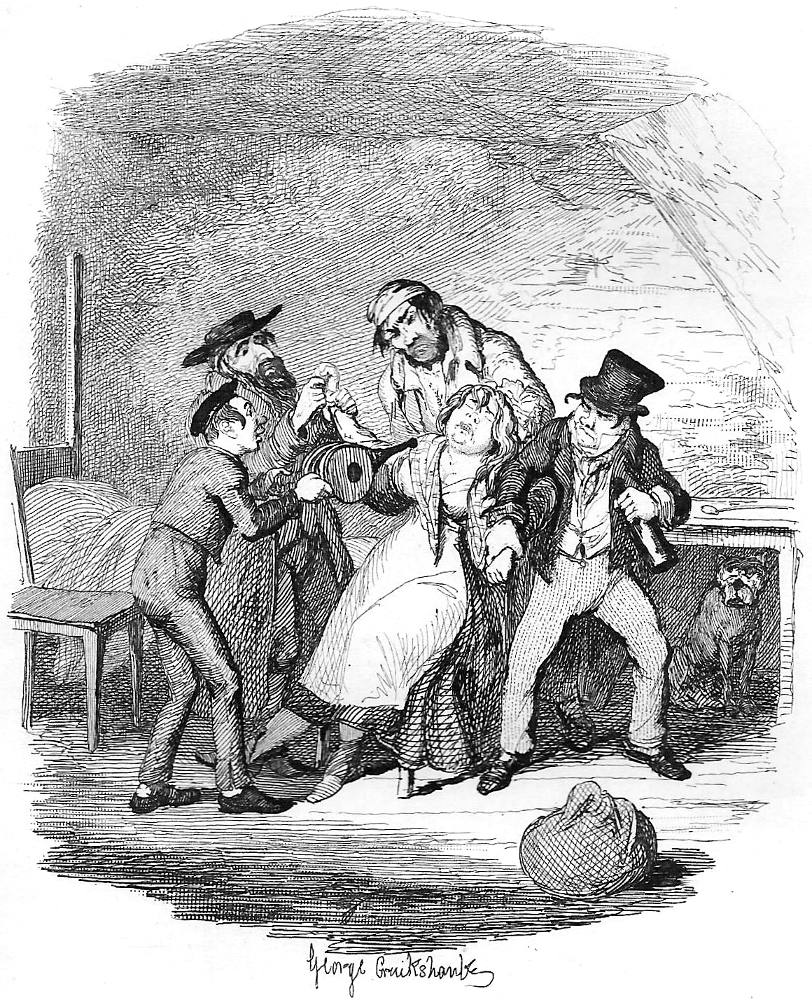 Right: George Cruikshank's original version of Nancy in Hysterics, Mr. Fagin and his pupils recovering Nancy (Part 17, August 1838).
Part 17 in the illustrated monthly periodical edited by Dickens himself for the first two years of its existence, Bentley's Miscellany, contained chapters 38 and 39 — and two illustrations, including this somewhat sexist depiction of the distressed Nancy and the down-and-out housebreaker with the soiled nightcap. The plate upon which Furniss based the scene of Fagin, Nancy, Sikes, and the gang by George Cruikshank signalled a turning point in the plot as Nancy shortly, having been mistreated by Sikes after nursing him through a fever over the weeks after the robbery, overhears Fagin and Monks plotting against Oliver, and determines to approach Rose Maylie with the story of Monks's behind-the-scenes manipulations of Oliver's fortunes. In this second August 1838 illustration, Fagin and his chief juvenile collaborators, Charley Bates and Jack Dawkins, arrive at Sikes's "crib" just in time to assist the down-and-out Bill Sikes in recovering Nancy from an hysterical fit.
Although Cruikshank and Furniss focus on Nancy's "hysterics" and the gang's attempting to cure her of them, the other illustrators have dealt instead with the deplorable physical and mental state into which Sikes and his common-law wife have fallen since the botched robbery in Chertsey. In contrast to the original scene of the hysterical Nancy, as well as in the 1846 Chapman and Hall wrapper vignettes at the top, Furniss's is more natural, and his interpretation of Nancy is somewhat different from Cruikshank's fat, slatternly Nancy. Rather, benefiting from having read the entire text before attempting the illustrations for the Charles Dickens Library Edition of 1910, Furniss has created a Nancy here who corresponds to Dickens's developing Nancy as the attractive, young harlot with the heart of gold whose tender concern for the persecuted child undermines Monks's carefully laid plot. Following Dickens's notions of alternating com,ic and serious scenes in a melodramatic plot (in the manner of "streaky" bacon), the comic illustration, after the night-time destruction of the artefacts, may also serve to heighten suspense since Nancy's so easily falling into hysterics makes one wonder whether she us equal to the task of holding her emotions in check around Sikes, and slipping away undetected for the fateful meeting with Mr. Brownlow and Rose Maylie beneath London Bridge.
As William T. Lankford has noted, from this point onward the action abandons Oliver, now comfortably situated in the upper-middle class as the ward of the affluent Maylies, and focuses on Sikes and Nancy:
Oliver has entirely ceased to be the parish boy and remains safe with his patrons from this point on; the novel's thematic concern with with the impact of social injustice on the poor and homeless is now buried beneath the surface development of the plot. Continuity is no longer supplied by Oliver's movement, but by Nancy, who becomes central to the thematic development; Rose and Sikes contest her loyalty, as earlier Fagin and Brownlow competed for control of Oliver. And while the sustained comparison of Nancy and Rose reinforces the original thematic conflict of nature and experience, the supporting pattern of analogy between their social classes narrows to the two girls alone. [90]
Thus, for example, in the original serial illustrations, Oliver now disappears, only to re-emerge in the so-called "cancelled illustration" — Oliver and His Family — The Fireside Plate — and the plate which Dickens requested to replace it, Rose Maylie and Oliver — The Church Plate. In the 1871 Household Edition volume, illustrator James Mahoney likewise shifts the reader's attention from the fortunes of Oliver to the doomed relationship between Nancy and Sikes. In the first half of the 1871 edition of the novel, for example, Oliver appears in eight of the Mahoney wood-engravings, but in only two in the second half, and in none towards the end, when Mahoney focuses on Fagin, Sikes, and Nancy). Conversely, Nancy, a minor figure in the first half of the novel as illustrated by Cruikshank and Mahoney, becomes significant in the Household Edition: Nancy appears three times towards the end, and her common-law husband in as many. In Frederic W. Pailthorpe's 1886 series of twenty-one engravings — notably in "Has it long gone the half-hour?" (the scene in which Nancy hastens to her rendezvous with Rose Maylie and Mr. Brownlow on the steps of London Bridge, fearful that Sikes or anothergang member may be following her) Nancy is a significant figure: she appears as Sikes's victim in A foul deed (see below), no longer a slattern as in Cruikshank, but an attractive, respectably dressed young woman.
The most appealing realisation of Nancy is undoubtedly that in the Waverley​ Edition, illustrated by Charles Pears: the vulnerable maiden haunted by the shadow of Bill Sikes in the tense portrait, Nancy (see below). This sympathetic characterisation amounting to a reassessment of her character and role as blameless victim is consistentwith the Nancy whom we see in the final illustrations in Furniss's sequence. Whereas Furniss depicts her just twice in the first half of his sequence (both with Sikes), in the second half she occurs four times, and most conspicuously as a corpse in the centre of the bottom register of Characters in the Story. This scene in Chapter 39, realised in various ways by some of the novel's principal illustrators, marks a shift the reader's understanding of Nancy. Formerly, she was a slattern and the willing accomplice of a street thug, the principal agent in the gang's recovering Oliver, apparently tough-minded and wholly without sympathy for the child; now, even though still fiercely loyal to him, she is a victim of Sikes's brutality, despite her having nursed him though a fever over the course of three weeks. Shortly, in order to expose Monks's plot, she will turn informant, and have the life beaten out of her. Thus, the illustrators graph the moral progress of Nancy, woman of the East End streets and ultimately the redeemed prostitute with a heart of gold whose murder turns the whole metropolis against Sikes, and leads directly to his sensational death on Jacobs Island.
Nancy from the original 1837-38 serial publication and later editions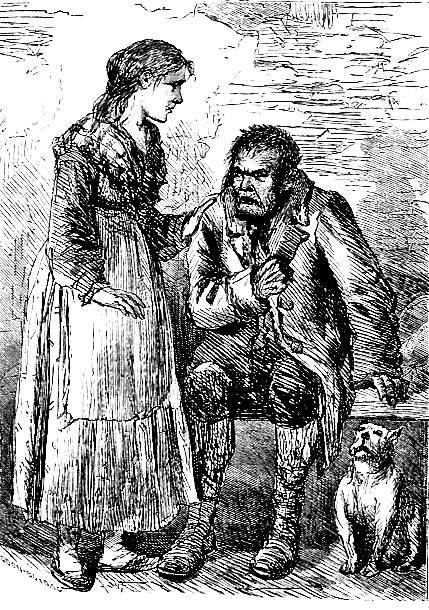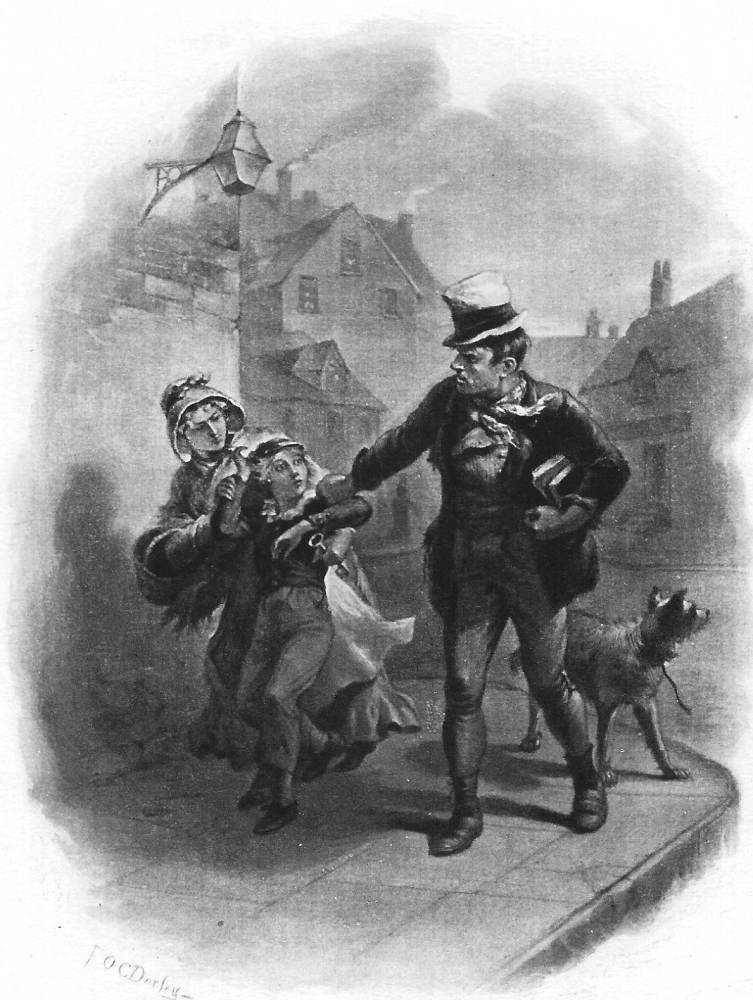 Left: Sol Eytinge, Junior's Bill Sikes and Nancy (1867). Right; Felix Octavius Carr Darley's Sikes, Nancy, and Oliver Twist (1888).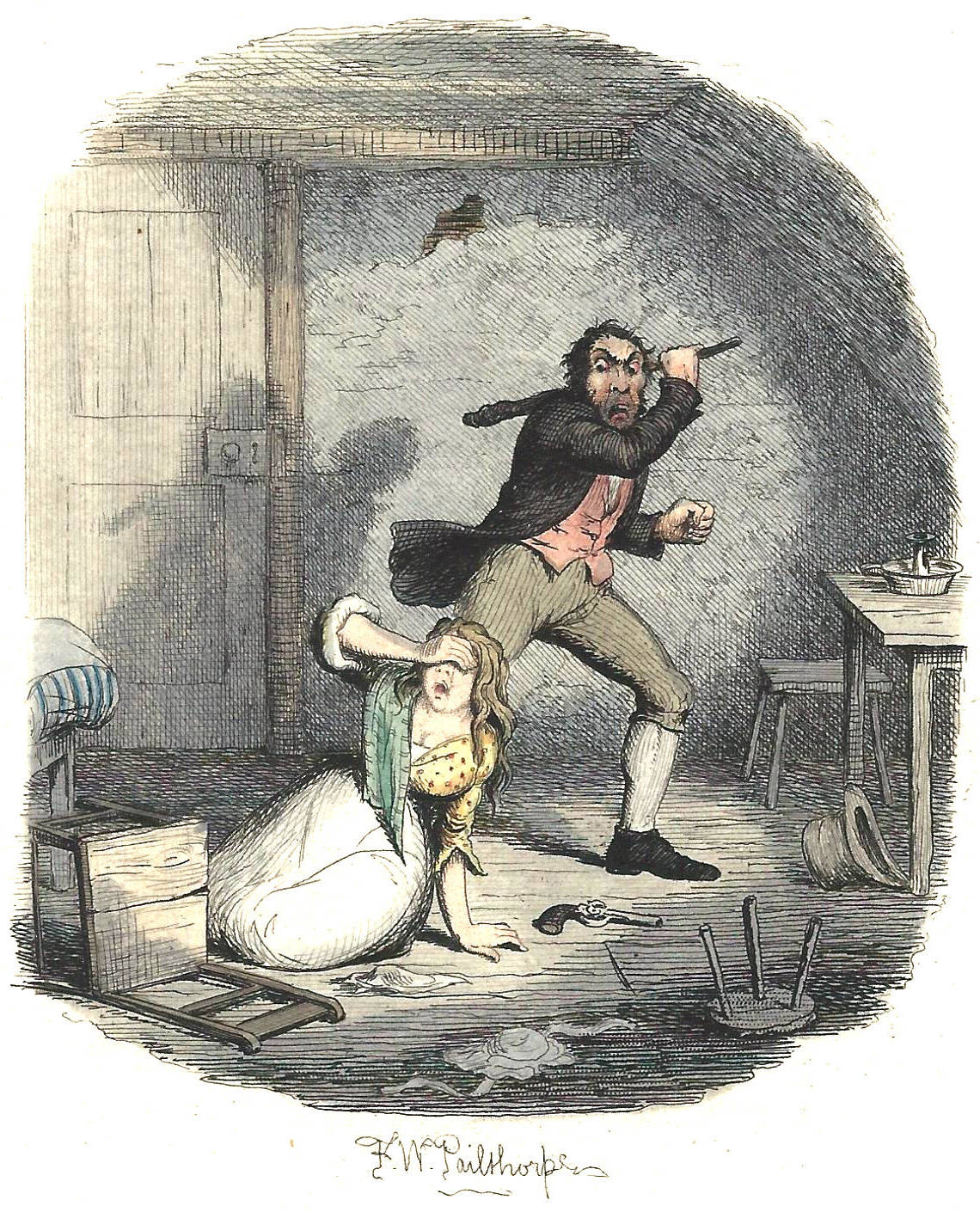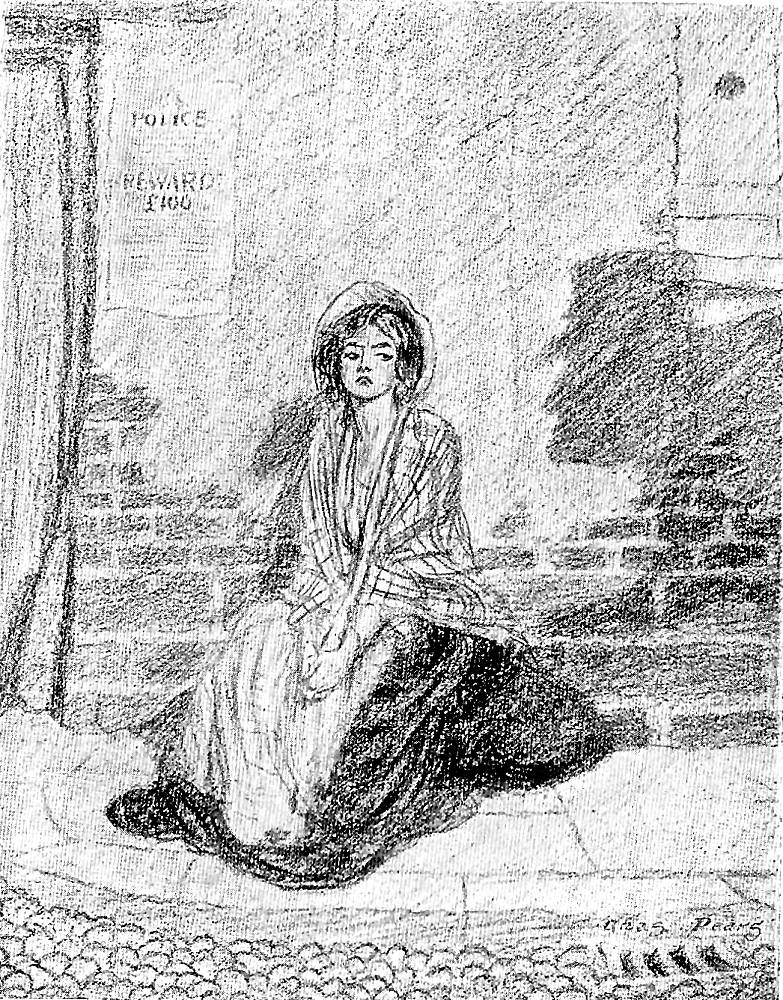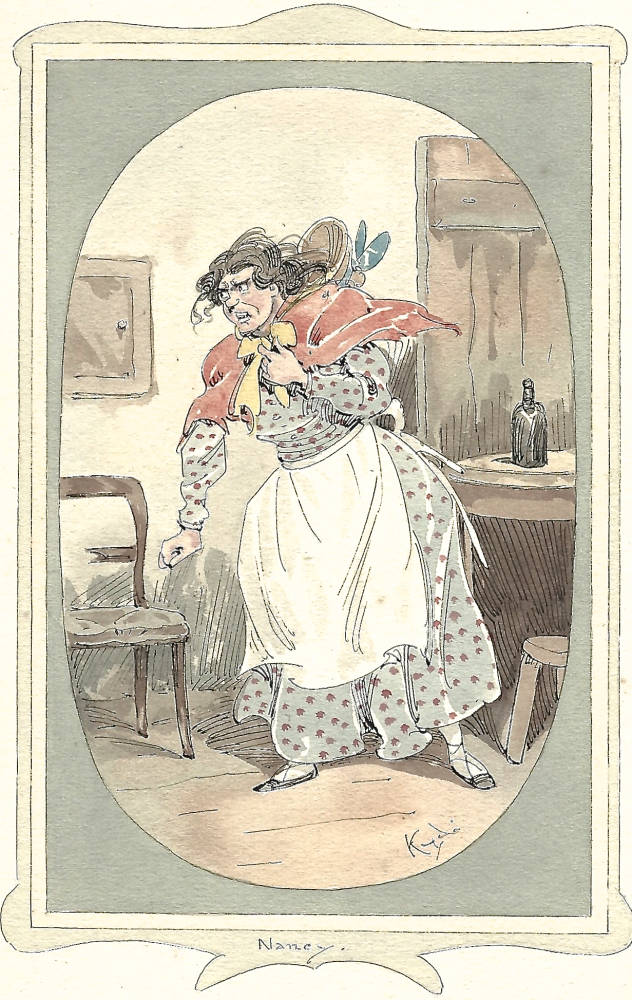 Left: F. W. Pailthorpe's A Foul Deed. Centre: Charles Pears' pencil study, Nancy. Right: Kyd's original watercolour study Nancy. [Click on images to enlarge them.]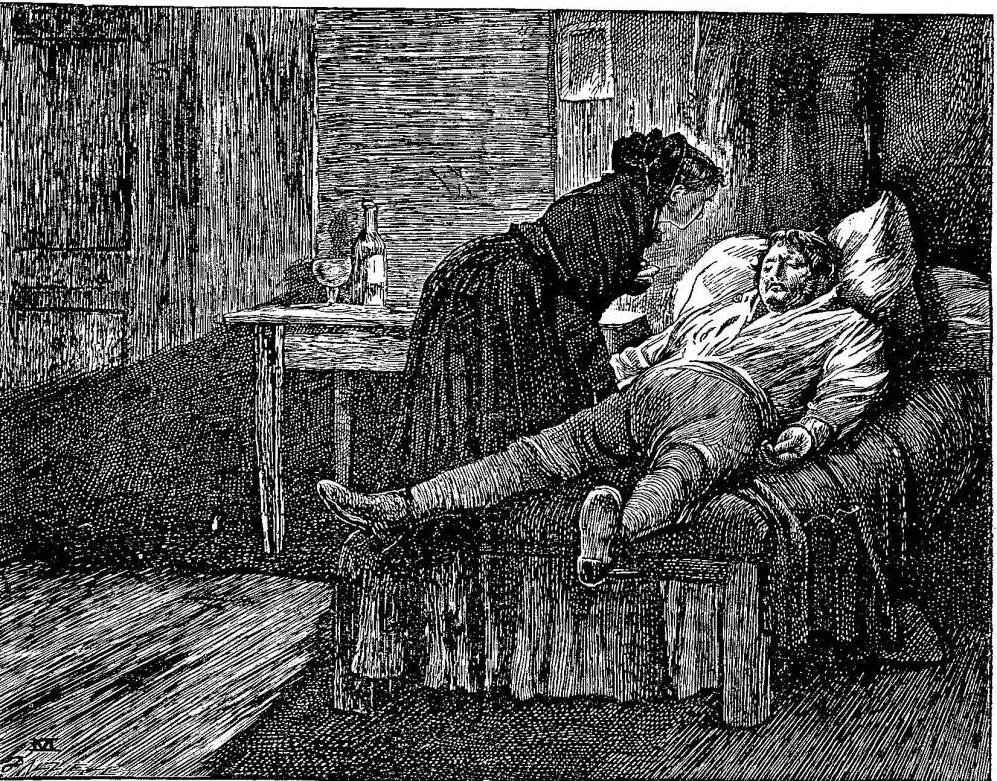 Above: Mahoney's 1871 engraving of Nancy ministering to Sikes, whom she has just drugged, Then, stooping softly over the bed, she kissed the robber's lips.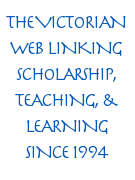 Scanned images and text by Philip V. Allingham. [You may use this image without prior permission for any scholarly or educational purpose as long as you (1) credit the person who scanned the image and (2) link your document to this URL in a web document or cite the Victorian Web in a print one.].
Bibliography
Darley, Felix Octavius Carr. Character Sketches from Dickens. Philadelphia: Porter and Coates, 1888.
Davis, Paul. Charles Dickens A to Z: The Essential Reference to His Life and Work. New York: Facts On File, 1998.
Dickens, Charles. The Adventures of Oliver Twist; or, The Parish Boy's Progress. Illustrated by George Cruikshank. London: Bradbury and Evans; Chapman and Hall, 1838; rpt. with revisions 1846.
_____. Oliver Twist. Works of Charles Dickens. Household Edition. 55 vols. Illustrated by F. O. C. Darley and John Gilbert. New York: Sheldon and Co., 1865.
_____. Oliver Twist. Works of Charles Dickens. Diamond Edition. 14 vols. Illustrated by Sol Eytinge, Jr. Boston: Ticknor and Fields, 1867.
_____. Oliver Twist. Works of Charles Dickens. Household Edition. 22 vols. Illustrated by James Mahoney. London: Chapman and Hall, 1871. Vol. I.
_____. The Adventures of Oliver Twist. Works of Charles Dickens. Charles Dickens Library Edition. 18 vols. Illustrated by Harry Furniss. London: Educational Book Company, 1910. Vol. III.
_____. The Adventures of Oliver Twist. Works of Charles Dickens. The Waverley​ Edition. Illustrated by Charles Pears. London: Waverley, 1912.
_____.The Letters of Charles Dickens. Ed. Graham Storey, Kathleen Tillotson, and Angus Eassone. The Pilgrim Edition. Oxford: Clarendon, 1965. Vol. I (1820-1839).
Forster, John. "Oliver Twist 1838." The Life of Charles Dickens. Ed. B. W. Matz. The Memorial Edition. 2 vols. Philadelphia: J. B. Lippincott, 1911. Vol. I, Book 2, Chapter 3.
Lankford, William T. "The Evolving Form of Oliver Twist." Readings on Charles Dickens's "Oliver Twist". Greenhaven Press Literary Companion to British Literature. Originally in The Publications of the Modern Language Association, January 1978. San Diego, CA: Greenhaven, 2001, 76-90.
Kyd (Clayton J. Clarke). Characters from Dickens. Nottingham: John Player & Sons, 1910.
Pailthorpe, Frderick W. (Illustrator). Charles Dickens's Oliver Twist. London: Robson & Kerslake, 1886. Set No. 118 (coloured) of 200 sets of proof impressions.
Vann, J. Don. "Oliver Twist." Victorian Novels in Serial. New York: The Modern Language Association, 1985, 62-63.
---
Created 25 February 2015

Last modified 1 March 2020