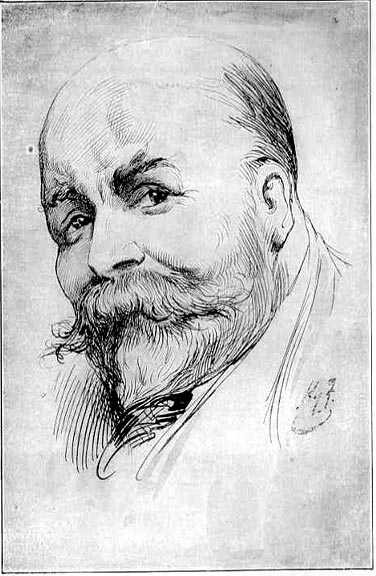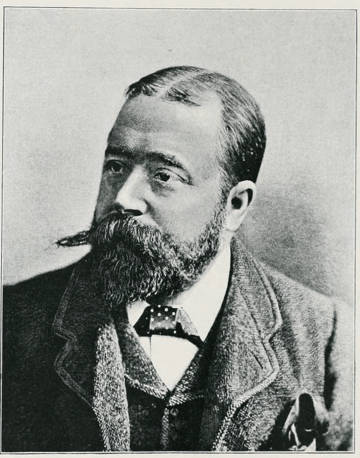 arry Furniss, son of an English engineer but born in Wexford, having trained and worked as an artist and draughtsman in his native Ireland, in 1873 went to London to look for artistic work. After seven years of free-lance work which included The Illustrated London News, at the age twenty-six, he began what would become a life-time career as a magazine illustrator when in October 1880 Punch published his parodic drawing of the Temple Bar dragon as his first staff commission. He continued with that magazine for fourteen years, and by his own calculation produced for that celebrated journal of metropolitan humour "over two thousand six hundred designs, from the smallest to the largest (the latter were published in the Christmas numbers, 1890 and 1891)" (Hammerton 38).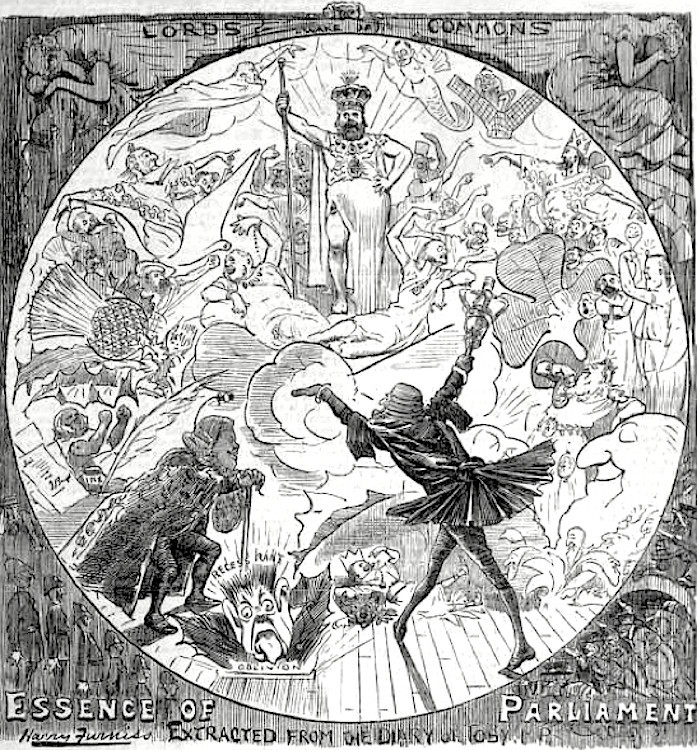 Furniss's series The Essence of Parliament contained caricatures of the leading Whig and Tory politicians of the day, most notably Sir William Gladstone, whom the artist habitually depicted in large collars. An ardent Unionist, he took issue in print and illustrations with the Irish Nationalists in Parliament, satirizing one Nationalist Member of Parliament, Swift MacNeill, as a gorilla. Hot-tempered, brash, and occasionally mendacious, Furniss could not have been an easy man to work with, and it is not surprising that his visual criticisms of Irish politicians in Punch resulted in threats and even an assault upon his person. Simon Houfe has described his sketches of members from both sides of the House as "sometimes severe, generally humorous, and always well-observed" (The Dictionary of British Book Illustrators and Caricaturists, 311, as cited in Cohen and Wakeling, 104). Furniss also wrote articles, jokes, and dramatic criticism for Punch during his time as a staffer. Moreover, his drawings appeared in The Illustrated London News from 1876 to 1884. In 1894, Furniss left Punch under an artistic cloud after the magazine's publishers discovered that he had sold Pears Soap the copyright to one of his drawings for advertising.
By the time that he struck out on his own to edit and illustrate his own magazine of cartoons and humour, Like Joka in 1894, he had illustrated Lewis Carroll's Sylvie and Bruno (1889) and Sylvie and Bruno Concluded (1893). However, when his magazine failed, he moved to the United States where he joined Thomas Alva Edison in the fledgling film industry from 1912 through 1913, acting in early films, and in 1914 pioneering the first animated cartoon film. His artistic work on Dickens's novels in 1910's The Charles Dickens Library (18 volumes) was the culmination of a life devoted to the novelist, about whom (among other topics) he had lectured all over England. He also illustrated an edition of the works of William Makepeace Thackeray and wrote Confessions of a Caricaturist.
J. A. Hammerton's sixth chapter in The Dickens Picture Book (1910), "The Art of Mr. Harry Furniss," is lavish in its praise of the artist's legion of Dickensian illustrations: "There is certainly no living artist in England or America who could have equaled the achievement of Mr. Furniss" (30). Hammerton credits Furniss as being the equal of the great French illustrator Gustave Doré "in his extraordinary facility of draughtsmanship" (31). The artist's five hundred plates for the 1910 edition of Dickens's works reflect Furniss's encyclopaedic knowledge and connoisseur's appreciation of Dickens's characters.
Related Material
Scanned image and text by Philip V. Allingham. [You may use these images without prior permission for any scholarly or educational purpose as long as you (1) credit the photographer and (2) link your document to this URL in a web document or cite the Victorian Web in a print one.]
Bibliography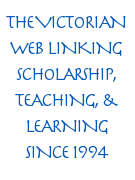 Cohen, Morton N., and Edward Wakeling, eds. "4. Harry Furniss (1854-1925)." The Lewis Carroll & His Illustrators: Collaborations & Correspondence, 1865-1898. Ithaca: Cornell U. P., 2003. 101-107.
Cordery, Gareth, and Joseph S. Meisel, eds. The Humours of Parliament: Harry Furniss's View of Late-Victorian Culture. Columbus: The Ohio State University Press, 2014. [Review by Françoise Baillet]
Dickens, Charles. The Works of Charles Dickens. Ed. J. A. Hammerton. Illustrated by Harry Furniss. The Charles Dickens Library Edition. London: Educational Book, 1910. 18 vols.
Furniss, Harry. The Confessions of a Caricaturist. Vol. I. Toronto: William Briggs, 1902. Internet Archive. Contributed by Robarts Library, University of Toronto. Web. 20 April 2015.
_____. M.P.'s in Session, from Mr. Punch's Parliamentary Portrait Gallery. London: Bradbury Agnew & Co., 1889. Internet Archive. Contributed by University of California Libraries. Web. 20 April 2015.
"Furniss, Harry." The Cambridge Biographical Dictionary, ed. Magnus Magnusson. New York: Cambridge U. P., 1990.
"Furniss, Harry." The National Archives: Learning Curve. Accessed 7 February 2004. http://www.spartacus. schoolnet.co.uk/Jfurniss.htm.
Hammerton, J. A. 6. "The Art of Harry Furniss." The Dickens Picture-Book. The Charles Dickens Library. London: Educational Book Company, 1910. Vol. XVII, 30-8.
Houfe, Simon. The Dictionary of 19th Century Book Illustrators. 3rd ed. Woodbridge, Suffolk: Antique Book Collectors' Club, 1998.
Kitton, Frederic G. Dickens and His Illustrators. 1899. Amsterdam: S. Emmering, 1972.
---
Created 7 March 2004

Last modified 20 February 2020