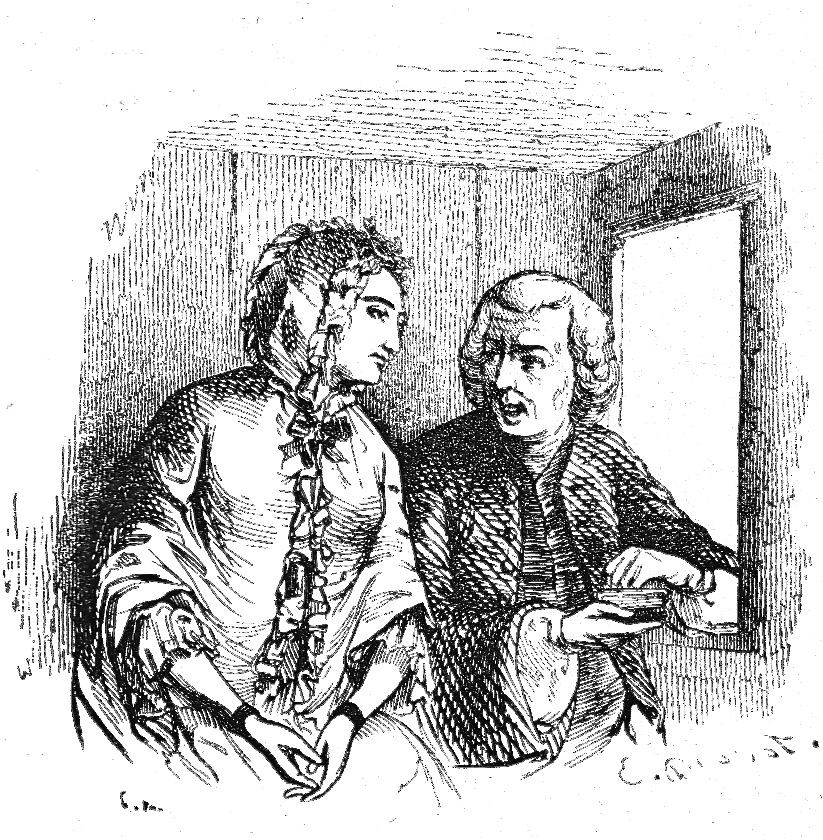 Yorick sharing his carriage with the Lady — headpiece for "The Remise. Calais" in Laurence Sterne's A Sentimental Journey through France and Italy, first published in 1768. Wood-engraving, 6.5 cm high by 7 cm wide, top of p. 42. Johannot shows the Lady as more interested in Yorick's conversation than in his romantic overtures earlier in the carriage. [Click on the image to enlarge it.]
Passage Illustrated: Sharing the Désobligeant
"C'est bien comique" — 'tis very droll — said the lady, smiling, from the reflection that this was the second time we had been left together by a parcel of nonsensical contingencies: "c'est bien comique," said she.
"There wants nothing," said I, "to make it so but the comic use which the gallantry of a Frenchman would put it to — to make love the first moment, and an offer of his person the second."
"'Tis their forte," replied the lady.
"It is supposed so, at least; and how it has come to pass," continued I, "I know not; but they have certainly got the credit of understanding more of love, and making it better than any other nation upon earth; but, for my own part, I think them arrant bunglers, and in truth the worst set of marksmen that ever tried Cupid's patience.
"To think of making love by sentiments!
"I should as soon think of making a genteel suit of clothes out of remnants: — and to do it — pop — at first sight, by declaration — is submitting the offer, and themselves with it, to be sifted with all their pours and contres, by an unheated mind. ["The Remise Door, Calais," pp. 34-35]
Bibliography
Sterne, Laurence. A Sentimental Journey through France and Italy. With 100 illustrations by Tony Johannot. London: Willoughby, 1857.
---
Last modified 21 September 2018