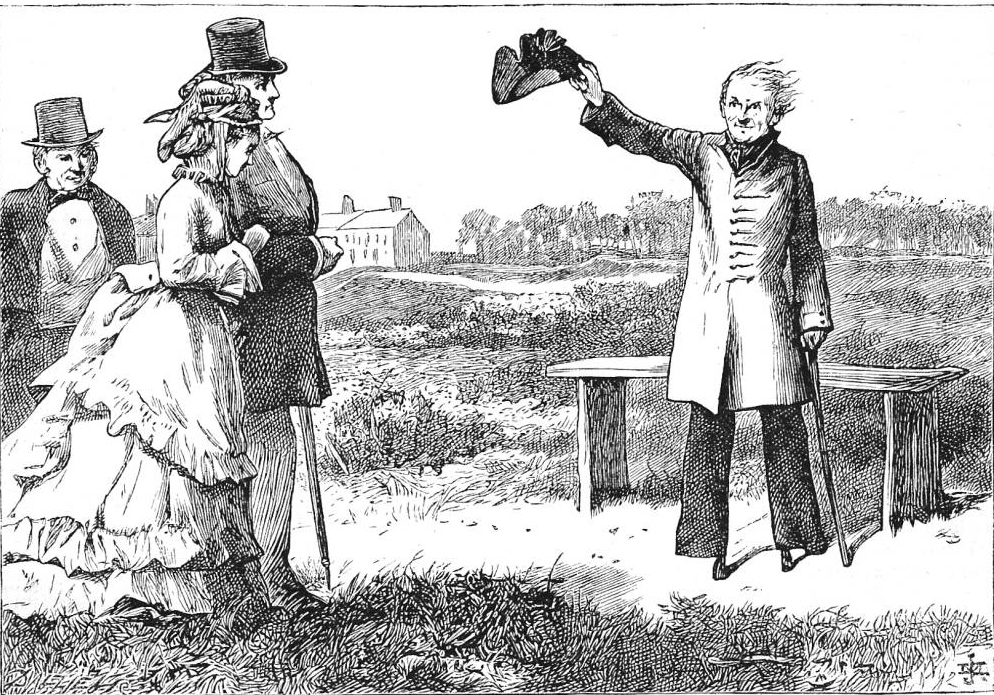 To see this salt old gruff and glum waving his shovel hat at Bella —​ James Mahoney's forty-eighth illustration for Dickens's Our Mutual Friend, Household Edition, 1875, has the same caption in both the New York and London printings. Wood engraving by the Dalziels, 9.3 cm high x 13.4 cm wide. The composite wood-engraving concerns the scene immediately following the marriage of John Rokesmith and Bella Wilfer (left), presumably at St. Alfege's in Greenwich (designed by eighteenth-century architect Nicholas Hawksmoor, and reconsecrated in 1714), attended by her father, R. W. (left).
Scanned image and text by Philip V. Allingham. [You may use this image without prior permission for any scholarly or educational purpose as long as you (1) credit the person who scanned the image and (2) link your document to this URL.]
Passage Realised
At least, Bella no sooner stepped ashore than she took Mr. John Rokesmith's arm, without evincing surprise, and the two walked away together with an ethereal air of happiness which, as it were, wafted up from the earth and drew after them a gruff and glum old pensioner to see it out. Two wooden legs had this gruff and glum old pensioner, and, a minute before Bella stepped out of the boat, and drew that confiding little arm of hers through Rokesmith's, he had had no object in life but tobacco, and not enough of that. Stranded was Gruff and Glum in a harbour of everlasting mud, when all in an instant Bella floated him, and away he went.
Say, cherubic parent taking the lead, in what direction do we steer first? With some such inquiry in his thoughts, Gruff and Glum, stricken by so sudden an interest that he perked his neck and looked over the intervening people, as if he were trying to stand on tiptoe with his two wooden legs, took an observation of R. W. There was no 'first' in the case, Gruff and Glum made out; the cherubic parent was bearing down and crowding on direct for Greenwich church, to see his relations.
For, Gruff and Glum, though most events acted on him simply as tobacco-stoppers, pressing down and condensing the quids within him, might be imagined to trace a family resemblance between the cherubs in the church architecture, and the cherub in the white waistcoat. Some remembrance of old Valentines, wherein a cherub, less appropriately attired for a proverbially uncertain climate, had been seen conducting lovers to the altar, might have been fancied to inflame the ardour of his timber toes. Be it as it might, he gave his moorings the slip, and followed in chase.
The cherub went before, all beaming smiles; Bella and John Rokesmith followed; Gruff and Glum stuck to them like wax. For years, the wings of his mind had gone to look after the legs of his body; but Bella had brought them back for him per steamer, and they were spread again.
. . . .Who taketh? I, John, and so do I, Bella. Who giveth? I, R. W. Forasmuch, Gruff and Glum, as John and Bella have consented together in holy wedlock, you may (in short) consider it done, and withdraw your two wooden legs from this temple. To the foregoing purport, the Minister speaking, as directed by the Rubric, to the People, selectly represented in the present instance by G. and G. above mentioned.
And now, the church-porch having swallowed up Bella Wilfer for ever and ever, had it not in its power to relinquish that young woman, but slid into the happy sunlight, Mrs. John Rokesmith instead. And long on the bright steps stood Gruff and Glum, looking after the pretty bride, with a narcotic consciousness of having dreamed a dream.
. . . . Then they, all three, out for a charming ride, and for a charming stroll among heath in bloom, and there behold the identical Gruff and Glum with his wooden legs horizontally disposed before him, apparently sitting meditating on the vicissitudes of life! To whom said Bella, in her light-hearted surprise: "Oh! How do you do again? What a dear old pensioner you are!" To which Gruff and Glum responded that he see her married this morning, my Beauty, and that if it warn't a liberty he wished her ji and the fairest of fair wind and weather; further, in a general way requesting to know what cheer? and scrambling up on his two wooden legs to salute, hat in hand, ship-shape, with the gallantry of a man-of-warsman and a heart of oak.
It was a pleasant sight, in the midst of the golden bloom, to see this salt old Gruff and Glum, waving his shovel hat at Bella, while his thin white hair flowed free, as if she had once more launched him into blue water again. "You are a charming old pensioner," said Bella, "and I am so happy that I wish I could make you happy, too." Answered Gruff and Glum, "Give me leave to kiss your hand, my Lovely, and it's done!" So it was done to the general contentment; and if Gruff and Glum didn't in the course of the afternoon splice the main brace, it was not for want of the means of inflicting that outrage on the feelings of the Infant Bands of Hope. — Book Four, Chapter 4, "A Runaway Match," p. 281-282.
Commentary
Mahoney does not attempt to describe the wedding dinner since the subject of the wedding of John (who has yet to reveal his true identity as John Harmon) and Bella had been dealt with (albeit in a lacklustre fashion) by Marcus Stone ten years earlier in The Wedding Dinner at Greenwich (August 1865). The focal character is not a member of the small wedding-party at all, but the witness, a double-amputee who serves as the Rokesmiths' witness in the ceremony, which probably occurs at the local Anglican church, St. Alfege's, although Dickens does not identify the church by name and the church tower just above the tree-line in the Mahoney illustration is square rather than the delicate spire of Hawksmoor's elegant neo-classical design.
A touch of local colour — the most interesting feature of the illustration — is the uniformed Naval Hospital veteran (an "in-pensioner") who salutes the bride and groom after the ceremony with due nautical terminology and a wave of his tricorn hat. There is no comparable illustration in the original serial series by Marcus Stone, who elected to show the wedding dinner in The Ship Inn for the fourth book's fourth chapter, "A Runaway Match," originally in the August 1865 serial instalment. The old salt, a pensioner of the nearby Greenwich Naval Hospital ("Gruff and Glum" as the couple mentally nickname him) serves as the witness for the ceremony. Four years after the publication of the novel, the custom of providing on-site care for as many as two thousand old salts (retired sailors and royal marines) in their blue frock-coats and tricorn hats (similar to the red uniforms of the Chelsea pensioners) ceased as an economy. In October 1865, just as Our Mutual Friend was winding up its serial run, under a new Act, 987 of the 1400 remaining in-pensioners left the Hospital, and in 1869 the Greenwich Naval Hospital closed, shortly to become the Greenwich Naval College for officers of the Royal Navy just two years ahead of the publication of the Household Edition volume. Mahoney's including the scene with the cheering in-pensioner instead of the couple and R. W. at the wedding dinner may constitute a bit of late Victorian nostalgia, and certainly serves as a chronological and geographical allusion to the era and locale in which this part of the story unfolds.
The "Rokesmiths" (Harmons) in the original and 1867 editions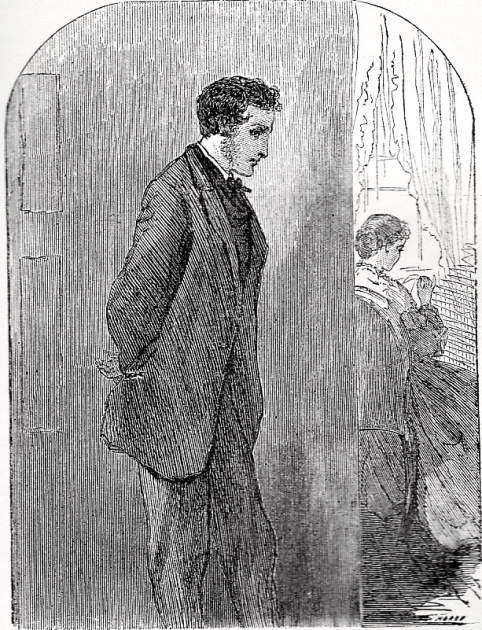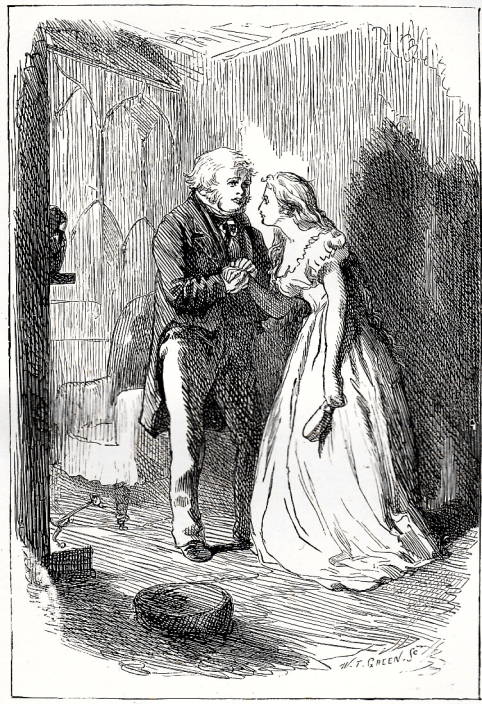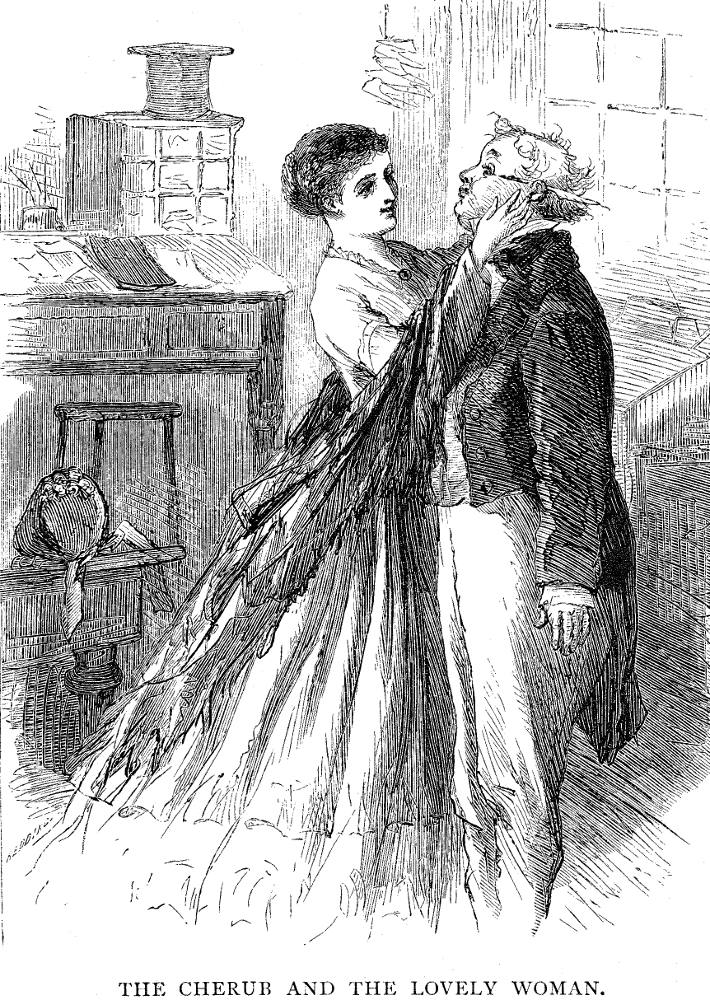 Left: Sol Eytinge, Junior's dual character study of the secretive "Rokesmith" and Bella Wilfer, John Harmon (1867). Centre: Marcus Stone's realisation of the scene between Bella and her father after she has quitted her privileged position at the Boffin mansion, The Lovely Woman has her Fortune Told (July 1865). Right: The Cherub and the Lovely Woman. (Book Three, Chapter 16; 1867). [Click on images to enlarge them.]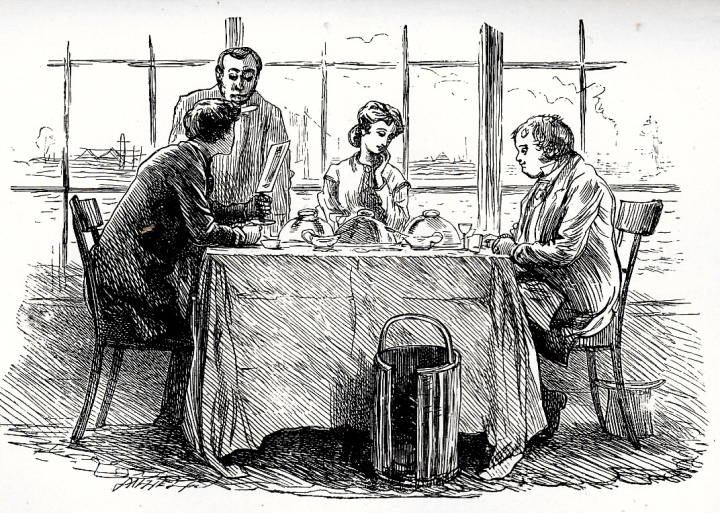 Above: Marcus Stone's interpretation of the scene at the waterfront's Ship Inn as Bella and her new husband dine with her father against a backdrop of Thames shipping, The Wedding Dinner at Greenwich (August 1865). [Click on the image to enlarge it.]
References
Bentley, Nicolas, Michael Slater, and Nina Burgis. The Dickens Index. New York and Oxford: Oxford U. P., 1990.
The Characters of Charles Dickens pourtrayed in a series of original watercolours by "Kyd." London, Paris, and New York: Raphael Tuck & Sons, n. d.
Cohen, Jane Rabb. "The Illustrators of Our Mutual Friend, and The Mystery of Edwin Drood: Marcus Stone, Charles Collins, Luke Fildes." Charles Dickens and His Original Illustrators. Canton: Ohio U. P., 1980. Pp. 203-228.
Darley, Felix Octavius Carr. Character Sketches from Dickens. Philadelphia: Porter and Coates, 1888.
Davis, Paul. Charles Dickens A to Z: The Essential Reference to His Life and Work. New York: Facts On File, 1998.
Dickens, Charles. Our Mutual Friend. Illustrated by Marcus Stone [40 ​composite wood-block engravings]. Volume 14 of the Authentic Edition of the Works of Charles Dickens. London: Chapman and Hall; New York: Charles Scribners' Sons, 1901 [based on the original nineteen-month serial and the two-volume edition of 1865].
Dickens, Charles. Our Mutual Friend. Illustrated by F. O. C. Darley and John Gilbert. The Works of Charles Dickens. The Household Edition. New York: Hurd and Houghton, 1866. Vol. 1.
Dickens, Charles. Our Mutual Friend. Illustrated by Sol Eytinge, Jr. The Works of Charles Dickens. The Illustrated Household Edition. Boston: Ticknor and Field; Lee and Shepard; New York: Charles T. Dillingham, 1870 [first published in The Diamond Edition, 1867].
Dickens, Charles. Our Mutual Friend. Illustrated by James Mahoney [58 composite wood-block engravings]. The Works of Charles Dickens. The Household Edition. London: Chapman and Hall' New York: Harper & Bros., 1875.
Grass, Sean. Charles Dickens's 'Our Mutual Friend': A Publishing History. Burlington, VT, and Farnham, Surrey: Ashgate, 2014.
Hammerton, J. A. "Chapter 21: The Other Novels." The ​​ Dickens Picture-Book. The Charles​Dickens Library Edition. London: Educational Book, 1910. Vol. 17. Pp.​441-442.
Kitton, Frederic G. Dickens and His Illustrators. (1899). Rpt. Honolulu: University of Hawaii, 2004.
Kyd [Clayton J. Clarke]. Characters from​ ​ Dickens. Nottingham: John Player & Sons, 1910.
"Our Mutual Friend — Fifty-eight Illustrations by James Mahoney." Scenes and Characters from the Works of Charles Dickens, Being Eight Hundred and Sixty-six Drawings by Fred Barnard, Gordon Thomson, Hablot Knight Browne (Phiz), J. McL. Ralston, J. Mahoney, H. French, Charles Green, E. G. Dalziel, A. B. Frost, F. A. Fraser, and Sir Luke Fildes. London: Chapman and Hall, 1907.
Queen's University, Belfast. "Charles Dickens's Our Mutual Friend, Clarendon Edition. Harper's New Monthly Magazine, June 1864-December 1865." Accessed 12 November 2105. http://www.qub.ac.uk/our-mutual-friend/witnesses/Harpers/Harpers.htm
Vann, J. Don. Victorian Novels in Serial. New York: Modern Language Association, 1985.
---
Last modified 9 January 2016