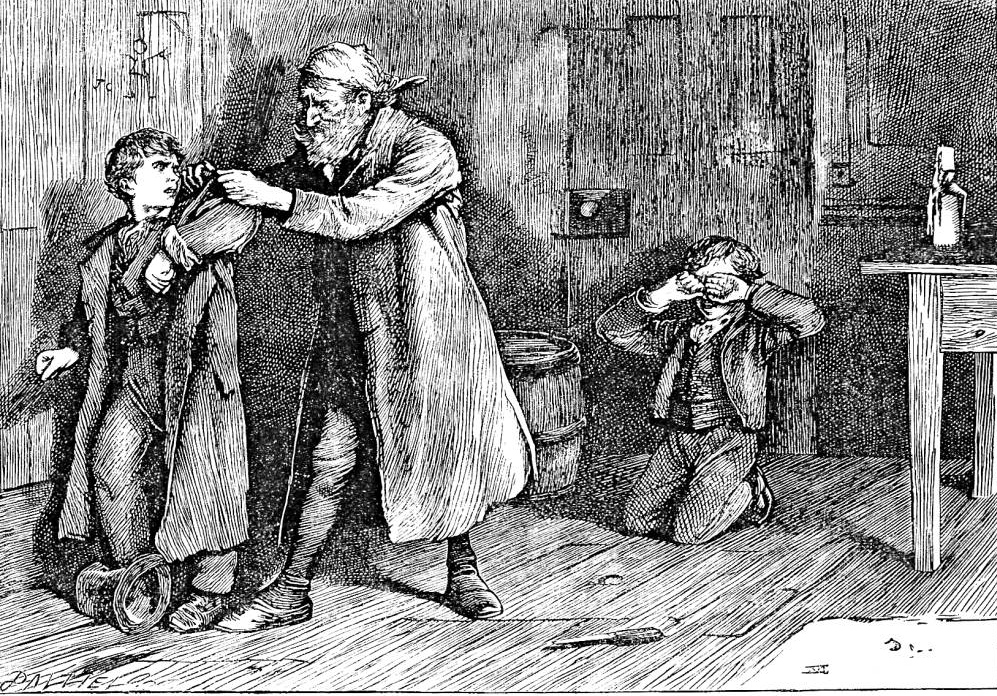 "What's become of the boy?", James Mahoney's interpretation of a scene that George Cruikshank did not illustrate, in which Fagin berates Jack Dawkins, otherwise known as "The Artful Dodger," and his partner in crime, Charley Bates, for losing Oliver when they were stealing a gentleman's silk handkerchief at The Green, Clerkenwell, in Dickens's The Adventures of Oliver Twist, Household Edition, page 41. 1871. Wood engraving by the Dalziels, 9.4 cm high by 13.8 cm wide. Having run away from The Artful Dodger and Charley Bates when they are concentrating on lifting a "cove's" property, a thug in a pursuing mob knocks Oliver down as he runs from the scene of the crime. Mistakenly apprehended as the thief, Oliver appears before Magistrate Fang, who peremptorily finds Oliver guilty, even though the victim, Mr. Brownlow, refuses to press charges. However, when the testimony of the bookstall owner exonerates Oliver, Fang releases the near-delirious "Tom White" (as Oliver has identified himself) into the custody of the kindly Mr. Brownlow. Meanwhile, in Chapter 13, the Dodger and Charley return to Fagin's lair from their ill-fated fishing expedition to Clerkenwell without their charge — much to Fagin's chagrin. Fagin now has to decide how to prevent Oliver's exposing the gang. Scanned image and text by Philip V. Allingham. [You may use this image without prior permission for any scholarly or educational purpose as long as you (1) credit the person who scanned the image and (2) link your document to this URL in a web document or cite it in a print one.]
Passage Illustrated
"Where's Oliver?" said the Jew, rising with a menacing look. "Where's the boy?"
The young thieves eyed their preceptor as if they were alarmed at his violence; and looked uneasily at each other. But they made no reply.
"What's become of the boy?" said the Jew, seizing the Dodger tightly by the collar, and threatening him with horrid imprecations. "Speak out, or I'll throttle you!"
Mr. Fagin looked so very much in earnest, that Charley Bates, who deemed it prudent in all cases to be on the safe side, and who conceived it by no means improbable that it might be his turn to be throttled second, dropped upon his knees, and raised a loud, well-sustained, and continuous roar — something between a mad bull and a speaking trumpet.
"Will you speak?" thundered the Jew: shaking the Dodger so much that his keeping in the big coat at all, seemed perfectly miraculous.
"Why, the traps have got him, and that's all about it," said the Dodger, sullenly. "Come, let go o' me, will you!" And, swinging himself, at one jerk, clean out of the big coat, which he left in the Jew's hands, the Dodger snatched up the toasting fork, and made a pass at the merry old gentleman's waistcoat; which, if it had taken effect, would have let a little more merriment out than could have been easily replaced. [Chapter 13, "Some new acquaintances are introduced to the intelligent reader, connected with whom, various pleasant matters are related, appertaining to this history," p. 43]
Commentary
In London, having unwittingly joined a gang of pickpockets, a scene strikingly presented in George Cruikshank's sequence of illustrations for the monthly instalments in Bentley's Miscellany, in the April 1837 steel engraving in Fagin's hideout, Oliver introduced to the respectable Old Gentleman, Oliver joins the leading felons, the Artful Dodger and Charley bates on an expedition. Shocked when he realizes the nature of their "trade," Oliver runs, and is mistaken for a pickpocket himself. The affair ends well for Oliver, whom Mr. Brownlow takes into his care at his mansion at Pentonville in Chapter 12, but less satisfactorily for the real thieves.
Whereas Cruikshank, in collaboration with Dickens himself, elected to realize the scene in which Mr. Brownlow and his kindly housekeeper, Mrs. Bedwin, attempt to make Oliver comfortable and speed his recuperation — Oliver recovering from the fever, Mahoney instead focuses on the consequences for Fagin, Charley, and the Dodger of Oliver's providential escape. Mahoney's Charley is suitably upset (right of centre), but plucky Jack Dawkins asserts himself against the tyranny of the old fence (left), as Fagin roughly grabs him by the sleeve. In the surrounding text, an "old gentleman" (41) of quite a different character and social station, likewise accoutered in a dressing gown, is cosetting the boys' erstwhile companion, temporarily at least freed from Fagin's clutches. Thus, in the Household Edition James Mahoney elicits the reader's sympathy for Fagin's instruments while displaying the master thief's real nature. However, Mahoney's treatment lacks entirely the humorous note that Dickens sounds throughout his description of events back at the gang's headquarters.
Although Sol Eytinge presents a much jollier pair of pickpockets in his dual portrait entitled The Artful Dodger and Charley Bates, Harry Furniss jumps ahead in the plot, realizing the scene in which Mr. Brownlow and his sardonic friend Mr. Grimwig are Waiting for Oliver to return after dropping off Mr. Brownlow's books to the book-seller in Clerkenwell, little realizing that Nancy and Sikes are already dragging Oliver back to Fagin's lair. In fact, like Felix Octavius Carr Darley, Furniss also offers the reader the scene in which the criminal couple apprehend Oliver, Oliver trapped by Nancy and Sikes, a scene based on a Cruikshank original, Oliver claimed by his affectionate friends.
Oliver's being given shelter by Mr. Brownlow by sheer Dickensian coincidence connects Oliver with his father's best friend, and advances the plot significantly. Moreover, Oliver's escape from Fagin's clutches, even temporarily, eventually undermines Monks's plans to absorb his half-brother into the criminal underworld of London, never to appear in respectable society again — and probably fated to die on the gallows or be transported.
Illustrations from the Serial (1837), the Diamond Edition (1867), and the Charles Dickens Library Edition (1910)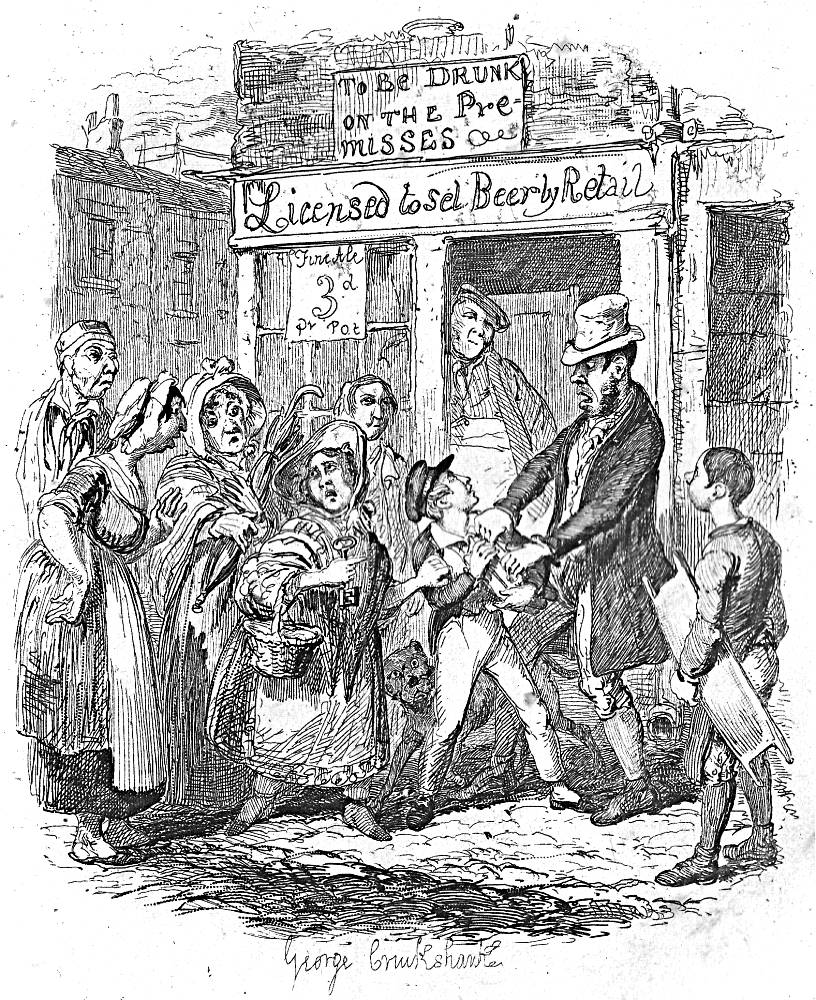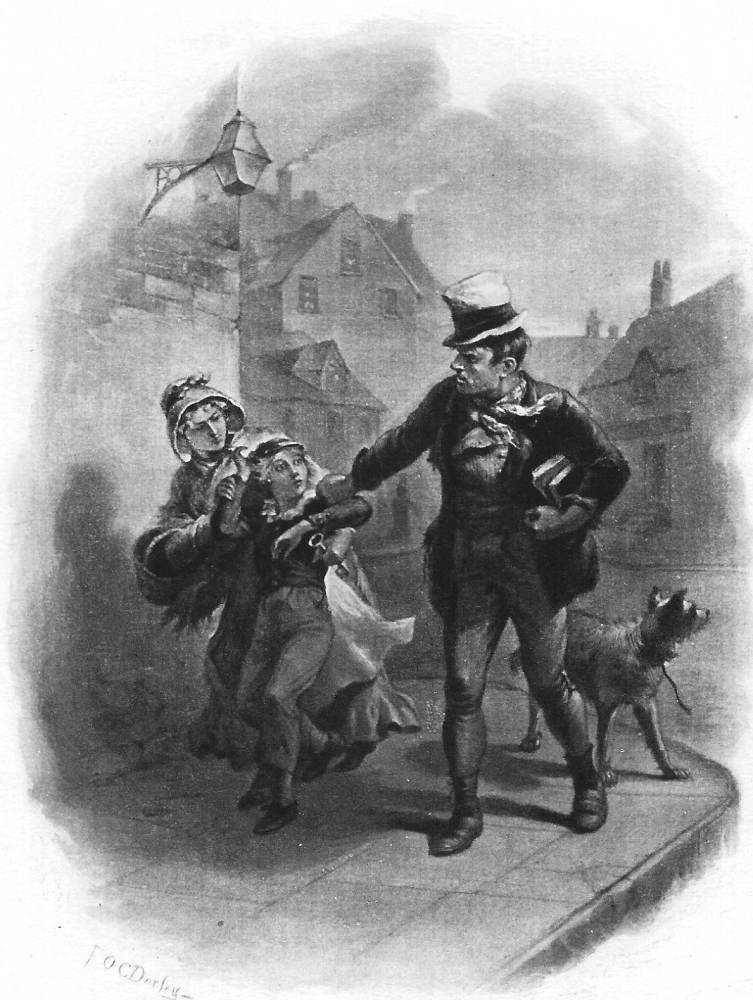 Left: Harry Furniss's Waiting for Oliver (1910). Centre: George Cruikshank's Oliver claimed by his affectionate friends. Right: Felix Octavius Carr Darley's 1888 engraving Sikes, Nancy, and Oliver Twist. [Click on images to enlarge them.]
References
Bentley, Nicolas, Michael Slater, and Nina Burgis. The Dickens Index. New York and Oxford: Oxford U. P., 1990.
Darley, Felix Octavius Carr. Character Sketches from Dickens. Philadelphia: Porter and Coates, 1888.
Davis, Paul. Charles Dickens A to Z: The Essential Reference to His Life and Work. New York: Facts On File, 1998.
Dickens, Charles. Oliver Twist. Illustrated by George Cruikshank. London: Bradbury and Evans; Chapman and Hall, 1846.
Dickens, Charles. Oliver Twist. Works of Charles Dickens. Household Edition. 55 vols. Il. F. O. C. Darley and John Gilbert. New York: Sheldon and Co., 1865.
Dickens, Charles. Oliver Twist. Works of Charles Dickens. Diamond Edition. 18 vols. Illustrated by Sol Eytinge, Jr. Boston: Ticknor and Fields, 1867.
Dickens, Charles. The Adventures of Oliver Twist. Works of Charles Dickens. Household Edition. Illustrated by James Mahoney. London: Chapman and Hall, 1871.
Dickens, Charles. Oliver Twist. Works of Charles Dickens. Charles Dickens Library Edition. Illustrated by Harry Furniss. London: Educational Book Company, 1910.
---
Last modified 2 December 2014