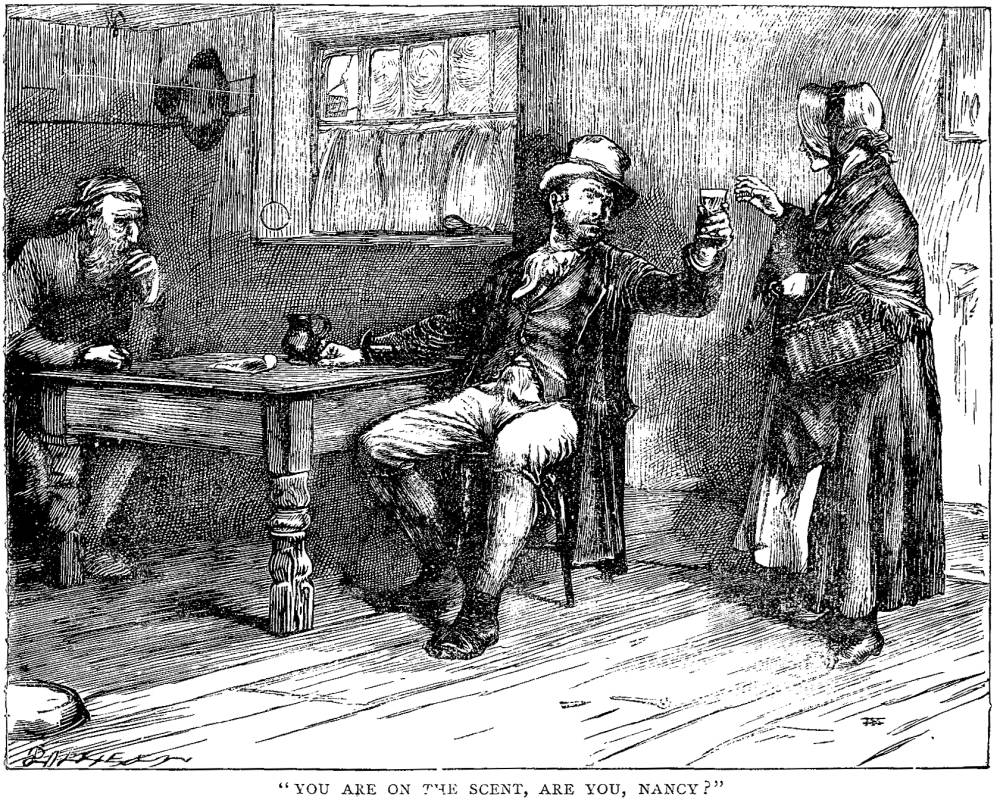 "You are on the scent, are you, Nancy?" — James Mahoney's introduction to the novel's principal criminal couple, the brutal housebreaker in the unique white hat, Bill Sikes (centre), and his doxy or common-law wife, the prostitute Nancy, both of whom appear first in the George Cruikshank sequence of 1837-38 in the scene involving the gang's re-apprehension of Oliver, Oliver claimed by his affectionate friends — who, of course, are quite the opposite of friendly and affectionate, but prove highly plausible actors feigning these qualities in order to convince the crowd outside the public house that Nancy is Oliver's sister. The scene of Mahoney's illustration is another one of Fagin's hideouts, "a low public-house, in the filthiest part of Little Saffron Hill" (52), one of the poorest and most lawless districts of Regency London, in Dickens's The Adventures of Oliver Twist, Household Edition, page 49. 1871. Wood engraving by the Dalziels, 10.6 cm high by 13.8 cm wide. Having run away from The Artful Dodger and Charley Bates when they are lifting a "cove's" handkerchief, apprehended as a thief himself, Oliver appears before Magistrate Fang, who reluctantly releases Oliver into the custody of the kindly Mr. Brownlow after the bookseller has exonerated the boy of the charge. Meanwhile, in Chapter 13, the Dodger and Charley return to Fagin's lair from their ill-fated fishing expedition to Clerkenwell without their charge — much to Fagin's chagrin. Fagin now enlists the burglar Bill Sikes and his partner to abduct Oliver and prevent his exposing the gang. Scanned image and text by Philip V. Allingham. [You may use this image without prior permission for any scholarly or educational purpose as long as you (1) credit the person who scanned the image and (2) link your document to this URL in a web document or cite it in a print one.]
Passage Illustrated
"Is anybody here, Barney?" inquired Fagin; speaking, now that Sikes was looking on, without raising his eyes from the ground.
"Dot a shoul," replied Barney; whose words: whether they came from the heart or not: made their way through the nose.
"Nobody?" inquired Fagin, in a tone of surprise: which perhaps might mean that Barney was at liberty to tell the truth.
"Dobody but Biss Dadsy," replied Barney.
"Nancy!" exclaimed Sikes. "Where? Strike me blind, if I don't honour that 'ere girl, for her native talents."
"She's bid havid a plate of boiled beef id the bar," replied Barney.
"Send her here," said Sikes, pouring out a glass of liquor. "Send her here."
Barney looked timidly at Fagin, as if for permission; the Jew remaining silent, and not lifting his eyes from the ground, he retired; and presently returned, ushering in Nancy; who was decorated with the bonnet, apron, basket, and street-door key, complete.
"You are on the scent, are you, Nancy?" inquired Sikes, proffering the glass.
"Yes, I am, Bill," replied the young Lady, disposing of its contents; "and tired enough of it I am, too. The young brat's been ill and confined to the crib; and —"
"Ah, Nancy, dear!" said Fagin, looking up.
Now, whether a peculiar contraction of the Jew's red eyebrows, and a half-closing of his deeply-set eyes, warned Miss Nancy that she was disposed to be too communicative, is not a matter of much importance. The fact is all we need care for here; and the fact is, that she suddenly checked herself, and with several gracious smiles upon Mr. Sikes, turned the conversation to other matters. In about ten minutes' time, Mr. Fagin was seized with a fit of coughing; upon which Nancy pulled her shawl over her shoulders, and declared it was time to go. Mr. Sikes, finding that he was walking a short part of her way himself, expressed his intention of accompanying her; they went away together, followed, at a little distance, by the dog, who slunk out of a back-yard as soon as his master was out of sight. [Chapter 15 "Showing how very fond of Oliver Twist, the merry old Jew and Miss Nancy were," p. 53]
Commentary
In London, having unwittingly joined a gang of pickpockets, a scene strikingly presented in George Cruikshank's sequence of illustrations for the monthly instalments in Bentley's Miscellany, in the April 1837 steel engraving in Fagin's hideout, Oliver introduced to the respectable Old Gentleman, Oliver joins the leading felons, the Artful Dodger and Charley bates on an expedition. Shocked when he realizes the nature of their "trade," Oliver runs, and is mistaken for a pickpocket himself. The affair ends well for Oliver, whom Mr. Brownlow takes into his care at his mansion at Pentonville in Chapter 12, but less satisfactorily for the real thieves.
Whereas Cruikshank, in collaboration with Dickens himself, elected to realize the scene in which Nancy and Bill Sikes abduct Oliver on his way to Mr. Brownlow's book-seller with a package of books, Oliver claimed by his affectionate friends, Mahoney instead introduces the villainous couple prior to their recapturing the boy at Clerkenwell, underscoring the fact that the couple are acting as Fagin's agents. Thus, in the Household Edition James Mahoney reveals that, early on, Oliver seems to be the object of behind-the-scenes machinations orchestrated by the master-thief, preparing the reader for the compact between Oliver's half-brother, Monks, and Fagin.
Although Sol Eytinge presents a thoroughly disreputable, ill-kempt, and disconsolate couple in his dual character study entitled Bill Sikes and Nancy, realising them as they appear after the botched robbery, in Chapter 39, Felix Octavius Carr Darley in his 1888 Character Sketches from Dickens, revises in a much more realistic manner the original Cruikshank interpretation of the abduction scene in Sikes, Nancy, and Oliver Twist. In contrast to Mahoney, Harry Furniss reprises the Cruikshank abduction scene in Oliver trapped by Nancy and Sikes, a dynamic and baroque treatment of the original, with Sikes approaching from the right as, left, Nancy grabs Oliver.
Although Mahoney's treatment of the conspiracy is far more low-key than the energetic anduction scenes by the other illustrators of the novel, it establishes the connection between the confederates — and Fagin's reticence to be completely honest about the matter of Oliver with Sikes, whose powerful form dominates the illustration and marginalizes Fagin's. There is nothing particularly wanton or sharp about Nancy in the Mahoney illustration, as she hardly matches our conception of a London prostitute of the period — although the bonnet, room-key, apron, and basket are exactly as Dickens describes, respectable accoutrements of a woman of questionable integrity. Significantly, Mahoney hides her face from the viewer as she is being duplicitous with Sikes at Fagin's signal. The illustrator intimates that Sikes keeps her supplied with liquor, and that the couple may be addicted to alcohol. It is even possible that Mahoney is implying that the burly Bill is her pimp.
Illustrations from the Serial (1837), the Charles Dickens Library Edition (1910) and
Characters Sketches from Dickensbook

(1888)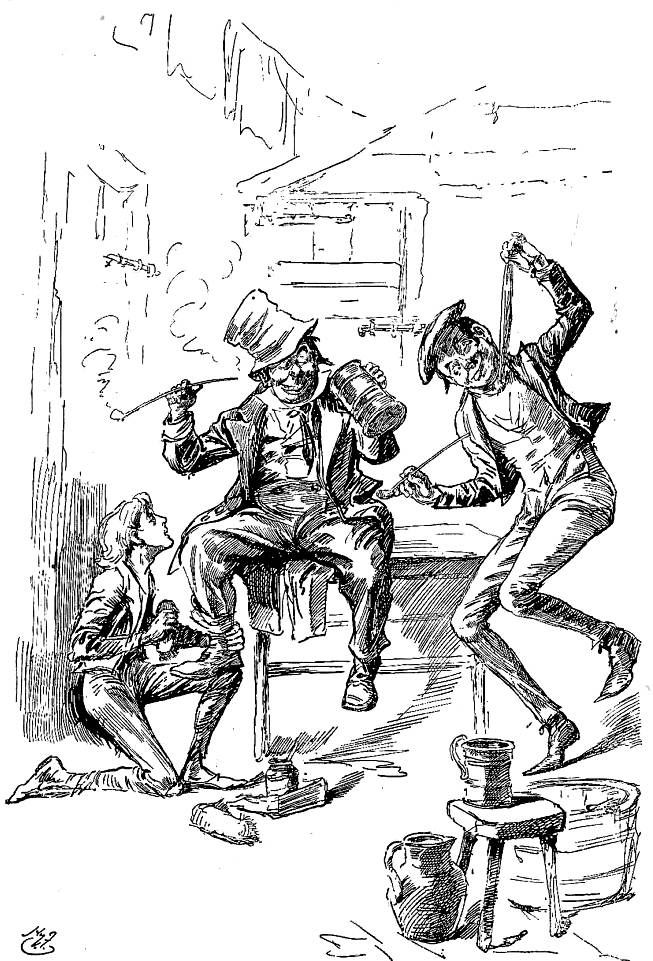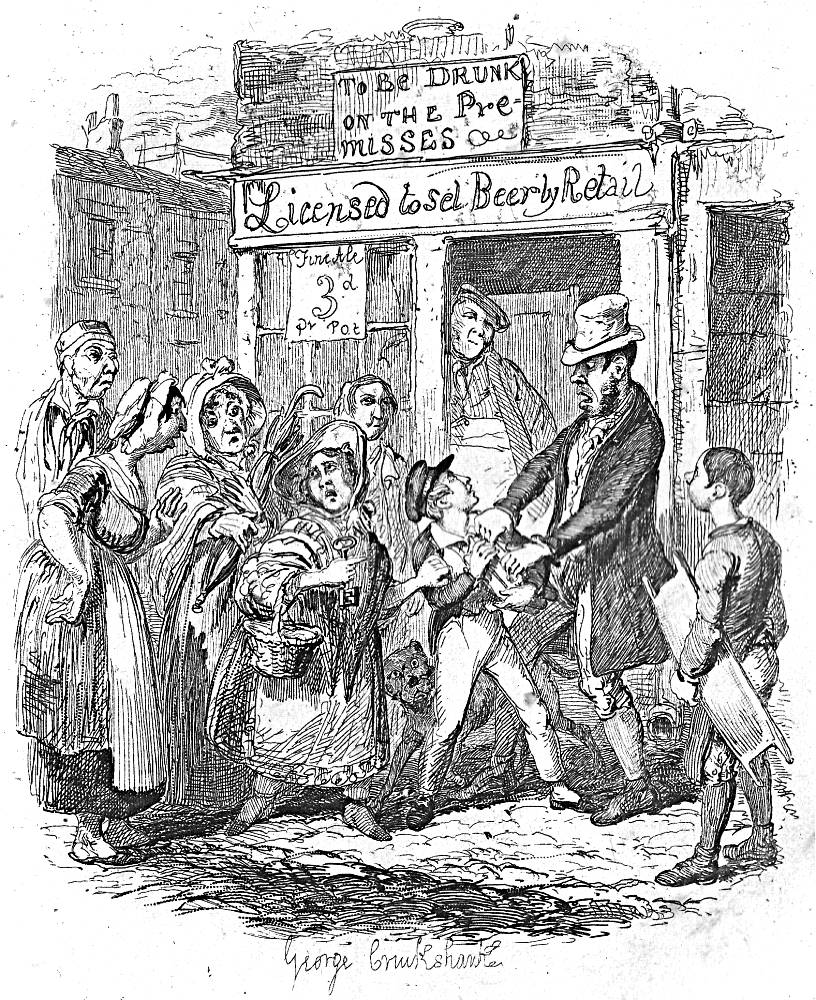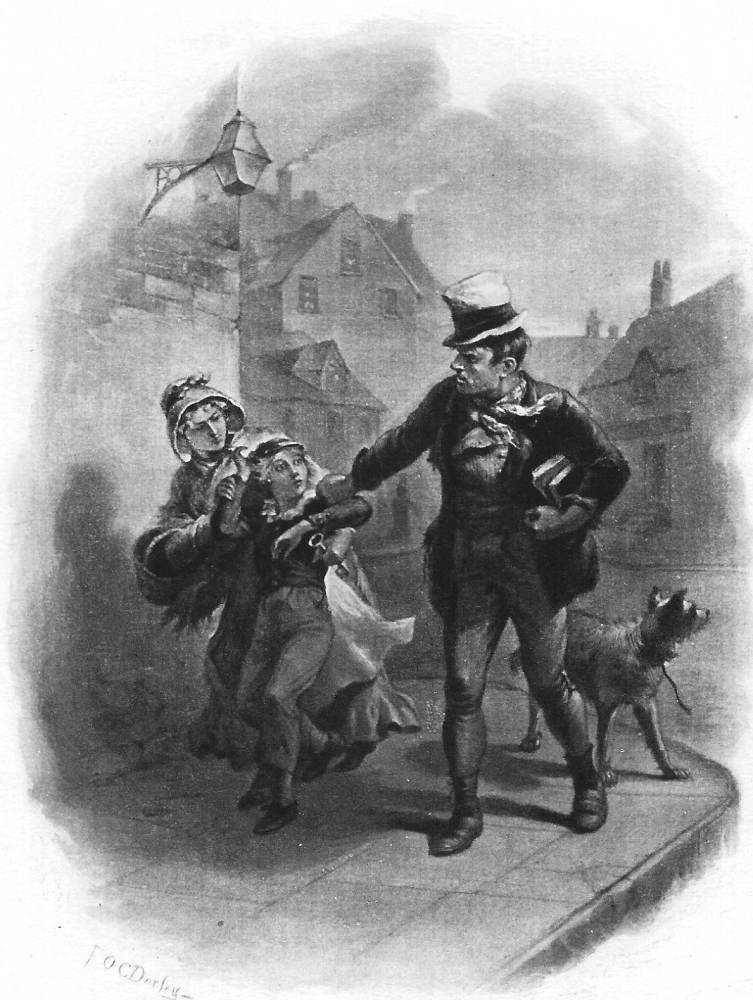 Left: Harry Furniss's Oliver trapped by Nancy and Sikes (1910). Centre: George Cruikshank's Oliver claimed by his affectionate friends. Right: Felix Octavius Carr Darley's 1888 engraving Sikes, Nancy, and Oliver Twist. [Click on images to enlarge them.]
References
Bentley, Nicolas, Michael Slater, and Nina Burgis. The Dickens Index. New York and Oxford: Oxford U. P., 1990.
Darley, Felix Octavius Carr. Character Sketches from Dickens. Philadelphia: Porter and Coates, 1888.
Davis, Paul. Charles Dickens A to Z: The Essential Reference to His Life and Work. New York: Facts On File, 1998.
Dickens, Charles. Oliver Twist. Illustrated by George Cruikshank. London: Bradbury and Evans; Chapman and Hall, 1846.
Dickens, Charles. Oliver Twist. Works of Charles Dickens. Household Edition. 55 vols. Il. F. O. C. Darley and John Gilbert. New York: Sheldon and Co., 1865.
Dickens, Charles. Oliver Twist. Works of Charles Dickens. Diamond Edition. 18 vols. Illustrated by Sol Eytinge, Jr. Boston: Ticknor and Fields, 1867.
Dickens, Charles. The Adventures of Oliver Twist. Works of Charles Dickens. Household Edition. Illustrated by James Mahoney. London: Chapman and Hall, 1871.
Dickens, Charles. Oliver Twist. Works of Charles Dickens. Charles Dickens Library Edition. Illustrated by Harry Furniss. London: Educational Book Company, 1910.
---
Last modified 4 December 2014