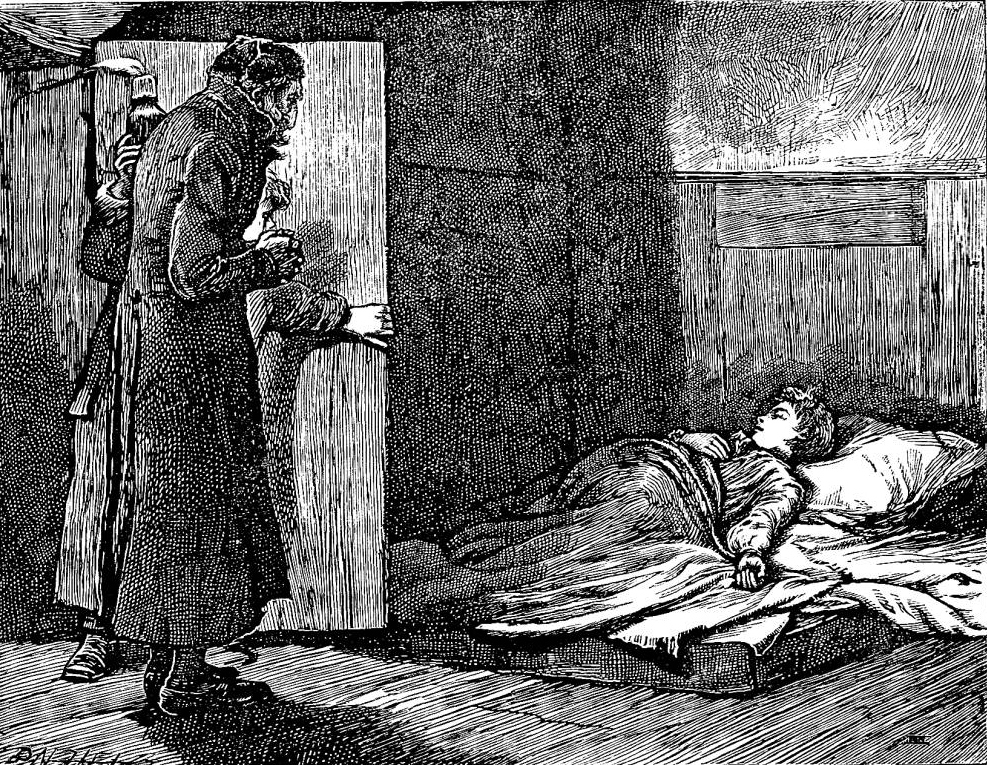 "The boy was lying, fast asleep, on a rude bed upon the floor." — James Mahoney's eleventh illustration, intended to prepare readers of the Household Edition for Fagin's lending Oliver to housebreaker Bill Sikes to assist in the ill-fated robbery at Chertsey in Surrey. In the original narrative-pictorial serial sequence by George Cruikshank in Bentley's Miscellany, the serial reader encountered a similar scene of the sleeping Oliver as the subject of an adult discussion: the image of the upper-class villain "Monks" (the alias of Edward Leeford, Oliver's half-brother) and Fagin in the June 1838 illustration Monks and the Jew at the Maylies' home in Chertsey. In the Mahoney scene, however, we are still witnessing events leading up to the attempted robbery of the Maylies' home in Surrey, in Dickens's The Adventures of Oliver Twist, Household Edition, page 65. 1871. Wood engraving by the Dalziels, 10.5 cm high by 13.8 cm wide. In the Mahoney illustration, the slightly menacing figures of the Dodger (obscured, holding aloft a torch, left) and his superior, Fagin (centre, still in his coat after walking home) are actually inside Oliver's bedroom, rather than, as in the Cruikshank illustration of the later scene, looking in from the garden. These scenes underscore Oliver's being a pawn in others' plans. Scanned image and text by Philip V. Allingham. [You may use this image without prior permission for any scholarly or educational purpose as long as you (1) ​ ​ credit the person who scanned the image and (2) link your document to this URL in a web ​ ​ document or cite it in a print one.]
Passage Illustrated
Beguiling the time with these pleasant reflections [after visiting Bill Sikes], Mr. Fagin wended his way, through mud and mire, to his gloomy abode: where the Dodger was sitting up, impatiently awaiting his return.
"Is Oliver a-bed? I want to speak to him," was his first remark as they descended the stairs.
"Hours ago," replied the Dodger, throwing open a door. "Here he is!"
The boy was lying, fast asleep, on a rude bed upon the floor; so pale with anxiety, and sadness, and the closeness of his prison, that he looked like death; not death as it shows in shroud and coffin, but in the guise it wears when life has just departed; when a young and gentle spirit has, but an instant, fled to Heaven, and the gross air of the world has not had time to breathe upon the changing dust it hallowed.
"Not now," said the Jew, turning softly away. "To-morrow. To-morrow."
[Chapter 19, "In Which a Notable Plan is Discussed and Determined On," p. 72]
Commentary
The scene of Mahoney's eleventh wood-engraving is Oliver's room where he has been a solitary prisoner in Fagin's hideout since his abduction by Nancy and Bill Sikes. Whereas George Cruikshank, in collaboration with Dickens himself, focuses on dynamic group scenes that depict the return of Oliver to the gang's hideout and his reassimilation into the criminal subculture, Oliver's reception by Fagin and the Boys in Chapter 16 and Master Bates explains a professional technicality in Chapter 18, James Mahoney in the Household Edition, having reminded the reader of the benevolent characters who are trying to locate Oliver after his mysterious disappearance in Chapter 15 in "A beadle! A parish beadle, or I'll eat my head", now reifies Oliver's danger of becoming part of the criminal underworld of Fagin and Sikes. The present illustration anticipates not merely the closing of Chapter 19, some seven pages later, but also Fagin's preparing Oliver for the role he will play in the robbery by cautioning the boy about Sikes's violent nature if he is crossed:
"Take heed, Oliver! take heed!" said the old man, shaking his right hand before him in a warning manner. "He's a rough man, and thinks nothing of blood when his own is up. Whatever falls out, say nothing; and do what he bids you. Mind!" [Chapter 20, "Wherein Oliver is Delivered over to Mr. William Sikes," p. 72]
Although four years earlier Sol Eytinge had presented a portrait of the old friends who are trying to effect Oliver's reclamation in his dual character study entitled Mr. Brownlow and Mr. Grimwig, realising them as they appear while Oliver is on his errand to return the books, Mahoney presents the pair as serious Pickwicks, interrogating the venial beadle, Mr. Bumble, before realizing this scene at the close of Chapter 19. In contrast to James Mahoney, some forty years later Harry Furniss for Chapters 19 and 20 in the Charles Dickens Library Edition underscores Sikes's determined and brutal nature in a grim character study, Bill Sikes, and in a realization of the scene in which the burglar commands Oliver's obedience in the forthcoming expedition to Chertsey, Oliver in the Grip of Sikes, in which in Chapter 20 the burglar holds a cocked pistol to the boy's head, and Nancy articulates the threat should Oliver even speak when in company with Sikes he is approaching or leaving the object of the raid.
Although Mahoney's treatment of the threats to Oliver does not contribute much artistically to the reader's assessment of Dawkins and Fagin, the plate — situated in Chapter 18 (when Fagin's is resocializing Oliver to the gang) but realising a scene seven pages later, in Chapter 19 — anticipates the danger in which the robbery will place Oliver, and perhaps even foreshadows Dickens's revealing the criminal conspiracy of Monks and Fagin to prevent Oliver's ever claiming his lawful estate and being reunited with his father's friend, Mr. Brownlow, and his mother's sister, Rose Maylie (shortly to be introduced to the text). The eleventh illustration emphasizes Oliver's passivity: a prisoner of the gang once again, the protagonist is powerless to affect the course of events about to unfold. Rather, these are a matter of Providence, which will abort the robbery in order to reunite the boy with his mother's sister, Rose Maylie, adopted by the wealthy family in Chertsey.
Relevant Illustrations from the Serial (1837) and the Charles Dickens Library Edition (1910)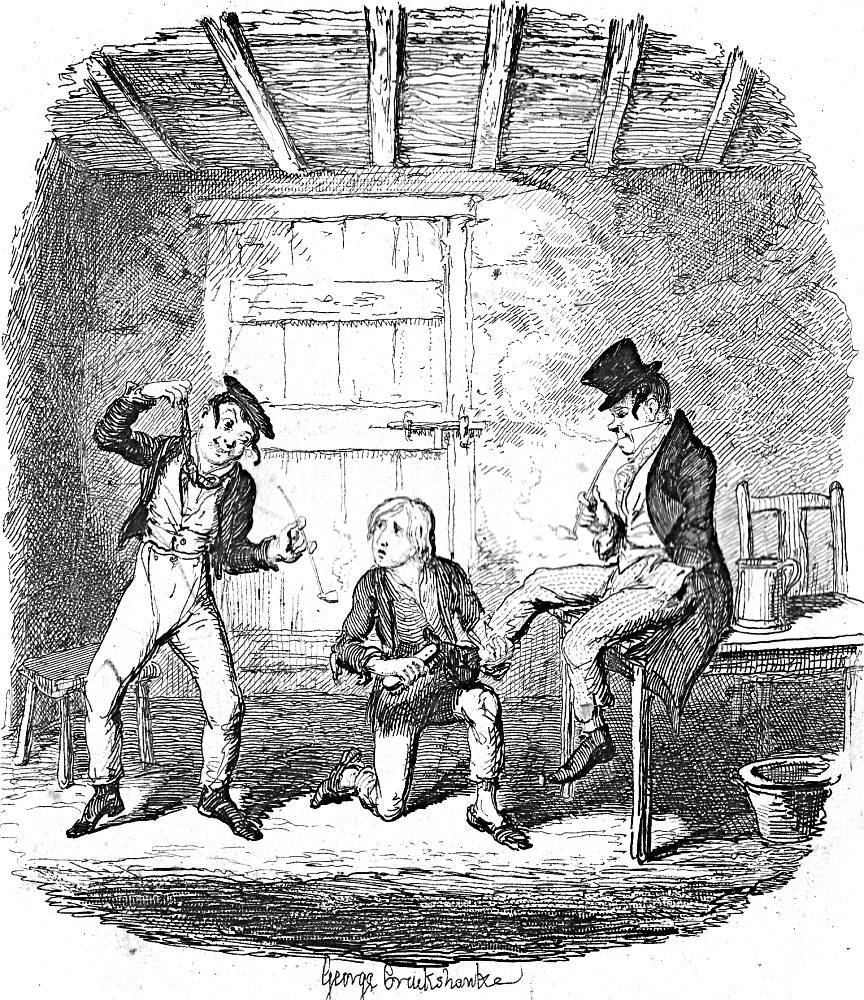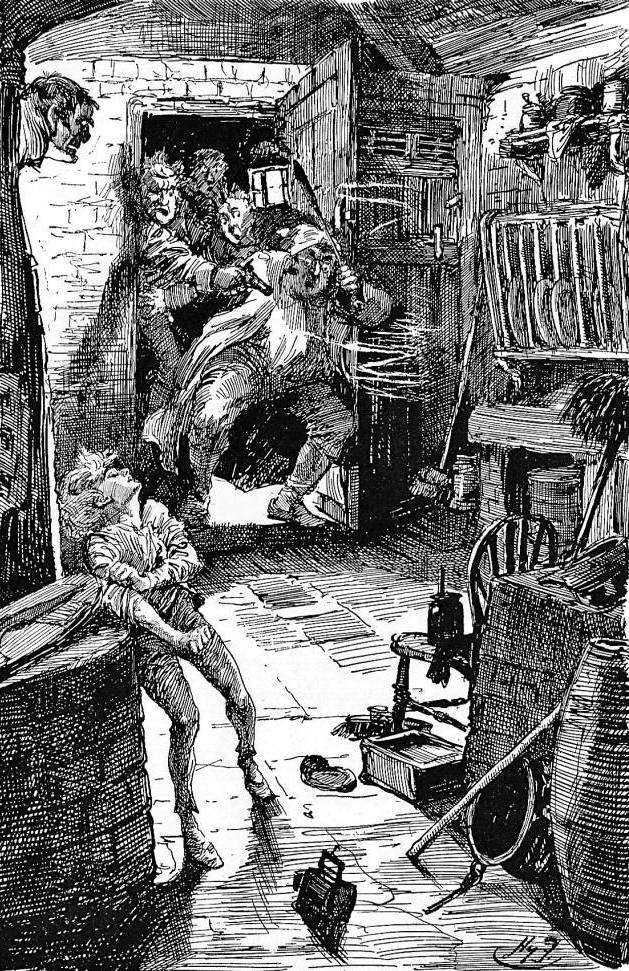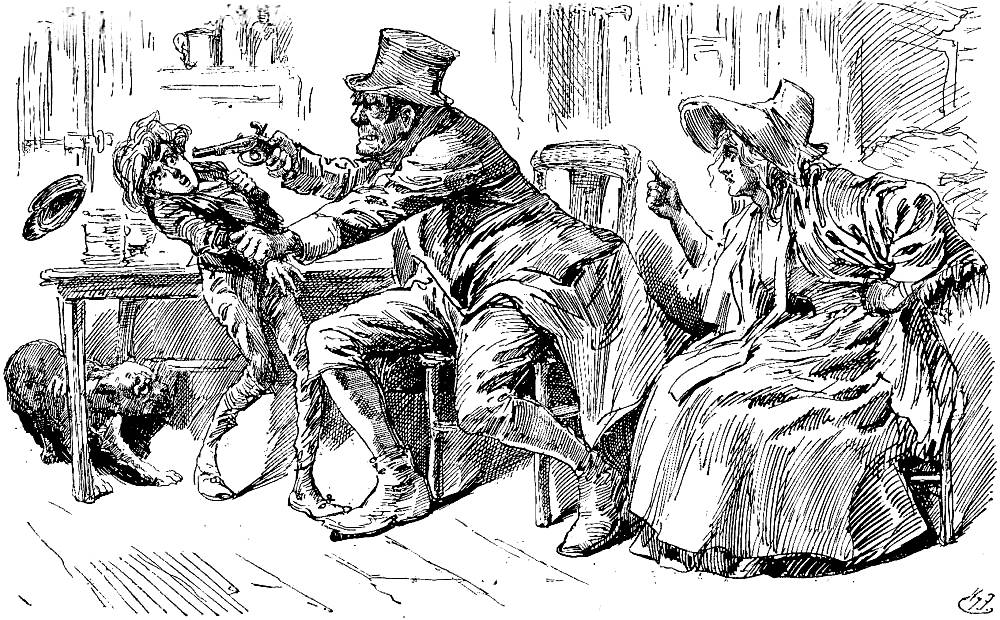 Left: George Cruikshank's Master Bates explains a professional technicality. Centre: Harry Furniss's Oliver in the Grip of Sikes (1910). Right: Harry Furniss's Bill Sikes (1910). [Click on images to enlarge them.]
References
Bentley, Nicolas, Michael Slater, and Nina Burgis. The Dickens Index. New York and Oxford: Oxford U. P., 1990.
Darley, Felix Octavius Carr. Character Sketches from Dickens. Philadelphia: Porter and Coates, 1888.
Davis, Paul. Charles Dickens A to Z: The Essential Reference to His Life and Work. New York: Facts On File, 1998.
Dickens, Charles. Oliver Twist. Illustrated by George Cruikshank. London: Bradbury and Evans; Chapman and Hall, 1846.
Dickens, Charles. Oliver Twist. Works of Charles Dickens. Household Edition. 55 vols. Il. F. O. C. Darley and John Gilbert. New York: Sheldon and Co., 1865.
Dickens, Charles. Oliver Twist. Works of Charles Dickens. Diamond Edition. 18 vols. Illustrated by Sol Eytinge, Jr. Boston: Ticknor and Fields, 1867.
Dickens, Charles. The Adventures of Oliver Twist. Works of Charles Dickens. Household Edition. Illustrated by James Mahoney. London: Chapman and Hall, 1871.
Dickens, Charles. Oliver Twist. Works of Charles Dickens. Charles Dickens Library Edition. Illustrated by Harry Furniss. London: Educational Book Company, 1910.
---
Last modified 7​December 2014