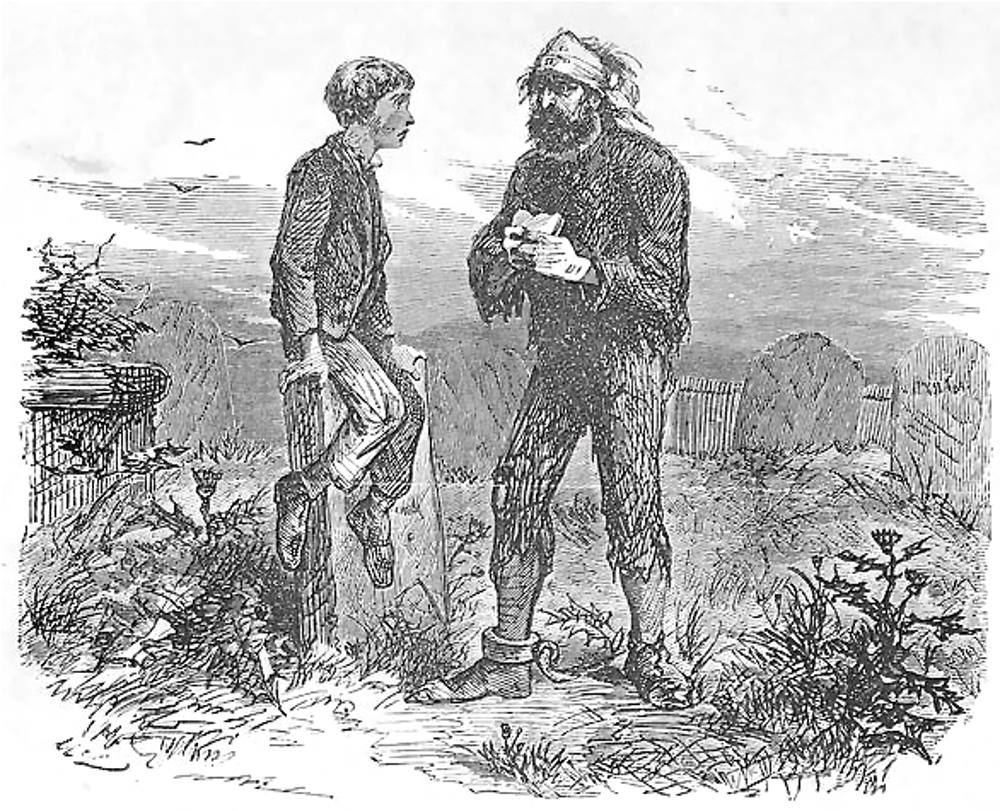 "You young dog!" said the man, licking his lips at me, "What fat cheeks you ha' got!" (page 740) — second wood-engraving for Charles Dickens's Great Expectations, first published in Harper's Weekly for 24 November 1860, Chapter I. 10 cm high by 12 cm wide (3 ⅞ by 4 ¾ inches), vignetted. Plate 1, facing p. 22, in the T. B. Peterson (Philadelphia) single-volume edition of 1861. [Click on the images to enlarge them.]
Passage Illustrated: Terrifying Encounter in the Village Churchyard
"You young dog," said the man, licking his lips, "what fat cheeks you ha' got."
I believe they were fat, though I was at that time undersized for my years, and not strong.
"Darn me if I couldn't eat 'em," said the man, with a threatening shake of his head, "and if I han't half a mind to't!"
I earnestly expressed my hope that he wouldn't, and held tighter to the tombstone on which he had put me; partly, to keep myself upon it; partly, to keep myself from crying.
"Now lookee here!" said the man. "Where's your mother?"
"There, sir!" said I.
He started, made a short run, and stopped and looked over his shoulder.
"There, sir!" I timidly explained. "Also Georgiana. That's my mother."
"Oh!" said he, coming back. "And is that your father alonger your mother?"
"Yes, sir," said I; "him too; late of this parish."
"Ha!" he muttered then, considering. "Who d'ye live with, — supposin' you're kindly let to live, which I han't made up my mind about?" [Chapter I, 740]
Commentary: The Darwinian Ethos Exemplified: Kill or Be Killed
Following up on his atmospheric headnote vignette for Chapter One McLenan realizes the menacing speech of the self-proclaimed would-be cannibal, which makes his Darwinian identity abundantly clear. Magwitch's first objective, then, is sustenance, but his second (embodied in the file he demands that Pip steal) is almost as important: freedom of movement. Released from the shackles, he will be better able to travel, and will not be marked immediately in curious villagers' eyes as an escaped convict "on the lamb." No wonder, then, that every screenwriter and film-director has chosen to open with this scene as the keynote. And what a providential coincidence: Pip as the blacksmith's brother-in-law has ready access to a file.
Other editions' illustrations for this same chapter (1860-1910)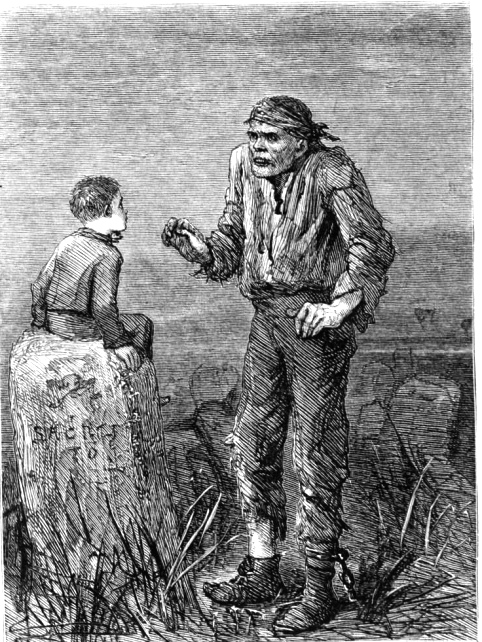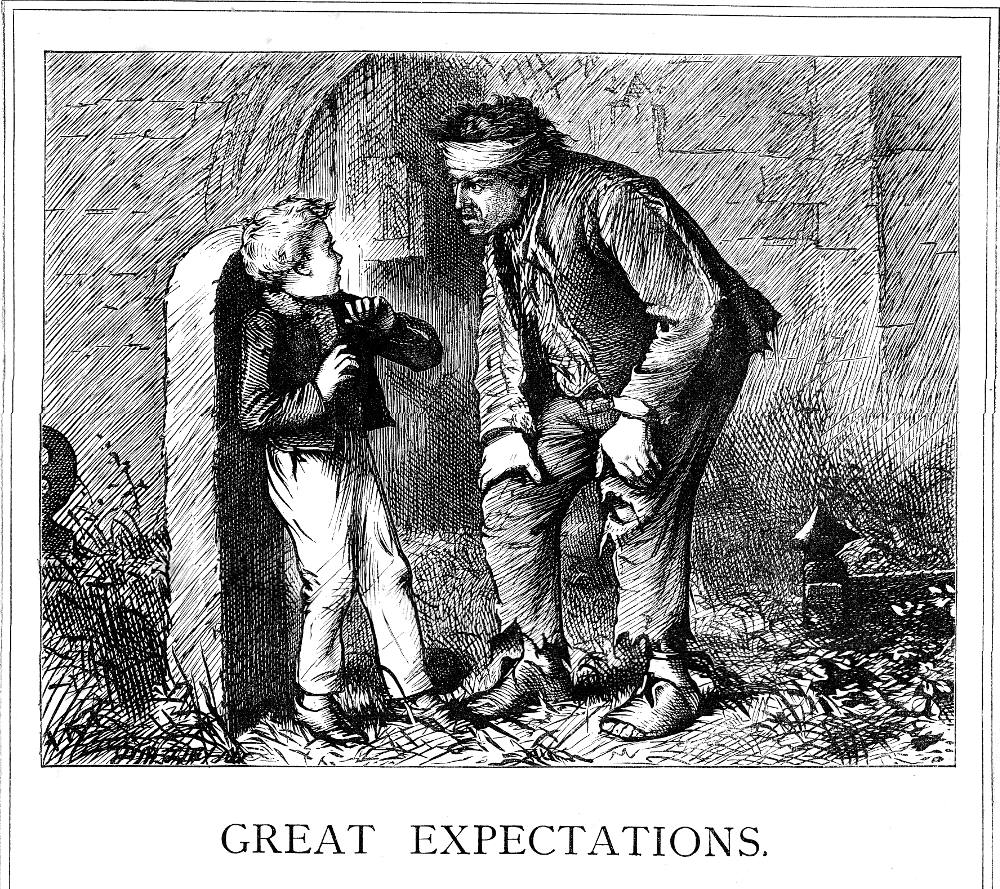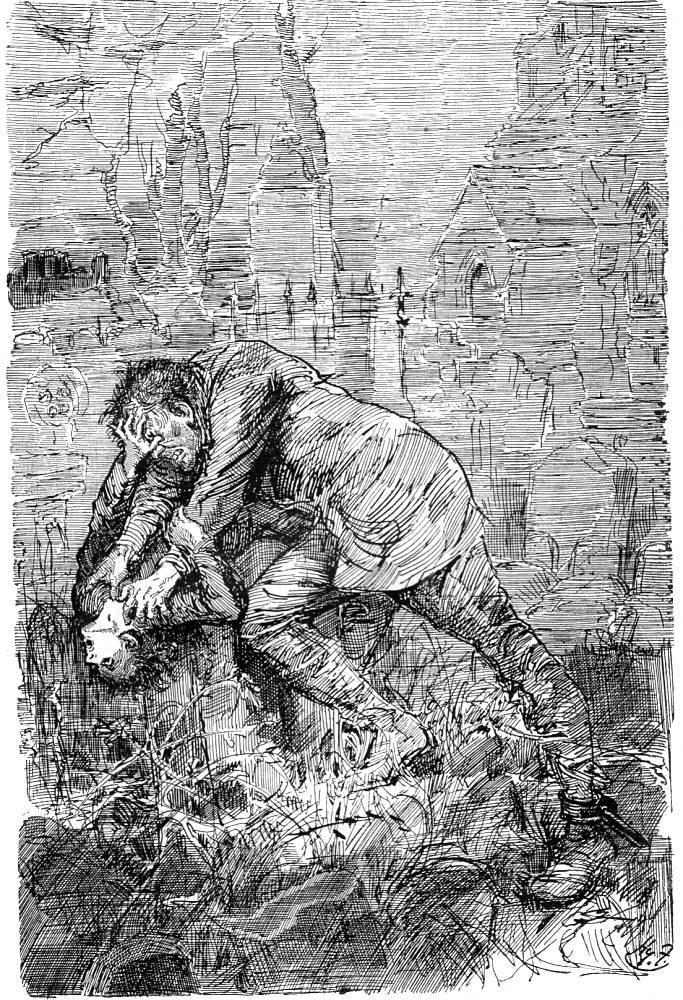 Left: Pip and the Convict (1867), frontispiece for the Diamond Edition by Sol Eytinge, Jr. Centre: In the Household Edition British illustrator F. A. Fraser sets the confrontation of the ragged convict and the terrified child against the headstone of Pip's parents: "And you know what wittles is?" (1876). Right: Harry Furniss's 1910 lithographic depiction of the encounter is far more violent and sensational: Pip's Struggle with the Escaped Convict, in the Charles Dickens Library Edition, Vol. 14.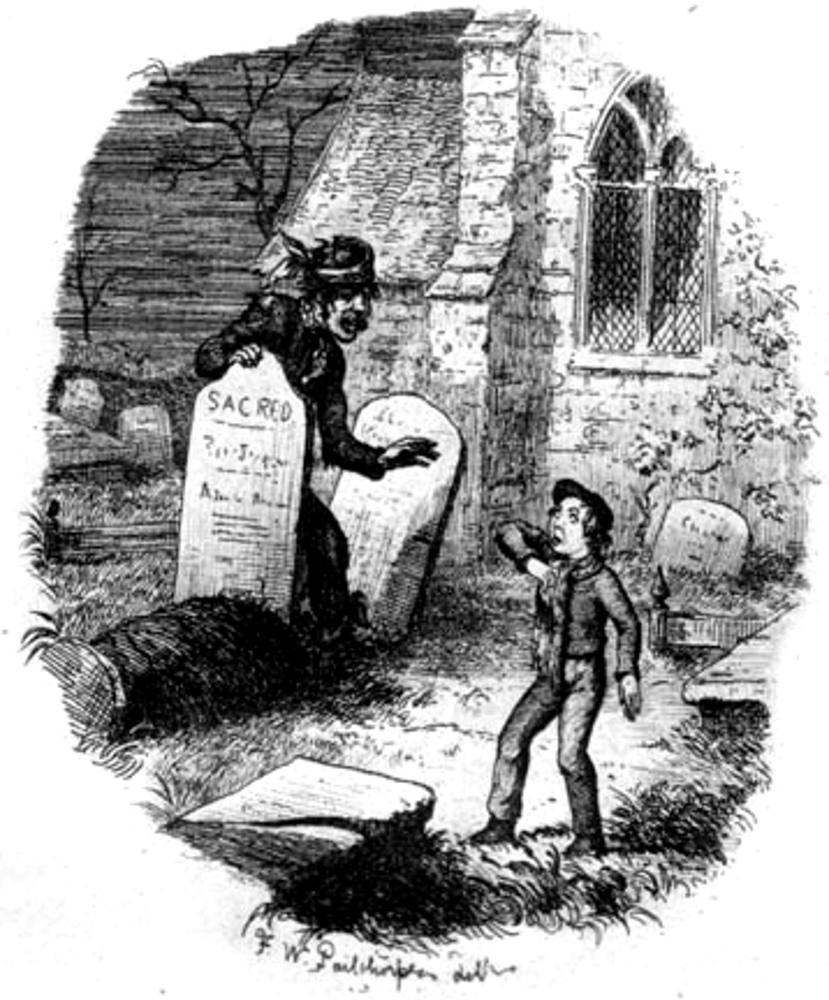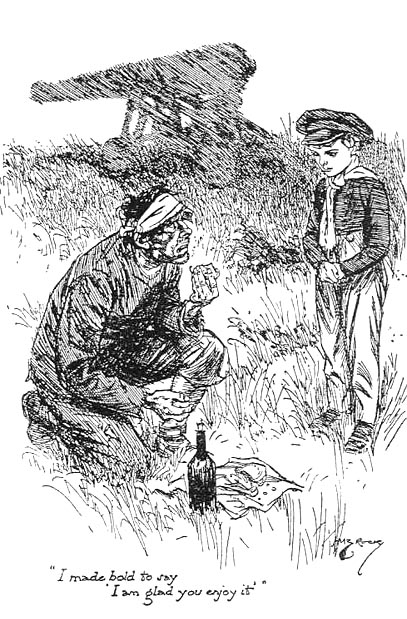 Left: F. W. Pailthorpe's "Terrible Stranger in the Churchyard." Right: H. M. Brock's "I made bold to say 'I am glad you enjoy it'".
Related Material, Including Penal Transportation and Film Adaptations
Other Artists' Illustrations for Dickens's
Great Expectations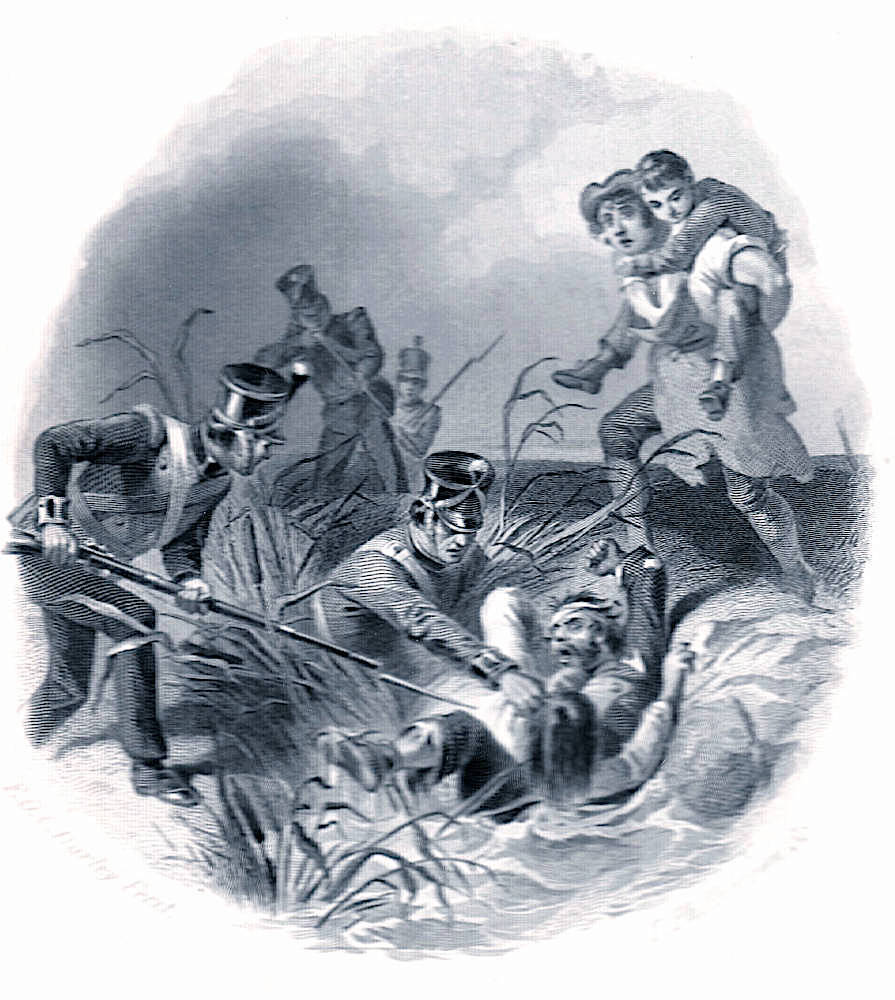 Scanned images and text by Philip V. Allingham. [You may use these images without prior permission for any scholarly or educational purpose as long as you (1) credit the photographer and (2) link your document to this URL in a web document or cite the Victorian Web in a print one.]
Bibliography
Allingham, Philip V. "The Illustrations for Great Expectations in Harper's Weekly (1860-61) and in the Illustrated Library Edition (1862) — 'Reading by the Light of Illustration'." Dickens Studies Annual, Vol. 40 (2009): 113-169.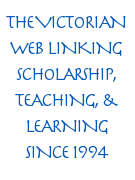 _______. "'We Can Now See That the Days of Illustrated Novels Were Drawing to an End' — Not So." The Dickens Magazine. Haslemere, Surrey: Bishops Printers. Series 1, Issue 3, pp. 6-7.
Dickens, Charles. Great Expectations. Harper's Weekly: A Journal of Civilization. Illustrated by John McLenan. Vol. IV-V (24 November 1860 through 3 August 1861).
______. ("Boz."). Great Expectations. With thirty-four illustrations from original designs by John McLenan. Philadelphia: T. B. Peterson (by agreement with Harper & Bros., New York), 1861.
______. Great Expectations. Volume 6 of the Household Edition. Illustrated by F. A. Fraser. London: Chapman and Hall, 1876.
Paroissien, David. The Companion to "Great Expectations." Westport, Conn.: Greenwood, 2000.
Watts, Alan S. "Why Wasn't Great Expectations Illustrated?" The Dickens Magazine. Haslemere, Surrey: Bishops Printers. Series 1, Issue 2, pp. 8-9.
Waugh, Arthur. "Charles Dickens and His Illustrators." Retrospectus and Prospectus: The Nonesuch Dickens. London: Bloomsbury, 1937, rpt. 2003. Pp. 6-52.
---
Created 7 July 2005 Last updated 9 November 2021