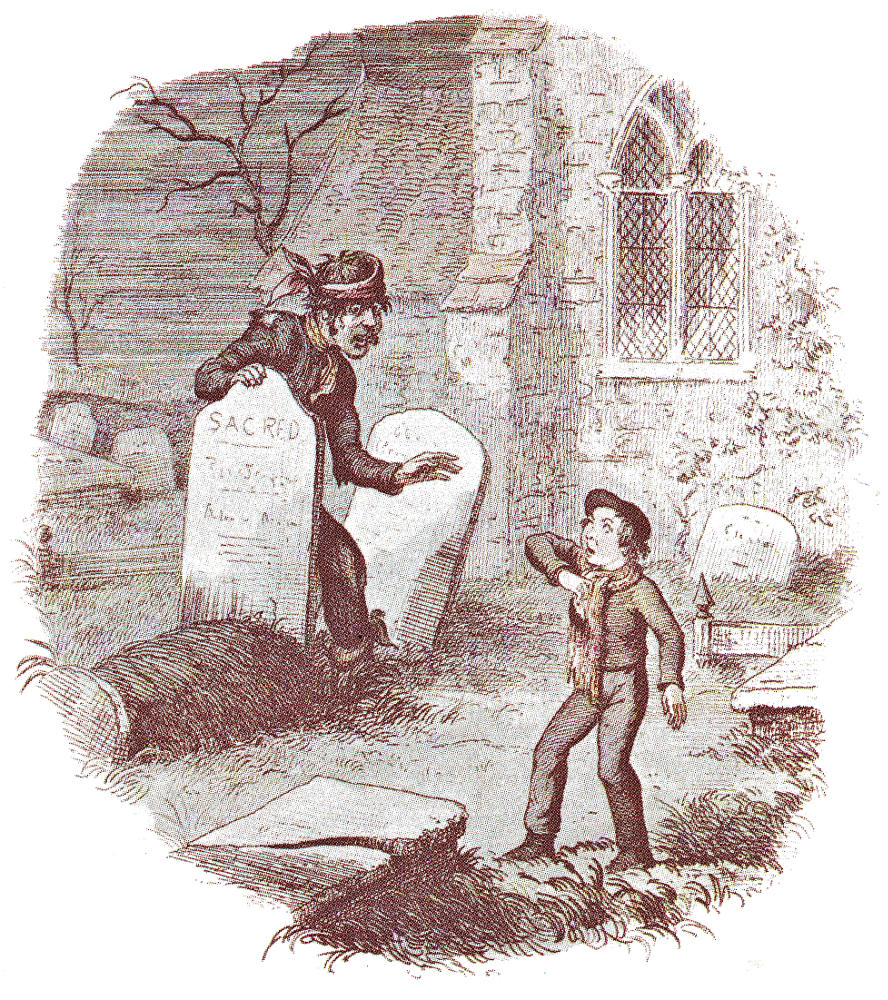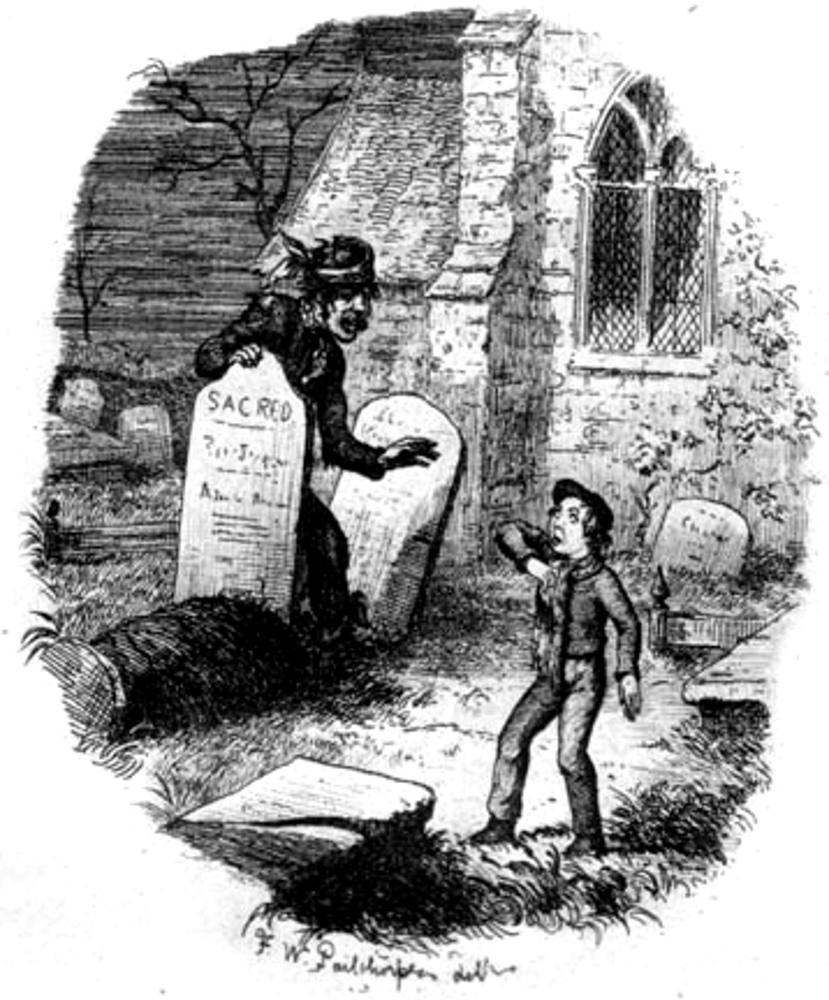 The terrible stranger in the churchyard (page 4) — second hand-coloured lithograph for Charles Dickens's Great  Expectations, first published as a black-and-white lithograph in the Robson and Kerslake edition (1885), Chapter I. 9 cm high by 7.8 cm wide (3 ½ inches by 3 inches), vignetted, facing p. 22. [Click on the images to enlarge them.]
Passage Illustrated: Terror in the Churchyard
"Ha!" he muttered then, considering. "Who d'ye live with, — supposin' you're kindly let to live, which I han't made up my mind about?"
"My sister, sir, — Mrs. Joe Gargery, — wife of Joe Gargery, the blacksmith, sir."
"Blacksmith, eh?" said he. And looked down at his leg.
After darkly looking at his leg and me several times, he came closer to my tombstone, took me by both arms, and tilted me back as far as he could hold me; so that his eyes looked most powerfully down into mine, and mine looked most helplessly up into his.
"Now lookee here," he said, "the question being whether you're to be let to live. You know what a file is?"
"Yes, sir."
"And you know what wittles is?"
"Yes, sir."
After each question he tilted me over a little more, so as to give me a greater sense of helplessness and danger.
"You get me a file." He tilted me again. "And you get me wittles." He tilted me again. "You bring 'em both to me." He tilted me again. "Or I'll have your heart and liver out." He tilted me again.
I was dreadfully frightened, and so giddy that I clung to him with both hands, and said, "If you would kindly please to let me keep upright, sir, perhaps I shouldn't be sick, and perhaps I could attend more."
He gave me a most tremendous dip and roll, so that the church jumped over its own weathercock. Then, he held me by the arms, in an upright position on the top of the stone, and went on in these fearful terms: — [Chapter I, pp. 4-6]
Commentary: A Scene Popular with Other Illustrators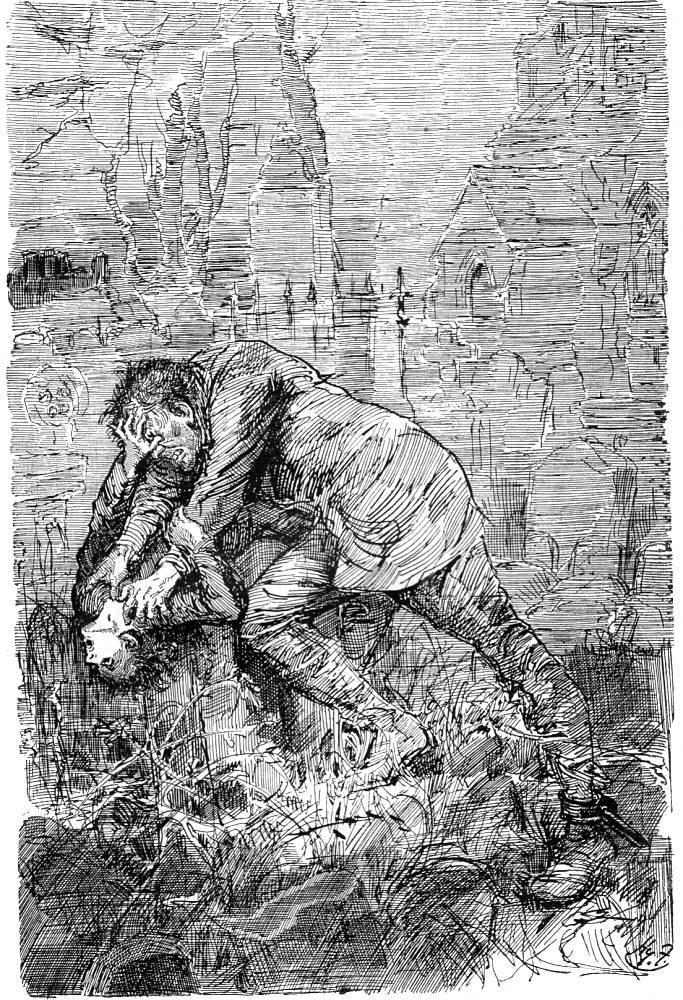 Left: Harry Furniss's impressionistic Pip's Struggle with the Escaped Convict in the CHarles Dickens Library Edition (1910).
Despite the importance of the opening scene to the novel as a whole, surprisingly not all the nineteenth-century illustrators of Great Expectations have attempted it — and none with the intense emotion and energy of Harry Furniss. Although they may not have had access to them, the American illustrations of Pip and the convict in the 1860s by John McLenan in Harper's Weekly and Sol Eytinge, Jr., in the Diamond Edition are useful reference points for both Furniss's kinetic description of that fateful meeting on the marshes, and Pailthorpe's more benign handling of the escaped convict.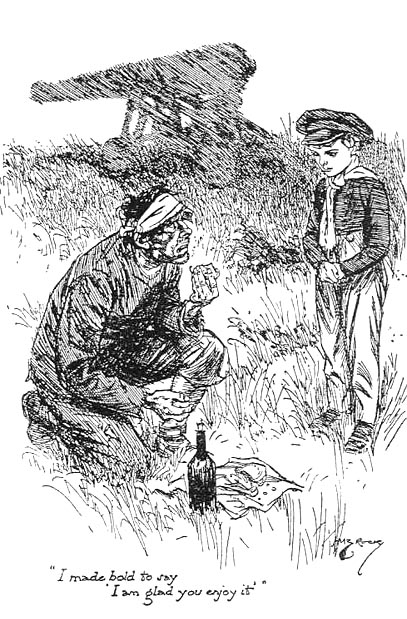 Left: H. M. Brock's "I made bold to say 'I am glad you enjoy it'" (1903).
The self-proclaimed would-be cannibal makes his Darwinian identity abundantly clear in Frederick W. Pailthorpe's initial regular engraving: Magwitch is a survivor who will do whatever it takes to survive. His first objective, then, is sustenance, but his second (embodied in the file he demands that Pip steal) is almost as important: freedom of movement. Released from the shackles, he will be better able to travel, and will not be marked immediately in curious villagers' eyes as an escaped convict "on the lamb." No wonder, then, that every screenwriter and film-director has chosen to open with this scene as the keynote.
Pailthorpe's boy is startled, but not terrified, and the convict's gesture seems intended to allay Pip's apprehension rather than intensify his terror. The illustrator juxtaposes the grimy, swamp-soaked escapee behind the very tombstone of Pip's parents, as if signalling that he will be a surrogate parent and provider. The skeletal tree in the background underscores the gothic nature of this opening scene, redolent with death and decay. Despite the caricatural style, Pailthorpe has realistically set the stage and clothed his characters, even if he has given them somewhat theatrical gestures.
Where it all begins in other editions: 1860, 1867, and 1876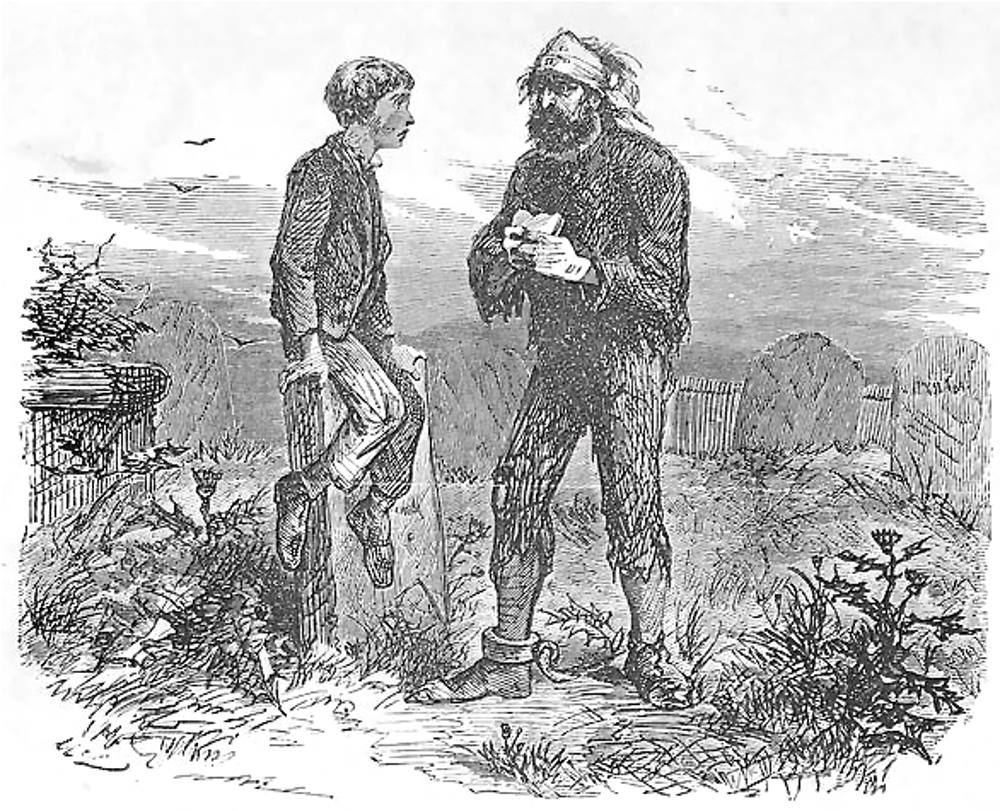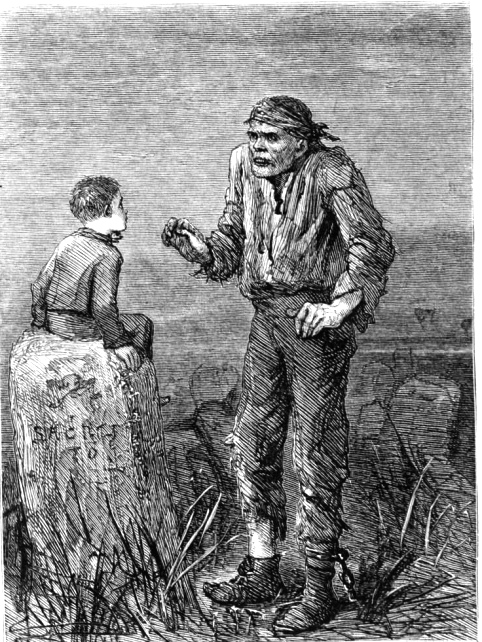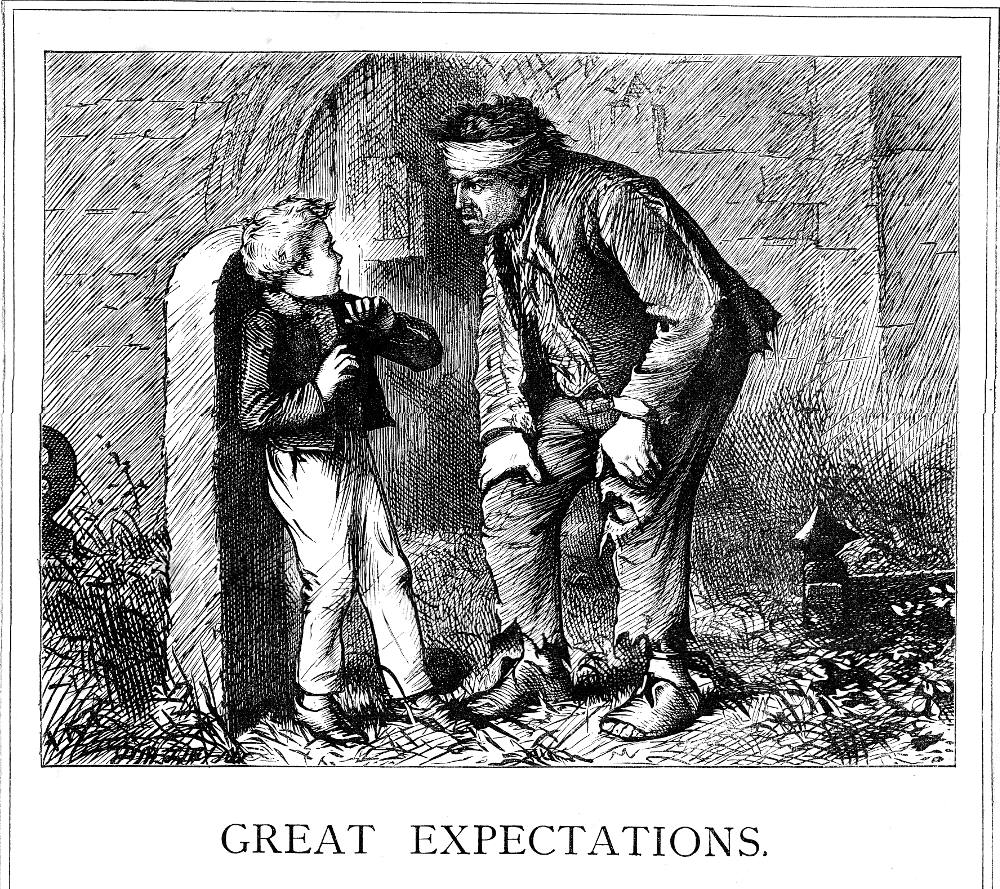 Left: John McLenan's "You young dog!" said the man, licking his lips at me, "What fat cheeks you ha' got!" (1860). Centre: Sol Eytinge, Jr.'s Pip and The Convict (frontispiece, 1867). Right: F. A. Fraser's "And you know what wittles is?" (1876). [Click on the images to enlarge them.]
Related Material, Including Penal Transportation and Film Adaptations
Other Artists' Illustrations for Dickens's
Great Expectations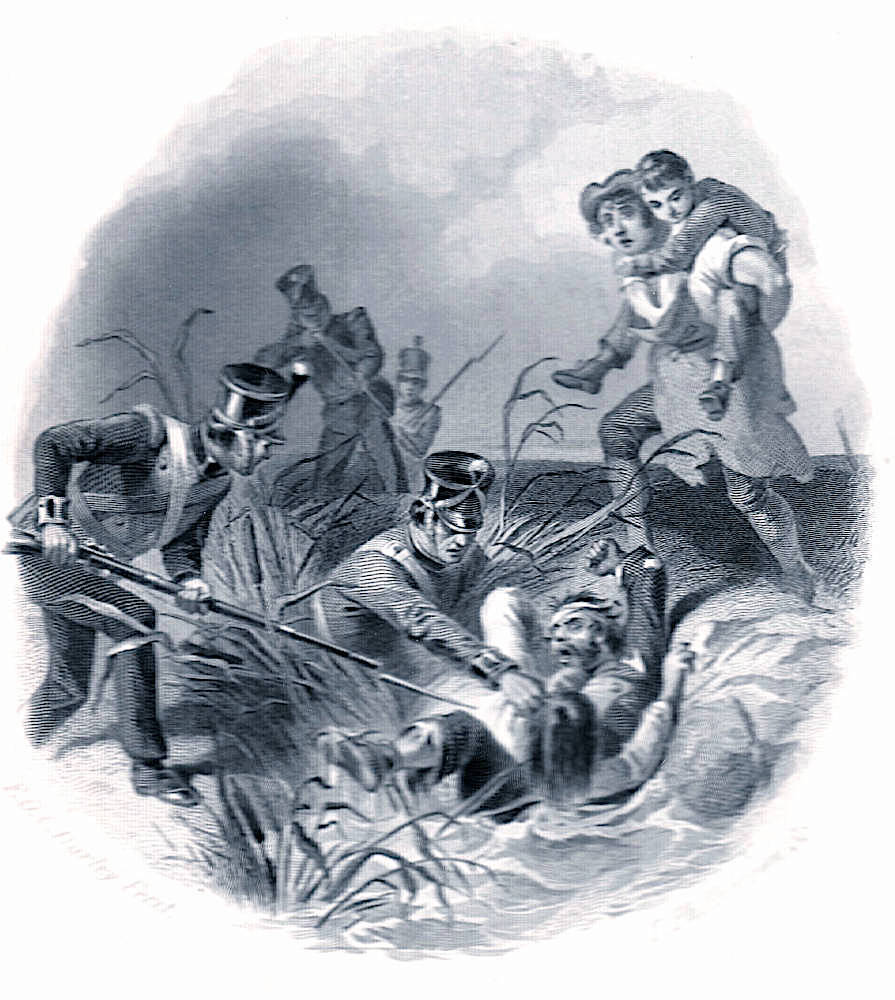 Scanned images and text by Philip V. Allingham. [You may use these images without prior permission for any scholarly or educational purpose as long as you (1) credit the photographer and (2) link your document to this URL in a web document or cite the Victorian Web in a print one.]
Bibliography
Allingham, Philip V. "The Illustrations for Great Expectations in Harper's Weekly (1860-61) and in the Illustrated Library Edition (1862) — 'Reading by the Light of Illustration'." Dickens Studies Annual, Vol. 40 (2009): 113-169.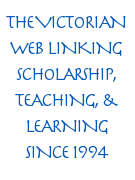 Dickens, Charles. Great Expectations. Illustrated by John McLenan. [The First American Edition]. Harper's Weekly: A Journal of Civilization, Vols. IV: 740 through V: 495 (24 November 1860-3 August 1861).
______. ("Boz."). Great Expectations. With thirty-four illustrations from original designs by John McLenan. Philadelphia: T. B. Peterson (by agreement with Harper & Bros., New York), 1861.
______. Great Expectations. Illustrated by Marcus Stone. The Illustrated Library Edition. London: Chapman and Hall, 1862. Rpt. in The Nonesuch Dickens, Great Expectations and Hard Times. London: Nonesuch, 1937; Overlook and Worth Presses, 2005.
_____. Great Expectations. Illustrated by Sol Eytinge, Junior. Diamond Edition. 14 vols. Boston: Ticknor & Fields, 1867. XIII.
______. Great Expectations. Volume 6 of the Household Edition. Illustrated by F. A. Fraser. London: Chapman and Hall, 1876.
______. Great Expectations. The Gadshill Edition. Illustrated by Charles Green. London: Chapman and Hall, 1898.
______. Great Expectations. The Grande Luxe Edition, ed. Richard Garnett. Illustrated by Clayton J. Clarke ('Kyd'). London: Merrill and Baker, 1900.
______. Great Expectations. "With 28 Original Plates by Harry Furniss." Volume 14 of the Charles Dickens Library Edition. London: Educational Book Co., 1910.
_____. Great Expectations. Illustrated by Frederic W. Pailthorpe with 17 hand-tinted water-colour lithographs. The Franklin Library. Franklin Center, Pennsylvania: 1979. Based on the Robson and Kerslake (London) edition, 1885.
Harmon, William, and C. Hugh Holman. "Picaresque Novel." A Handbook to Literature. Upper Saddle River, NJ: Prentice Hall, 2000. Pp. 389-390.
Paroissien, David. The Companion to "Great Expectations." Westport, Conn.: Greenwood, 2000.
---
Created 26 February 2004 Last modified 28 October 2021