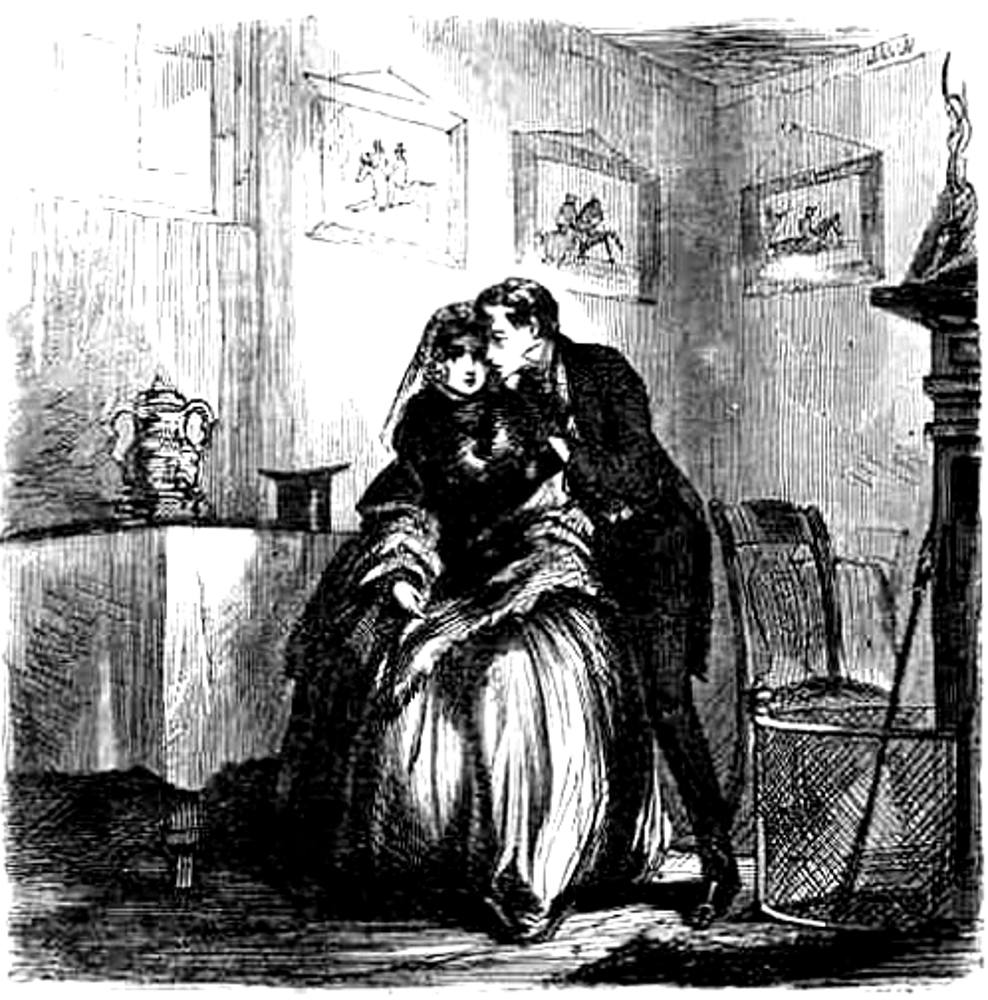 "If I say yes, may I kiss the cheek again?" (Vol. V, page 229) — Twenty-eighth wood-engraving for Charles Dickens's Great Expectations, first published in Instalment 21, serialised in Harper's Weekly V for 20 April 1861), Chapter XXXIII. 11.5 cm by 11.6 cm wide (roughly 4 ½ inches square) Plate 22 (facing p. 156; refers to "page 95," a typographical error in the T. B. Peterson single-volume edition of 1861). [Click on the images to enlarge them.]
Passage Illustrated: Estella, in transit to Richmond, flirts with Pip
"Two things I can tell you," said Estella. "First, notwithstanding the proverb that constant dropping will wear away a stone, you may set your mind at rest that these people never will — never would in a hundred years — impair your ground with Miss Havisham, in any particular, great or small. Second, I am beholden to you as the cause of their being so busy and so mean in vain, and there is my hand upon it."
As she gave it to me playfully, — for her darker mood had been but momentary — I held it and put it to my lips. "You ridiculous boy," said Estella, "will you never take warning? Or do you kiss my hand in the same spirit in which I once let you kiss my cheek?" [Chapter XXXIII, 229]
Commentary: An Playful Moment at a London Coaching Inn
McLenan makes the setting of the intimate scene fairly obvious by including the horse-racing prints on the walls of the parlour at the coaching inn where Estella and Pip await their change of coaches. McLenan regards the propriety of the situation, and envisages such a scene as being likely only in a private space, whereas other illustrators have set the scene outside, in the inn yard, to establish the travel context. In this respect, McLenan reveals that he has read this week's instalment correctly, for Estella is attired in "furred travelling-dress," and the interview does indeed occur in a private room at the inn, but one that is evidently used for public dinners: "with a dinner-table for thirty."
Parallel Scenes from Other Editions (1871-1910)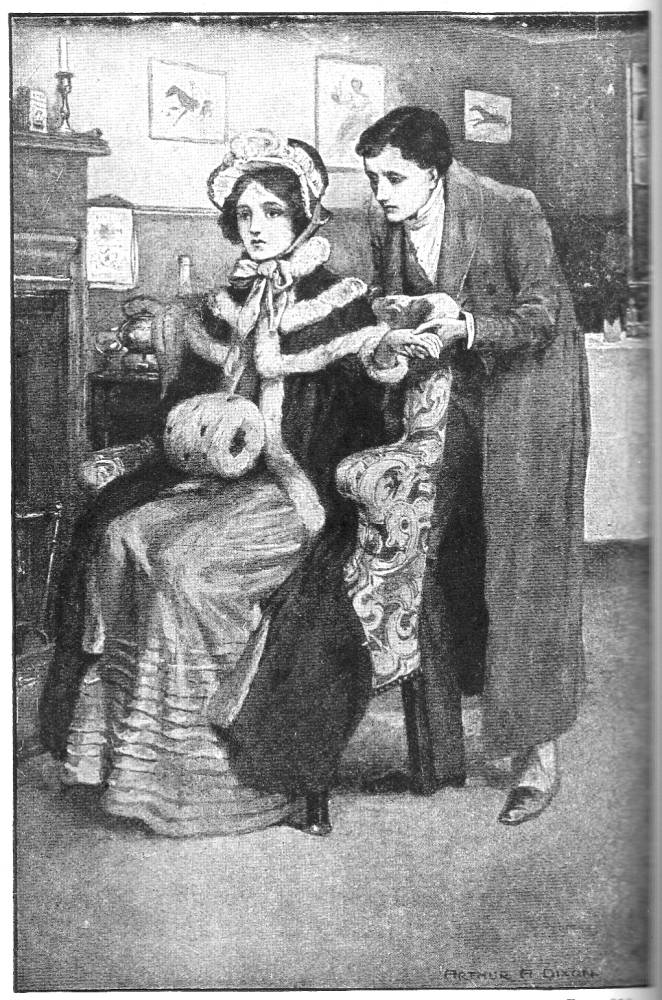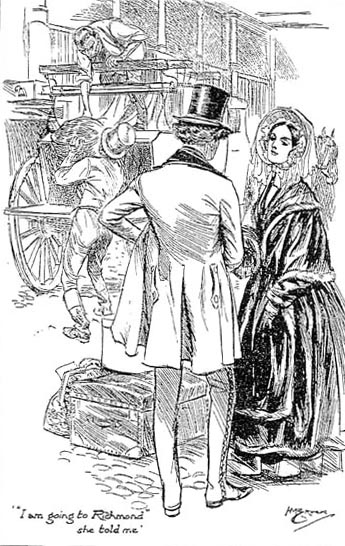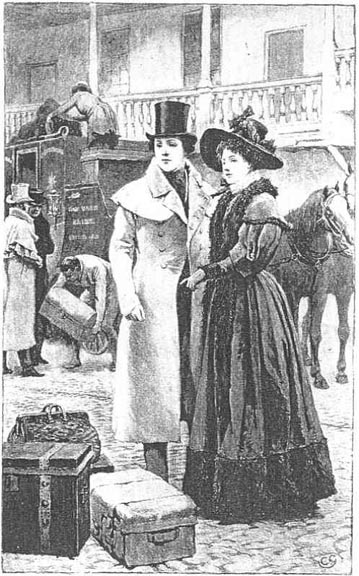 Left: A. A. Dixon's Lithographic reproduction of watercolour, Her calm face was like a statue's in Collins Pocket Edition (1905). Centre: H. M. Brock's treatment of the same scene: "I am going to Richmond," she told me (Imperial Edition, 1903). Right: Charles Green's treatment of the same scene: We stood in an Inn Yard, in the Gadshill Edition (1898). [Click on the images to enlarge them.]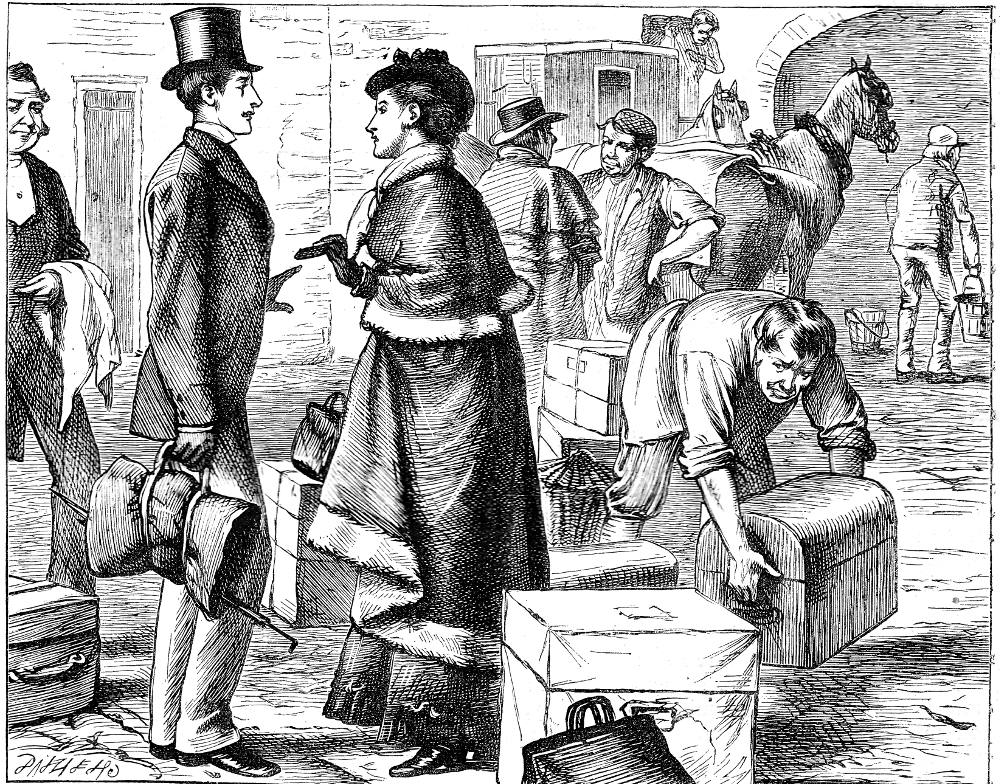 F. A. Fraser's 1876 composite woodblock engraving of Estella's putting Pip in charge of paying her travel expenses: "Oh, you must take the p urse!" (Household Edition).
Related Material
Other Artists' Illustrations for Dickens's
Great Expectations
Scanned images and text by Philip V. Allingham. [You may use these images without prior permission for any scholarly or educational purpose as long as you (1) credit the photographer and (2) link your document to this URL in a web document or cite the Victorian Web in a print one.]
Bibliography
Allingham, Philip V. "The Illustrations for Great Expectations in Harper's Weekly (1860-61) and in the Illustrated Library Edition (1862) — 'Reading by the Light of Illustration'." Dickens Studies Annual, Vol. 40 (2009): 113-169.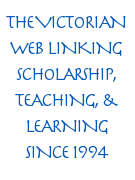 _______. "'We Can Now See That the Days of Illustrated Novels Were Drawing to an End' — Not So." The Dickens Magazine. Haslemere, Surrey: Bishops Printers. Series 1, Issue 3, pp. 6-7.
Dickens, Charles. Great Expectations. Harper's Weekly: A Journal of Civilization. Illustrated by John McLenan. Vol. IV-V (24 November 1860 through 3 August 1861).
______. ("Boz."). Great Expectations. With thirty-four illustrations from original designs by John McLenan. Philadelphia: T. B. Peterson (by agreement with Harper & Bros., New York), 1861.
______. Great Expectations. Volume 6 of the Household Edition. Illustrated by F. A. Fraser. London: Chapman and Hall, 1876.
Paroissien, David. The Companion to "Great Expectations." Westport, Conn.: Greenwood, 2000.
Watts, Alan S. "Why Wasn't Great Expectations Illustrated?" The Dickens Magazine. Haslemere, Surrey: Bishops Printers. Series 1, Issue 2, pp. 8-9.
Waugh, Arthur. "Charles Dickens and His Illustrators." Retrospectus and Prospectus: The Nonesuch Dickens. London: Bloomsbury, 1937, rpt. 2003. Pp. 6-52.
---
Created 20 November 2007 Last updated 15 December 2021