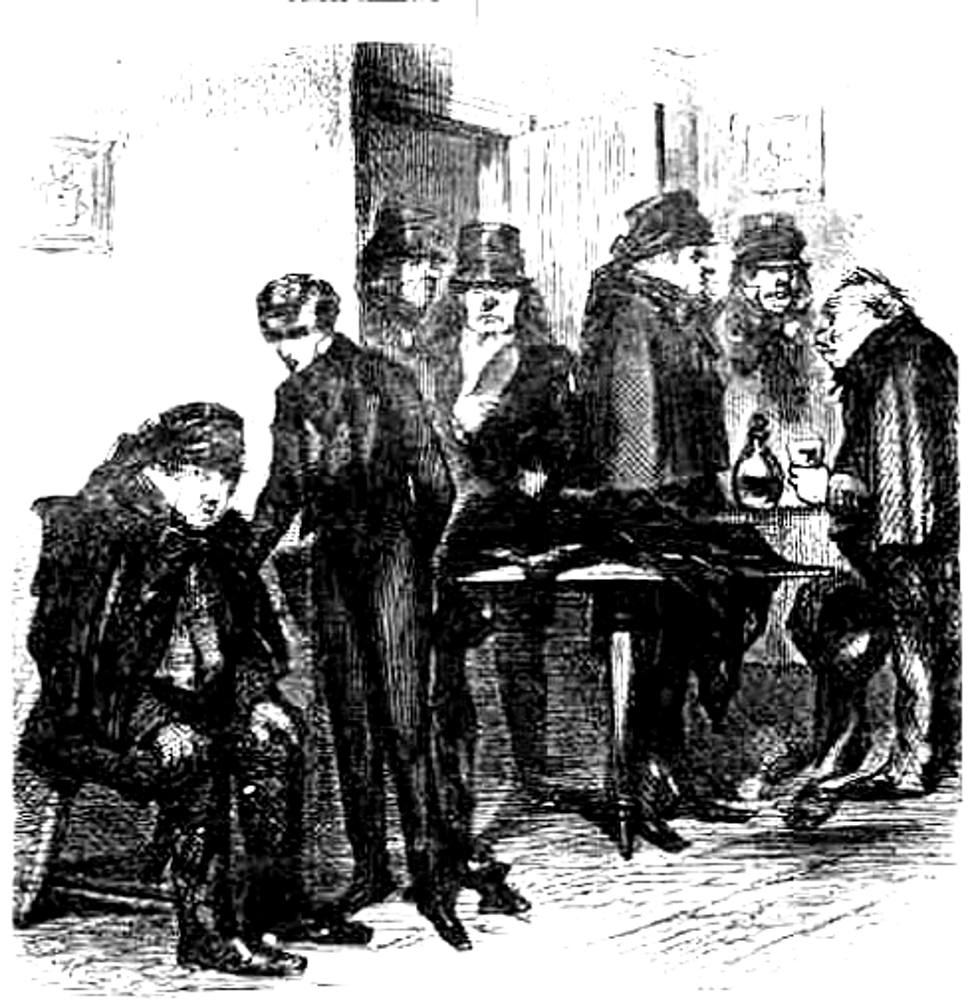 "Dear Joe, how are you?" (Vol. V, page 253) — twenty-ninth wood-engraving for Charles Dickens's Great  Expectations, first published in Instalment 22, serialised in Harper's Weekly V for 27 April 1861, Chapter XXXV. 11.5 cm by 11.6 cm wide (roughly 4 ½ inches square) Plate 22 (facing p. 162 in the T. B. Peterson single-volume edition of 1861). [Click on the images to enlarge them.]
Passage Illustrated: Pip confronts "the grave" when attending Mrs. Joe's Funeral
Another sable warder (a carpenter, who had once eaten two geese for a wager) opened the door, and showed me into the best parlour. Here, Mr. Trabb had taken unto himself the best table, and had got all the leaves up, and was holding a kind of black Bazaar, with the aid of a quantity of black pins. At the moment of my arrival, he had just finished putting somebody's hat into black long-clothes, like an African baby; so he held out his hand for mine. But I, misled by the action, and confused by the occasion, shook hands with him with every testimony of warm affection.
Poor dear Joe, entangled in a little black cloak tied in a large bow under his chin, was seated apart at the upper end of the room; where, as chief mourner, he had evidently been stationed by Trabb. When I bent down and said to him, "Dear Joe, how are you?" he said, "Pip, old chap, you knowed her when she were a fine figure of a —" and clasped my hand and said no more. [Chapter XXXV, 253]
Commentary: Another Dickens Undertaker, Another Funeral; in Dickens
Dickens here show us that the necessary concomitant of a materialistic society is a want of feeling in those who make a business of death like Mr. Trabb (who is, after all, just another local businessman on the make). Trabb's​ punctilious delight in costume and display contrasts the genuine grief of honest Joe Gargery. Joe speaks for Dickens when he tells Pip the kind of burial and mourning he would prefer: "I meantersay, sir, as I would in preference have carried her to the church myself, along with three or four friendly ones wot come to it with willing hearts and arms," but he cannot follow his own wishes, he tells Pip, because "it were considered wot the neighbours would look down on such and would be of opinions as it were wanting in respect." At this point, Trabb, the undertaker, orders the mourners to act out their grief.
Another Version of the Funeral of Mrs. Joe (1910)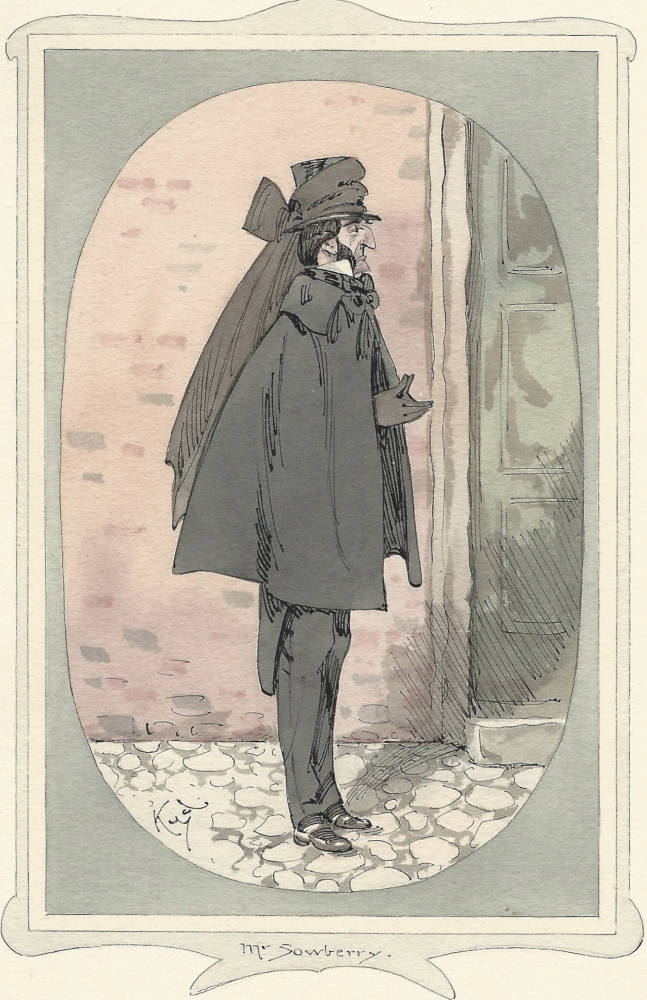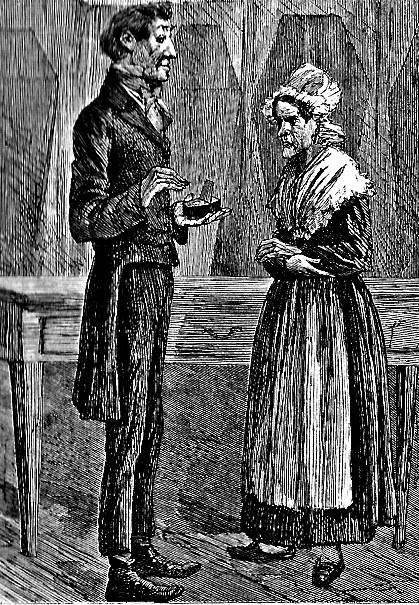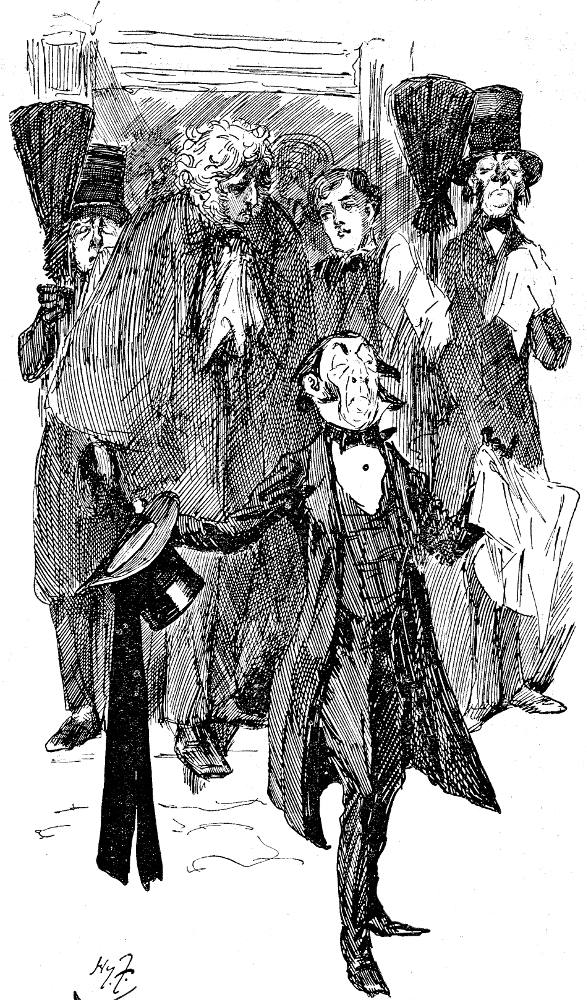 Three illustrators depict undertakers in Dickens. Left: Mr. Sowerberry from Oliver Twist by J. Clayton Clarke ("Kyd"). Middle: Mr. Sowerberry by Sol Eytinge, Jr. from Oliver Twist (1867). Note the coffin-shaped snuffbox! Right: At Mrs. Gargery's Funeral by Harry Furniss (1910). In the Charles Dickens Library Edition, Furniss satirizes the self-important Trabb staging a formal funeral, full of pretention and inauthentic emotion.
Related Material
Other Artists' Illustrations for Dickens's
Great Expectations
Scanned images and text by Philip V. Allingham. [You may use these images without prior permission for any scholarly or educational purpose as long as you (1) credit the photographer and (2) link your document to this URL in a web document or cite the Victorian Web in a print one.]
Bibliography
Allingham, Philip V. "The Illustrations for Great Expectations in Harper's Weekly (1860-61) and in the Illustrated Library Edition (1862) — 'Reading by the Light of Illustration'." Dickens Studies Annual, Vol. 40 (2009): 113-169.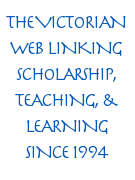 _______. "'We Can Now See That the Days of Illustrated Novels Were Drawing to an End' — Not So." The Dickens Magazine. Haslemere, Surrey: Bishops Printers. Series 1, Issue 3, pp. 6-7.
Dickens, Charles. Great Expectations. Harper's Weekly: A Journal of Civilization. Illustrated by John McLenan. Vol. IV-V (24 November 1860 through 3 August 1861).
______. ("Boz."). Great Expectations. With thirty-four illustrations from original designs by John McLenan. Philadelphia: T. B. Peterson (by agreement with Harper & Bros., New York), 1861.
______. Great Expectations. Volume 6 of the Household Edition. Illustrated by F. A. Fraser. London: Chapman and Hall, 1876.
Paroissien, David. The Companion to "Great Expectations." Westport, Conn.: Greenwood, 2000.
Watts, Alan S. "Why Wasn't Great Expectations Illustrated?" The Dickens Magazine. Haslemere, Surrey: Bishops Printers. Series 1, Issue 2, pp. 8-9.
Waugh, Arthur. "Charles Dickens and His Illustrators." Retrospectus and Prospectus: The Nonesuch Dickens. London: Bloomsbury, 1937, rpt. 2003. Pp. 6-52.
---
Created 20 November 2007 Last updated 15 December 2021