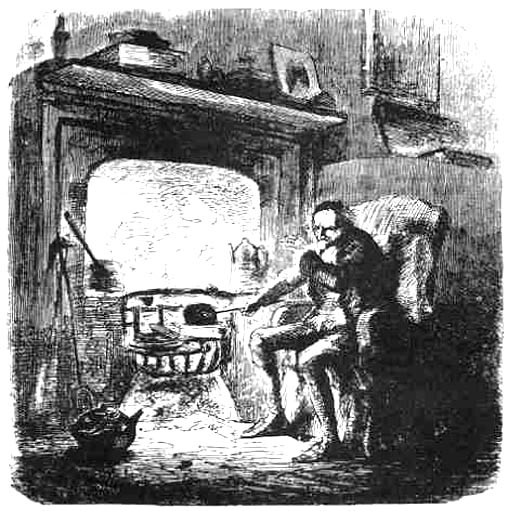 The responsible duty of making the toast was delegated to the Aged (Vol. V, page 269) — thirtieth wood-engraving for Charles Dickens's Great Expectations, first published in Instalment 22, serialised in Harper's Weekly V for 27 April 1861, Chapter XXXVII. 11.3 cm by 11.4 cm wide (roughly 4 ½ inches square) Plate 24 (facing p. 269 in the T. B. Peterson single-volume edition of 1861). [Click on the images to enlarge them.]
Passage Illustrated: The Aged P is the focal point of Wemmick's Walworth Sentiments
After a little further conversation to the same effect, we returned into the Castle where we found Miss Skiffins preparing tea. The responsible duty of making the toast was delegated to the Aged, and that excellent old gentleman was so intent upon it that he seemed to me in some danger of melting his eyes. It was no nominal meal that we were going to make, but a vigorous reality. The Aged prepared such a hay-stack of buttered toast, that I could scarcely see him over it as it simmered on an iron stand hooked on to the top-bar; while Miss Skiffins brewed such a jorum of tea, that the pig in the back premises became strongly excited, and repeatedly expressed his desire to participate in the entertainment. [Chapter XXXVII, 269]
Commentary: A Social Role for The Aged P.
The Aged P., Mr. Wemmick's father, is stationed at the hearth of Wemmick's "castle," a grandiosely renovated cottage in the London suburb of Walworth. The old man in McLenan's domestic setting wears a skull cap and slippers, suggesting that he is housebound or an invalid. About all of this, confides John Wemmick, his employer knows absolutely nothing. The responsible duty of making the toast was delegated to the Aged somewhat surprisingly does not show the vistor (Pip), John Wemmick, or his fiancée, Miss Skiffins in this cozy, fireside familial scene that smacks of Victorian sentimentality.
Comparable Images of Wemmich and The Aged P. from Other Editions (1861-1916)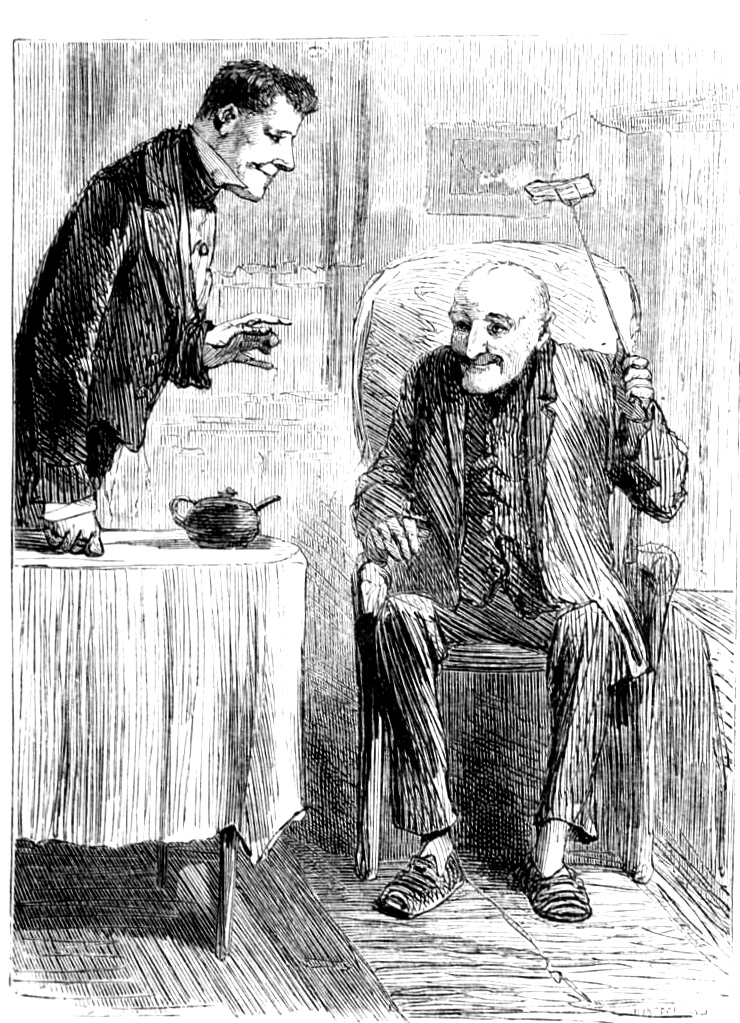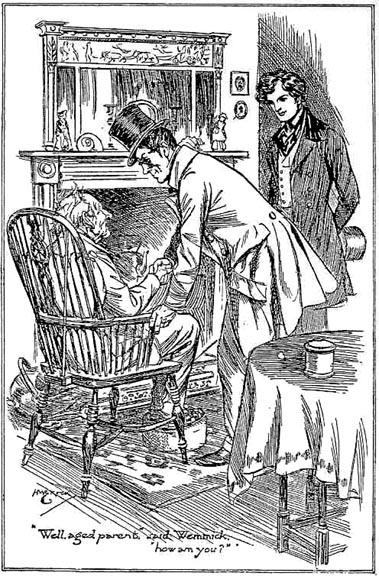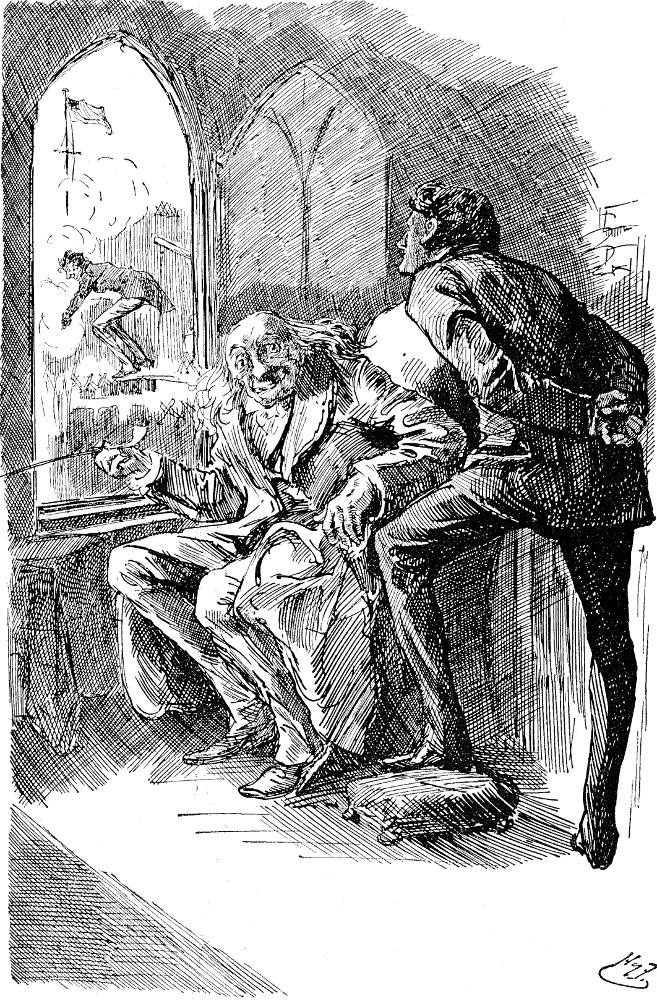 Left: Sol Eytinge, Junior's 1867 portrait of the criminal attorney's deputy: Wemmick and the Aged P., in the Diamond Edition (1867). Centre: H. M. Brock's revision of the same scene: "Well, aged parent." said Wemmick, "how am you?", in the Hodder and Stoughton Edition (1916). Right: Harry Furniss's realisation of the same scene: Pip Shares The Treat of Mr. Wemmick, Senior (1910).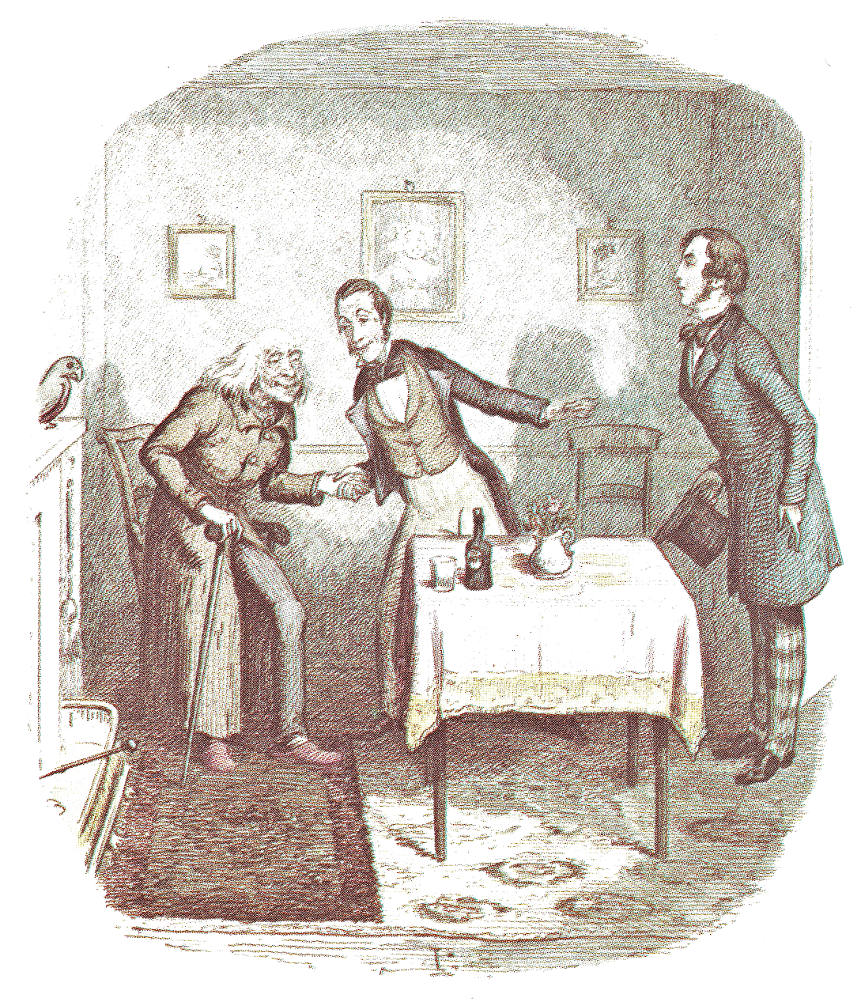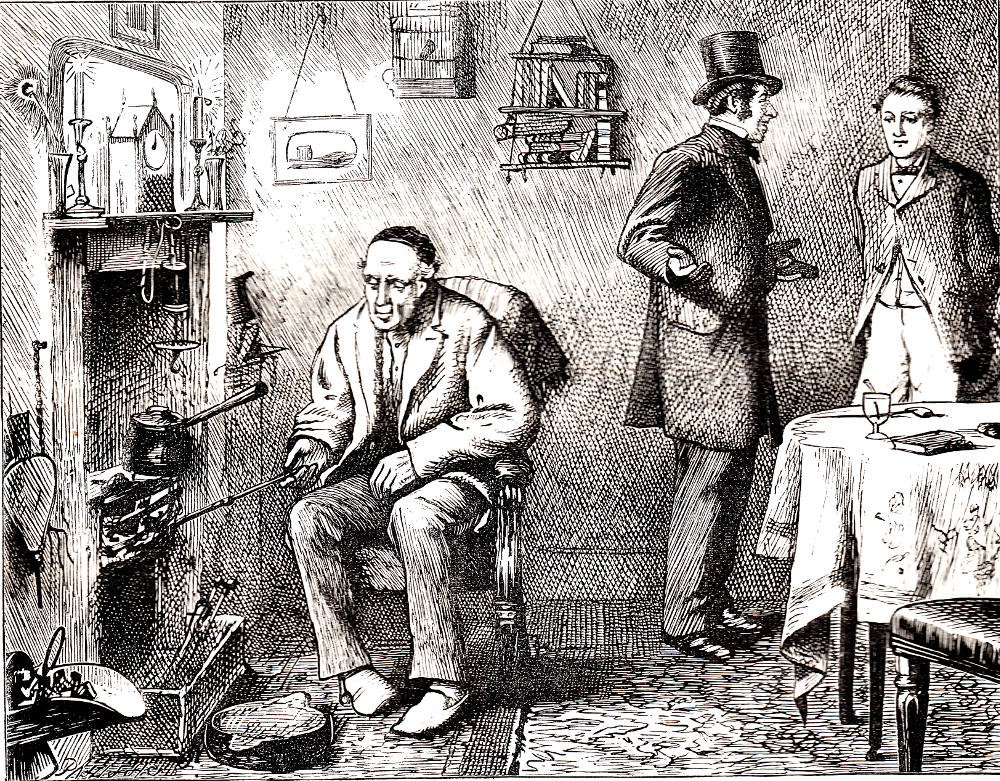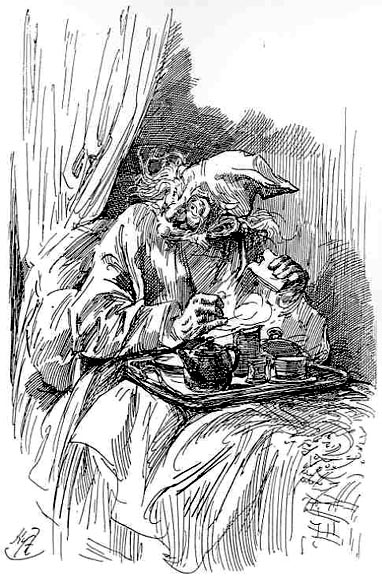 Left: In the 1885 highly illustrated British edition, Pailthorpe enjoys the opportunity to realise a thoroughly Dickensian original: The Aged P. (1885). Centre: F. A. Fraser's Household Edition version of the same scene: We found the aged heating the poker, with expectant eyes (1876). Right: Furniss's portrait for the Charles Dickens Library Edition of John Wemmick's father, in his nightcap: Mr. Wemmick, Senior, has Breakfast in Bed (1910).
Related Material
Other Artists' Illustrations for Dickens's
Great Expectations
Scanned images and text by Philip V. Allingham. [You may use these images without prior permission for any scholarly or educational purpose as long as you (1) credit the photographer and (2) link your document to this URL in a web document or cite the Victorian Web in a print one.]
Bibliography
Allingham, Philip V. "The Illustrations for Great Expectations in Harper's Weekly (1860-61) and in the Illustrated Library Edition (1862) — 'Reading by the Light of Illustration'." Dickens Studies Annual, Vol. 40 (2009): 113-169.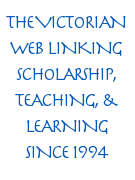 Dickens, Charles. Great Expectations. Harper's Weekly: A Journal of Civilization. Illustrated by John McLenan. Vols. IV and V (1860-61).
______. ("Boz."). Great Expectations. With thirty-four illustrations from original designs by John McLenan. Philadelphia: T. B. Peterson (by agreement with Harper & Bros., New York), 1861.
______. Great Expectations. Volume 6 of the Household Edition. Illustrated by F. A. Fraser. London: Chapman and Hall, 1876.
______. Great Expectations. "With 28 Original Plates by Harry Furniss." Volume 14 of the Charles Dickens Library Edition (18 vols). London: Educational Book Co., 1910.
Paroissien, David. The Companion to "Great Expectations." Westport, Conn.: Greenwood, 2000.
---
Created 20 November 2007 last updated 15 December 2021